Mario & Sonic at the Olympic Games Tokyo 2020
Review


By Kevin Mitchell

Posted on November 5, 2019
---
Next year's Summer Olympics is a significant milestone for the Land of the Rising Sun. It marks the return of the event for the first time since the 1964 Summer Games. Of course, since then, there have been two Winter Olympics in Sapporo (1972) and Nagano (1998) respectfully. Since 2007, Mario and Sonic have been directly competing against one another across the Wii, Wii U, and Nintendo 3DS. The bi-yearly tradition was broken when licensing issues stopped a game from releasing based on the most recent Winter Games (PyeongChang); however, the newest game based on the upcoming Summer Olympics may be the most-fleshed out game in the series.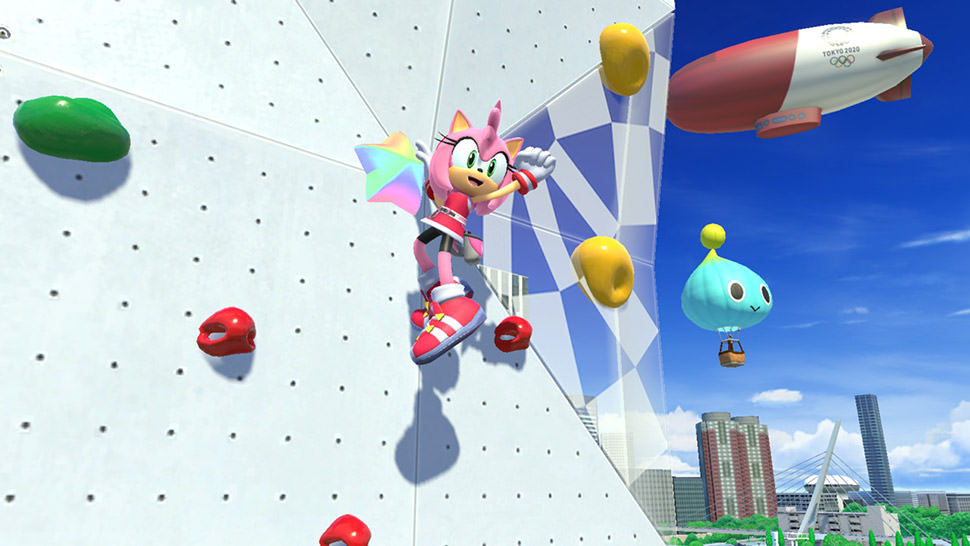 For the first time in the series, Mario & Sonic at the Olympic Games Tokyo 2020 features a fully playable story mode, that surprised me. Not only was I not expecting so much effort and dialogue to be added to this mode, but it had a satisfying length to it that left me with a smile. I highly recommend playing through it first, mainly because it's entertaining, humorous, and a joy to watch characters from two of the most esteemed franchises interact together. Due to the ingeniousness and engineering of Dr. Eggman, Sonic, Mario, and Toad become trapped inside a retro-inspired video game device, however, through the clumsiness of Bowser, Dr. Eggman and King Koopa are sucked in as well. Your time becomes split between helping Luigi and Tails try and free their lost friends in the present by collecting gold medals in 3D events and competing in 2D 8-bit events inside the device (technically, back in 1964). The best part, everyone inside the device are represented by their earliest 2D sprites.
None of the 20 playable Team Mario and Team Sonic characters (10 from each series) are locked from the start; however, there are special guest characters that are only unlocked by playing through the story mode. These characters are exclusive to a single event, such as Diddy Kong (rugby) and Rouge (sport climbing); however, there aren't guest characters for every event. There are some lesser-known characters that I had to look up, mostly Sonic characters such as Zazz, and Jet from Sonic Lost World and Sonic Riders respectfully. The Mario guest characters should be more familiar to folks, as the Koopalings have been around since Super Mario Bros. 3. Regardless of who you choose, characters don't have actual stats, a first for a console release in the series. Instead, characters have specific advantages based on their character type: all-around, power, speed, technique. For example, in the 100-meter dash, speed-based characters, such as Sonic and Shadow, run fast, like really fast, while Bowser, a power character, has improved super moves. These only correlate to the Tokyo 2020 games, as the ten events from Tokyo 1964 are much more limiting.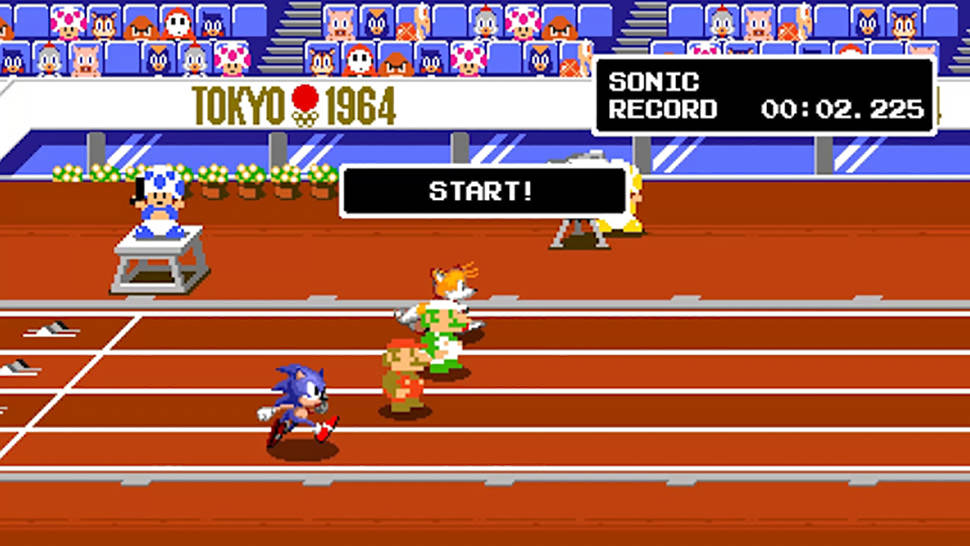 There are only ten 8-bit events, a couple which overlaps with the 3D games, but most are unique and you won't find elsewhere in the game. There is only one team-oriented event, volleyball, with the rest, including judo, skeet shooting, the 10-meter platform dive, and more are focused on individual competition. The 20 playable characters are cut down to eight, including the most basic four characters from each franchise. It does make me chuckle, seeing the 16-bit Sonic sprites competing against the original NES versions of Bowser and Peach. Strangely enough, the Mario characters that only appeared in Rio 2016 (Birdo, Dry Bones, Dry Bowser, Nabbit, Roy, and Toad) have been omitted from the game. At this point, after six games, how is Toad still stuck as a supporting role? Heck, where are the Mii characters?
During the course of the story mode, you'll play through 10 unique mini-games that are not able to be replayed elsewhere. These are equally split between 2020 and 1964, and surprisingly were a lot of fun. I would even go so far and say that some are better than actual events. One in particular in 2020, is essentially Where's Waldo? where you search for a correctly colored Toad holding a unique item. Of course, the main reason to play the game is the events themselves, especially against your friends. If you are new to the series, they don't last long, with some over in a matter of seconds, with the longest ones lasting only a few minutes. There are a handful of events across both eras that didn't leave a positive impression while playing through the story mode. It may have been the difficulty spikes in the story mode that have influenced my opinion, as replaying these events later through quick match was less of a hassle. Speaking of the difficulty spikes, some of the last few events require you to be almost perfect with your scores. Thankfully, if you lose three times during the story mode, in any event, you can elect to skip to keep progress moving forward. Yes, I did have to use the skip on more than one occasion.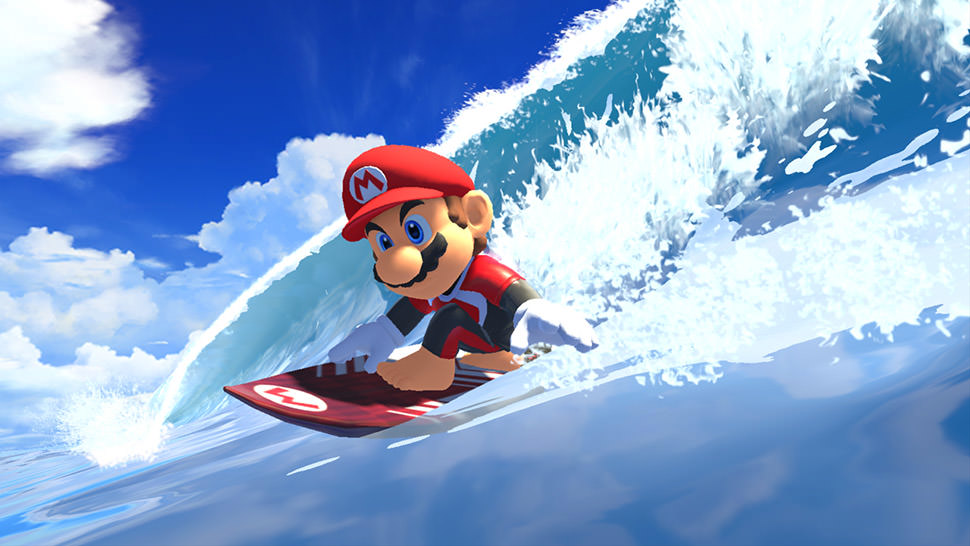 There are only three dream events this year that are loosely based on actual Olympic events, but with a proper Mario & Sonic spin. Dream Karate feels like a mash between a simplified Smash Bros., and tile flipping game, where you need to knock down opponents on opposing colored tiles to score points. Dream shooting has you running around a Japanese temple, or monastery shooting targets and kites with gyro assisted aiming. Dream Race features modern Sonic style grinding on-rails, with a touch of Mario Kart with weapon pickups. The first time I fired a red shell, it immediately broke apart because of uneven terrain, so don't go into these games thinking it's going to be anything more than jazzed up mini-games. I had fun playing all three, but I wish there were more that were included, but given that there were none in the last game, it is better than nothing.
For all of the 3D events, you'll have various control methods, depending upon if you are using Joy-Cons or the Pro controller. Not wanting to deal with motion controls, I opted for using the Pro controller when playing docked; however, I did play in handheld mode as well. Mashing buttons and timing button prompts weren't a problem; however, I don't think I'll ever get used to or enjoy having to tilt the Switch while looking at it for aiming. If you have played the series before, you'll know what to expect with the events. The 100-meter dash has you mashing A as fast as you can to the finish line, while gymnastics requires precision, speed, and timing to nail the floor routine. Skateboarding is essentially Tony Hawk lite, as you pull off jumps and grind on rails at the skatepark. Some of the events control better than others, and I wish there was a way to customize the layout per event.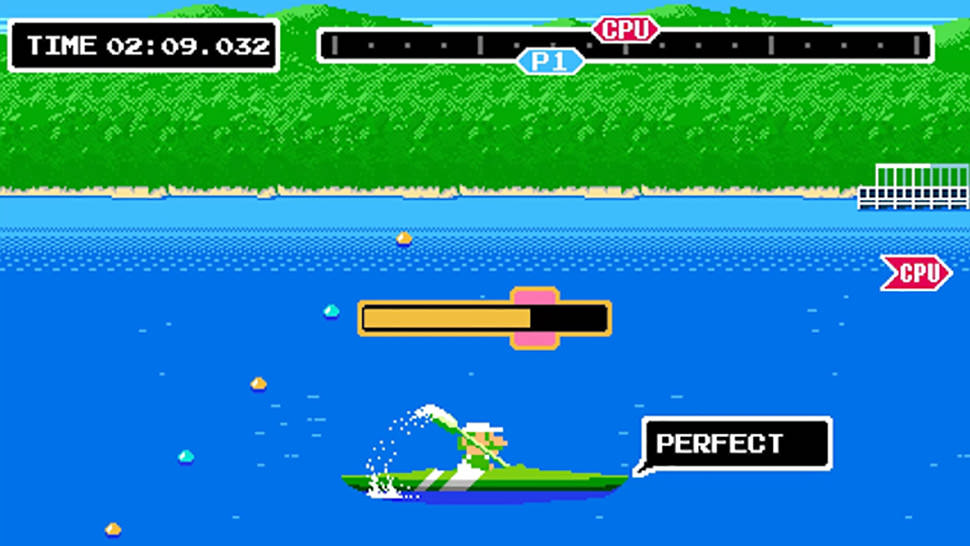 Most of the 1v1 style events, karate, boxing, fencing, are focused on feints and out-thinking your opponent, using a combination of high and low blocks with counter-attacks. Judo, a 2D event from 1964, follows the same principle, however, it uses a tilting mechanic to keep your opponent off balance. The marathon race, another 2D game, was a bit confusing during the story mode, as you must beat Bowser to the finish line. However, even after doing so, I still failed. While racing, you'll need to avoid obstacles and other racers, however, if you keep directly behind a group, you'll gain a speed boost. Every so often, a refreshment stand will appear, allowing you to collect a cup of water to replenish your stamina.
Simply Put
Mario & Sonic at the Olympic Games Tokyo 2020 is an enjoyable collection of Olympic event mini-games that feature local and online play. The story mode is undoubtedly the star this time around. Although it starts a bit slow, I enjoyed the interactions between the characters and the lightheartedness of the entire situation. I think there are some big holes in the lineup that certainly have been overlooked, as limiting guest characters to only a single event is just not fun. Even so, playing with friends locally is certainly the best way to play the games outside of the story. Sadly there isn't any way to set up a tournament or multiple events for multiplayer.
Note: Mario & Sonic at the Olympic Games Tokyo 2020 was reviewed on Switch. A digital copy of the game was provided by the publisher/developer.