Nacon Pro Compact Controller
Review


By Kevin Mitchell

Posted on May 20, 2021
---
Not only is the Pro Compact Nacon's first foray into the Xbox ecosystem under the Rig brand, but it is also the first wired customizable controller to include a permanent Dolby Atmos license. At first glance, you may be wondering why anyone would even entertain the purchase of a wired controller. I initially thought the same thing, considering I haven't owned a wired controller since the WaveBird ushered in a new era of wireless freedom on the Nintendo GameCube back in 2002. Today, wired controllers are still prevalent, but it has been mostly limited to esports events, as any introduction of latency or interference may influence a match. I'll never be part of that scene, but I've experienced interference during important industry events, such as E3 when demoing games.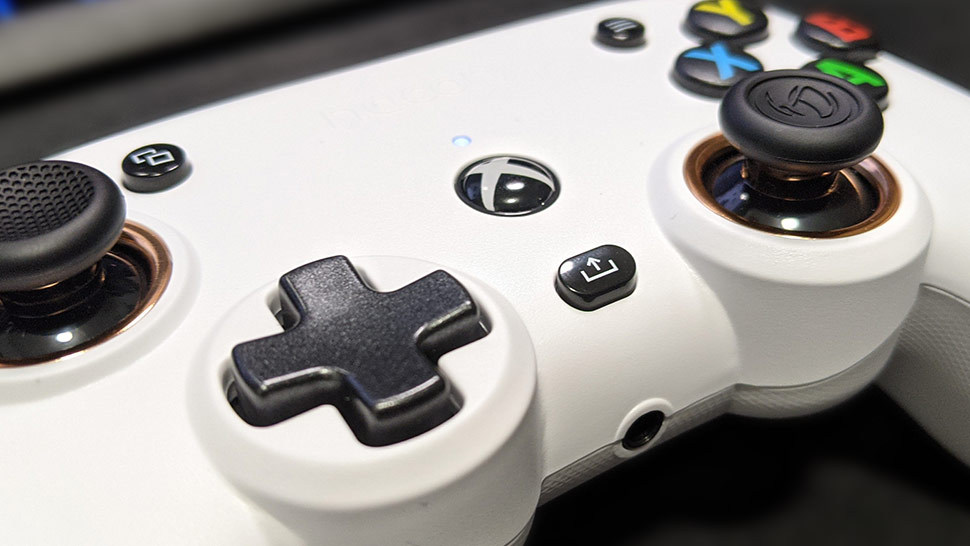 The Pro Compact wired controller for Xbox is smaller (and lighter) than anything offered by Microsoft (15% smaller, according to Nacon). Still, more importantly, the handles have been redesigned, changing the position of how it rests in your hands. This doesn't mean that anyone with larger than average hands will find it more difficult or uncomfortable to use for long periods, but it does mean you need to make adjustments. The compact shape features shorter handles than Microsoft's Xbox controller, with a matte front and textured grips (although less prominent than the Xbox controller). The deep groove between the handle and the upper half of the controller is designed for you to rest your middle fingers. My pinky fingers barely wrap around the bottom tip of the handle since it needs to be held with a higher grip than usual. After getting used to the Pro Compact, I can say it is pretty comfortable; I prefer it to the Xbox controller in certain situations. The long braided USB A cable is 300 centimeters in length or just under 10 feet. A breakout connection is included at the tail end, providing safety just in case someone or something gets caught in the cable.
As an officially licensed controller, the analog sticks placement remains asymmetrical. There's a bit less space between the four face buttons than the standard controller, not to mention that the buttons are more prominent yet flatter. The menu and view buttons (I will forever unofficially call them start and select) are glossy (compared to the matte finish of all four face buttons) and moved away from the controller's center. The view button sits next to the left analog stick, and the menu button is the next-door neighbor to the Y button. With these new placements, you don't even have to lift your thumbs off of their usual resting spots to use them. When using a headset on a PC or Xbox, you have to purchase a $15 Dolby Atmos license, which I highly recommend because 3D audio is a game-changer. The Pro Compact includes the license, letting you plug in any gaming headset into the 3.5mm headphone jack at the bottom of the controller.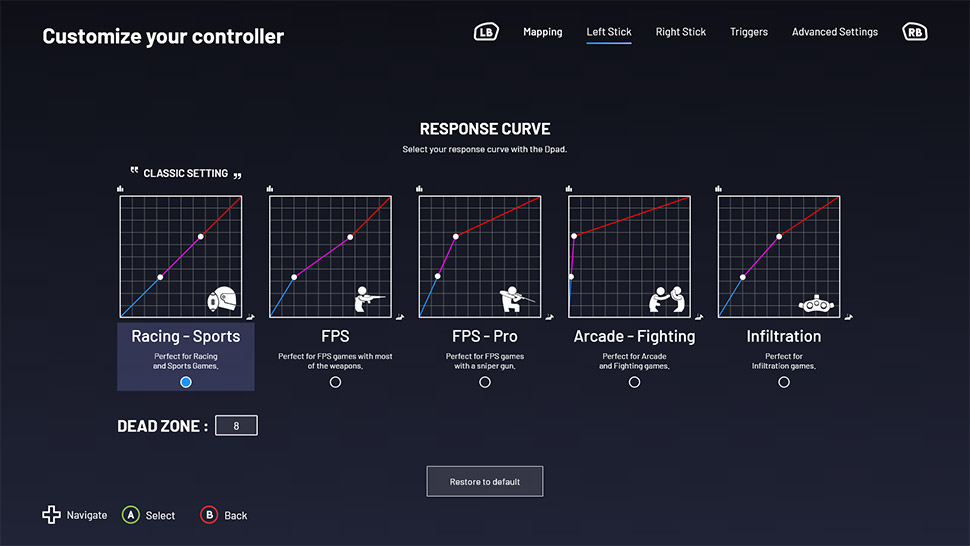 The analog sticks are concave (naturally) but are completely smooth around the edges, featuring a uniquely designed textured finish on the inside. The D-pad features the classic "plus" design, which may intrigue fans compared to the redesigned "rocker" offering of the Xbox controller. It is certainly less "clicky," feeling squishy under your thumb as you move around each of the four main cardinal directions. There is less feedback as you shift your thumb around, and the sensation can be best described as muted. I won't say it's not good, but it certainly may not be ideal depending on the type of game you are playing. Navigating through menus or switching weapon loadouts is fine, but there isn't enough feedback when pulling off special moves or combos in fighting games.
The Nacon App on Windows 10 and Xbox allows you to remap the inputs for specific buttons, adjust the response curves for both analog sticks, and even the sensitivity for each of the triggers. If this is your first foray into adjustable dead zones, you are in for a treat, especially for first-person shooters. Interestingly enough, the app, which is available on PC and Xbox, allows for enabling or disabling vibrations and converting the 8-way D-pad to a 4-way D-pad, perfect for 2D side-scrolling games. An easy-to-follow guide effortlessly shows the best presets for specific genres, such as racing games, first-person shooters, or fighting games. Your customizations can be turned on/off with the switch on the rear of the controller, although you can only have a single custom profile. Any controller updates will come from inside the app; however, one hasn't been released.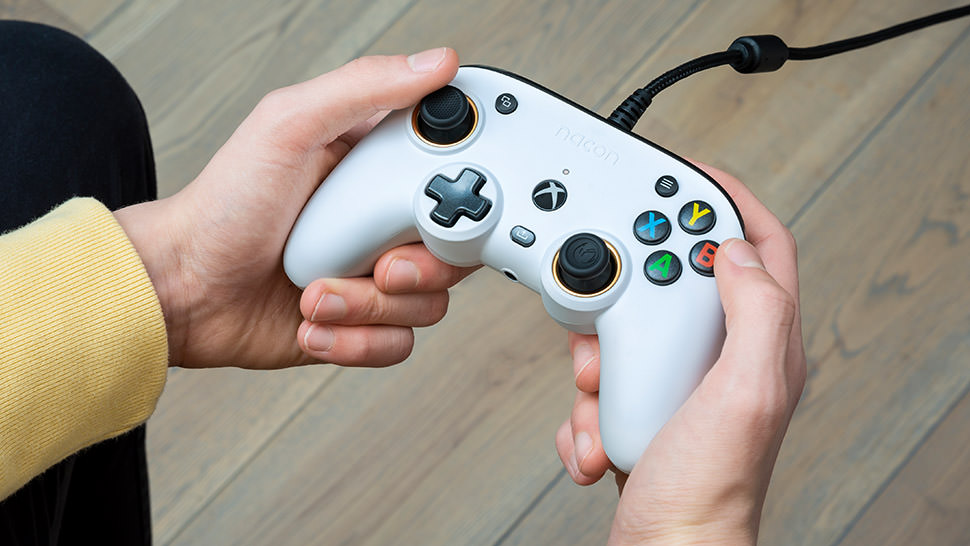 Simply Put
The Rig Nacon Pro Compact controller is a smaller, lighter, and cheaper alternative for Xbox and PC (especially since it includes a lifetime Dolby Atmos license). It does take some adjustment to get used to the placement of the controller in your hands, but I found it to be quite comfortable, and I have larger than average hands. I would have preferred less of a gap between the triggers and shoulder buttons or none at all to match the standard Xbox controller. I feel I spend more time adjusting the placement of my pointer fingers since I can't comfortably press the shoulder and the triggers without lifting my fingers like I do with my Xbox controllers. It may not become my permanent Xbox controller due to it being tethered, but it will become my primary PC controller for now.
Note: A Nacon Pro Compact Controller was provided for review and tested on PC and Xbox Series X.