​Zombieland: Double Tap - Road Trip
Review


By Kevin Mitchell

Posted on October 26, 2019
---
Taking place between the two movies, Zombieland: Double Tap - Road Trip, serves as a reminder that well-made movie tie-in titles are far and few between. This highly overpriced arcade-style twin-stick shooter features four-player local multiplayer support; however, the experience is only a tad longer than the newly released movie. Even the inclusion of a wave-based horde mode and Abigail Breslin reprising her role as Little Rock can't help the paper-thin narrative and barebones presentation.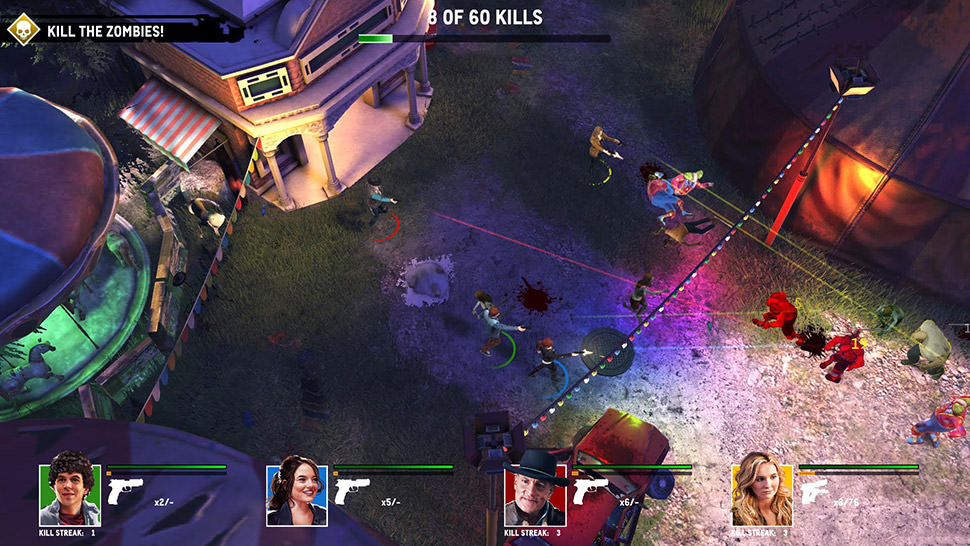 As the title implies, Tallahassee, Columbus, Wichita, and Little Rock have decided to head east towards Washington D.C., starting from Pacific Playland on the west coast and across the United States. The game only features ten story levels, each one lasting roughly 10-15 minutes. Without any checkpoints, if you die, you'll need to restart from the beginning of the stage. Five additional side missions appear on the map as you progress through the game. These byte-sized levels don't last quite as long and revolve around a single objective, such as collecting snacks in a supermarket or exploring a school. Completing these levels unlocks new characters. One thing the game does well is throwing plenty of zombies at you at once. It certainly feels like an old-school mindless shooter, although the game does have plenty of melee weapons that come quite in handy.
One thing is sure; there are ample weapon types for you to find hidden in car trunks, military caches, and the grocery freezers. From dual submachine guns, miniguns, katanas, and guitars, there are plenty of weapons in the game. Without any ammunition drops, you'll always be swapping between multiple weapons in every level. Even the melee weapons only have a limited amount of uses. If you run out, you'll have to use the slow-firing pistol. Hazardous and explosive objects can be used to your advantage, blowing up or setting launch groups of zombies on fire at once. If that doesn't help, you can always toss a few grenades, Molotov cocktails, or land mines.
Killing zombies raises your special meter, and every character comes with one of four unique abilities. For example, Tallahassee spins around like a top, killing anything that gets too close with dual chainsaws. Little Rock, on the other hand, can shoot and reload faster as well as heal wounds when activated. Without any way of stopping the ability once triggered, you'll need to ensure that you are safe enough to wait until it depletes. Yes, you can still be damaged while in this state, so ranged attacks can be deadly to Tallahassee while he spins around helplessly.
Besides the universal basic zombies, Zombieland: Double Tap - Road Trip digs into the sequel, adding some of the evolved zombies into the game. Besides clowns, which are Columbus's worst nightmare, there are plenty of puking sorority members, ninjas (very quick running zombies in hoodies), and the nigh-indestructible T-800s. It's great to see different types appear from both movies, but by the time you reach the end of the game, you'll have killed hundreds of these types across most levels. Just how many clowns are walking around Zombieland anyway? Strangely enough, zombies have adapted almost anything as a nesting site. These nests, such as porta-potties and ambulances, must be destroyed. Not to mention, they seemingly love to spawn out of manhole covers, which can weirdly appear in the backyards of suburban neighborhoods (yes, in the middle of lawns), as well as inside of stores.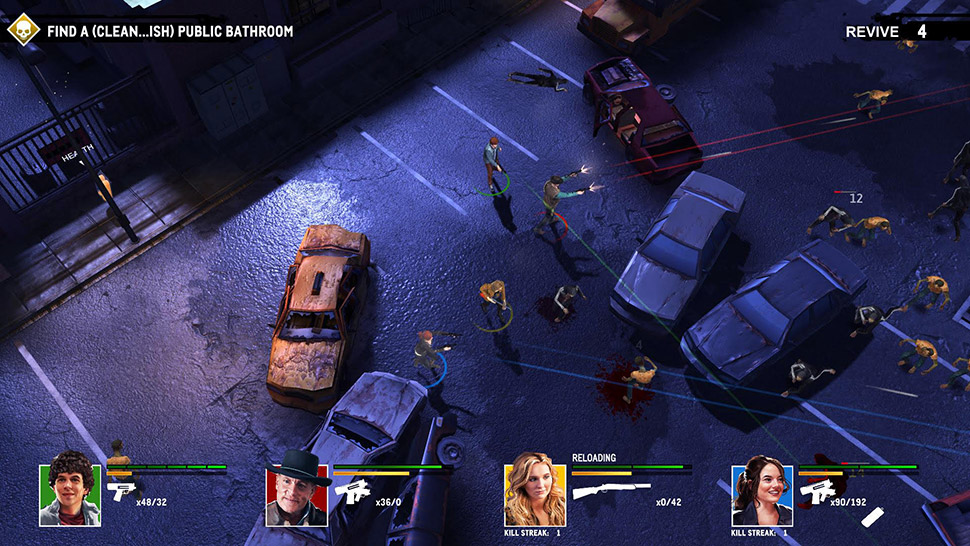 Across the ten story missions, the narrative objectives, as the fearsome foursome travel across the U.S., is rather one dimensional. You are telling me that the highlight from the trip involves finding a restroom, a fresh supply of twinkies, playing firefighter in the suburbs, and helping an old lady cross the street (twice). It's as barebones as you can get, and you'll probably end up skipping through all of the dialogue between the characters. All of the voice actors try their best to mimic their movie counterpoints, except for Abigail, who is actually in the game. As you slaughter the undead, you'll gain skill based on your score to advance the stats on your current character across five categories, damage, ammo, health, speed, and special.
Simply Put
There are many different areas where Zombieland: Double Tap - Road Trip comes up short. A $40 price tag is just nuts for a 2 hour game with a barebones presentation and gameplay. Heck, the reload animation is your character looking downwards. That's it. The only time I died in the game was on the final mission when bugged out, and I became unable to shoot. The boot menu screen is only presented as a vertical graphic, and even the main menu doesn't fit the screen. It's plainly obvious that the game was rushed out the door to capitalize on the movie.
Note: ​Zombieland: Double Tap - Road Trip was reviewed on PlayStation 4. A digital copy of the game was provided by the publisher/developer.