​World War Z: GOTY Edition
Review


By Kevin Mitchell

Posted on May 18, 2020
---
The 2013 Brad Pitt zombie action flick World War Z was loosely based on Max Brooks's New York Times Best Seller sharing the same name. That's just about all the two had in common, as the book focused on interviewing various survivors across ten years, and the film sees a solitary hero traveling the globe with a bit of romance thrown in for good measure. Of course, the most significant difference is the representation of zombies, the classical slow-moving unintelligent undead vs. fast-paced hive-mind creatures, respectfully. The third-person cooperative shooter initially released in 2019 (published by Mad Dog Games and developed by Saber Interactive) has a bit of both in its DNA, spanning the globe with new groups of survivors in each locale.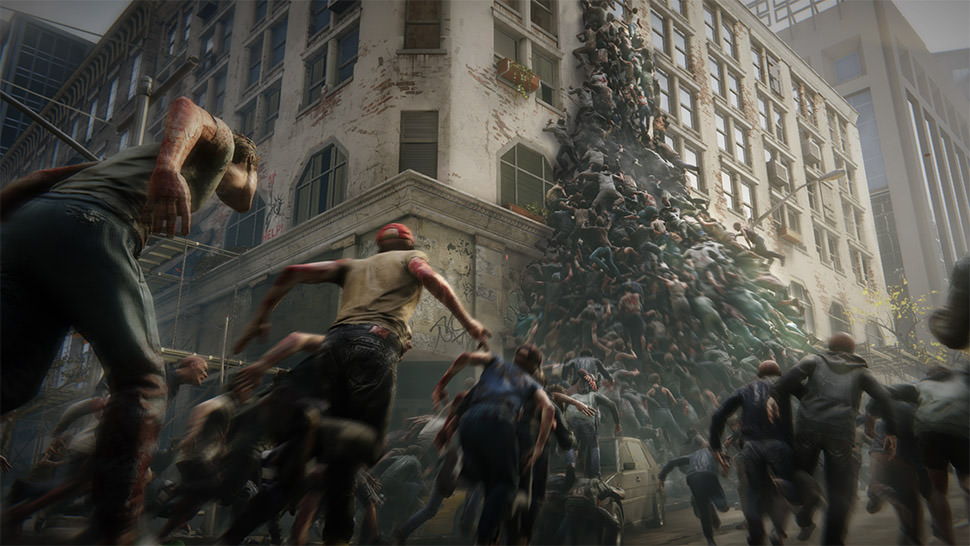 The Game of the Year Edition features all the content and updates since launch, including a horde mode, cross-play (currently only between PC and Xbox One), an extreme difficulty setting, multiple new premium weapons and character skins, and three original missions set in France. Each of the five campaign episodes follows different groups of survivors, each with their own unlockable animated backstory and reasoning for survival across New York, Tokyo, Moscow, Jerusalem, and Marseille. All of the missions are narrative-driven, with various objectives that need to be completed, but the story tidbits can be ignored if you openly only are looking to mow down waves and waves of the undead. Viewing character backstories and details related to each of the locations are optional.
Although the majority of the time, you'll be slaughtering basic zombies, there are uniquely designed tougher foes that appear throughout that require teams to work together. Generally, these provide additional challenges, such as rampaging towards a player and continually slamming them to the ground, or launching themselves at unsuspecting players and slashing them repeatedly while also pinning them to the ground. If caught, you'll be powerless to protect yourself and must rely on others. Running ahead of the group leaves you vulnerable to these zekes, ensuring that groups must stay together. The game also utilizes stealth mechanics, by using silencers and melee attacks, you can take care of zombies without alerting others to your presence.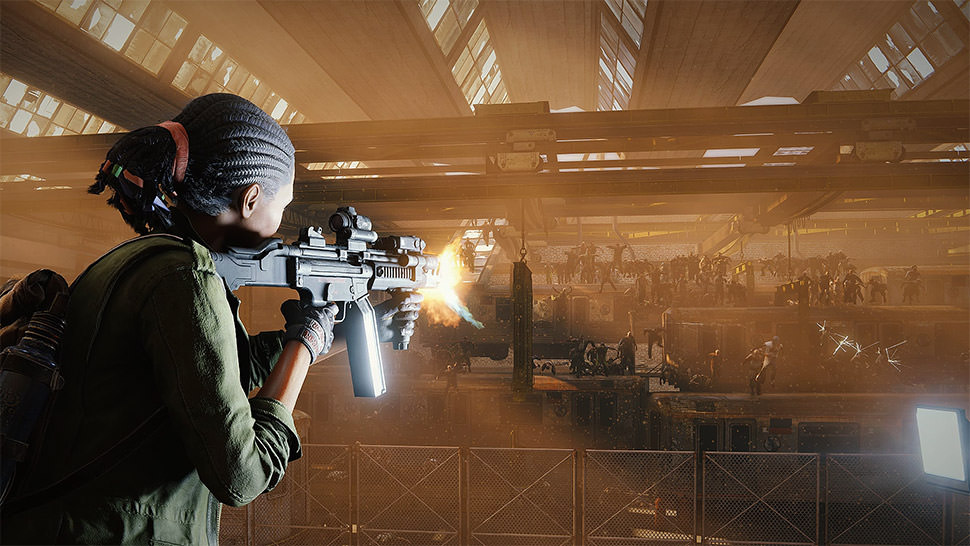 An unlikely foursome in New York bands together to reach a U.S. Army evacuation point, fighting through the now-abandoned city streets, through subway stations, and more. In Jerusalem, a group of soldiers and journalists must escort a crucial scientist working to develop a cure. A swarming horde of zombies overrun a military helicopter crash site outside Moscow, and the sole surviving officer and a passing group of survivors come together to release a nerve agent to hopefully kill the zombies in the city. While the entire country of Japan is being evacuated, a rescue team stays behind, checking for survivors in Tokyo and eventually must hold off a swarm from reaching a cruise ship. In France, four French Resistance members battle through the streets to reach a missile battery set in a fort that could destroy an impending horde in one swoop.
The frightening aspect of the movie is the fast-paced nature of the zombies and how they share consciousness, working together to rip their victims to shreds. It's a unique take on the zombie mythos, primarily when swarms work together to form human (undead) pyramids to climb over any wall or barrier in their path. Just seeing hundreds of bloodthirsty zombies, coming together certainly makes for visually compelling pivotal moments. Seeing this hair-raising sight recreated in the game makes for some tense defensive moments, as four players must locate tools and weapons with only mere minutes to prepare before the horde arrives. From automated/manually operated turrets to mortars, electric floor fences, and more, you'll need to focus on bringing down the base of the pyramids to slow them down before you are overrun. It's fantastic to see hundreds of zekes (as they are referred to in the movie), bear down on you, flooding the streets towards your position with little to no performance hit. Coordinating with other players online gives you the best chance of success, especially across the higher difficulties.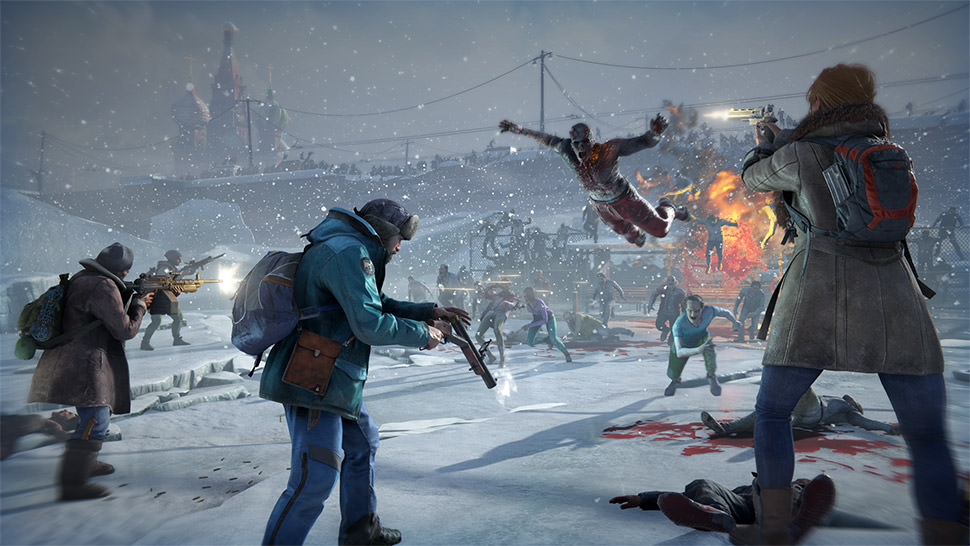 Instead of attaching experience gain and abilities to individual characters, given you may not always play as your preferred individual within each episode, the game currently features six classes (a seventh to be released later this year). You can unlock a little backstory video for each character after using them, so it makes sense to try and play as them all (if you want). With classes not being attached to characters, it makes it easier to play multiple roles. Depending upon your preference, the class determines your unique item, be it frag grenades, C4, a taser, or a stim pistol to heal teammates or yourself. As you level up, you'll unlock new passive abilities and usable skills. Regardless of your chosen class, everyone can pick up and use all the same weapons, although classes may start with different equipment. Once the max level of 30 has been reached with a class, you can prestige back to level one, adding a new special ability in the process. Guns have their own leveling system based on usage, becoming more powerful and altering their appearance. It's quite neat to open a crate, and every player sees the same weapon as their own chosen appearances. Guns are separated into three tiers, allowing you to easily distinguish between the one you are using and one on the ground in the midst of running from the dangerous undead.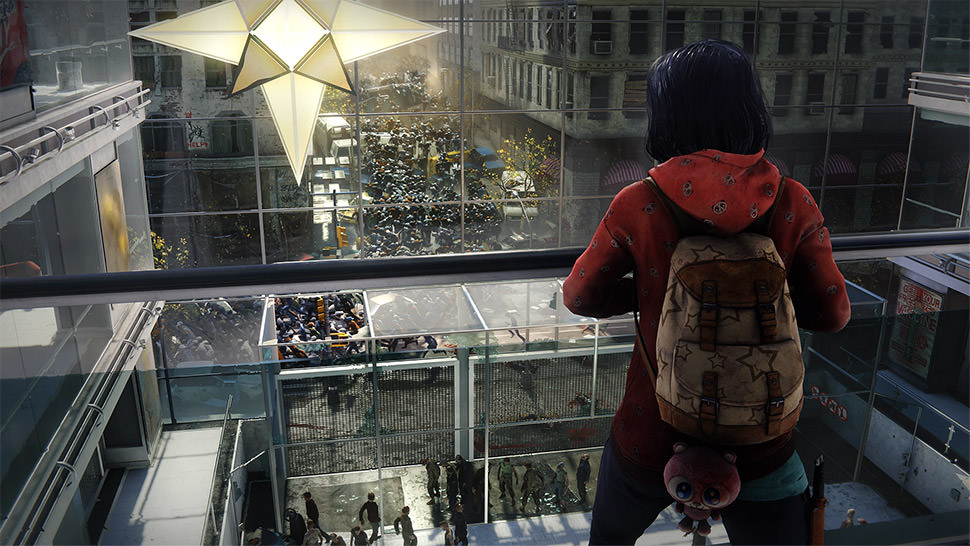 Although the game admittedly focuses on cooperative gameplay, there is a competitive game mode for eight players to fight against each other (and zombies) in groups of four. There are ten classes to level up and five game modes to pick from, such as king of the hill and swarm deathmatch. I'll be honest, I don't feel that the competitive modes are necessary in a game such as World War Z, but seeing everyone work together when a horde of zombies suddenly appears is an exciting concept. It accomplishes what it wants to do, providing additional options for players. There are additional PvE modes, each with different rewards dependent upon your chosen difficulties. Surviving the horde mode requires precise coordination with others, as you can face hundreds of zombies sprinting towards you. The swarms seem to envelop areas, and for the most part, the performance is as impressive as the visuals of seeing that many moving enemies at once, especially given the online nature of the game. You'll want to focus on building up your defenses and using the heavy weapons when things become dire, and your position is overrun. The chainsaw is a personal favorite of mine, but using the flamethrower on zombies climbing on top of each other is quite a sight. Weekly challenges add its own spin on the gameplay by applying modifiers providing a further challenge.
Simply Put
World War Z: GOTY Edition is the best way to experience the technically impressive and enjoyable online cooperative shooter. The amount of zombies on-screen at a time when a swarm takes over is genuinely frightening and a spectacle that must be seen. When playing offline or if you are having trouble filling spots, the AI fills in (there are always four characters), but barebones at best. They adequately defend themselves, but they won't attempt to interact with objectives or set up defenses, hamstringing their chance at success. Having a full team is the best way to play the game, even if you don't use voice chat when playing with strangers. Even after a year since the initial release, there are still the occasional bugs, but none seem to hamper this fun online shooter.
Note: ​World War Z: GOTY Edition was reviewed on PlayStation 4. A digital copy of the game was provided by the publisher/developer.