​Tony Hawk's Pro Skater 1 + 2
Review


By Kevin Mitchell

Posted on September 10, 2020
---
The first two titles in the Tony Hawk's Pro Skater franchise defined the late '90s and early '00s. The fast-paced arcade action with arguably one of the best one-two punch soundtracks was wildly successful, elevating the skateboarding and extreme sports genre. After some mediocre sequels with unnecessary narrative elements, questionable spin-offs, and horrific plastic peripherals, the series is ready to ollie the kicker gap and reclaim the throne.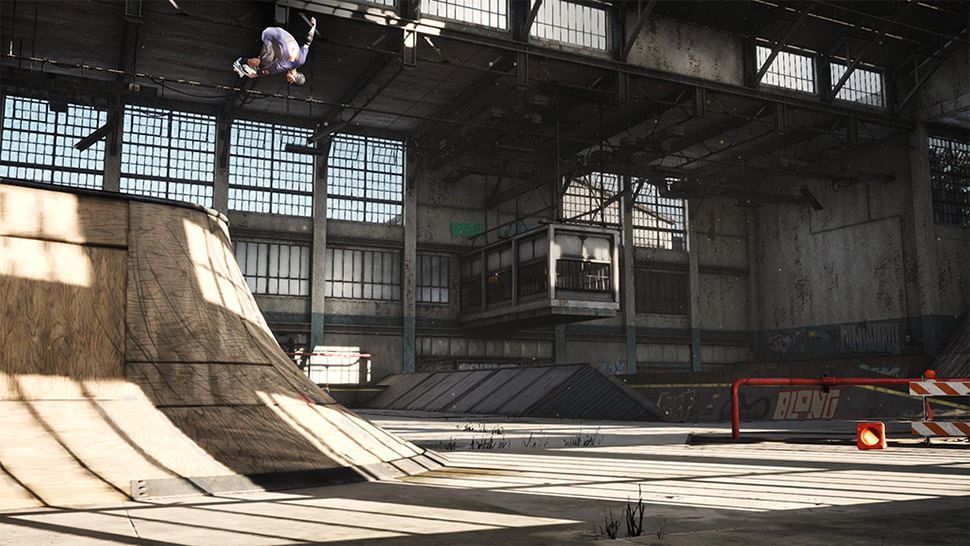 Tony Hawk's Pro Skater HD released last generation, a mix of the original two PlayStation classics with content from the third entry via DLC but lacked notable modes, such as a park creator and split-screen multiplayer. Tony Hawk's Pro Skater 1 + 2 is a combined remake of Tony Hawk's Pro Skater and Tony Hawk's Pro Skater 2, bringing the games to the modern era while keeping everything fans loved and helped make them critical successes.
No stranger to the Tony Hawk's series, developer Vicarious Visions previously worked on porting the series to other platforms (the GBA version of THPS2 was stunning). Tony Hawk's Pro Skater 1 + 2 marks the first major release in the franchise since the disappointing 2015 release of Tony Hawk's Pro Skater 5. The main structure of both games mainly feels the same as they did decades ago. You select a level based on real-world locations across the globe and are free to skate around completing any of the predetermined goals before the time expires. There are multiple high-score thresholds, scattered letters that spell out "s-k-a-t-e," hidden tapes, and successfully performing specific tricks over defined locations. The combo-extending manual and revert systems from THPS2 and THPS3 respectfully ensure the smoothest possible gameplay and push score totals higher than before. If you learn to maximize their usage, you could easily continue playing well past the two-minute timer.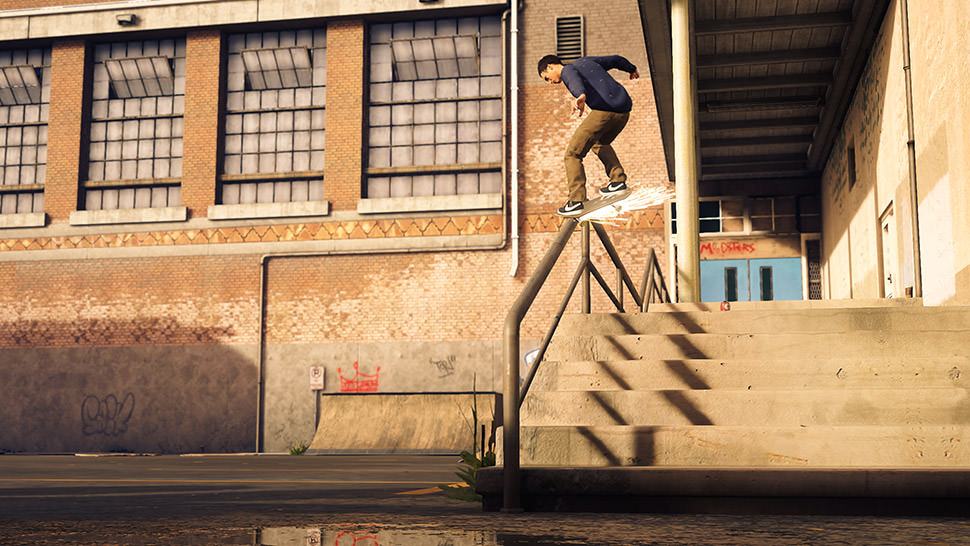 I felt right at home hitting the half pipes in the Warehouse for the first time in close to 15 years while Goldfinger's Superman blasts through my surround sound setup. My reactions may have slowed over time, but it wasn't long before muscle memory kicked in. Before I knew it, I completed every objective before moving to the next level. Tricks have been expanded, taking the best from across the entire series. There's an optional tutorial that I recommend even for veterans of the series. It will familiarize you with all of the enhancements made since the original release and what systems have been included from other series titles. All of the original levels have been recreated with beautifully modernized visuals, yet they still feel quite similar to how they played on PlayStation. The original designs for the levels are timeless, ensuring proper placement, allowing for massive combos without disrupting your flow, giving plenty of objects to jump over, grind, or smash through. Every real-life skater from the first two games is included in the bundle, such as Bob Burnquist, Bucky Lasek, and newcomers like Riley Hawk and Aori Nishimura.
There are over 700 additional challenges to complete as you play through the single-player career mode, local/online multiplayer, or by creating and playing custom skate parks. Completing the challenges unlocks new decks, wheels, apparel, videos to watch, or provides cash to purchase new items in the skate shop for either real skaters or one of your four custom skater slots. Stats are upgradeable by collecting all of the stat points hidden in each of the levels. You can check out what's new in the skate shop, unlocking new t-shirts, sneakers, pants, decks, grip tapes, etc. More items become available to purchase as you level up by completing challenges.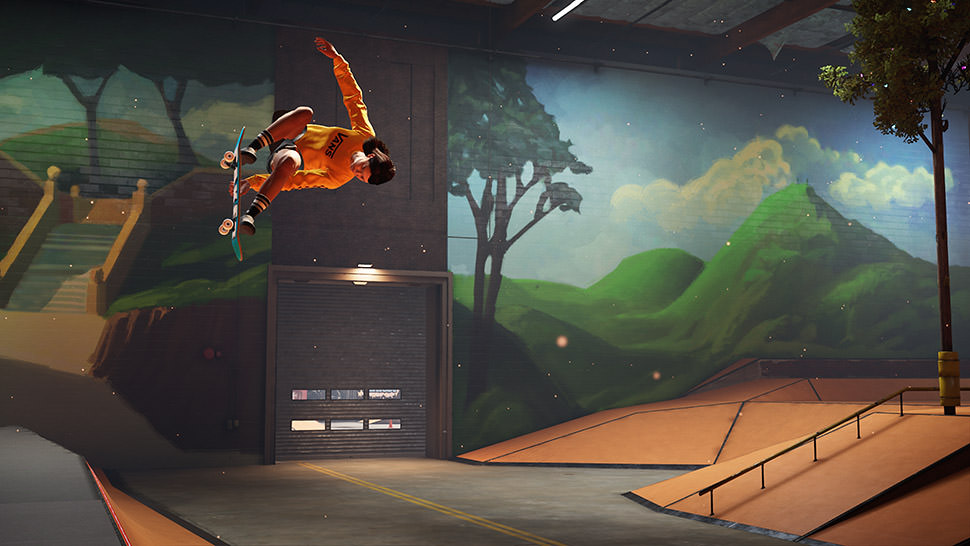 There are two online playlists (jams and competitive), as eight players compete against each other across various rotating game modes. Thankfully collusion is turned off, ensuring there won't be any griefing that could ruin someone's experience. The transition between matches seamlessly ensures you're always competing with minimal downtime. You can even skate around while waiting for players. Developers take notice; this is how you should be handling online sessions without dropping everyone back into a lobby or menus. Graffiti is still my favorite mode, where players are assigned a color to tag objects, such as ramps and rails, by performing tricks and combos. You can retag already claimed objects by accumulating more points than the original tagger.
Online multiplayer is limited to these randomized objectives playlists, and you aren't able to create lobbies with your friends. However, it is possible to invite them to a party to play together. Two-player local multiplayer allows you to set the game type, time limit, and level. Classics such as "horse" and "tag" return (which can't be played online); however, the game seemingly has slight performance issues during horse. It's quite odd considering players take turns. In contrast, other modes utilize split-screen and runs smoothly on an Xbox One X. If you have activated any assists, such as perfect rail balance or always have your special within the game mods settings, be aware some carry over to these local modes.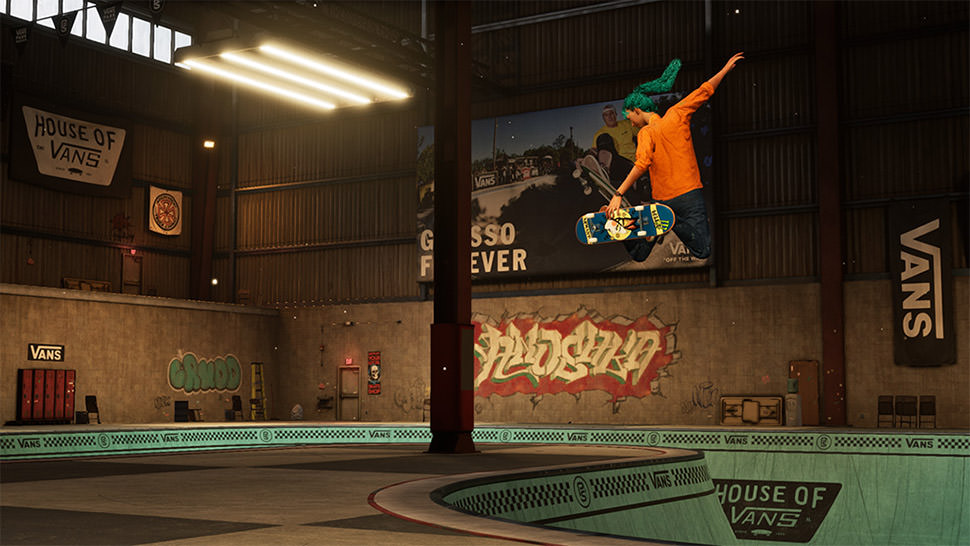 The create-a-park has been expanded, given you access to browse and create your own park. Vicarious Visions has lent their talents and made a bunch of engaging and flat-out enjoyable parks. Still, the real treat is the user-created levels, including one right now where you'll grind up and around a roller coaster-like structure made of railings. The create-a-park is reasonably easy to understand, snapping various pieces together along an invisible grid. Parts can be picked up, moved around, rotated, cloned, and you can even stylize their appearance. Want a velvet concrete half-pipe next to a yellow ramp? Go right ahead and design anything that you want. At any point, you can drop right into your work in progress to test without any loading screens. There are 75 skate park objects locked behind the skate shop and your overall level. In the options, you can turn off object snapping, allowing for more precise placement of just about everything, and more important, rotation is no longer limited to 90-degree turns.
Simply Put
Tony Hawk's Pro Skater 1 + 2 is the definitive experience of playing through two of the greatest games of all time. The modernization and enhancements across both means both games play similar (although purists have the option of reliving the control schemes from either THPS1 or THPS2), and that's not a bad thing considering the advancements the series has made. This bundle is precisely what THPS fans have been waiting for, ensuring once again The Birdman has the stamina for another run.
Note: ​Tony Hawk's Pro Skater 1 + 2 was reviewed on Xbox One. A digital copy of the game was provided by the publisher/developer.