​The Pathless
Review


By Kevin Mitchell

Posted on November 18, 2020
---
Developer Giant Squid, founded by former thatgamecompany (Flow, Flower, and Journey) employees, released their debut title Abzû in 2016. A relaxing underwater exploration game, it followed a diver freely navigating through the open waters, exploring ancient ruins and cave systems, to introduce marine life. Although there are brief moments of zen or tranquility in The Pathless, it is a tale about dispelling a vengeful curse cast upon an island. It's quite a striking contrast to the pure serenity and calmness of Abzû; however, the darker approach produces a much deeper and richer narrative experience.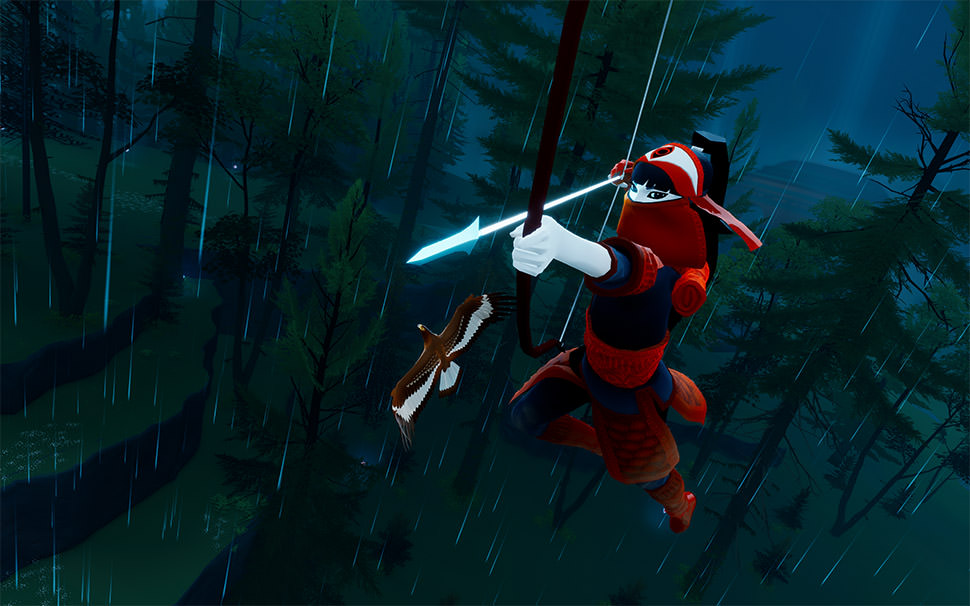 A mysterious evil demon known as "Godslayer" curses the land, corrupting the four beast spirits that protect the island in an attempt to gain immortality. Players take on the role of "The Hunter," a mysteriously blue-skinned individual who happens to have quite the expertise with a bow. After forging a connection with your eagle companion, you venture forth together across the expansive four open plateau regions that comprise the island without so much as a map. Your spirit vision highlights any corruption in red, providing you with clues on where you should focus next. Littered across the wilderness are floating talismans, which, when hit with an arrow, provides a slight speed boost when you're dashing and fills a portion of your stamina meter. Given the expansive nature of the game world, you'll want to be dashing through the grassy fields and snowy mountains continually; otherwise, it would take a long time to get around. Not only will you run faster, at least until your stamina meter depletes completely, but you can also bounce through the air by chaining talismans and soar gracefully using your majestic eagle companion. Eventually, you'll earn a set number of "flaps" for your eagle, with each one propelling you upwards, given you access to new areas.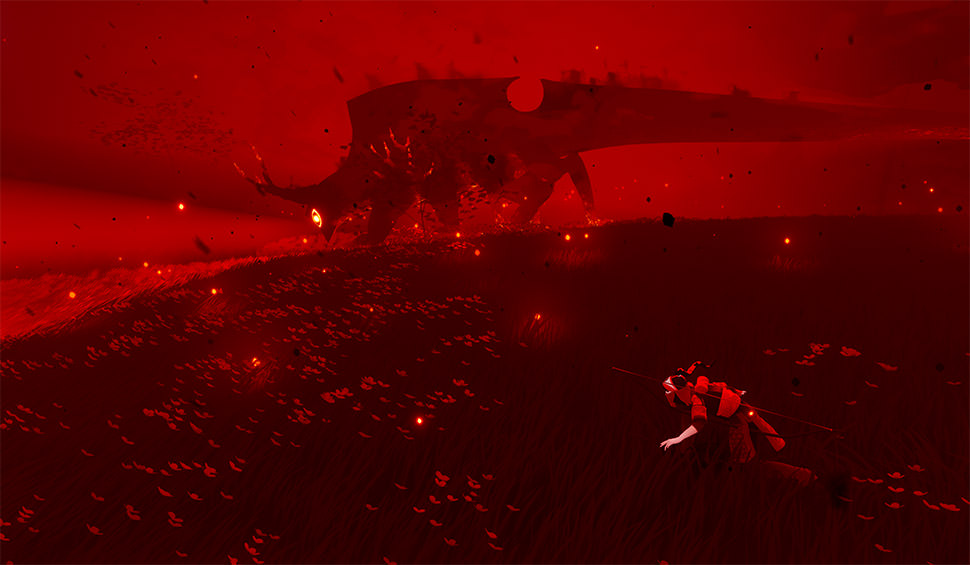 There's no manual aiming in The Pathless; you won't be hunting wildlife that runs roams through the land either, instead, you'll automatically target the talismans as they become within range, making traversal an effortless and accessible process. The game's mood is one of darkness reigning over the light, with a rampaging firestorm growing throughout each location. The first time the storm erupted, I found myself in awe at the size of the destruction, knowing there was nothing that I could do to prevent the flames from scorching the world around me. If you are caught within the nightmarish hellfire, which erupts intermittently, you'll need to stealthily reach the eagle that has been ripped from your shoulder. During these sequences, one of the corrupted spirits hunts your location. Ensure not to move when caught within their gaze, indicated by a bright red light emanating from the beast's eye(s). If caught, you'll be attacked and lose crystals you pick up to earn extra flaps of your companion's wings. Upon recovering your eagle, you are sent back and must wipe away all of the darkness on your companion. Seeing the nameless hunter and eagle meaningfully embrace after being reunited is heartwarming.
Scattered across each biome are three towers that must be cleansed by inserting several ancient relics. Once all of the towers are basked in pure light, they reveal the region's corrupted guardian, weakening it enough for you to hunt and dispel the curse. The majority of the environmental puzzles you'll find are entirely optional, as there are more puzzles than the number of relics required, but you'll gain an advantage if you complete them all. You must use your mind to deactivate the curse's shroud protecting the relics by solving puzzles and activating the talismans connected to them. Things start quite simple, stand on a pressure switch to reveal the necessary talisman that needs to be targeted with an arrow. As the narrative progresses, you are aided by your companion to maneuver a weighted object into position on multiple pressure switches, lighting braziers by shooting arrows through a lit one, firing an arrow through a set number of rings, and more. My favorite puzzles involve placing and rotating mirrors to ricochet arrows multiple times before hitting their target.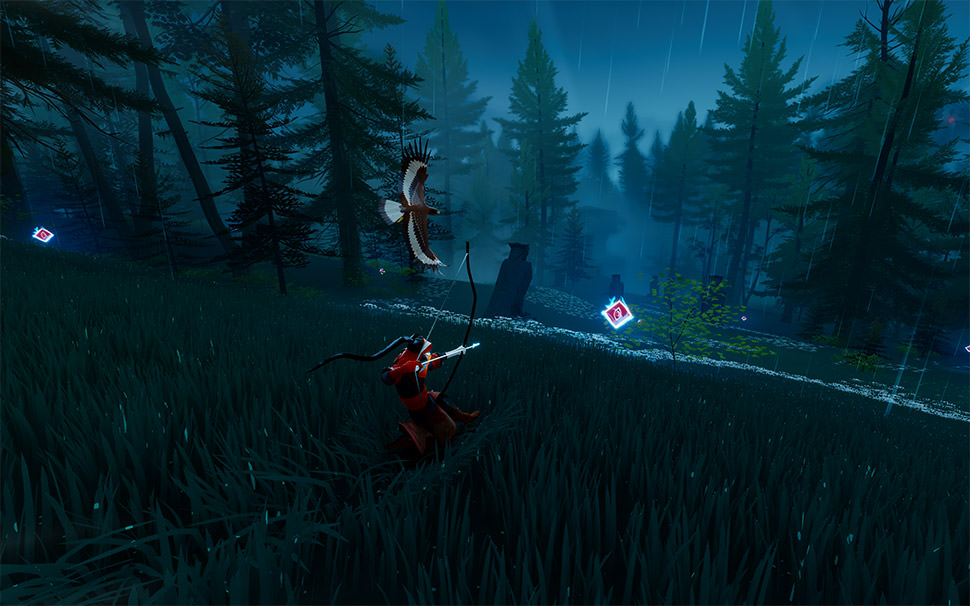 The boss fights begin with a long-winded chase sequences through the storms engulfed in flames. You'll need to perfect the act of dashing to keep pace with the speedy and massive corrupted spirits. Not only that, but the ground is covered in fire, plus, exploding fireballs are continually launched from the boss. Once you get close enough, you'll need to launch arrows at the talismans that adorn each side of the beasts. Afterward, you confront it directly inside an arena for a multiphase encounter, requiring the use of dodging, both on the ground and through the air. Some of the fights feature unique mechanics that require you to safely approach while avoiding deadly blasts. However, getting hit is only a minor inconvenience, knocking you to the ground or over the edge of the arena as you don't have a health bar. If you are struck multiple times, the game seamlessly repeats the current phase, so some fights feel extended. Strangely enough, I felt a constant sense of dread during the battles, even without fail states, resulting in some of the most thrilling boss fights I've experienced this year.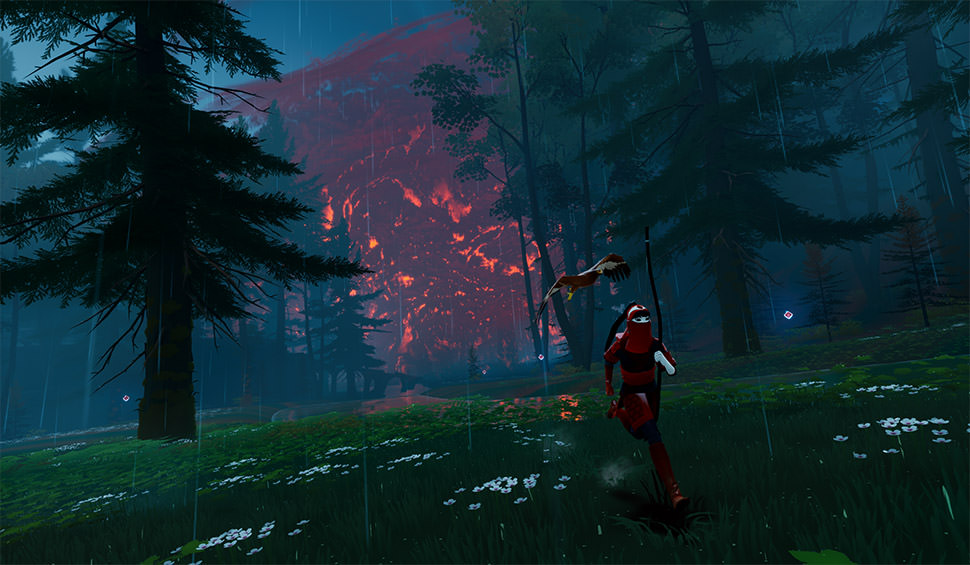 Simply Put
The Pathless is an open-world exploration title with unique puzzle-solving mechanics and one of the year's best soundtracks. The tense and enjoyable boss encounters were a delightful surprise. The free-form approach to the exploration and plethora of puzzles to solve, even if most are optional, give you the sensation of freedom while traversing. It's simply fun, aimlessly soaring through the air with my eagle, bouncing across rivers and sliding down snow-covered mountaintops shooting at talismans. It's not a long experience, as I clocked my completion time at roughly eight hours, but there are plenty of trophies to unlock by completing all of the puzzles, along with completing various other tasks.
Note: ​The Pathless was reviewed on PlayStation 5. A digital copy of the game was provided by the publisher/developer.