​Tennis World Tour 2
Review


By Kevin Mitchell

Posted on September 22, 2020
---
Two years ago, the battle for best tennis game on the market was between AO International Tennis, developed and published by Big Ant Studios, and Tennis World Tour, developed by Breakpoint Studio and published by Nacon, formerly Bigben Interactive. AO International Tennis was promising yet clunky, but a vast improvement over the rushed to the market and incomplete release of AO Tennis months prior due to the Australian Open's timing. Tennis World Tour suffered the same fate, a barely functional unfinished mess, but was pushed out to market due to the French Open's timing. While it was updated to become a reasonably competent tennis game, it was still outmatched by the early 2020 release of AO Tennis 2, again developed by Big Ant Studios. The same studio has now taken center court with Tennis World Tour 2, but will they double fault against themselves or serve an ace for match point?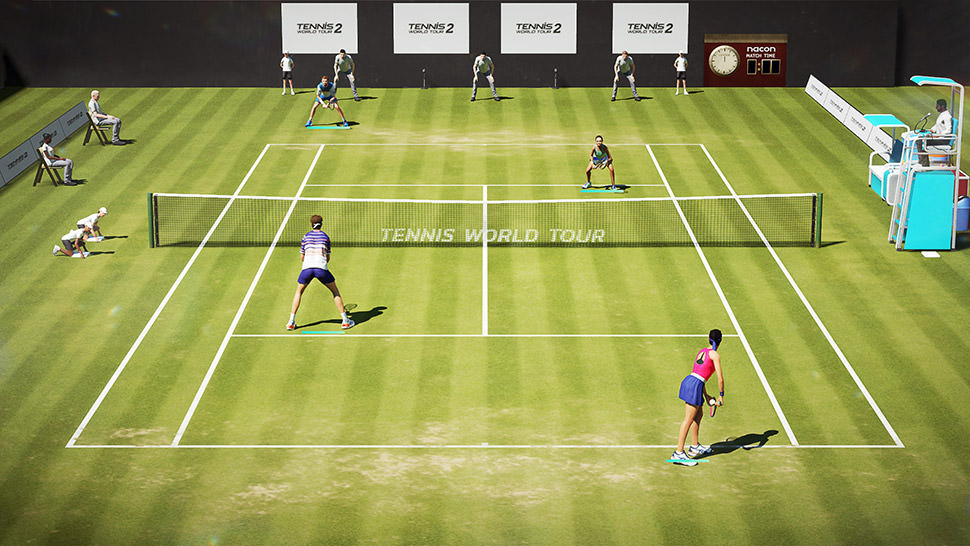 The most notable improvement from the previous entry into the series has been the animation advances. The animations have doubled, per the developer, which should promote a much smoother gameplay experience. Everything from reading your opponent's movements to the ball's trajectory is much more fluid, although it isn't perfect. The included tutorials attached to the tennis school are, without a doubt, a necessity before playing. I made the mistake of going straight into an exhibition match and was thoroughly dominated thanks to the highly challenging AI. Difficulty settings only seem to affect the AI, such as slowing down their shots, producing much easier balls to return, and increasing the sheer amount of unforced errors. Regardless of the difficulty, it doesn't appear that your strokes' timing is affected at all.
As you might expect, tennis is about placement, precision, and timing, and all of these aspects are faithfully recreated in Tennis World Tour 2. As you move your player around the court, you'll trigger a swinging animation depending upon your distance to the ball and whether it is on your forehand or backhand (depending upon if you are playing as a left-handed or a right-handed player). Each shot type corresponds to a specific face button on the controller, requiring you to combine timing and power with the proper shot type to put the ball past your opponent (hopefully). It won't make sense to slice the ball towards the court's left side if you are already standing close to the boundaries on the same side of the court. The four main face buttons on the controller represent the four main shot types: flat stroke, slice, topspin, and lob. A drop shot can be accomplished by holding the right bumper when using a slice. The inside out, which I will admit I have never used, is tied to the left trigger, while you can sprint around the court by holding the right trigger.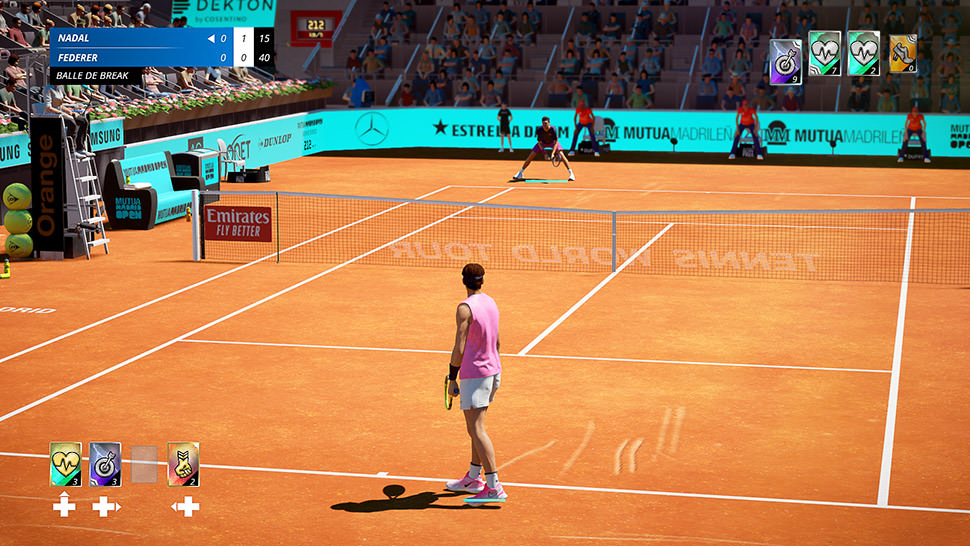 Timing is critical, regardless of what shot type you are utilizing during a match. Holding any of the shot buttons places additional power on the shot; however, you risk accuracy if you hold it too long. You'll have a better time with your serves than volleying the ball thanks to two included indicators (if you choose to keep them). Serving has been improved thanks to an accuracy timing meter, while an outline of a circle at the balls zenith when tossed marks when to release the button, if you are aiming for a power serve. However, during rallies, the only timing indicator that you have in your player's windup and a flashing message when you are release "too soon," "too late," "perfect," or "good" when it is close enough. After a few hours of consistently losing matches, I found my rhythm by timing my swing with the ball's bounce, and matches started to have a proper flow without dozens of unforced errors (although those still happened). Just like the predecessor, and even the AO Tennis series, there are moments where you'll approach a ball to hit a return, and nothing happens. Your player refuses even to attempt a swing, even if you are well within reach, let alone make a diving attempt.
Tennis World Tour 2 has a lot going on, from a single-player career mode, tournaments, skills cards, online and local multiplayer, and player creation. The career mode puts you in control of a level one created player wearing the ugliest multi-colored throwback t-shirt, tasking you to improve your performance by training, exercising, and traveling the globe to partake in tournaments and exhibition matches. Tournaments may have an entry fee associated, but the first prize reward will be greater than from a basic exhibition match. As you play and hopefully begin to win games, you'll earn experience points and coins. The coins are spent purchasing new equipment, from licensed rackets, headwear, tops, bottoms, and more. You could also opt for various exercises, such as a swimming course that provides a temporary endurance boost. If your player's appearance isn't a priority, the card store sells card booster packs in exchange for coins.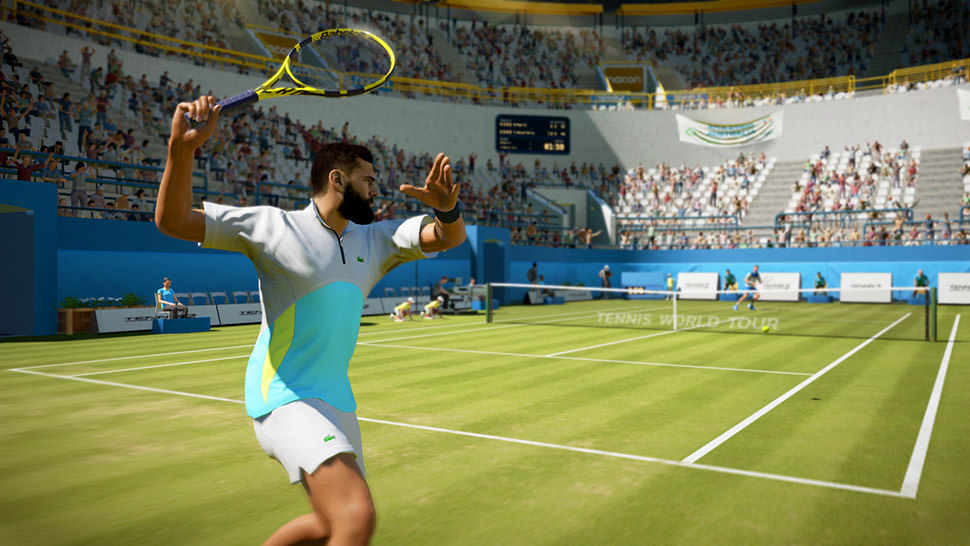 Before starting a match, you can alter your hand's skill cards with any you have acquired. The cards are broken down into four categories, endurance, power, precision, and agility. Cards not only affect your ability to perform, but some have detrimental effects on your opponent, such as one that can increase your opponent's stamina cost for a specific shot type. Cards come with a set amount of uses, so if you find a card to improve your spin power, it may have only ten uses, whereas a card that reduces an opponent's slice shows power by 20 points may only have three total uses.
Tennis World Tour 2's roster is much improved when compared to other tennis games. Finally, Roger Federer and Rafael Nadal can face each other, as they were previously locked in competing game series. There are still glaring holes in both the men and women's roster, especially if you were expecting tennis legends. Two modern legends (according to the Microsoft Store description) are included as a pre-order bonus, Marat Safin and Gustavo Kuerten. Even though the same studio develops the game behind AO Tennis 2, the detailed creation tools and ability to share both arenas and players online are missing. Yes, I understand it is two different properties, but their other series had a much more detailed creation suite. In Tennis World Tour 2, the created player appearance options are quite limited. You have basic options for various face types and facial features, such as face, nose, ears, hair, etc. It is impossible to accurately recreate missing players (Djokovic, the Williams sisters, and Naomi Osaka). Not to mention, there is no option to create venues. However, there are plenty of courts from around the world. Even more, such as the Madrid Open's main court, the Estadio Manolo Santana, and the Halle Open's main court, the OWL Arena included in the $20 more expensive Ace Edition. The additional content can be purchased separately or within the annual pass. The annual pass does promise new official players.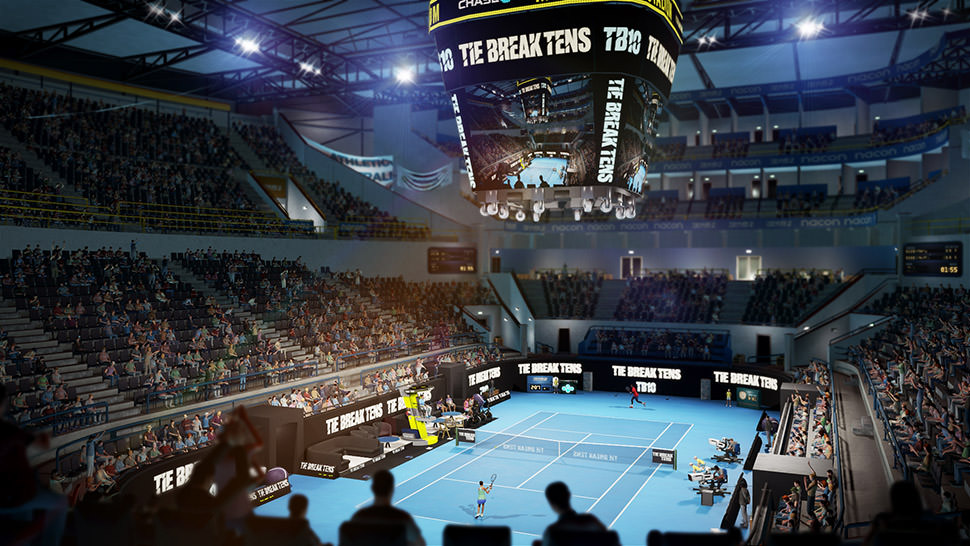 Simply Put
The new team in charge of Tennis World Tour 2 has thankfully made enhancements to a series that badly needed a do-over. It puts it in a better position for the future by expanding the roster and making key gameplay improvements. Although animations have been doubled, characters still appear to be quite stiff at times and even slide into animations awkwardly. The courts are nicely rendered, and when playing exhibition matches, you can freely alter the surface type on non-licensed venues. I think the timing of strokes needs to be adjusted, especially when playing on an easier difficulty.
Note: ​Tennis World Tour 2 was reviewed on Xbox One. A digital copy of the game was provided by the publisher/developer.