Superliminal
Review


By Kevin Mitchell

Posted on November 20, 2019
---
In real-life, dream therapy interprets your dreams thoroughly, analyzing your experience, and determining things about your life. The belief stems from getting an understanding of certain types of stress in your life and how to overcome them. As a subject at the Pierce Institute, a dream therapy clinic, you'll wander through dream-like laboratory corridors, except you are unable to wake up. One moment I'm picking up an ordinary can of soda off the floor in some medical facility waiting room, and the next, I'm climbing up a twelve-foot piece of cheese to reach an exit in a fancy ballroom. If that wasn't enough, only moments ago, the cheese wedge was standard size, sitting on a normal-sized plate in the center of the room. Superliminal dares to alter your perspective, where changing your angle can break through (rational) expectations.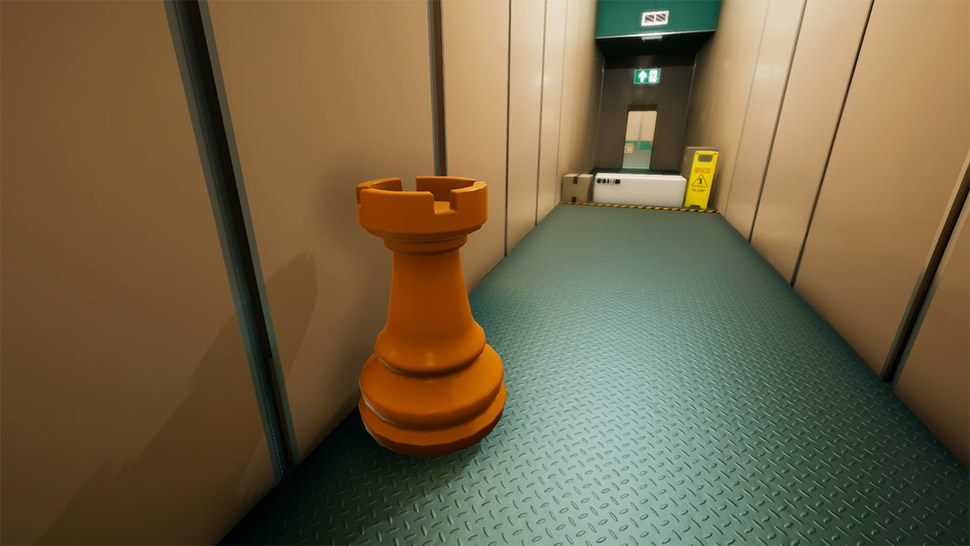 I enter a hallway, at the far end stands a lone chess pawn. As I approach, the object becomes larger in my vision, but as soon as I stand right before it, I realize it was never there. Instead, stands before me, a painting of an object, plastered across the floor and wall, teasing my mind, but at the same time, attempting to open my mind to alternate realities. At this point, I realized that Superliminal is something special and not just another first-person puzzle title. Superliminal isn't about what is real, but more so, what could be real. As you progress through the game, which only lasts a couple of hours, if you become stuck, otherwise the game can be completed in under 90 minutes, there are clear signs that something has gone wrong. Instead of waking up, you are forced to push forward as your dream world deteriorates, becoming more and more unstable. There are quite a few tense moments where the game's vibe turns a turn towards the horror genre. Even so, you won't interact with any other characters, besides a female AI explaining how you are failing, and prerecorded messages from the doctor administering the test.
The game is broken up by levels, which, unless you return to the main menu, you'll never realize besides the type of puzzles that you come across changing. In the narrative, you are merely reaching and entering an elevator, which, in turn, takes you deeper down the rabbit hole, almost resembling a dream within a dream (within a dream, etc.). At first, you are toying with perception, being able to alter the size of anything that can be picked up. Using your hands, picking something up from afar, and bringing it towards your feet can shrink it down based on your new relative perspective of the world, which is directly beneath you, but when you grab something up close and look out across a room, the object appears much larger. Once dropped, the object takes on the new size by either growing or shrinking. It takes a little bit to understand the mechanics, to free your mind, as it were, to play tricks upon your self.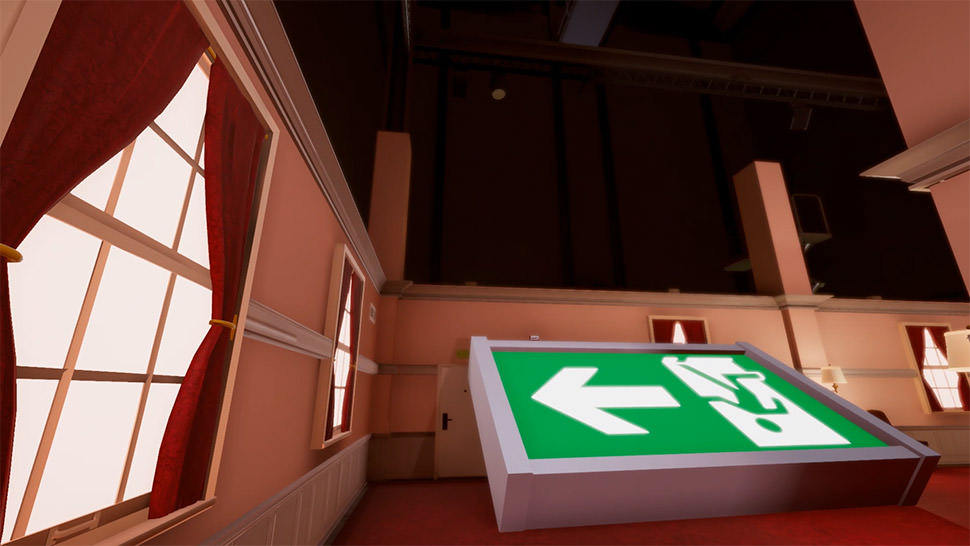 Later in the game, things get even more mind-bending, such as toying with optical illusions, using shadows, a smart play on portals, entering new worlds through a dollhouse, and more. I was smiling during a discovery during a level where clicking an object no longer puts it in your hands but instead makes an exact duplicate. Altering your perspective then changes the size of the newly cloned object, and before long, I had an entire room filled with different sized apples. In an ingenious touch, a switch to open the exit exists at the top of a slope. After failing to push the apples up the slope, I took a second and thought about how to solve it by detaching myself from reality. I won't spoil the solution, but it was a eureka moment if I ever had one. Then there are moments where you must stand in a precise spot, correctly aligning the painted outline of an object, allowing you to reach out and touch it, making it a tangible object to use.
Simply Put
The more profound life lesson that Superliminal attempts to convey throughout becomes quite apparent in the final monologue from Doctor Glenn Pierce in the last few minutes of the game. Not only does it connect everything that you have done in the game with a higher purpose and meaning, but it has connected with my own life. Perspective is a powerful sentiment and one that many take for granted. Dropping an enlarged exit sign over two pressure plates to open a door is one thing, but understanding how you can become a better person, by looking at all the possible angles and outcomes, is a life lesson I was not expecting from a video game. Some may walk away from this game, thinking it was just a game, but I would say that they missed the theme entirely. Bravo, Pillow Castle Games.
Note: Superliminal was reviewed on PC. A digital copy of the game was provided by the publisher/developer.