​Stranded Sails - Explorers of the Cursed Islands
Review


By Joan Mitchell

Posted on November 4, 2019
---
You awake on an unknown shore. The ship, torn to pieces. The crew, scattered throughout a mysterious archipelago. The captain, your father, of this disastrous voyage, is nowhere in sight. This is the playful horror that awaits in Stranded Sails; however, the colorful visuals and lively music do its best to make light of the precarious situation you find yourself in. It is down to you to build a working community, plant, and grow crops and put all the ingredients together to make the best tasting dishes the crew has ever tasted.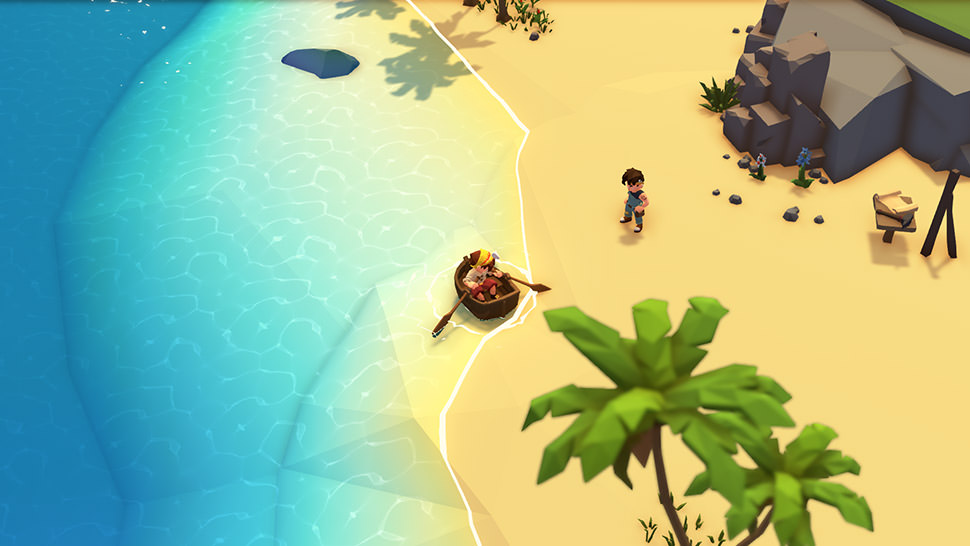 With nothing more than the bare necessities, you get to work, first reuniting with crew members one by one, by exploring the many beaches around the islands. Leading them back to your work-in-progress camp, you'll slowly expand your skillset. The game has no problem holding your hold for quite a ways into the game (as you begin fleshing out the base), giving you particular tasks to accomplish. Your tiny plot for growing crops grows as you progress, letting you plant seeds, keep them properly watered, and finally picking the ripe ones to cook. Fishing brings new ingredients to your culinary tongue, expanding your recipe list. The fishing mini-game is more akin to a rhythm-based game, requiring you to time overlapping ripples in the water to safely and swiftly pull the fish out of the water.
Every action in Stranded Sails, from swinging your ax, digging a hole with your shovel, to even running around the island requires energy. The only way to regain strength is to eat prepared food or sleep in your bunk. While it doesn't sound like a bad system, in practice, it is more frustrating than anything else. During the day, your leisurely pace doesn't waste much if any energy, but at night you'll be lucky if you can make it around one of the islands before collapsing. Perhaps it's supposed to represent the presence of the unknown lurking in the shadows. If you want to sprint around to get where you need to be faster, you can be sure that it will use even more energy. It certainly feels a bit like a mobile game experience where you'd pay to keep your stamina topped off. Yes, eating food can replenish it, if you don't wish to collapse and be sent back to your bed to rest, but it becomes quite tedious to have to deal with it regularly. Perhaps if the drainage rates were tweaked, I would feel differently.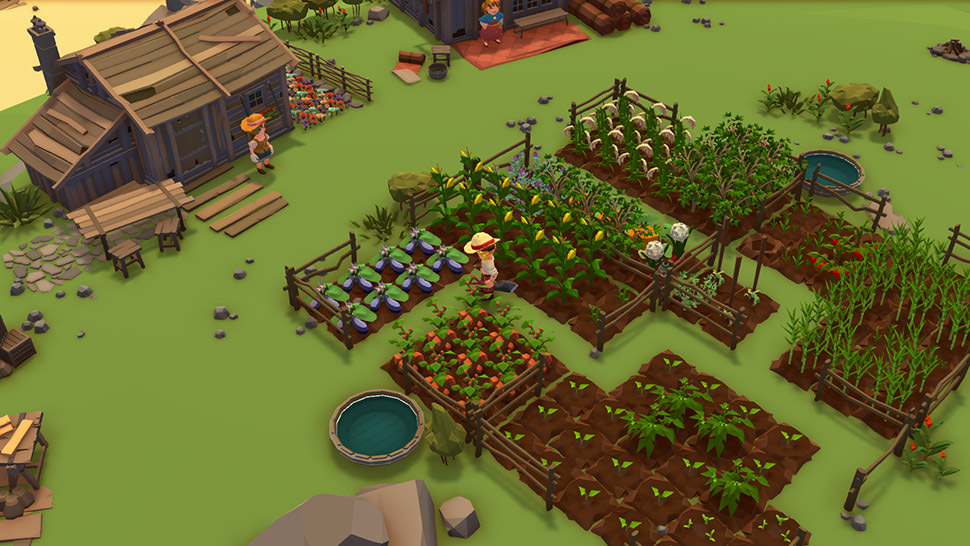 The developers have come up with an elegant solution for moving through different inventories without interrupting the flow of the game. Using the right stick on the DualShock 4, you can easily swap between your cooked food items and your tools with ease. The directions-pad allows for easy access to some of the most used items, such as food and the map, as well as putting away any tool you were holding. Sadly, these aren't customizable.
You are left to discover new food recipes on your own, although new ones only appear when you have all the necessary ingredients. After selecting one of your unknown recipes, you'll drop items into the selector. If the elements are correct, you'll be presented with a new recipe to cook. If not, the game reveals that one or more of the items are wrong or in the incorrect placement. Even if you use the correct combination, such as tomatoes and onions (a simple 2 item recipe), if you didn't select the correct recipe, which you wouldn't know, it may be incorrect. Heck, you need to even ensure the items are in the correct position. I would have liked to see a bit more freedom, where using correct items unlocks the recipes without having to try each one manually. Eventually, you'll be cooking like a top chef, producing sustenance that yields higher levels of energy, such as seasoned seafood and vegetable stews, much to the delight of the crew.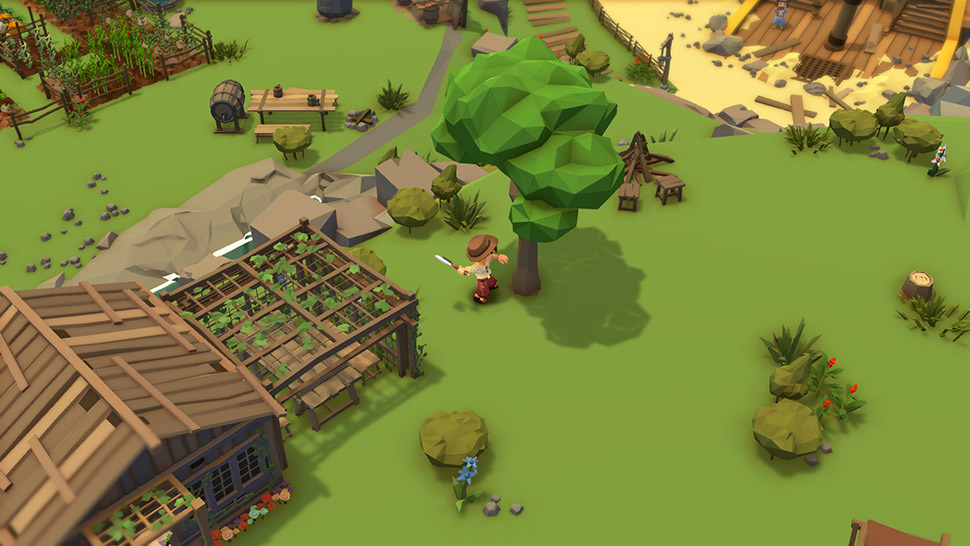 One of the leading concerns is the time required to navigate the islands on foot. You are sent for onion seeds near the north end of the main island, then be forced to return to camp, only to be sent back to the north side to chop down trees for wood. The map can instantly return you to the camp. Still, the slow movement speed makes the trek all that more annoying, especially when you usually have to go a long way to enter the various places, and you're unable to drop down ledges. Cooking a stew for the crew each day can help decrease the cost of actions temporarily, as well as provide you with a boost in energy. It also serves as the only relationship building in the game, happiness. Keep using the favorite stew ingredients for each crew member, and you'll gain rewards, such as tool upgrades, additional farm plots, and much more.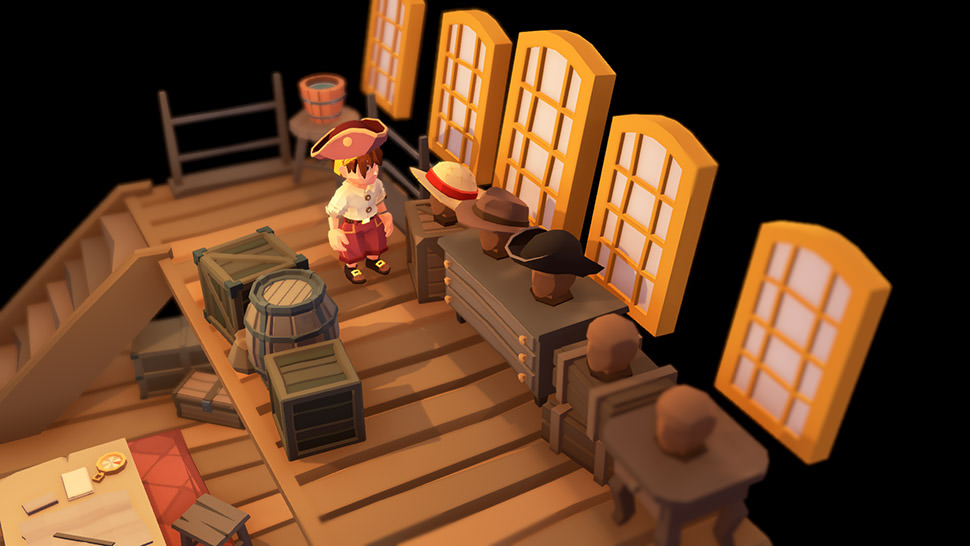 Although a relaxing experience, there are enemies in Stranded Sails in the form of skeletons. The combat system is quite basic, and you'll automatically equip your sword when entering combat. Swinging your sword and getting hit expends energy, so ensure you have a stocked pocket full of refreshing food, or you'll have to retreat. Hot food can provide an increase to your damage output, and spicy foods help reduce energy lost when hit. If you know you are going to be heading towards a battle, its best to have at least one of each ready to eat.
Simply Put
Stranded Sails - Explorers of the Cursed Islands is a wonderfully colorful and relaxing experience for a more casual audience. It's not without its faults, and even after the 1.03 patch, the quest log will occasional not correctly update, and a gear icon appears at the bottom left of the screen that you can't interact with. I assume it's the menu icon that can be clicked if you are playing on PC, but why does it exist on consoles? The energy system can be frustrating during the opening hours, but once you gain access to higher-level food items, it becomes less of a hassle but still annoying. Even something as simple as removing (or reducing) the extra energy drain at night would be a welcome change. I did like the charming character designs and music that changes based on the locations.
Note: ​Stranded Sails - Explorers of the Cursed Islands was reviewed on PlayStation 4. A digital copy of the game was provided by the publisher/developer.