​SpongeBob SquarePants: Battle For Bikini Bottom - Rehydrated
Review


By Kevin Mitchell

Posted on June 23, 2020
---
There's no denying the charm and popularity of the American made animated comedy series starring a charismatic yellow sponge wearing pants (typically he wears shorts), who just so happens to live under the sea along with his friends. Originally airing in 1999 (and gaining popularity throughout the aughts) and still running today, I missed out on the series growing up; however, I've made up for lost time by watching dozens of episodes recently (from old and new seasons). Much like many other long-running cartoon series, the first few seasons are generally considered when the show was in its prime. SpongeBob SquarePants: Battle For Bikini Bottom - Rehydrated is a remake to the action-adventure collect-a-thon that was released almost seventeen years ago on Xbox, GameCube, and PlayStation 2. Featuring an original story, the game stayed faithful to the show and became a cult classic in the speedrunning community. Rehydrated adds a brand new local and online multiplayer horde mode for up to two players, a remastered soundtrack, and cut or edited content from the initial release.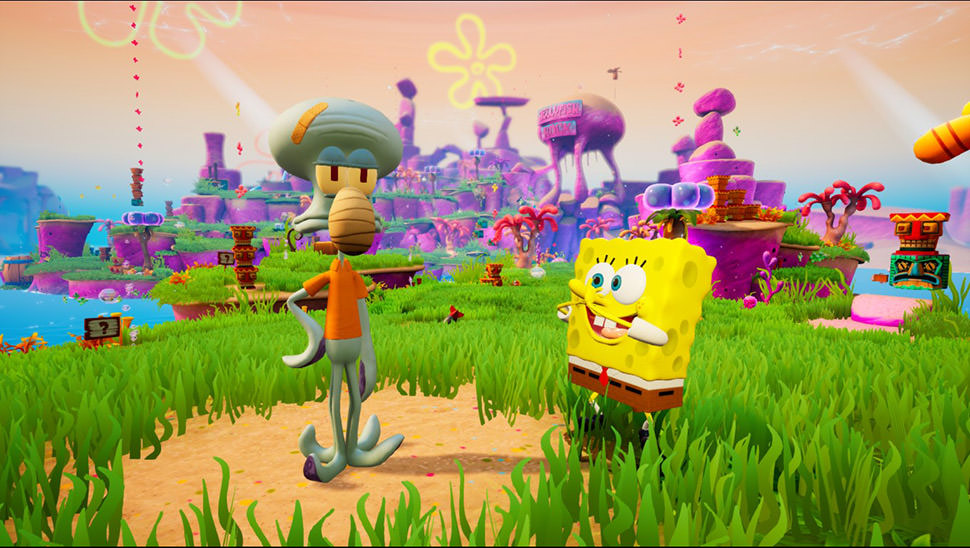 Plankton, along with his wife Karen, owns an establishment called the Chum Bucket, a competitor to the highly popular fast-food restaurant the Krusty Krab, where SpongeBob works as a fry cook. You can tell by the name of his restaurant, Plankton's spot is not popular, I mean, who would think chum would be delicious, except for some ravenous sharks. His jealousy gets the best of him, and he continually comes up with evil plans to steal the secret formula for Krabby Patties. Battle For Bikini Bottom - Rehydrated, follows a similar premise. Plankton builds the Duplicatotron 3000, producing an army of robots to steal the precious secret formula; however, he accidentally forgets to flip the "obey" switch. The robots quickly take over his restaurant and all of Bikini Bottom. SpongeBob and Patrick, wishing for real robots to play with and believe their prayers have been answered; however, Plankton pleads with them to save Bikini Bottom. SpongeBob, Patrick, and Sandy, venture throughout to collect golden spatulas (for whatever reason) and get rid of the menacing robots.
At the start, you are limited to the locales you can visit, namely the area around SpongeBob's and Patrick's houses. Once you gather enough spatulas, you'll unlock new locations to explore, such as Jellyfish Fields, Flying Dutchman's Graveyard, Sand Mountain, and more. At its core, the game involves, exploration, platforming, collecting and light combat. You'll run through overly saturated and colorful environments collecting massive amounts of shiny objects, but your goal is always to obtain golden spatulas. These can be earned by trading other resources (such as shiny objects, Patrick's disgusting socks, etc.), by completing the main objective in each location, such as defeating a boss (welcome back Robo Squidward), or by completing tasks after interacting with returning characters from the show. For example, Mrs. Puff asks you to collect steering wheels throughout Downtown Bikini Bottom. While searching for them, you'll naturally come across puzzles that earn you additional spatulas. There's a fast travel system that can take you to the exact location of any that you used the first time around.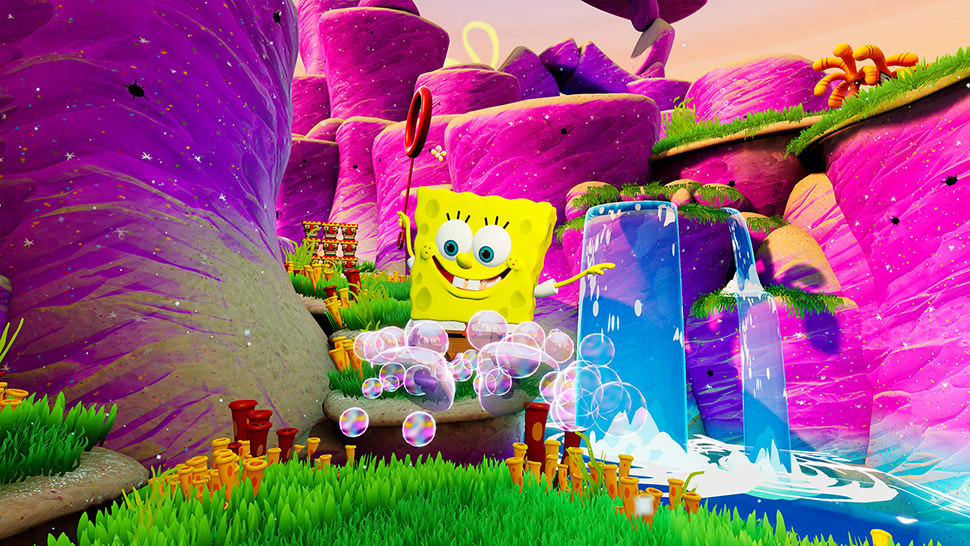 There are three playable characters, SpongeBob, Patrick, and Sandy. The majority of the time, you'll take control of SpongeBob, but at bus stops, you can swap between characters. In each level, there are puzzles that only specific characters can solve, so if you are stuck, you may want to see if there is a bus stop nearby. Patrick can pick up and toss fruit to trigger switches or stack on top of each other, letting him reach additional areas by jumping on top. His double jump ground pounce has the chance to stun enemies and toss them just like the fruit. Sandy uses her lasso to slowly float through the air or swing across gaps by attaching her lasso to specified hooks, reaching areas that SpongeBob can't. Modified since the original release, her lasso attack safely attacks foes from a distance, and she can finally use it in mid-air. SpongeBob can attack things above him by equipping a bubble Viking helmet. He can also sneak his way near blue tikis that would otherwise hide when he approaches. He has two additional abilities that you'll unlock, mostly used for traversal through the levels and to open switches. It's a simplified approach to combat, especially considering the target audience for the game. Enemies come in many different flavors, but you'll use the same strategy to defeat them throughout the entire 12-15 hours it'll take to complete the game. Basic robots can be defeated by a single attack, while others may take multiple hits or require you to use your ground pounce attack. For some reason, the robots that shoot globs of tartar sauce gave me the most trouble. Maybe secretly, I'm not fond of tartar sauce, just like SpongeBob and Patrick.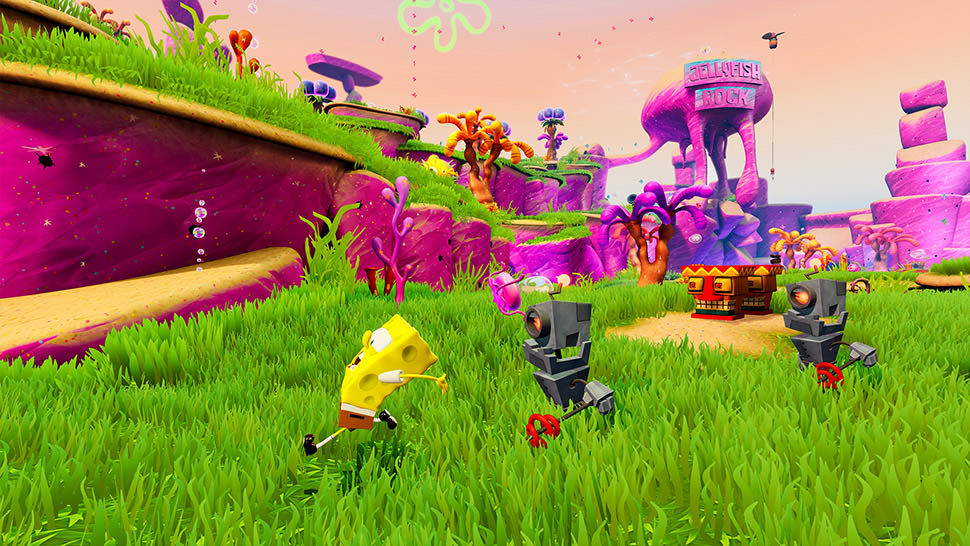 Newly added for the remake, Purple Lamp Studios added a multiplayer horde mode for up to two players locally or online across 26 islands. Not only can you select from the three characters from the campaign, but the horde mode adds additional characters from the series, such as SpongeBob's pet snail Gary, the very cynical Squidward, and more. The multiplayer mode feels hollow, lacking the charming personalities from the characters that you'll get in the campaign and the show. You don't even have all of your abilities, as each character is limited to two moves. It's good to see the inclusion of content that didn't make the original release, but maybe there was a reason it was left out. I would have loved if Purple Lamp Studios added an optional cooperative element to the game's campaign mode instead.
Simply Put
SpongeBob SquarePants: Battle For Bikini Bottom - Rehydrated proves that a great game is a great game regardless of age. The remaster of the campaign is phenomenal, with impressive improvements to the character models, textures, and environments. Some may be turned off by the overly saturated visuals, but it does match with the show's current look. Aside from Mr. Krabs and Mermaid Man, all of the original cast reprised their role in the initial release. The optional multiplayer horde mode disappoints, but it can easily be ignored and left untouched.
Note: ​SpongeBob SquarePants: Battle For Bikini Bottom - Rehydrated was reviewed on PlayStation 4. A digital copy of the game was provided by the publisher/developer.