Robo Instructus
Review


By Mike de Leon

Posted on July 16, 2019
---
A programming puzzle game, Robo Instructus tasks players with providing a set amount of code to help navigate a robot across the frozen planet of Bright. The adventure starts above ground with basic programming commands, but as you progress into the belly of the beast, it quickly ramps up in complexity. Based on existing real-life programming languages, you may feel right at home with your have previous programming knowledge or background. Even if you have never read or written code before, the game does provide a fantastic primer, ensuring that anyone can experience the unfolding narrative.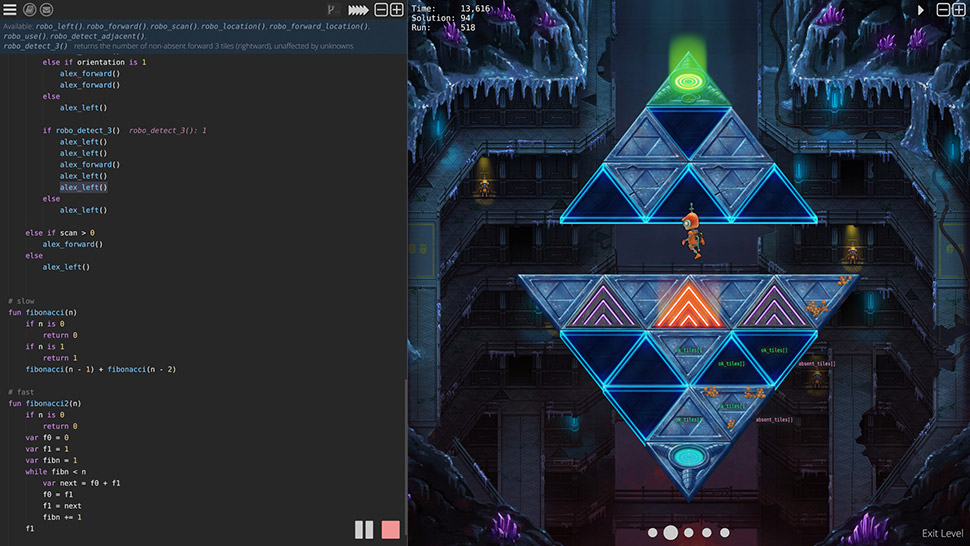 Each of the game's areas are divided into levels and various sections. The sections have different sets of tile configurations that a player needs to maneuver around. Clearing all the sections is the only way to exit the level and advance through the game.
In the start of the game, you are given basic commands; move forward, move left, etc. As you complete levels, you open up a new set of tools to use at your disposal. For example, you can scan tiles, use tiles, and you can even create your own functions. As you get deeper into the game, you won't be able to rely solely on simple (or barebones) instructions to your little robot. Instead, you'll need to think harder to ensure you are writing effective algorithms that combine many of the different elements that you have been taught. Players need to keep in mind, any commands that are given to the robot needs to be robust enough to work on all sections. Progression can feel a bit tedious at this point, requiring you to rewrite, debug, and test your code numerous times. Welcoming the challenge (just like in real programming), I felt thoroughly satisfied when all my effort paid off.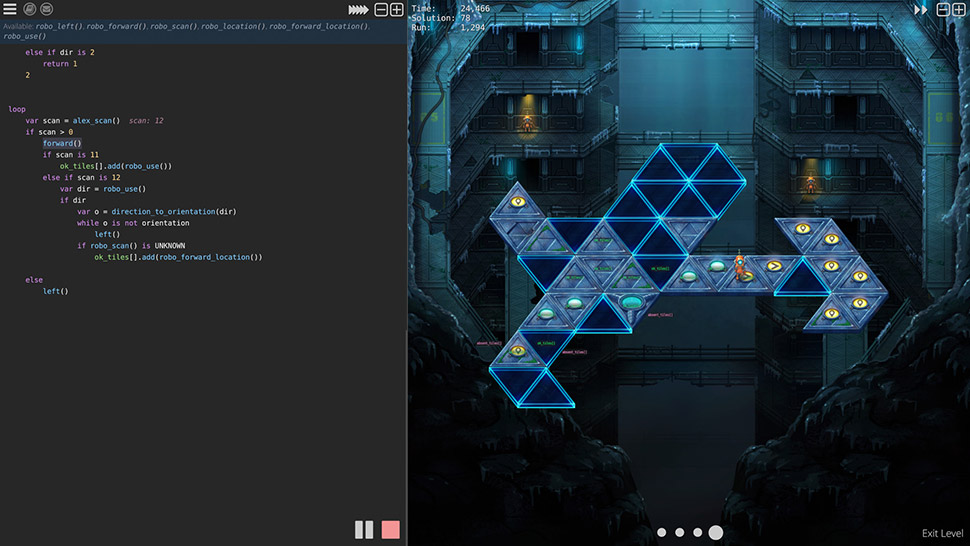 Completion rewards come in the form of background world lore, unraveling the narrative as you progress through the game. A text-based transmission is received informing you about the current situation and any new unlocked functionalities. Strangely enough, I didn't find myself enjoying the reward system. I found the character development to be on the weaker side of the spectrum, feeling more like a programming tutorial provided by an unrelatable engineer; although I do applaud the effort of adding an actual story element to a level-based puzzle game. As I mentioned earlier, however, the satisfaction of completing the puzzle itself was more than enough to satiate my appetite.
Simply Put
Robo Instructus welcomes existing programmers and newcomers alike, but I wouldn't consider it a casual experience. It takes a lot of patience and endurance to get through some of the more complex levels. The difficulty can spike quite early on, which may dissuade people from completing the game, especially if you are new to coding. With that said, the thrill of seeing all your work and code flow together to complete levels is exciting. There are multiple ways to get through each of the puzzles, so if you get stuck, you may want to try and think of a new approach.
Note: Robo Instructus was reviewed on PC. A digital copy of the game was provided by the publisher/developer.