​Pumpkin Jack
Review


By Kevin Mitchell

Posted on October 28, 2020
---
Arriving just in time for Halloween, Pumpkin Jack draws clear inspiration from classic 3D adventure platformers. Bored with humanity's age of prosperity and peace, the devil unleashes a deadly curse upon the entire world, summoning all sorts of monsters and creatures of the undead. After every castle and city throughout the world are left in ruins, the Arc En Ciel Kingdom requests the assistance of a hero that may break the curse, undoing everything the devil has put in place. The mighty wizard stands in the devil's path, leaving him no option but to strike a deal with the master of mischief, the greatest trickster that ever lived, Stingy Jack. Placing his wayward spirit into a pumpkin, he sends him back, promising eternal rest in exchange for the destruction of the wizard.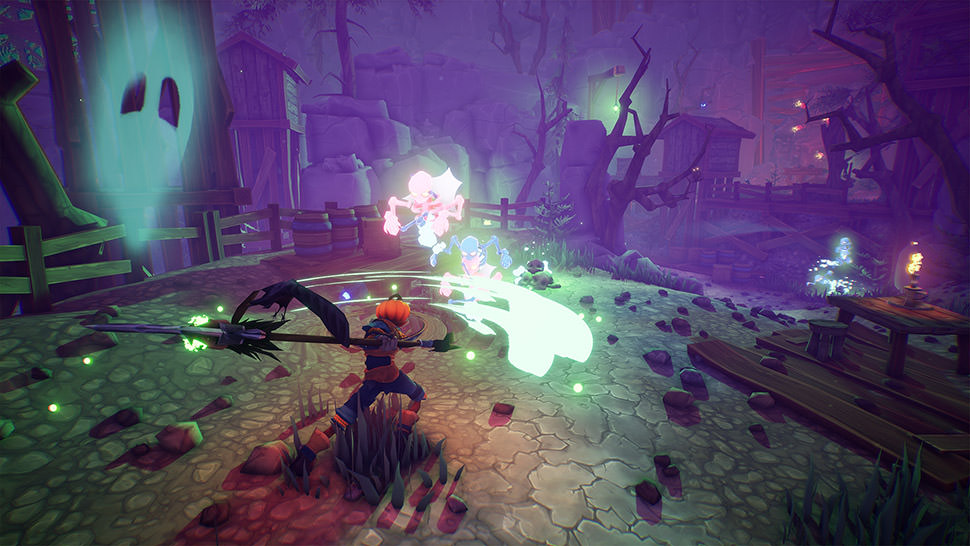 Although you are technically on the same evil side as the devil, the mindless demons roaming the Earth freely target you as if you were a pathetic, stinky human. Throughout the journey lasting six ghoulish levels, Pumpkin Jack is guided by a mysterious owl, which always has some wisdom for you, along with a bit of humor. There are twenty crow skulls to collect throughout, along with a single gramophone in each level. Looking at my recorded completion times, it takes anywhere from 30-45 minutes per level your first time through. When going through a second or third time to snag any of the missing collectibles, you don't need to finish the level and can freely quit to the main menu. There's no indication of where the missing items are located, so you'll need to scour every inch from beginning to end. The skulls are spent in a shop to unlock six additional skins, including an inspector, cowboy, and samurai outfit. As you continue your search for the wizard, you'll journey through a haunted cemetery, try looking for Jack's earthly grave, a nefariously cursed swamp, and more decrepit looking locales. On Xbox One X, the game's visuals look great. The cartoony stylized approach is rich with colors that pop, bringing the entire adventure to life and make each level genuinely unique.
The combat mechanics are reasonably simplistic (not that it is bad), allowing for basic combo attacks, jumping, and dodging. Although you have a health bar, enemies do not, but do perish in only a few hits, but tend to have multiple attack patterns to learn. Basic skeletons will first shoot a homing green orb towards you at range before charging in with a melee weapon. Regrettably, it can easily be mistaken for healing orbs gained from defeated enemies and breaking crates. Your companion crow can be sent out as an additional attack, especially at long-range. You may start with a shovel, but you'll gain new equipment after each boss defeated, including a powerful shotgun, a long spear to keep your enemies away, and a deadly scythe. Bosses are massive, immune to your basic attacks, requiring you to memorize patterns and use all your tools and precision timing to defeat them.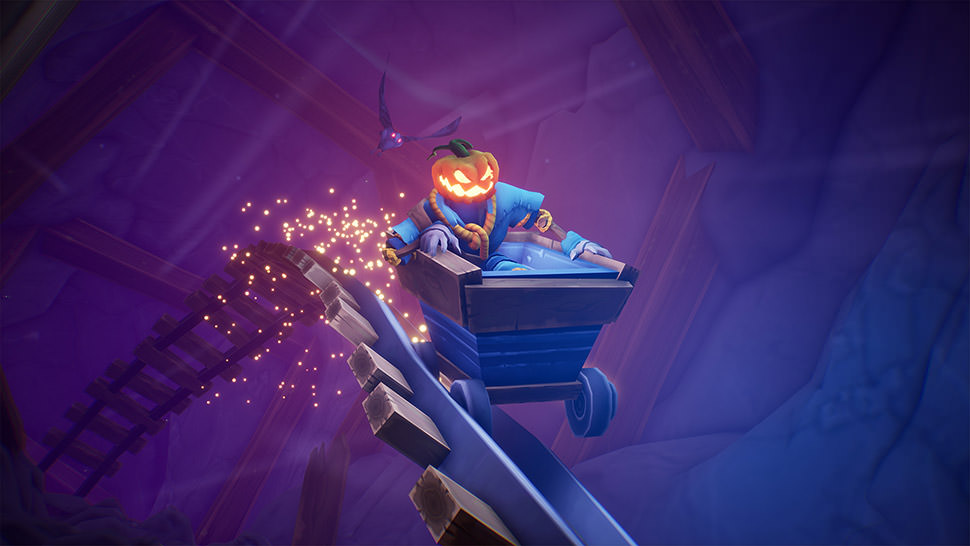 Environmental puzzles see you detach your pumpkin head from your body to solve these enclosed sections. How does a pumpkin, or jack-o-lantern, in this case, move, you may ask? Well, through the devil's powers, you have tentacle-like roots growing out of your body, serving as functional appendages. Just like in your full body form, you are capable of a double jump, along with a spin-attack. You'll be tasked with activating levers, playing a match game with gravestones, and pushing a bomb into a position to open a path forward. Speaking of your double jump, it does take time to get used to the momentum you have while in the air. In Pumpkin Jack, your momentum still carries you in whatever direction you were moving. It's best used to reach further distances or new heights, and maybe, you'll get lucky if you need to correct your positioning, but don't count on it. There is plenty of verticality in the game, requiring precision platforming across narrow or moving ledges. Careful not to ignite lanterns next to crates, as the entire area will be engulfed in flames.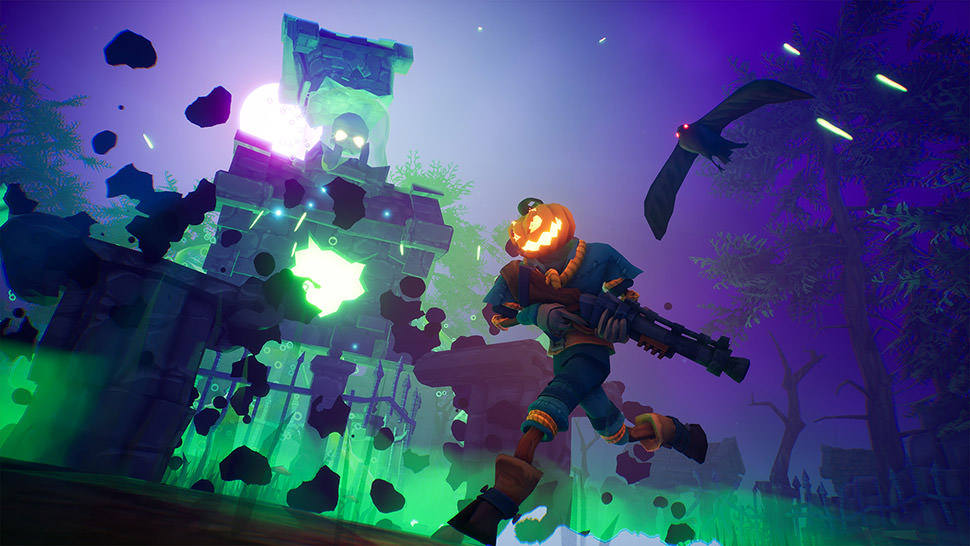 A few different times throughout the game, you are locked into various runner-style mini-games, whether it is a rampaging gargoyle, a phantom horse, or a runaway mine cart. Each comes with their own damages, such as directing the horse away from incoming projectiles or tapping a button repeatedly to keep the gargoyle in the air. However, the mine cart sections were beyond frustrating. At first, it looked like it would be fun, a thrill, with broken rails, precision jumping, and solid music. Everything came to a screeching halt due to the very narrow fail state when leaning too far to one side. On-screen arrow indicators when you need to lean left or right; however, that never seemed to be the issue. At one point, I died five or six times on the same turn, and I still don't know why. While the indicator does assist with leaning, I think the sparks are coming off both wheels continuously instead of stopping when one side lifts off the rails cause confusion.
Simply Put
Pumpkin Jack isn't a long experience (roughly four-five hours) but is full of nostalgia for classic 3D platformers. It is a fun romp that hits all the notes that I'd want from a Halloween release. It has colorful and detailed visuals, a fantastic soundtrack, throwback style gameplay, and a few laughs. There are plenty of collectibles to find if you wish to hunt for achievements. Surprisingly, Pumpkin Jack is arguably a more robust release than the recently released remake for MediEvil.
Note: ​Pumpkin Jack was reviewed on Xbox One. A digital copy of the game was provided by the publisher/developer.