Overpass
Review


By Kevin Mitchell

Posted on May 2, 2020
---
Based on a unique premise, Overpass tasks you with navigating over dangerous terrain in either an ATV or a UTV to complete time trials. Difficulty is not something generally discussed when dealing with racing games, thanks to the ability to tone down AI-controlled opponents. Overpass is, without a doubt, one of the toughest racing games, and you'll spend all of your time competing against the clock, and the occasional "ghost" vehicle for local and online multiplayer.
I will admit, I tend to drive as fast as possible in racing games, and slam into other cars on turns to gain the advantage. If I played this way online (I would never), I'd probably be banned for life, but generally, this is my approach to single-player racing titles, and for the most part, it works. Considering the lack of other vehicles on the tracks, I needed to adjust my gameplay methods, especially considering going fast as you can in Overpass will not get you anyway. Even though you are continually fighting for a top spot on the leaderboards, you'll need to learn the fast approach for the various types of artificial and natural obstacles and terrain that you'll encounter. I highly commended playing through an informative and lengthy tutorial.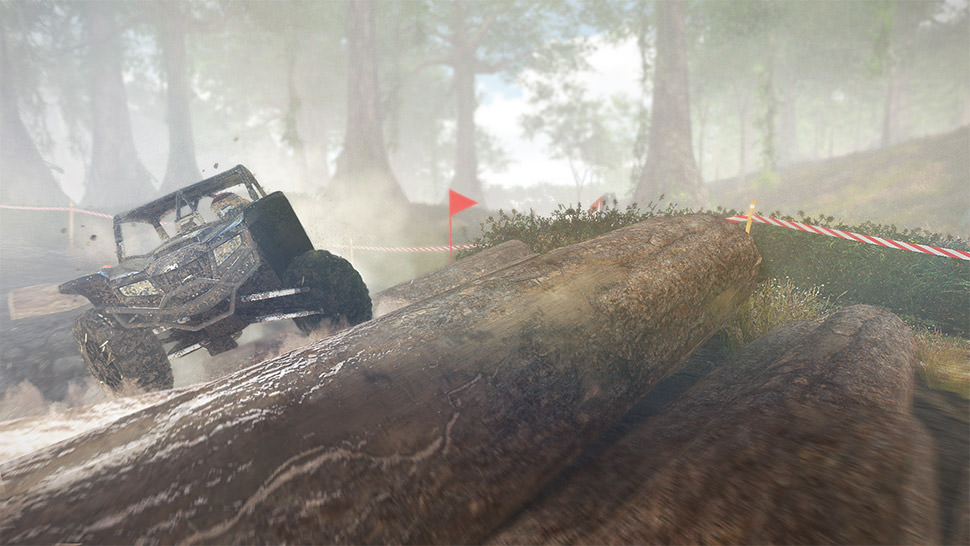 There are two main types of races, those featuring set obstacles, as you make your way across the track across multiple laps, and hill climbs, where you are racing across massive landscapes to reach an endpoint. Regardless, the various locales may task you with maneuvering across uneven tires half-buried in the mud, massive pipes to travel across and through, see-saw devices, multiple configurations of rocks, small hills, cliffs, and more. Aiming for a realistic driving approach, you'll need to take into account the amount of throttle being used to get over and through these obstacles, as well as the precise angling of your tires.
Everyone likes to go fast, and you'll learn, as I did, that flipping your utility task vehicle (UTV) or launching your rider off your all-terrain vehicle (ATV) is quite easy. Approach uneven terrain near a turn and try and use too much throttle and you'll flip over. Flipping isn't the only concern, as you'll need to climb over steep hills, generally across the worst type of terrain, to maintain proper traction, such as mud or sand. The simple task may leave you stuck or rolling backward if your angle and throttle are not optimal. Resetting your position wastes valuable time, but it becomes a necessity and something you'll be doing a lot. Most of the tracks feature the occasional enclosed sections requiring precise racing lines, or you'll break through the roped/taped off areas and acquire a penalty. The penalty time adds up and may cost you a win against opponents online.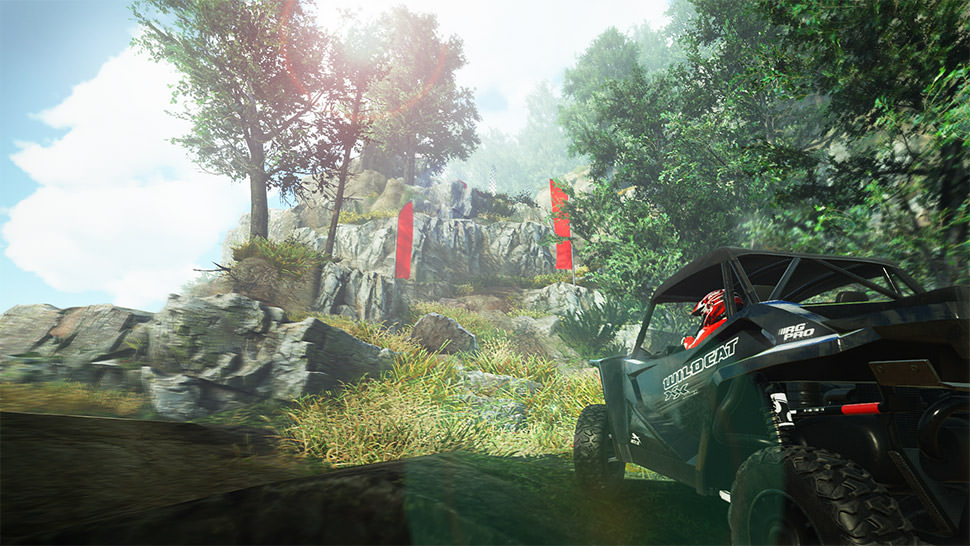 Every vehicle that you'll use features the option of manually controlling the differential depending on your current need. While activating it will increase the amount of traction you'll have and can help you get out of a problem some spot, you'll lose most of your steering. It's certainly something you use sparingly and only in certain situations, but even it won't magically assist you in all cases. Riding over harsh terrain takes its toll on your vehicle, and while you won't visually see the damage, it is indicated on the hud. Damaging your wheels and suspension means you'll have a harder time steering and keeping traction. There is no way to repair during races, but spending your earnings during the career mode is a must to improve and even upgrade your vehicle of choice. Sure, you can opt to skip a round to repair without spending cash, but your opponents will continue to gain points. There are additional vehicles, some from the top brands, such as Polaris and Yamaha, to purchase as well, each with their stats. Without a way to practice events, you'll likely lose across your first few seasons, as you unlock new races.
Surprisingly Overpass features a two-player split-screen multiplayer, a rarity these days. The developers included the option for hot-seat multiplayer as well, if you don't want to lose screen real estate, or if you want to play with more than two people. The online component works well enough, as you can create or join lobbies, set track playlists, chat, etc. Everyone races at the same time, whether opponents are displayed as outlines only.
Controlling your vehicles can feel awkward at times, especially when you'll suddenly turn sharper without expecting it. Engine noise overpowered all other sounds in the game and was one of the most things I toned down significantly while playing. Driving ATVs are downright dangerous, as the added mechanic of leaning into turns using the right analog stick may be too much for some to handle. The lack of camera controls for viewing behind and to the side of you hurts when trying to navigate through some of the trickier terrains.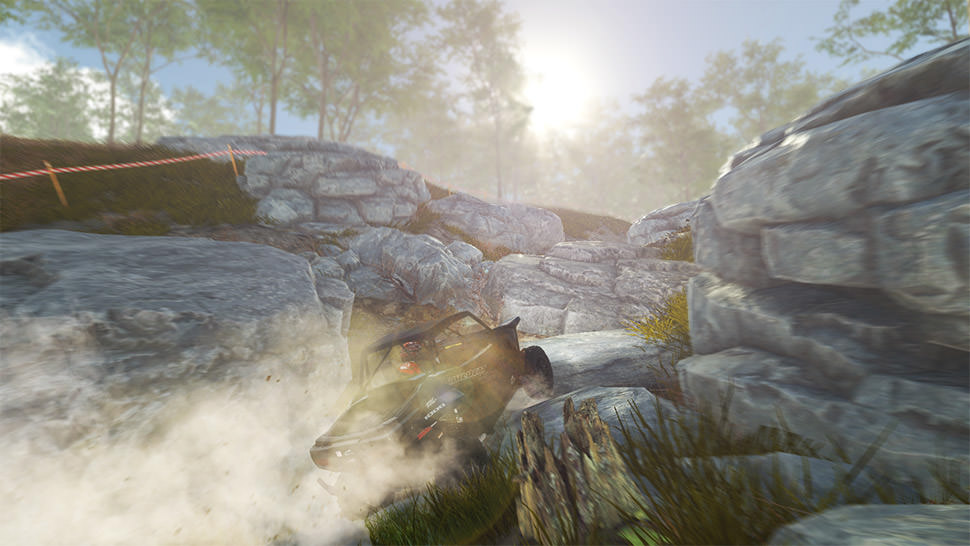 Post-launch, the game received an update (1.03) that added weekly challenges along with a global online leaderboard. At the time of this review, it doesn't appear to be working correctly on PlayStation 4. All of the leaderboard data seems to be placeable copy, and there doesn't appear to be any button or way to start the challenge.
Simply Put
Overpass is a uniquely designed racing game with realistic mechanics to handy all types of hazardous terrain. The career mode is intended to be replayed multiple times across seasons that last for 12 rounds. Certain sections of tracks can feel unforgiven, requiring plenty of resets that cost precious time. There just isn't enough feedback to the player to get a better grasp of the necessary mechanics.
Note: Overpass was reviewed on PlayStation 4. A digital copy of the game was provided by the publisher/developer.