​Overcooked! All You Can Eat
Review

By Kevin Mitchell

Posted on November 19, 2020
---
From their beginnings, as a two-person turned three-person independent studio, Ghost Town Games has become synonymous with fun, frantic couch co-op multiplayer with the original series of Overcooked! In 2016. The chaotic four-player multiplayer title became the definitive experience amongst friends and family, testing even the most stable relationships with precision cooking under pressure. Overcooked! 2, the follow-up added the option of online multiplayer, new dynamic levels, interactions, and even throwing mechanics to easily send ingredients from one side of the kitchen to the other. In time for both the launch of Xbox Series X|S, and PlayStation 5, Overcooked! All You Can Eat is an absolute smorgasbord, stuffed with more content than a Thanksgiving Day turkey.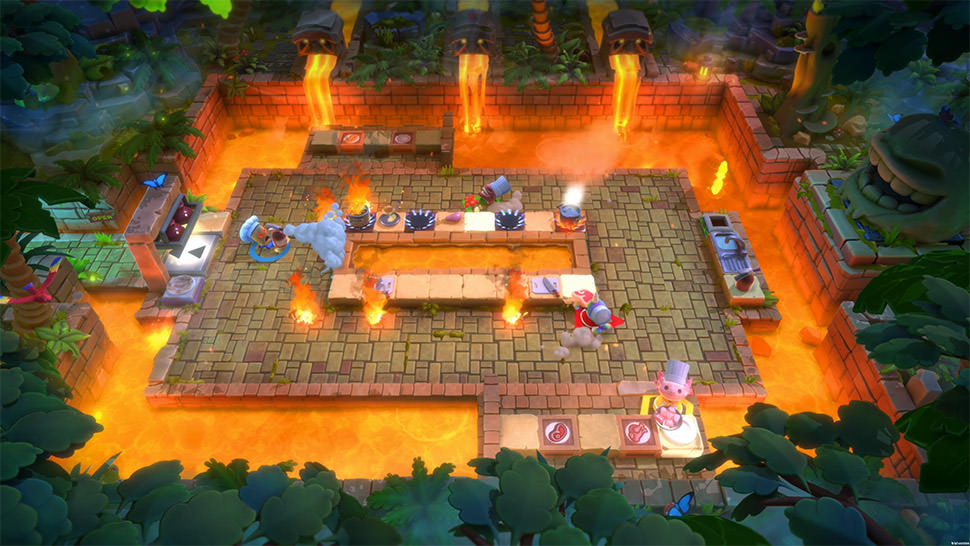 Overcooked! All You Can Eat is the definitive way to experience the blessing of cooking together with friends under pressure, except this time, both games can be played via online multiplayer. This yummy package has overhauled both games and added some fresh content right out of the oven. Not only that, but the game includes every tasty morsel of downloadable content previously released and includes way faster loading times, remastered visuals, and everything runs at a buttery smooth 60 frames per second, even at 4K. There is even all-new content added exclusively to this release, three new chefs, seven new levels, and more. Accessibility options have been greatly improved, allowing even more players to join in the fun, like family members and younger audiences. The UI can be scaled (hooray with bigger text sizes); color blindness options and dyslexia-friendly text are viable options. If the frantic, anxiety-driven nature of having to work as fast as possible, assist mode offers options for slowing down round timers, recipe timers, and even skipping levels.
Considering the original Overcooked! didn't have online support; it has been entirely rebuilt using the Overcooked! 2 engine. Both games in the definitive collection are going to support cross-platform online multiplayer in an upcoming patch. All of the characters (there are more than most fighting games) from all of the DLC and updates released over the years can be played across both games, giving players a massive pool to select their favorites. Want to play through the original game as a vampire or even a reindeer? Go right ahead. Arcade mode features two modes, coop and versus, but both can be experienced locally or online (with random player support for online multiplayer). There are dozens of levels for players to vote on, each one with their own unique kitchen environment and recipe requirements, from sushi to thanksgiving turkey. However, the campaigns are limited to playing with friends, as you'll have to invite others if you wish to play online.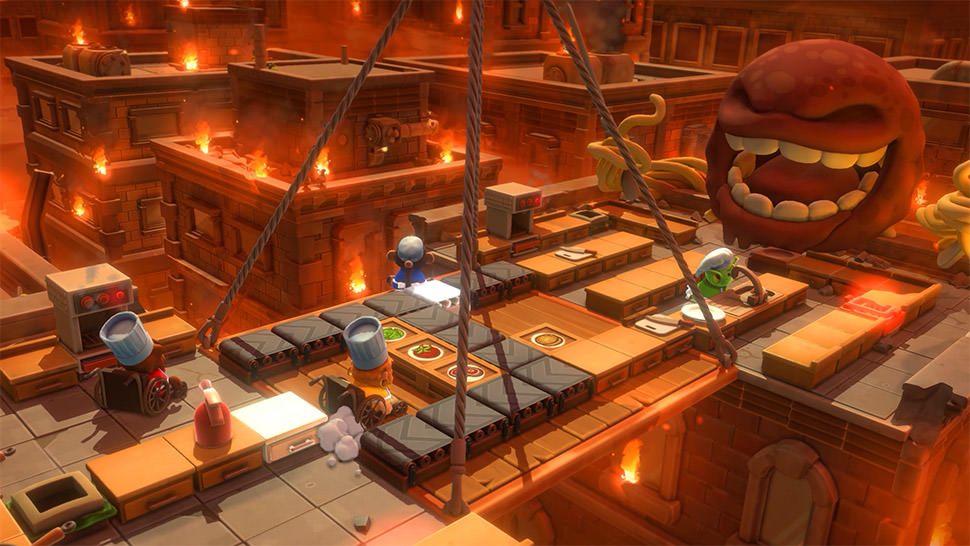 Like in the originals, if you attempt to play the game solo, you are simultaneously in charge of two chefs. At any point, you can click the right bumper and swap between either character, a necessity given some kitchen layouts are split in half, limiting the number of things a single chef can accomplish. It's much harder to play through the game this way, and honestly, after a single level, I realized just how much I hated playing the game this way. Thankfully, the game is still the king of couch co-op, and it wasn't long before Joan and I were back to getting three stars in each level in the campaign. Although, someone inevitably slips up, and chaos soon follows, with incorrect orders being made, fires erupt, and everyone runs around panicking as the timer counts down. As orders are received, the list of the required ingredients for the customized order is directly listed. You may be tasked with making three salads in a row; however, one may include tomatoes, another may have cucumbers, but sans tomatoes. Serving food with the proper customizations is vital to maximizing your score, which earns you stars. New levels during the campaign are gated by the number of stars you have, so you may have to replay levels multiple times in the hope of getting a better score.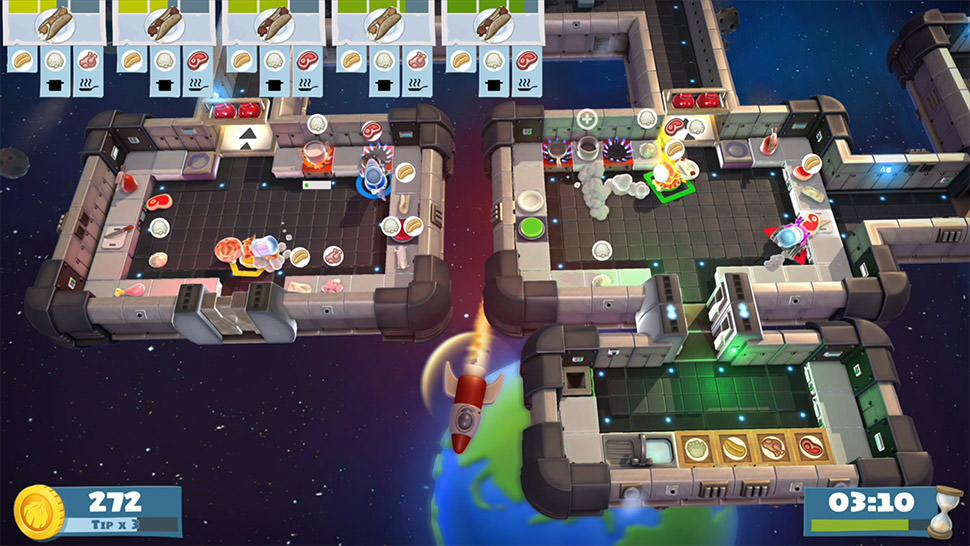 The kitchen layouts are relatively traditional and straightforward at first. Still, it isn't long before you're cooking on a swaying pirate ship or a kitchen split across a frozen river, requiring you to rush across floating sections of ice. Regardless of the kitchen, and any environmental hazards, including rats that love to steal ingredients, preparation needs to be prioritized. Everything action has a set timer, from being chopped, boiled, or cooked. Do you risk a soup possibly burning to prep the next order's ingredients, or do you drop everything you are doing and rush to plate the item and send it out of the kitchen.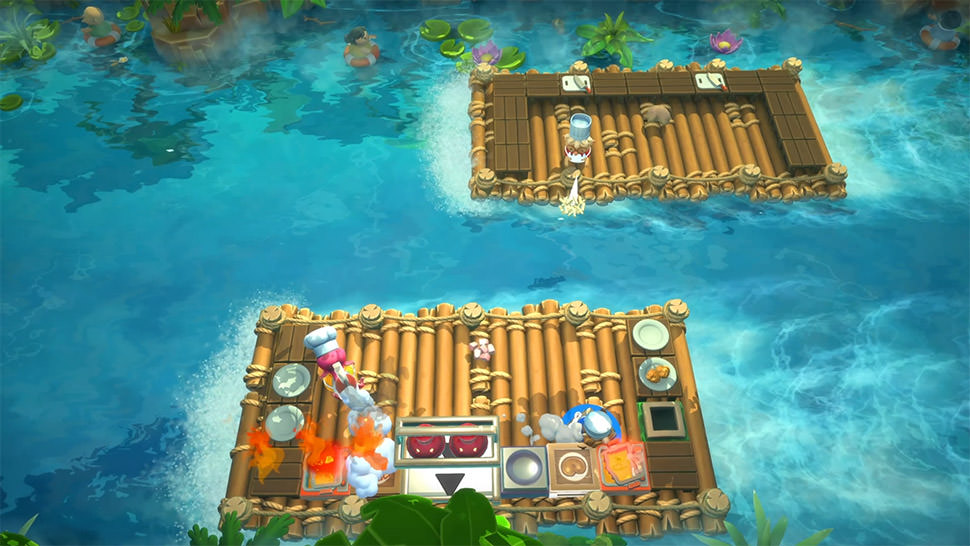 Simply Put
Overcooked! All You Can Eat is the definitive edition of two of the best party games released in the last generation. The next-generation release and the remastered visuals, new enhancements, and added accessibility options ensure that the frantic cooking experience can reach a wider audience. Although the original release has been rebuilt, Overcooked! 2 is still the only one that features throwing. It would have been nice to add the functionality, but it may have also required reworked kitchen layouts, considering how dynamic and crazy the sequel levels become. The new content is appreciated; however, it may be too little for those that have squeezed every ounce out of the games already. Online multiplayer and the promise of cross-play support certainly does sweeten the deal.
Note: ​Overcooked! All You Can Eat was reviewed on Xbox Series X. A digital copy of the game was provided by the publisher/developer.