​Nowhere Prophet
Review


By Kevin Mitchell

Posted on August 17, 2020
---
Your journey is perilous, leading a convoy across a procedurally generated post-apocalyptic wasteland, as you search for a new home. Soma, a hostile planet, is filled with warlords and various factions that want to take everything you have and rip the flesh from your bones. Your people live or die (literally) based on your decisions, and Nowhere Prophet doesn't hold back. Evident from my first run, this brutal card battler is for those that love making hard, life-changing choices. You won't survive.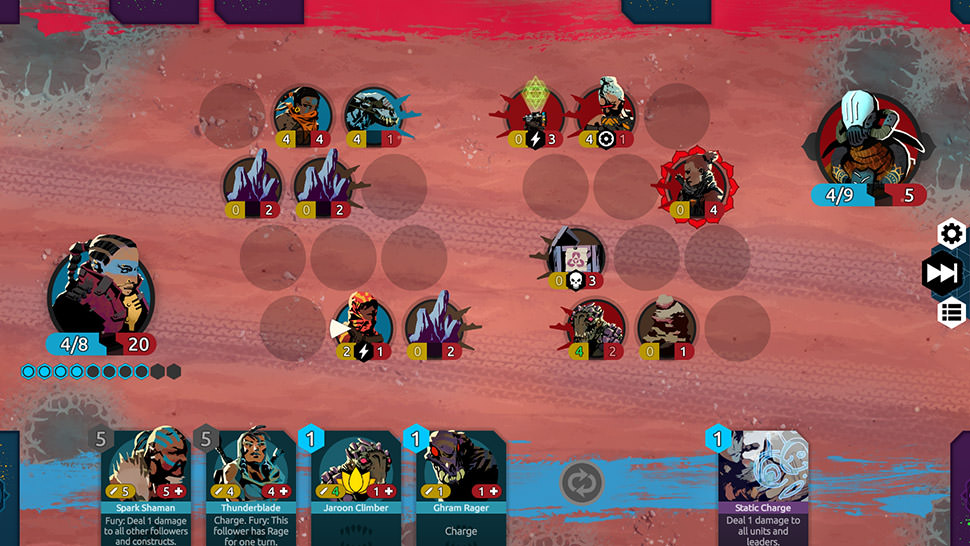 In Nowhere Prophet, you act as the convoy leader, guided by a fallen satellite to reach a location known as The Crypt. The procedurally generated maps are composed of a hexagonal grid, teeming with hazards. Traveling costs resources, both food to energize your followers, and hope to have them believe you are making the best decision for the group's greater good. The coloring of the road indicators the difficulty of the terrain. The more hazardous the journey, such as traveling through treacherous swamps, the better the reward, but you'll face tougher battles.
Every location on the grid comes with a choice during the movement phase. Do you take out a camp's leaders? Do you avoid a confrontation and stealthily free the slaves? Is loot all you care about, leaving those locked up for a bag full of gold? Thinking I could have it all by removing the leaders, I sprang into action, bringing death to my convoy for the first time. With the leaders destroyed, I was able to free the slaves, but left with a difficult decision; show mercy to the remaining slavers, or execute them on the spot? These actions alter the beliefs of those that follow you across three distinct categories: believers, scholars, altruists. Improving stats in one of those schools provides unique options during encounters. For my example, showing mercy led to them joining the convoy, given new purpose to their lives.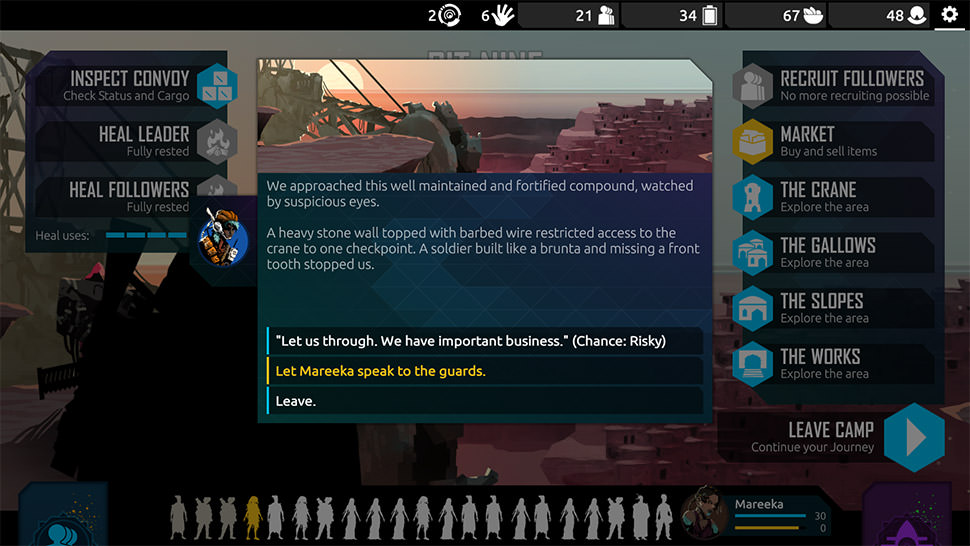 You are limited to bringing 24 cards, or followers, into battle. Any of your cards that have a wound are marked, allowing you to take them out of your deck if you have additional cards to fill the spots. What is a wound? Well, for starters, most of your cards are represented as your followers. When played, they fight alongside you, but the first time they fall, they are marked as wounded. Specially marked locations on the map allow you to rest the pilgrims on the journey, treating their wounds. If you aren't lucky enough to find a location, you must weigh the risk of having them defend the group at the risk of dying. Being defeated a second time signifies death, and there is no return once you face the icy embrace of the reaper. You permanently lose that card and follower. Cards are precious commodities, lives will be lost, and tears will be shed.
The goal of battles is to reduce the enemy leader's health down to zero while protecting yourself in the process. Damage to your leader persists throughout each run, so it becomes crucial to swiftly and efficiently defeat your enemies. You'll need to play cards to survive, which puts your followers in harm's way. At the start of each turn, you gain a set number of energy to spend on playing cards. You'll draw a new card during the beginning of a turn, and you can have up to six convoy cards and four leader ability cards in your hand at any given moment. The leader ability cards prove to be vital to gain an advantage in combat.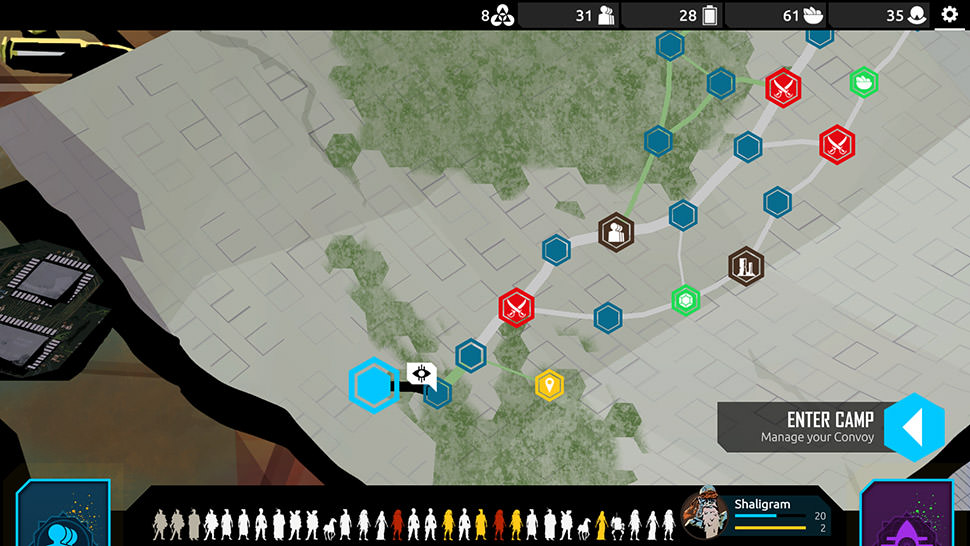 When first placed on the grid, cards are exhausted, meaning they are unable to attack. The left number marked in the yellow bubble represents the strength of the card, while the red bubble on the right signifies its health. Battles take place on grids, 4x3, 3x3, etc., making positioning crucial. Only the first unblocked unit in each row can attack (marked by three protruding spikes), but this also marks them as the only units that can be attacked in the frontline position. Attacking is simple, click on a card, and drag the dotted line to an enemy unit (or the leader). Be warned, enemies, except the leader, deal retaliatory damage when attacked. If you are attacking with a card featuring a strength of five and health of four, and the enemy has a strength of three and health of two, you will destroy the opposing card. However, you also take three damage, lowering your card's health to one for the rest of the match. Obstacles are neutral objects that may appear on the battlefield. Read their description, as some provide bonuses, such as a +1 to health to any neighboring cards. Some cards can add effects, such as spawning creatures or providing additional armor. Win, and you gain experience and rewards that boost your food supply and more. Whittle down the leader's health and whichever card provides the killing blow gains a blessing, providing a bonus to their strength, and healing wounds.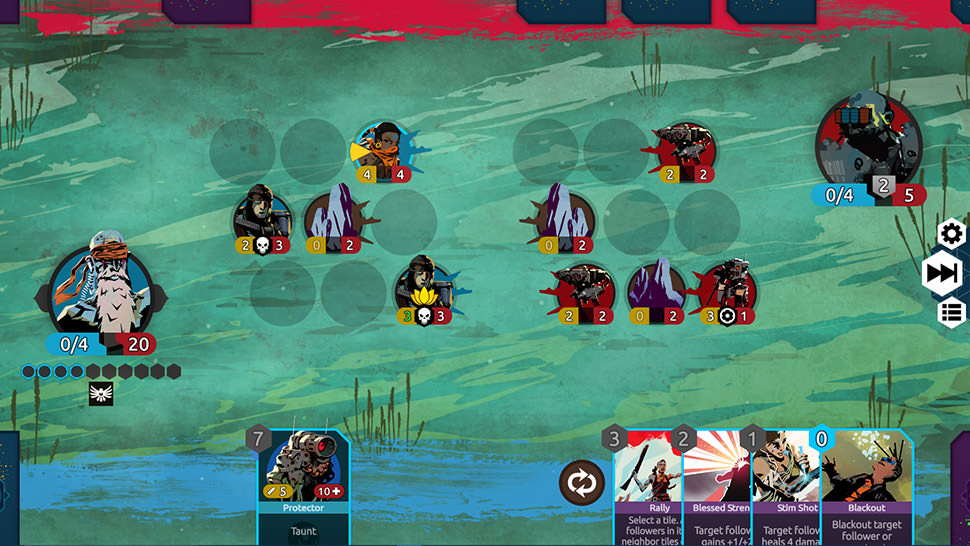 Unlike many other card battlers, leaders aren't protected by placing a large number of cards on your side of the battlefield. There are no defense positions or need to take out the underlings. Besides cards with a taunt ability, you are free and frankly encouraged to attack the opposing leader. Towns provide a chance to gain new followers and trading of goods, the currency in the world is batteries, for food and anything else needed to keep the pilgrimage thriving. Luxury items shared with your followers keep hope alive, granting temporary status effects for the upcoming battle. Only one can be active at a time. As a roguelike, runs can end almost as soon as they begin due to the harsh nature of the game's battles.
Simply Put
Nowhere Prophet is a single-player procedurally generated card battler with a brutal learning curve with critical decision making. You'll need to juggle the need to defend the convoy with decisions that will lead to many of your cards' death. Losing followers hurts, but giving the roguelike nature of the game, you can restart and pray for a better run. The campaign features multiple difficulties, along with daily challenges and custom game options.
Note: ​Nowhere Prophet was reviewed on Xbox One. A digital copy of the game was provided by the publisher/developer.