Nickelodeon Kart Racers 2: Grand Prix
Review


By Kevin Mitchell

Posted on October 6, 2020
---
The first attempt at a Nickelodeon based kart racer since the early 2000s from Bamtang Games was an unbridled disaster. The poor selection of 12 playable characters across four Nicktoons was only the start of the problems of a bare-bones racer that lacked polish and personality. Two years later, Nickelodeon Kart Racers 2: Grand Prix remedies many of the issues I had with the previous title, boasting a more significant and more vast selection of racers, tracks, modes, and more. The deeper gameplay mechanics add a unique spin on the kart racer formula; however, the lack of personality once again from the racers themselves is a seriously missed opportunity.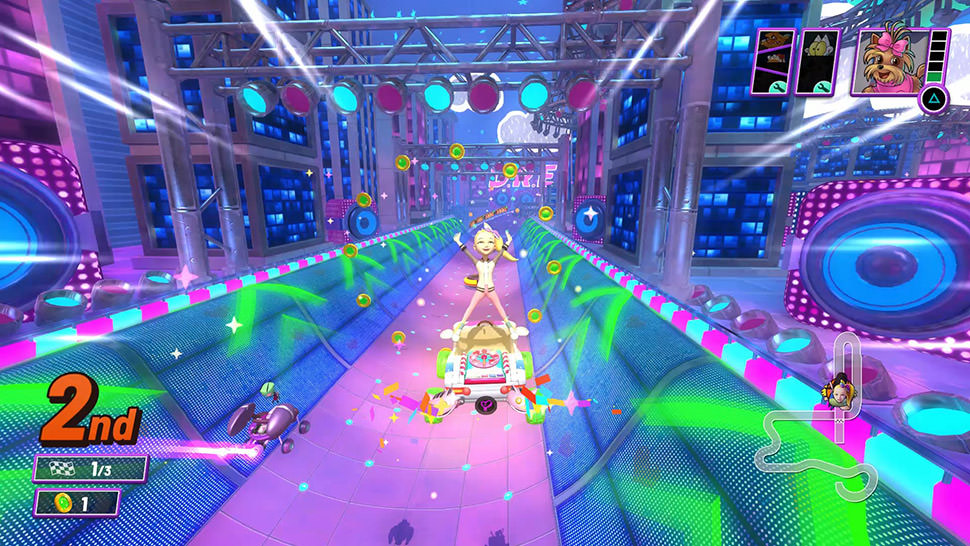 Nickelodeon has a long history of successful original animated television series, aptly named Nicktoons, dating back to the early 1990s. Bamtang Games has dug deep into this history and populated most playable racers and pit crew characters from many original properties that I enjoyed during the early to mid-'90s. You'll first start by selecting your driver from the much more detailed character models that respect the IPs they represent. These include classics such as Angelica, the spoiled brat cousin of Tommy Pickles from Rugrats, Heffer, the steer raised by wolves from Rocko's Modern Life, Danny Phantom, the boy with ghost powers, CatDog, the conjoined cat and dog siblings, and more. The variety was much appreciated after the paltry selection two years ago in the first game.
There are characters from more recent shows, such as the three characters from The Loud House, Lincoln, Clyde, and Lucy, the current iteration of the Ninja Turtles, and JoJo Siwa, who I never heard of before, but my niece let me know she is widely popular. Unlike the previous game, where everyone felt similar, every character in the sequel is unique. They have different starting stats across four key categories, top speed, turbo, steering, and drift. For example, Chuckie, the overly cautious best friend in Rugrats, has excellent steering and drift prowess but lacks top speed and turbo. Whereas SpongeBob (SpongeBob SquarePants) has middling stats in all four categories, making him a more comfortable choice for someone new to the game.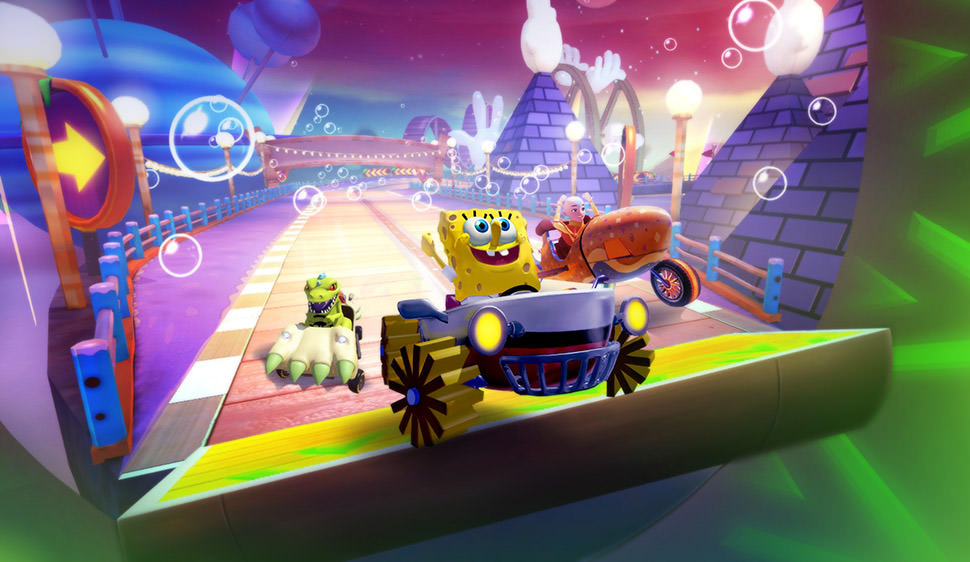 There are three pit crew selections needed after selecting your chosen driver, and these caught me by surprise. The inclusion adds boundless gameplay possibilities (not to mention an easy way to add more lovable cartoon characters into the game) of mixing and matching them based on how you decide to whip your kart around the tracks. The slime meter returns, but instead of being limited to a turbo function, you'll activate your chosen crew chief's ability. For example, Lynn (The Loud House) will slapshot you forward for a quick boost, Phil & Lil (Rugrats) fires a barrage of mud pies at other racers, and Filburt (Rocko's Modern Life) provides a brief protection period. Suppose you plan on spending any amount of time in first place (hopefully). In that case, Filbert's protection is a god-spend considering the sheer amount of offensive weapons targeting you one after another. Most of the item pickups have a Nickelodeon spin on Mario Kart classics, such as rockets (red shells) tracking the kart directly in front or behind you, and the king jellyfish (blue shell) perfectly targeting the racer in the lead. Unless you are saving a defensive item (which you won't for long because someone will likely steal it), there is no avoiding the slow spin out after being struck. There are twenty different crew chiefs to choose from in total, but most need to be unlocked by beating the Slime Grand Prix across all three game speeds or completing challenges.
The two additional crew member slots are split into three categories; support, attack, and defense, but share the same pool of 50 characters. Their abilities are somewhat based on their traits from the cartoons. Harold (Hey Arnold!), the bully, lets you push other racers further when you collide into them, most likely sending them flying off the track. Rocko's faithful companion Spunky (Rocko's Modern Life), prevents you from slowing down when you go off track and into rough terrain. Based on these two examples, you can see there are counters to specific crew, ensuring nothing is overpowered and can be readily exploited online. Others provide special bonuses, such as gaining slime when using boost pads, a free item when you use a pickup, and more.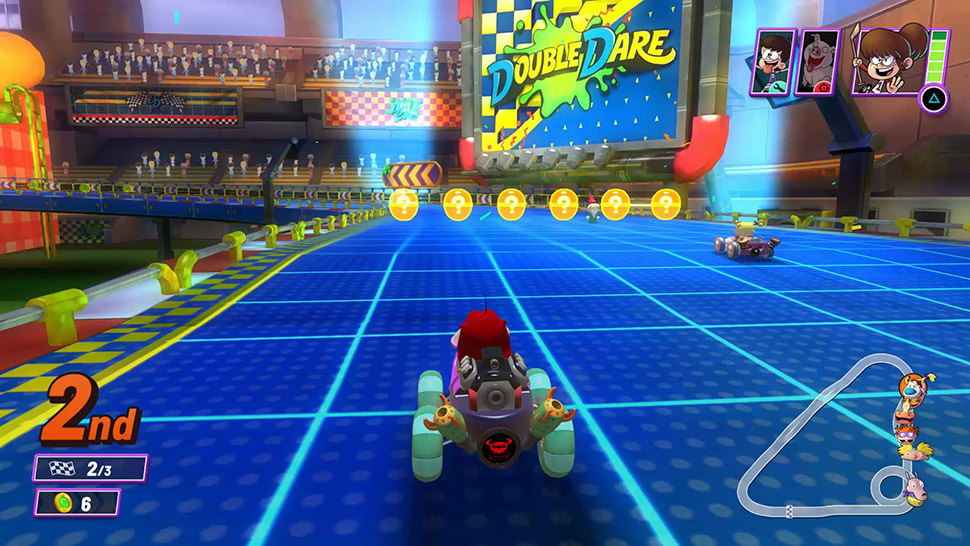 Kart customization is also split into four categories, three of which affect your stats; engine, wheels, and exhaust pipe. There are only a couple of different choices in each category at the onset, but as you race, you'll earn enough slime tokens to purchase new components in the garage. Besides altering your kart's visual styling, the parts change all four of your stat categories, so if you want to focus on completing on maxing out your top speed, or your steering, it is entirely possible with the right parts. Paint jobs have no gameplay advantage, but who doesn't want to customize their kart to look like the Flying Dutchman' Ship or the Teenage Mutant Ninja Turtles van?
There are 28 different tracks this time around, including some reimagined, along with two new battle arenas. Since this is a Nickelodeon game, everything is designed around their patented green slime. However, it first came into existence from a Canadian game show; You Can't Do That On Television (which Nickelodeon aired reruns) after contestants uttered the phrase "I don't know." Thanks to Double Dare's physical challenges and obstacles, it became a hallmark, which slimed losing contestants. From the research I have done for this review, it seems that some of the new shows on Nickelodeon have brought it back, even in some Nicktoons, so the concept shouldn't be foreign for the younger generation. Players can select to race across uniquely designed race tracks that offer plenty of opportunities to test your drifting skills, as well as your skills using aptly timed boosts. Many of the locations are inspired by the properties already represented by drivers in the game, such as the "Impenetrable City" from Avatar: The Last Airbender, the Glove Universe from Spongebob SquarePants, Reptar Ruins (Halt! I am Reptar!) from Rugrats, Foodcourtia from Invader Zim, O-Town Highway from Rocko's Modern Life, and there is even the Kilted Yaksmen Raceway based on an episode from The Ren & Stimpy Show.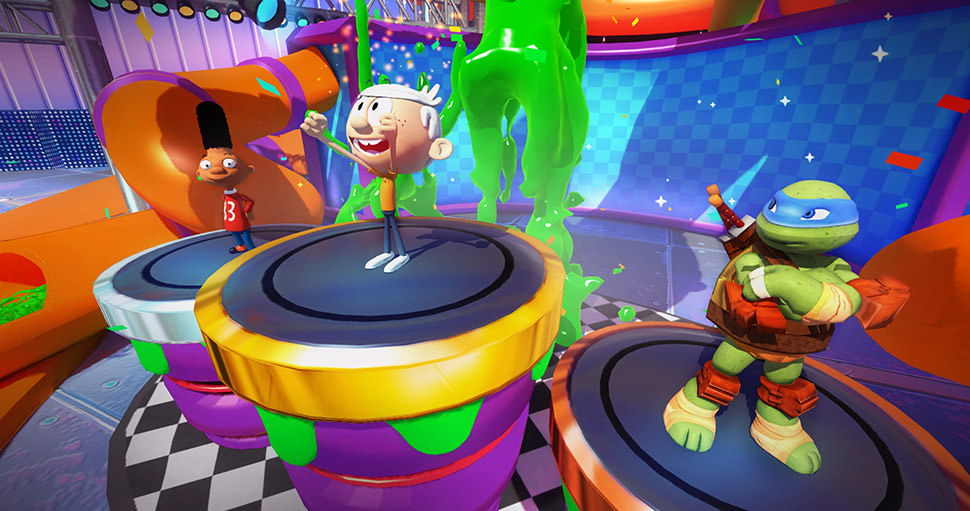 Find yourself unsure what combination of parts to select in a single exhibition race or multiplayer? Hiding in the options is the ability to let the game suggest parts that fit predetermined categories, such as building your kart for speed, drifting, steering, etc. Even an auto accelerate option is perfect for kids when playing the game at the slowest speed. I found it to be quite detrimental on anything higher, especially when attempting challenges. Once you complete and earn gold across all eight Slime Grand Prix cups on all three game speeds, the game has both a challenge mode and time trials. Challenges task you with completing a goal, typically within a set amount of time or before finishing a race. These goals may require you to get into first place before a timer runs out, perform a set amount of slime stunts, and manage to win the race, and more. The game speed feels like it is set to the highest setting, and can feel jarring if you were playing anything slower right beforehand. Each set of challenges culminates with a race against a boss battle to unlock the character. In an attempt to make them even tougher to complete, the game seemingly provides the bosses with unlimited items; at least it seemed that way when racing against Stimpy, as he was able to drop exploding logs constantly without picking up any items. The battle arena offering is quite limited compared to the rest of the game, only featuring two locations and two game modes. Free-for-all battle is self-explanatory, as you aim to hit your opponents a specific number of times, while the second game mode requires you to capture and hold on to the flag (golden spatula) for 15 seconds three times to claim victory.
A ton of new playable racers and a wide variety of tracks is meaningless if the actual racing hasn't improved. Thankfully, it is a much better game than its predecessor in just about every category. Races are intense and chaotic at the same time when playing on the "fast" game speed, precisely what you want from a kart racer with items. When you contact another kart, there is an awkward bounce that took some getting used to, and I probably could have done without it. Like other games of the genre, pickups are based on your current position, so don't expect to find the best offensive items when first, whereas the last place player will be luckier in that regard. Indeed, there have been times where things felt a little overwhelming, after getting hit with multiple items back-to-back-to-back, but it was mainly during the "slow" game speed, where you'll most likely stay in first place for the entirety of all three laps.
Simply Put
Nickelodeon Kart Racers 2: Grand Prix is the type of sequel that will make you smile, improving every aspect over its predecessor. The racing feels smoother, picking your kart components and crew is fun, and there is much more variety in terms of the intellectual properties used this time around. There are plenty of single-player additions, such as time trials and challenges to complete after beating the Slime Grand Prix cups, online multiplayer for up to eight players, and four-player local split-screen multiplayer. Sadly, the racers are again silent, which is such a missed opportunity to record new voice-overs or use samples from the shows. Considering the title's budget price point, it is hard to dwell on it too much but would have elevated the entire experience.
Note: Nickelodeon Kart Racers 2: Grand Prix was reviewed on Xbox One. A digital copy of the game was provided by the publisher/developer.