​NASCAR Heat 5
Review


By Kevin Mitchell

Posted on July 14, 2020
---
Last year's NASCAR release stepped the series to new heights, cementing itself as one of the most underrated racing games. Online lobbies supported up to 40 players. A two-player local split-screen multiplayer mode was included (a rarity for modern racing games), and the expanded career mode featured depth and the fantastic Xtreme Dirt Tour, which quickly became a favorite. Monster Games developed the previous four titles in the Heat series; however, 704Games took over the development of NASCAR Heat 5, bringing it in-house. While this change may prove to be quite beneficial in the long term, it does mean that NASCAR Heat 5 feels more like an extension of its predecessor than a fully-fledged sequel. With that said, Heat 5 brings the heat, with an impressive single-player career mode, an adrenaline-pumping 40-player online multiplayer, and the return of the eNASCAR Heat Pro League.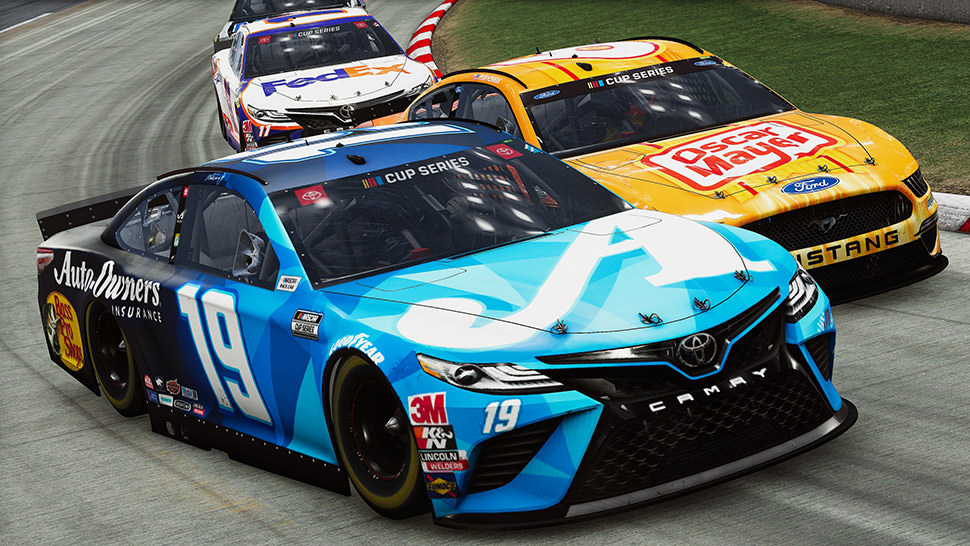 Being an iteration, only incremental changes/updates were made to the game, although they improve the overall player experience. Vehicle customization has been expanded, adding improved choices, font treatment, and paint schemes. The color selection is unbelievably deep, with an incredible amount of varying shades for each color. For the first time in the series, rims and spoilers can be specifically colored just like the body of the car. Regrettably, you are still unable to copy your newly painted masterpiece to your garage's other cars. The customization options remain the same whether you are racing during the NASCAR Cup Series, or kicking up dirt in the Xfinity Series, so there is no reason not to allow you to carry your look across cars. The already formidable A.I. from Heat 4 has been tweaked to feel even more consistent, although all settings to customize how you want to race have carried over. For example, the skill range setting sets the separation between cars with the "narrow" setting producing an intense racing experience while setting it to "wide" gives you additional room to maneuver.
The career mode remains mostly untouched, however, stat tracking enhancements provide greater performance tracking across your seasons. You'll grind tooth and nail from the very bottom of the ladder in the Xtreme Dirt Series, moving through the Gander RV & Outdoors Truck Series, the Xfinity Series, and the Cup Series. Alternatively, you can decide to skip to the top and take on the greatest racers in the world in the Cup Series from the get-go.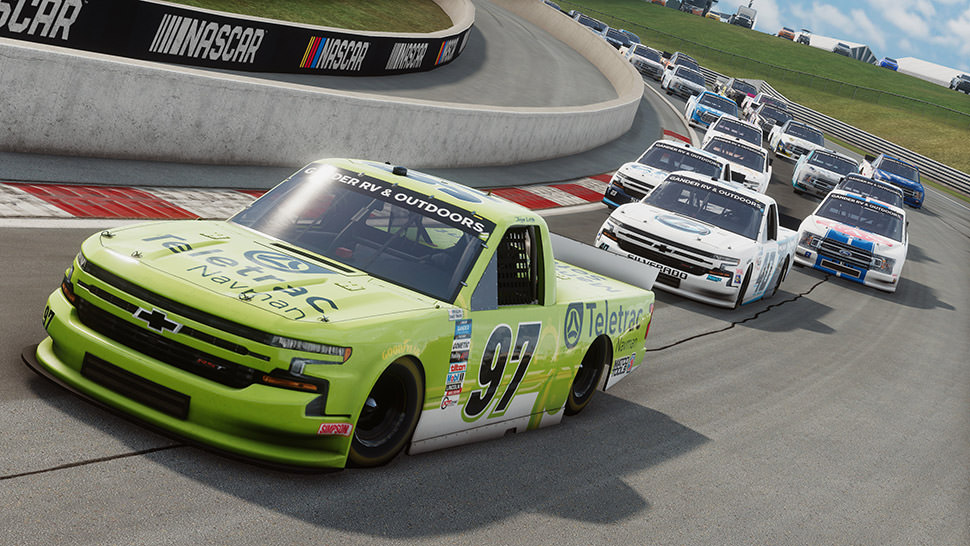 At the start of every season, you are given the option of joining a team or starting your own. Joining an existing team allows you to focus on racing and building your nest egg based on how high you place on the podium. Contracts from sponsors are broken into three difficulties: the more difficult ones paying out the best, but may have unreasonable requirements. Sometimes the safer bets are the better choice, as a guaranteed payday is better than earning nothing. Based on your performance, you'll receive tweets from other racers, condemning your reckless racing or complimenting your composure and good nature on the race track. Building relationships with these racers is essential, given you options to respond to the tweets to build friendships or an intense rivalry. Get under someone's skin enough and expect to be trading paint at an upcoming race. Starting your own team provides additional content to mess around with between races. You'll need to manage your pit crew, hiring employees to make repairs, upgrade their stats, and make improvements across all cars in your garage. The higher the stats in one of the three specializations (engine, aerodynamics, suspension), the more points you'll regain after racing.
Presentation in Heat 5 mostly resembles its predecessor, although everything such as teams, rosters, and tracks have been updated to reflect the 2020 Cup season. There are 34 officially licensed tracks, set across the various series, plus five fictional dirt tracks. The cars are incredibly detailed, and a few different camera angles for races have been added. Jeff Gordon lends his voice on the spotter team, informing you about the positioning of other drivers. The Gold Edition features exclusive content, including having Tony Stewart take over as your spotter, Tony Stewart paint schemes, and more. The Heat 5 Season Pass will be adding four additional DLC packs. The most significant update comes in the form of the brand-new testing mode. No longer do you need to choose an exhibition race to test yourself on tracks. The testing sessions put you on a track, with no one else, letting you perfect your racing lines, learn the turns and necessary speed of a track, and test your car setup. Before the start of a race, you are provided a casual slider to alter the handling of your car, tighter or looser.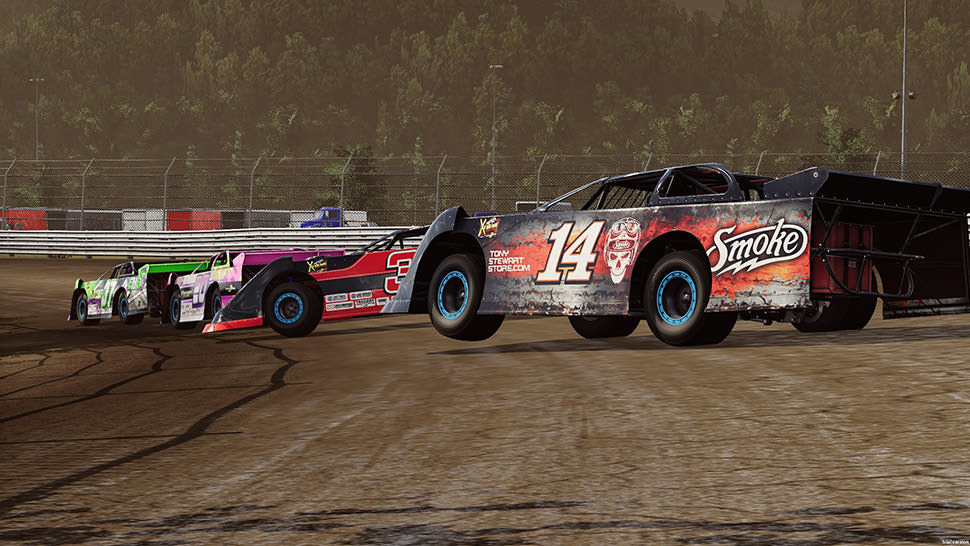 The online offering, much like the career mode, has been untouched. A new challenge mode has been added, giving you a chance to alter history on some of the tightest finishes across NASCAR history across three difficulties. Online lobbies prominently feature the driving settings required to enter, and with up to 40 racers, things can feel intense, even if AI fills in the spots. Disappointingly, there isn't any punishment for those that engage in unsportsmanlike conduct during races. The aggressors generally drive away safely, while cars getting hit tend to hit walls or get turned around. The race right before writing this review had a user with "YT" in their handle decide that they needed to turn directly towards me in an attempt to stop me from passing them on the final lap. Punishment or banning for these types of drivers needs to happen. Even casual lobbies should not have to deal with obvious trolling and childish behavior attempting to ruin everyone else's good time. The eNASCAR Heat Pro League returns, helping to push the game's eSports presence. You can even choose to race as competitors from across the last two competitive seasons.
Simply Put
NASCAR Heat 5 feels like the definitive edition of Heat 4, along with yearly team, roster, and track updates. It certainly feels like a transitional year, especially with the change on the development side of things. Whether you are playing in the single-player career mode or online against real people, there is no other game that has given me the sensation of battling for positions. Tight races are intense, as long as you don't spin out after getting tapped by a car directly behind you. The performance mode on PlayStation 4 Pro produces a smoother frame rate; however, it is about time the series moves to 60 frames per second on console.
Note: ​NASCAR Heat 5 was reviewed on PlayStation 4. A digital copy of the game was provided by the publisher/developer.