NASCAR Heat 4
Review


By Kevin Mitchell

Posted on September 16, 2019
---
Monster Games and 704Games has been synonymous with NASCAR since 2016 thanks to the well-received NASCAR Heat game series. With each release, the franchise has inched closer to providing an authentic lifelike experience. Heat 3 was by far the most significant leap for the franchise. Heat 4 builds upon last year's game with improvements and tweaks, producing one of the best racing experiences of the year. It is, without a doubt, the best NASCAR game in quite some time, if not ever.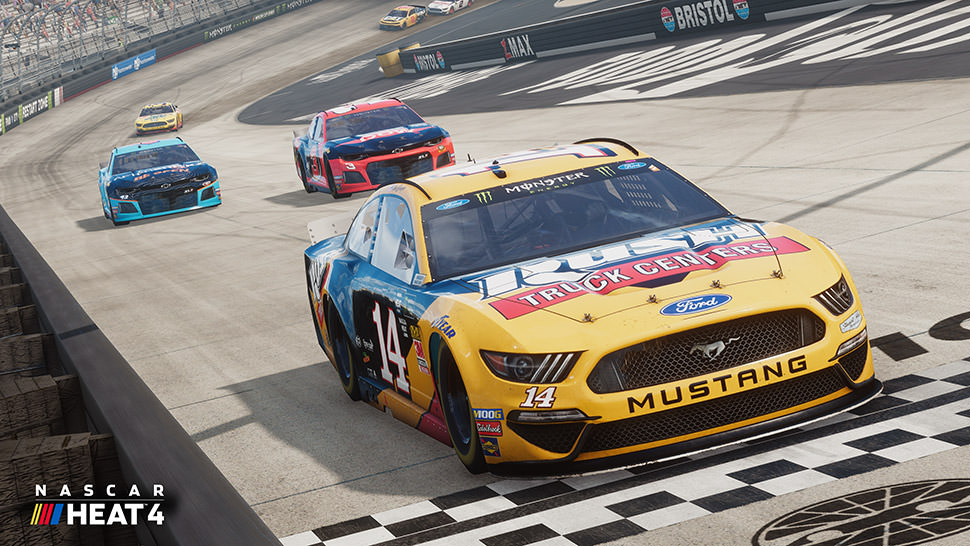 Last year, the series entered the eSports space thanks to the NASCAR World Challenge; however, you are free to hop online and join or create your own lobby for fun. Challenges for each series last only for a set amount of time; however, players need to create lobbies that match the requirements. Testing after launch, I was only able to find two challenge lobbies during peak evening hours on the east coast, but plenty of normal lobbies to join. The official eSports series, the eNASCAR Heat Pro League (eNHPL) has teams competing in seasons (14 teams in the 2019 season), with one player on each team driving on PlayStation 4 and Xbox One respectfully. Heat 4 also supports two-player split-screen multiplayer racing, something rarely seen in games this generation.
Lobbies can fit up to 40 players, and I was initially skeptical about having that many players racing at once. I'm glad to report that I had nothing but smooth races, at least connection wise even with 39 other players (in a hosted lobby). With that said, the first turn has always been a trainwreck, creating a wide gap between those that get out in front of the crash and those that regrettably get caught. You'll always have those types of players that look to ruin a perfectly good time, but there doesn't seem to be any in-game grief reporting. Frustrating to be on the last lap and have someone bump you from behind, essentially ending your bid for a top ten finish. The expert difficulty seems to be the preference when playing online, but the length of races, damage, tire wear, amount of players, and the series type appears to vary greatly. If you join during a race, you'll be able to follow other drivers around the track from different vantage points.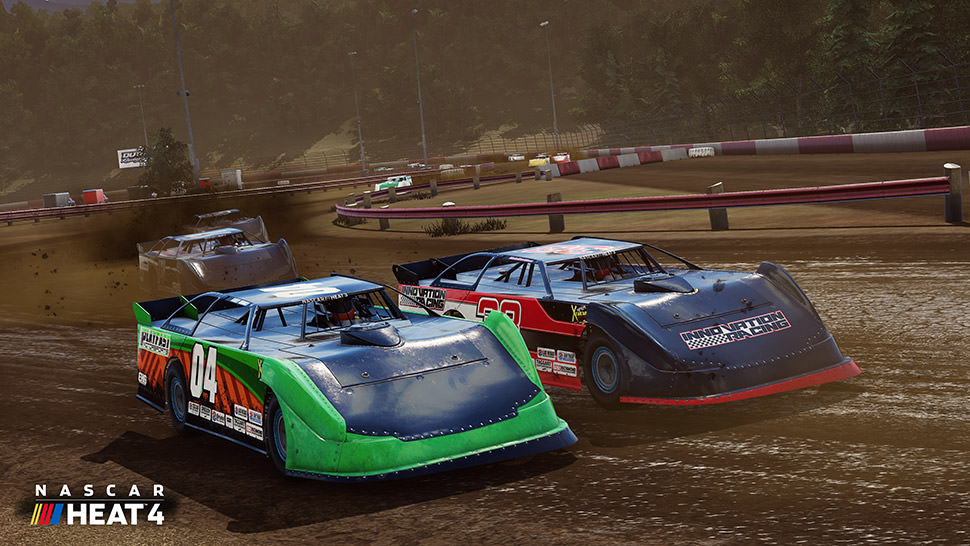 The career mode is quite similar to last year's game, and that isn't a bad thing. The Xtreme Dirt Tour joined the Monster Energy NASCAR Cup Series, NASCAR Xfinity Series, and NASCAR Camping World Truck Series last year, but in Heat 4, you can choose where you want to start racing. The character/vehicle customization has quite some depth to it, even letting you pick any car number. There are plenty of paint schemes, allowing you to customize the different stripe colors, including choosing from different fonts for your car's number. Heck, even your last name replaces the actual driver's name on the windshield, how cool is that? The character creator has basic facial features, skin tone, a handful of different hair choices, complexion, etc., but you sculpt most of your face's features, including your eyes, nose, and mouth. The only thing you can't do is remove your hat, but at least you can update the style, colors, and decals.
After racing a few times, by taking hot seat offers from other teams, you are given the choice of continuing to race for different groups or manage your own. Starting your own team gives you plenty of things to do in between races. You'll be responsible for hiring employees to prepare and make improvements to your cars before upcoming races. These employees each have a specialization, either engine, aerodynamics or suspension. The higher points they have in a specific field, the more points you'll regain after a race. Sponsors offer you incentive contracts, each with requirements that you'll have to meet. The more difficult deals payout the best, but if you aren't too confident, it may not be worth always going for the bigger payday.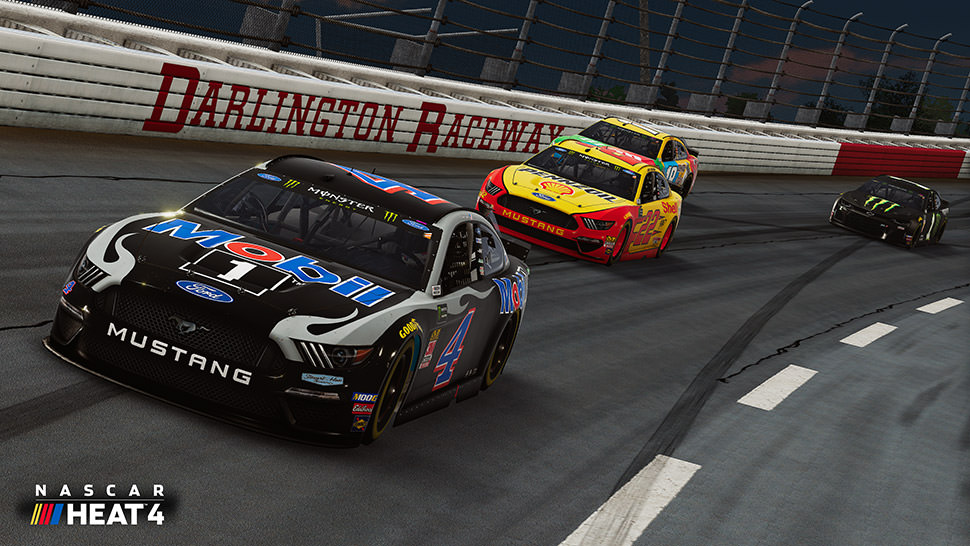 Driver relationships can be forged and shattered as the season progresses, based on how you compose yourself on the race track. Find yourself bumping into every car that attempts to pass you on the outside (or inside), and you'll find yourself with a laundry list of angry tweets. If you have a solid clean race, you may receive compliments from other racers. You can respond with anger or compassion, leading to the creation of friendships or archenemies. Friendships lead to others providing drafting assistance, while your enemies may look to put you into the wall. Finishing well in consecutive races builds momentum for your team, boosting your performance by giving you a 10% speed boost.
One car doesn't fit all in the world of NASCAR, and to be competitive across each series, you'll need to purchase multiple vehicles suited for different track conditions. More cars, also mean you'll need additional mechanics to keep all of your vehicles in pristine racing condition. Maintenance is only half of the equation, and you'll need to upgrade your crew to stay competitive as the season goes on. These improvements on top of standard maintenance is where the majority of your hard-earned money will be spent.
A lot of work has been put into improving the game's presentation, both on the visual and sound front. If you have a PS4 Pro or Xbox One, you'll be able to choose from a performance or quality option. I tend to play my racing games with performance settings enabled, and the game doesn't disappoint with a mostly steady framerate (minor hiccups appear). Up close, the cars look phenomenal, especially whipping around the track at incredible speeds; however, the roads can seem a bit rough off in the distance. Tire marks build up as your race, and grooves add a nice touch for the dirt courses; however, there seems to be a limit to the amount that appears before vanishing right in front of you. Races that begin in the afternoon and end at night feature day-to-night transitions. The improved audio is almost palpable, as you kiss the edge of a track and listen to the reverb from your engine.
Although not perfect, the AI racers have been greatly improved and are almost at the point where it feels lifelike. It wasn't that long ago where the AI stuck to their lane, but now, the spacing promotes staggering of cars throughout, fighting just as hard as the player for position. Pay attention during a race with pit stops enabled and you'll see cars Al cars going for the pass instead of pitting, trying to put an untouchable lead ahead of the next vehicle. I would say that the AI could be a tad more aggressive on turns, as they slow down much more than is necessary.
Simply Put
The NASCAR Heat series has quietly become one of the top racing franchises this generation. With each iteration, the on-track experience has been tweaked or enhanced, such as the highly improved tire wear and handling in this year's offering. NASCAR Heat 4 without a doubt should be in contention for one of the better racing games of the year. I don't think it is quite there yet, but it positively is trending in the right direction. The AI feels like it is a few tweaks from perfection, and the multiplayer needs to add some type of griefing protection to entice more players to race online. There are plenty of adjustments that you can make to customize the AI settings, add or remove driving aids, and more.
Note: NASCAR Heat 4 was reviewed on PlayStation 4. A digital copy of the game was provided by the publisher/developer.