​Monster Truck Championship
Review


By Kevin Mitchell

Posted on October 15, 2020
---
Sunday, Sunday, Sunday! Get ready, fans, for the best monster truck simulation video game on the market. The monster truck industry has certainly come a long way since Bob Chandler and Jim Kramer customized an F-250 pickup truck to enhance its off-road capabilities and crushed their first pair of junk cars in 1981. Their creation, BIGFOOT, became history and birthed a new form of entertainment, as fans and curious onlookers crowded around to see cars being crushed. I witnessed the popularity explosion of a new sport with my own eyes, as larger than life machines of metal soared through the air. Even though Teyon and Nacon don't have the Monster Jam license (BIGFOOT is not even part of Monster Jam due to dispute over licensing), the game features everything you'd want from a monster truck title.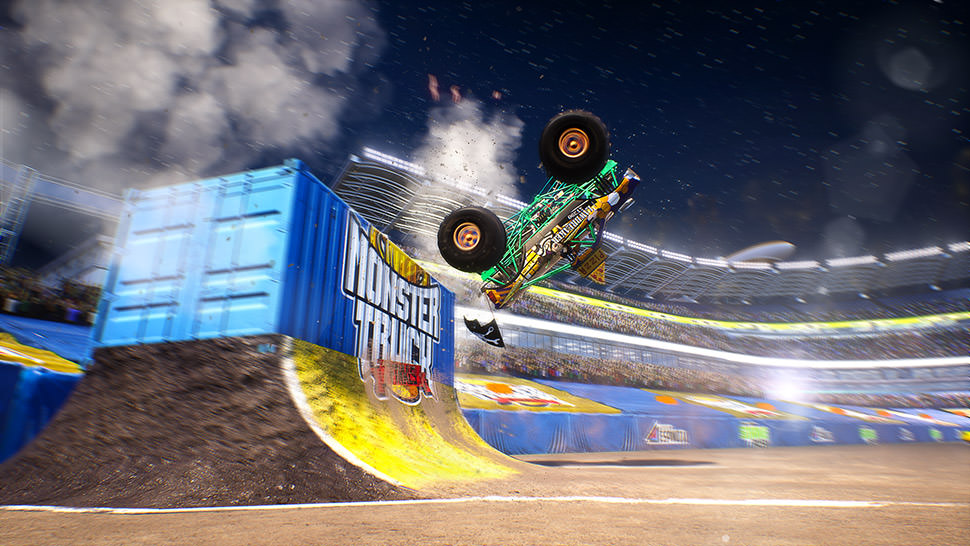 Monster Truck Championship deeply integrates your career across every aspect of the game. It is even the first thing you must set up before you even reach the main menu. You'll select the career difficulty, whether truck damage affects performance/handling or whether it is strictly cosmetic, and other adjustable settings such as transmission, abs implementation, and more. Unless you reset your career (losing all your progress), you are locked into the initial set difficulty. Any high scores earned through the online leaderboards for each event remains, as well as other game settings. Not sure that I agree with the decision, especially considering the learning curve for controlling these massive forces of destruction with separate front and rear axle controls. Set it too high, and you may feel discouraged after being blown out of events when you first start, but the opposite is true as well. Playing on easy, and you may become bored, quickly lapping other trucks during races.
Without the official Monster Jam license, Teyon has created monster trucks inspired by and resembling all of your favorites. There are ample truck customizations in the garage, although most must be purchased using earnings from career events or from completing sponsor objectives. As you progress, you'll have the option of adding team members that can provide stat bonuses, such as increased torque or throttle, but may take a percentage of your winnings. The garage is broken into six different categories, separating key components; engine, brakes, transmission, tires, and suspension that alter the performance of your monster truck's top speed, acceleration, handling, braking. You are free to modify the appearance, from the chassis down to the rims, exhaust, and top/rear attachments.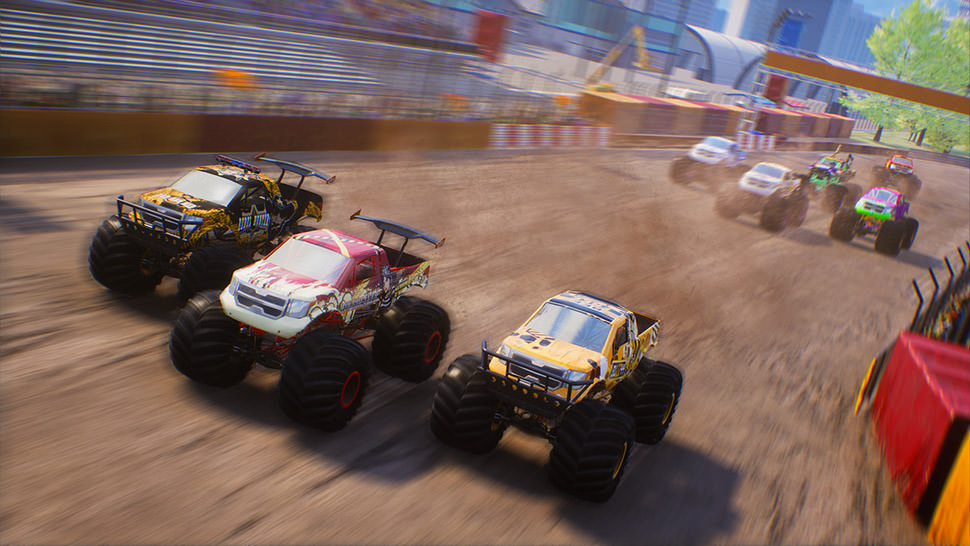 There isn't much available at the start of your career, but you can freely paint your truck and all of the various components, such as the driveshaft, chassis, and more. Instead of racing against licensed fan-favorites, such as Grave Digger, you can scrape together equivalent parts to build a "fear on wheels" truck, complete with green/purple/black color scheme (if you so wish), ghoulish looking artwork, and optional pirate flag attached to the rear of the truck. There aren't as many sticker designs as I would have liked, but considering that each truck's section is designed independently, you can mix & match to keep things feeling fresh. I will say that I did see multiple players creating their version of Grave Digger online already on launch day. I mentioned that it was and still is one of the most popular trucks, didn't I?
As the newest driver competing across the national circuit, you'll earn points across three leagues; national, professional, and major. Each one consists of nine days of races, and one final event, where you'll need to place first to advance to the next league tier. Events are multiple stages long, ranging from two to upwards of five during the league finals. You'll race against seven other drivers, become a drag racing champion, and perform stunts and crush cars to earn points in freestyle and destruction competitions. Your journey takes you across the continental United States, from Kilgore, Texas, the capital of the monster truck world, to Foxborough, Massachusetts. Your truck's stats are terrible, at least when you begin, but as you earn start earning first-place finishes, more powerful parts become available in the garage. By the time you are competing in the major league finals, you'll probably be close to having fully maxed out stats.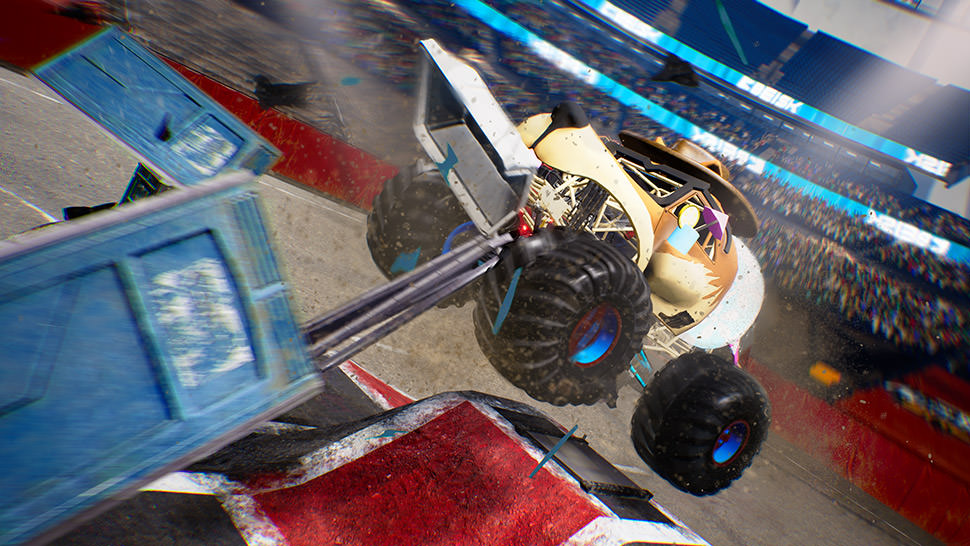 Tuning options allow you to tailor the feel of your truck across stunt and racing setups for things such as suspension height, stiffness damping, torque, and gear ratio. The provided descriptions help those unaware, ensuring newcomers remain competitive against veterans tuning cars/trucks in games for decades. While the option exists in the garage, you can also tweak the settings before every stage in an event based on your needs.
Monster trucks aren't as nimble or control as elegantly as aerodynamic race cars, so don't expect to become unstoppable without training. The game's tutorial does a great job of introducing the unique nature of throttling an almost 11-foot tall hunk of metal around tracks without flipping on to your side. It feels virtually unnatural initially, as the left analog stick and right analog stick are used in conjunction to manipulate the front and rear axles respectfully. Besides being a requirement to pull off certain maneuvers, lightly tapping the right stick during races helps swing your back end around tight corners. Use too much force and risk a spin-out, proving the deciding factor in a close drag race. I speak from firsthand experience online, losing a drag race by less than a hundredth of a second.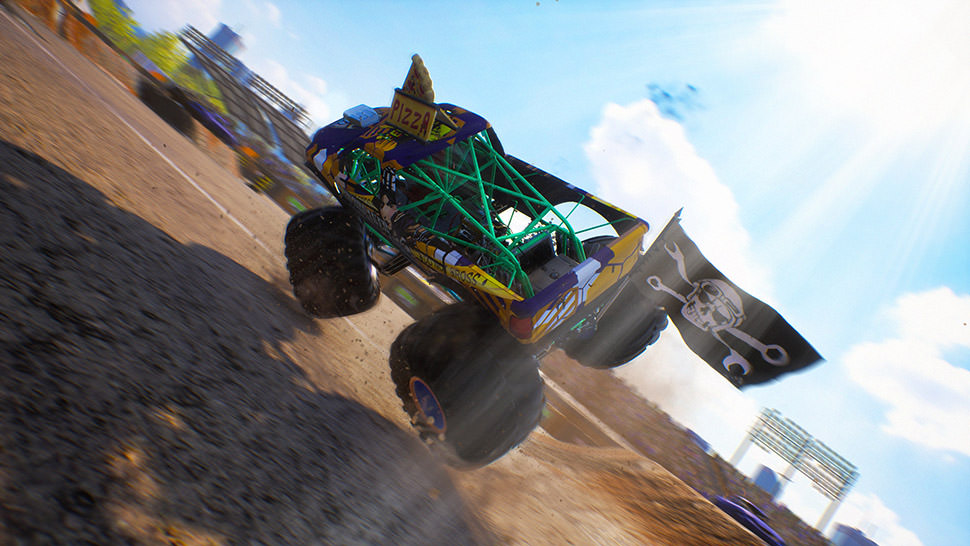 Similarly, you'll always need to be aware of your throttle. Hammering it down can feel exhilarating, but it may not be the best course of action to fly over a ramp during a race, especially if a bend in the track follows. During trick events, and you learn this during the tutorial, you must manage your throttle to pull off various tricks, such as a wheelie, drafting, spinning on your sidewalls, and even balancing on your front wheels. Of course, just like in real life, there are times where you throw caution out the window and hit a ramp without everything you got, only to turn around and hit another, rollover a few times, and go again.
Race tracks are relatively wide, allowing multiple trucks to pass on either side of you at its widest, but the starting grid feels claustrophobic. Since you'll always start a race stage in the eighth slot, you'll need to work your way past seven other trucks that are probably colliding into each other. The tracks consist of mostly dirt and mud but contain sections on pavement and branching paths, helping to thin the herd. By the time you cross the finish line, your truck's tires and body will be caked in thick mud. Well, that is to say, if you have anybody parts left, as optional damage can strip your body and attachments right off.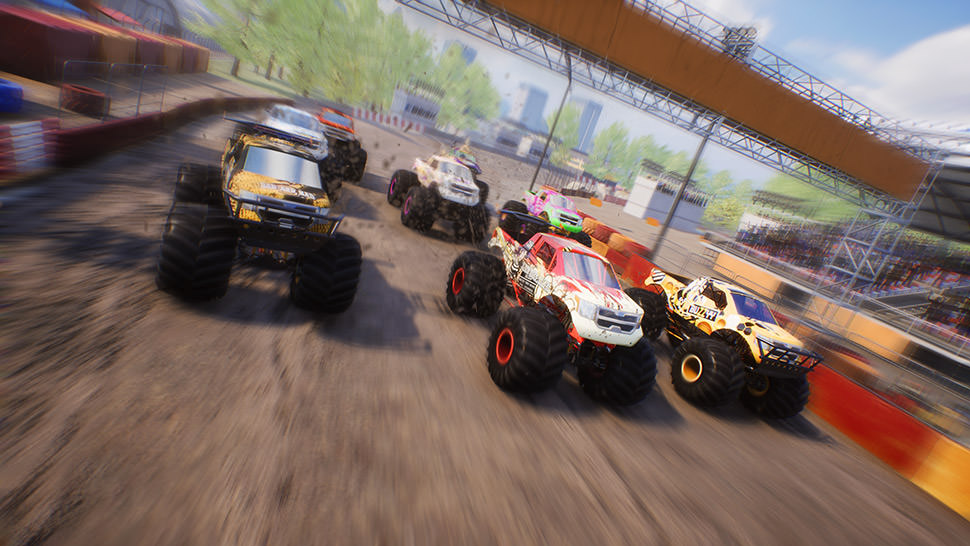 Single-elimination, three-round tournaments represent drag races during the career mode. You'll start by keeping the brake pedal held, allowing you to rev the throttle to the perfect rpm threshold before perfectly timing the release of your brake. It does take some getting used to, feathering the throttle, which may feel a bit cumbersome depending on the device you are using. I found it worked very well with an Xbox One controller, but when streaming with a Razer Kishi, which doesn't have great triggers, it became almost impossible to time the release and feather the throttle at the same time. The different locations keep drag racing feeling fresh, altering not only the length of each track, but the form it takes, whether it is a single "u-style" bend, or if it includes ramps, cars to crush, or even bridges.
The two stunt events are probably what most people think of when you mention monster trucks. Bring in the car crushing, the high flying ramps, the crowds cheering as the trucks flip over uncontrollably (granted the driver is not hurt). Instead of simultaneous competition, you are provided with other drivers' point totals and must beat them within the set time limit. If you don't, just like every other event, you can retry without penalty. Destructible objects are littered throughout the arenas, from porta potties to caravans perfectly placed for crushed or bulldozed. The key to victory comes from stringing stunts together in close proximity and keeping the multiplier as high as possible.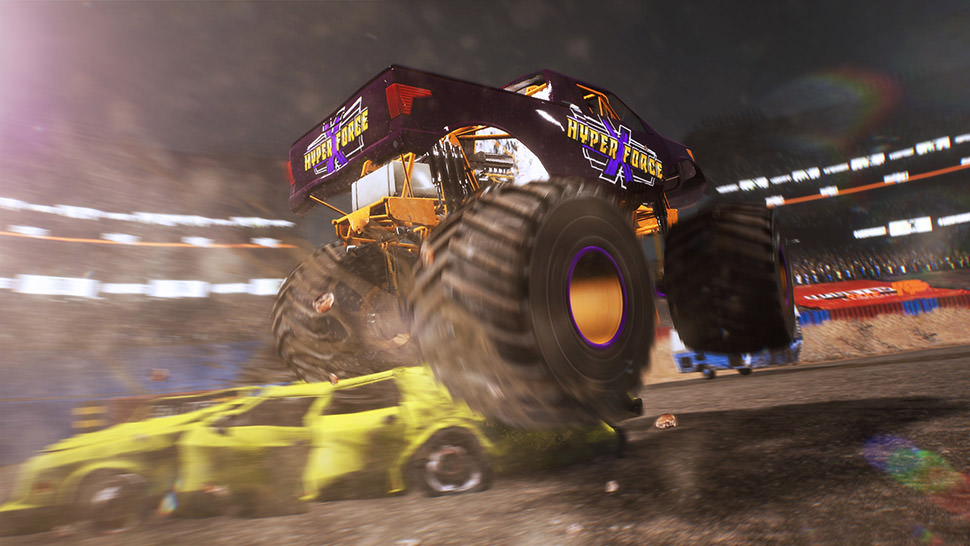 Besides playing single events outside of your career, the game does feature basic online components. Online multiplayer is limited to two players for drag races and up-to eight players for track racing. It would have been cool to experience simultaneous stunt events for at least two players. There's no local multiplayer included in the game. Maybe a sequel will expand the multiplayer offering.
Simply Put
Monster Truck Championship is the best monster truck game to be released. The lackluster presentation and technical hiccups hold it from being great. The driving and stunt controls are solid, even if they take some practice. Short draw distance causes frequent pop-ups during races. There's no music during races, and the crowd is completely silent most of the time. It doesn't take that long to make your way through all 30 of the career events, and in the process, earn millions of dollars. Some appearance parts can cost a pretty penny, so you'll need to replay events to unlock everything.
Note: ​Monster Truck Championship was reviewed on Xbox One. A digital copy of the game was provided by the publisher/developer.