Monster Train
Review


By Kevin Mitchell

Posted on May 28, 2020
---
"When Hell freezes over," an idiom that you've likely heard many times in your lifetime, is fully realized in Monster Train. The only savior, a train carrying the very last shard of the pyre needed to rekindle the fire down in the depth of the underworld. A roguelike deck-building game inspired by Slay The Spire, you'll build your deck from over 200 cards, supporting your chosen champion and strategy. Reclaim Hell from the unrelenting onslaught of the holy invading angels from heaven, literally attempting to freeze your advance.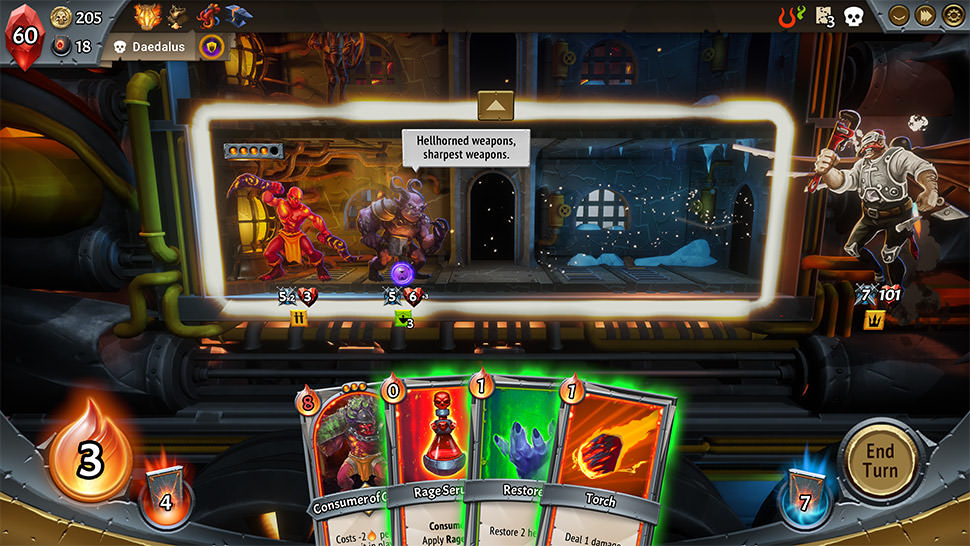 Monster Train takes place on a train (a shocker, I know), descending into the depths of Hell. There are four floors to the train, three defendable using minions or spell cards from your deck, and the top-level housing the pyre, the heart of Hell itself. Each turn, you'll be provided with a new hand of cards, meaning you can't hold on to any for subsequent turns. You'll place your unholy minions on the train's left side, and the enemy combatants board at the lowest level of the train on the right-hand side. At the end of a completed turn, any surviving foes move up one level. If they reach the top of the pyre, it becomes vulnerable to attack. Thankfully, the pyre can impressively defend itself, but you'll want to do everything in your power to prevent them from chipping away at the pyre's remaining health.
Every card, whether it is a minion to summon or a spell to cast, costs a set amount of ember. Your ember quantity is limited, so you'll only be playing anywhere from one to three cards most turns (you can increase the amount of ember during runs), but it regenerates after each turn. Basic units also have set attack power and health, while others may add additional abilities or shielding/armor. The forces of heaven act first by moving units onto the lowest level of the train. You'll begin your turn by playing cards, either summoning new creatures, boasting your strength by playing modifier cards that can add spikes to units, or activating offensive or defensive spell cards. After ending your turn, the combat phase begins, with the goody-two-shoes from above always attacking first, followed by your units, if they survive. Any remaining enemies will move up to the next level after one round of combat. Units in front are targeted first, so you'll want to strategically place cards with high defensive powers in front, allowing your more offensive powerhouse cards to focus on thinning out enemy units. This is an overly simplistic view of combat, but cards may also feature abilities or effects, such as multi-strike.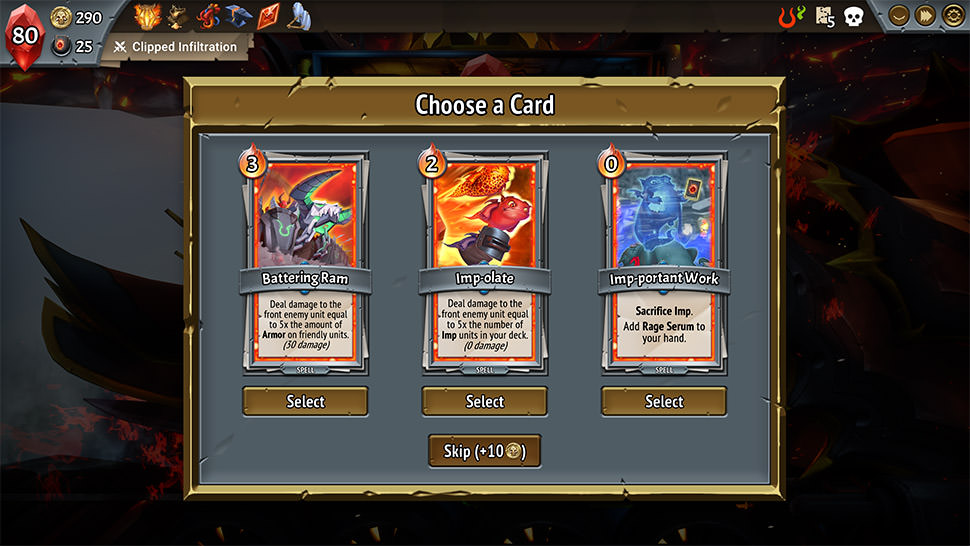 The results of combat shouldn't come as a surprise, as the game gives you a preview of what is going to happen to your minions if you don't intervene. This is important, as seeing a friendly unit is going to lose up to ten hit points when they only have three remaining means you probably shouldn't waste ember playing a plus-four to health card because they are not going to survive no matter what. Your defenders are unable to move between floors, so you'll want to plan accordingly with enemies continually moving up to higher levels. Generally, boss characters appear along with the final wave; however, some may always be present due to them utilizing the power of flight. Dominant, and stacked with three digits worth of health, these angels are not to be trifled with. Hopefully, by the time you reach the final wave, you'll have adequate defenses established to deal with the boss, but you can expect to lose at least a floor or two against the boss, if not more. Unlike standard combat that only lasts one turn, bosses are relentless with engagements going back-and-forth until one side loses.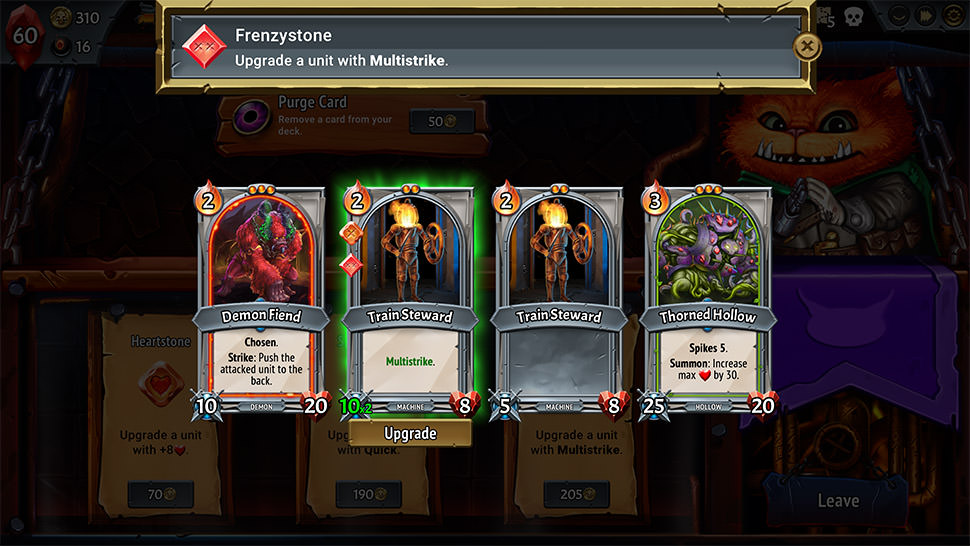 Losing is a necessary component in Monster Train, as it is the only guaranteed way of improving your deck. When you fail, you will still earn clan experience based on the deck types you are using. You'll also earn card packs, allowing you to select one of three cards to add to your deck. Each run, you'll choose a primary and secondary clan. For your first handful or more runs, you'll only have access to two clans, hellhorned and awoken, basically your typical fiery demons and plant-based creatures. New clans are unlocked simply by playing the game, using spells cards, summoning units, and killing enemies. Leveling a clan means you'll gain access to more powerful cards. Random elements still play a significant role in the game, as you'll not know when the card you are looking for will appear in your hand. Even so, gaining experience in victory or defeat ensures that you aren't wasting your time during losing run attempts. Each of the factions feels different, changing how you must strategize your use of minions, spells, and artifacts. It's engaging to be mixing and matching the different play styles of each of the decks.
In between battles, you are presented with multiple paths to the next encounter. Each one features different locales to visit, such as a cavern prompting you to spend pyre health points to earn treasures, forges to upgrade cards, and more. Others can enhance minion cards by adding additional health or armor, decrease ember costs for playing cards, or upgrading a spell's magic power. Activating trials for each battle increases the difficulty, putting you at a disadvantage, but the additional rewards are sometimes too tempting to ignore. Decks should be built around your chosen champion, which can be upgraded, and has unique set of abilities. You'll also see your champion on the first turn.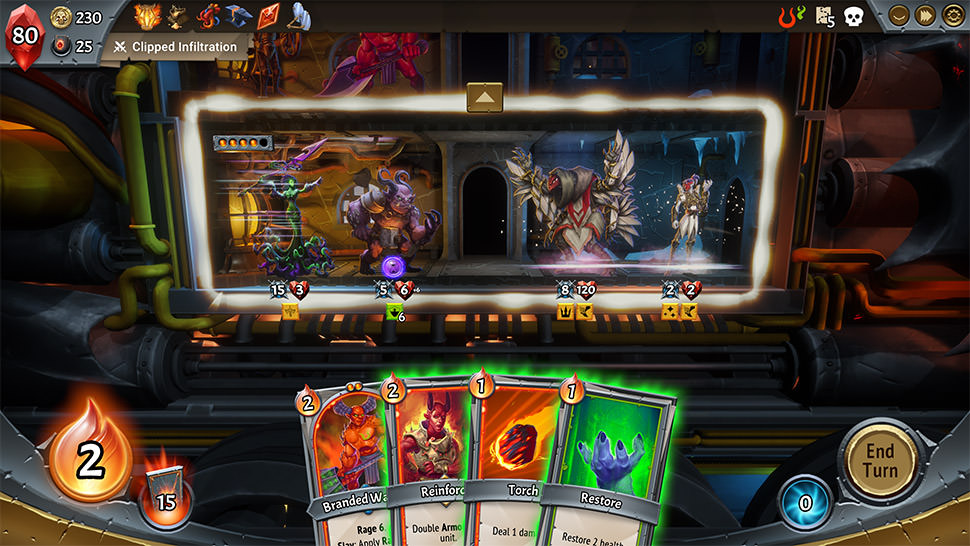 Simply Put
Monster Train is a highly addicting deck-building game, with multiple clan(deck) types, and higher-level difficulties that'll have you playing for quite some time. The inclusion of online multiplayer mode provides further value, as you compete to see who can defeat heaven the fastest. If greater difficulties don't entice you, there are daily global challenges and custom challenges that let you design your own challenge and share it with friends. Not to mention, there are over 200 cards to unlock, and unique tactics to deploy based on your chosen clan combinations.
Note: Monster Train was reviewed on PC. A digital copy of the game was provided by the publisher/developer.