​Lovingly Evil
Review


By Kevin Mitchell

Posted on August 19, 2020
---
It has been over a year since I've attended an industry event/conference. These events are some of my favorite moments of the year, making new friends, seeing old acquaintances, and speaking with anxious developers and publishers excited to talk and show their upcoming titles. With everything that is happening globally, I am ecstatic that the game industry continues to evolve, providing new and exotic escapes from the real-world for players. Villainy is your passion, and Lovingly Evil takes you to the infamous Villain Conference. Here, dastardly creatures and criminal masterminds from across many dimensions build friendships, discuss nefarious plans, attend classes, or possibly find that perfect evil romantic partner.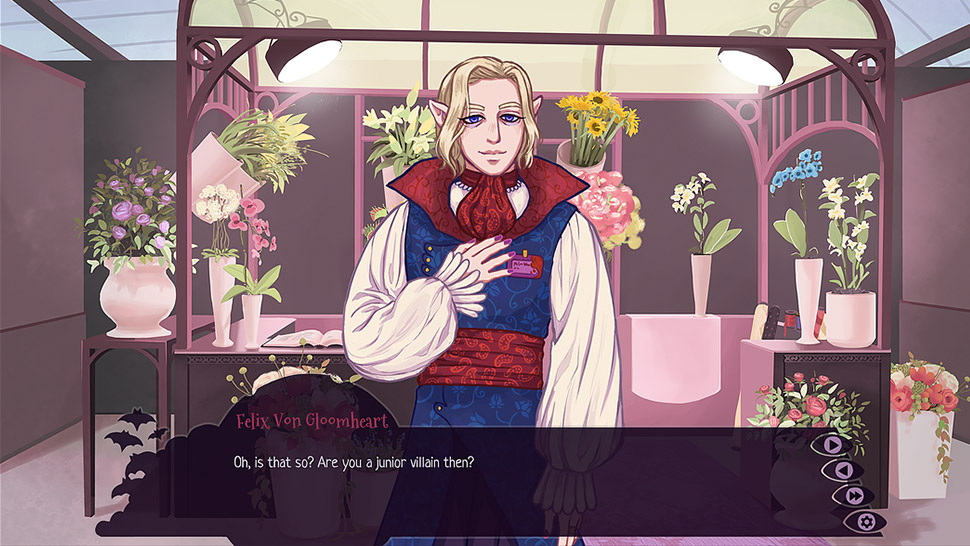 As a visual novel dating sim, Lovingly Evil guides you towards building relationships over four days at the Villain Conference. It is your first time at the event, but learning from the professionals takes a backseat to hooking up with one of the five possible villainous love interests. First off, you'll create a uniquely designed diabolical character by customizing your appearance, name, backstory, age, and even pronouns (with the inclusion of they/them). However, you don't see your character that often, mostly on your conference badge, but you will run into a similar-looking dark clone of yourself at the event quite frequently. Even then, there are plenty of variations for your appearance, from choosing a body type, dozens of eye choices (including cyclops and three-eyes), horns, pets, outfits, and more. The best part, nothing is limited based on your pronoun selection.
Even though Lovingly Evil is a dating sim, it isn't a serious title, but instead full of whacky, yet charming characters and humorous pun-filled dialogue choices. How you spend your time is up to you. Do you check out classes on perfecting your disguises for any occasion? How about developing your maniacal laugh? What about ensuring you avoid monologuing mistakes (clearly Sideshow Bob skipped the course)? You could spend your days skipping the talks and chase after your love interest like someone obsessed and on a mission.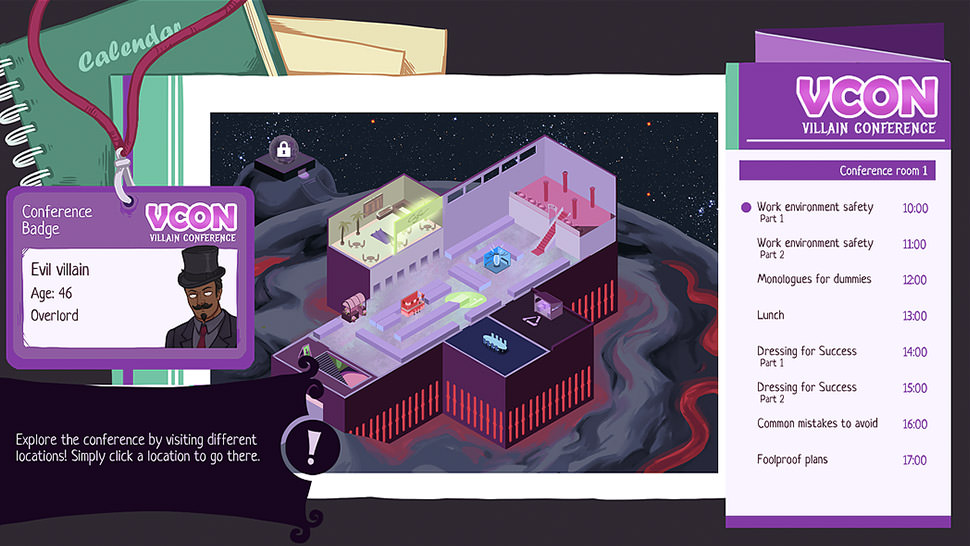 It is possible to run out of things to discuss with another character, so you'll need to find something to bide your time. With an outline of the daily events provided, if this occurs, you can waste some time at a talk, even if you aren't interested, and then continue chasing after your love interest.
I don't want to reveal all of the characters because I found their interactions and their dialogue so wonderfully crafted going into the game blind. I will say that I got a chuckle at seeing Satan, with his luscious golden hair and lack of shirt, wanting to take some time away from his duties in Hell to attend the event. Unlike other dating simulations, Lovingly Evil features unique mini-games depending upon your would-be partner. Satan runs a grill, and he asks you to handle serving customers for a bit. The hungry demonic imps were tougher to please than expected, as you'll need to memorize the orders and answer questions at the same time against a time limit. If you want to develop a relationship, you'll need to complete these mini-games whenever they pop up.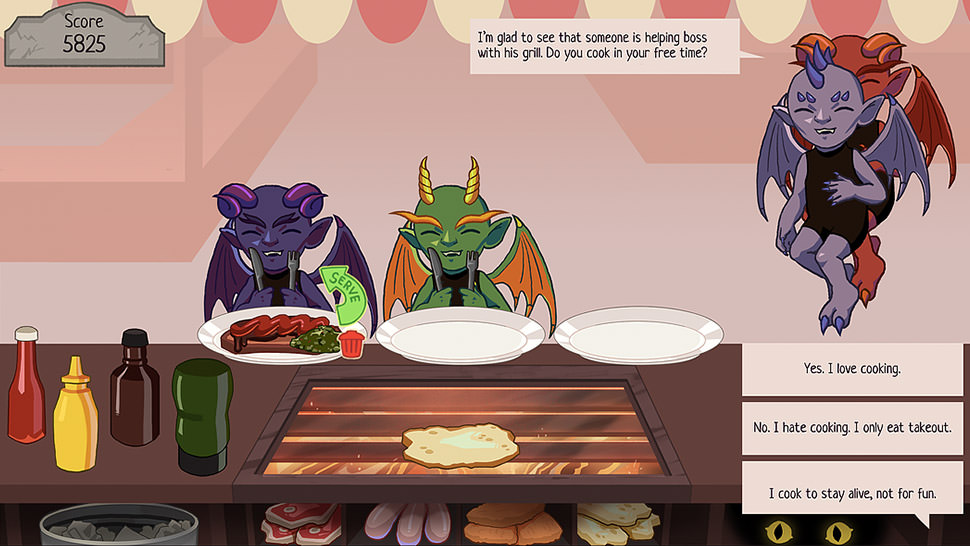 Simply Put
Lovingly Evil is a charming visual novel dating sim with a humorous premise and well-written characters. There are multiple endings for each romantic interest for added replace value, excellent character customization options, and the ability to spend your time freely. I found the talks well-designed and enjoyable (evil), although you may want to dedicate runs towards hitting on one of the love interests or exploring the conference without trying to find a date.
Note: ​Lovingly Evil was reviewed on PC. A digital copy of the game was provided by the publisher/developer.