​Kingdoms of Amalur: Re-Reckoning
Review


By Kevin Mitchell

Posted on September 15, 2020
---
The fantasy role-playing game Kingdoms of Amalur: Reckoning was released initially in 2012. It was the only shipped title from Big Huge Games and 38 Studios founded by former Major League Baseball pitcher Curt Schilling and funded by the state of Rhode Island. It began development as an MMO (massively multiplayer online) game, but development shifted towards a highly narrative single-player experience. The Amalur universe was planned to be expanded with Project Copernicus, an MMO, but was canceled when the company filed for bankruptcy. THQ Nordic acquired the rights a couple of years back, and developer KAIKO has worked hard to upgrade the aging visuals and improve the overall player experience.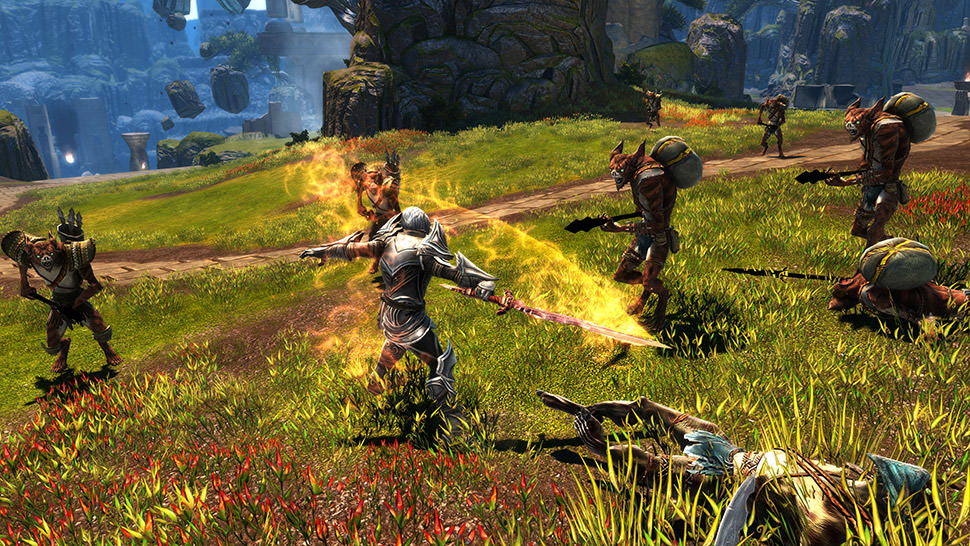 Although I would describe the original release as one of the best western RPGs from the last generation, Kingdoms of Amalur: Reckoning wasn't a massive success commercially but has garnered a faithful cult-like following. As a single-player action RPG, players begin the adventure dead, literally. You are "The Fateless One," and find yourself resurrected among a massive pile of rotting corpses, forcing you to fight your way out. The opening sequence familiarizes players with the weapons that define each of the three main classes: might, finesse, sorcery.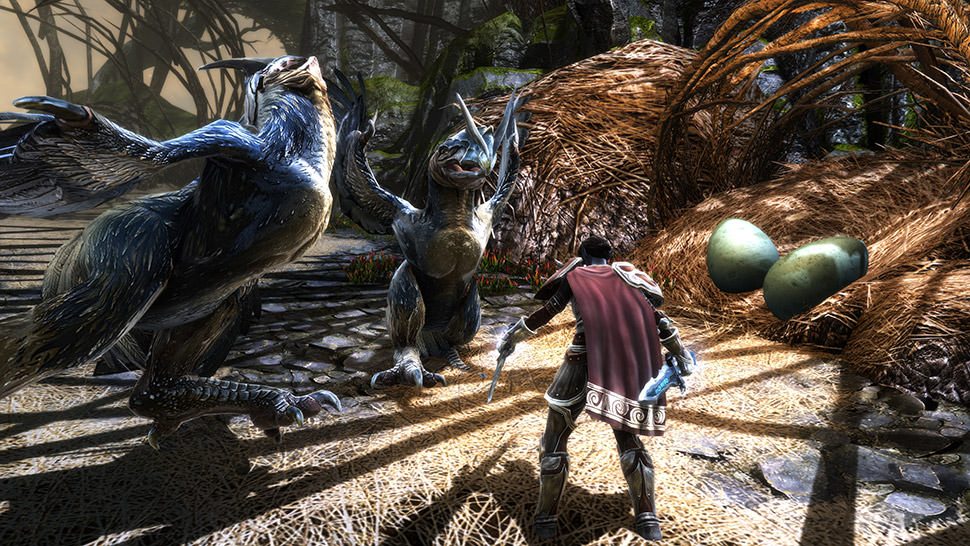 Capable of deciding your fate gives narrative reasoning behind all of your customization options. There are four different fantasy-based playable races, each with their racial bonuses: Almain and Varani are humans while Dokkalfar and Ljosalfar are dark and light elves. The might class prioritizes strength with powerful melee weapons and tank-like heavy armor capable of absorbing countless amounts of damage. If a rogue-like type fits your playstyle, you may opt for choosing finesse, focusing on stealth, backstabbing, using poisons, and quick attacks using dual daggers. The final class type prioritizes spellcasting and magical weapons, such as wands and staffs. There's no reason why you should limit yourself to only one class, as you'll eventually reach the point to intertwine skill trees together to create your own custom class combination, crafting your destiny. Destinies are represented by a card system, letting you select how to develop your character moving forward based on the number of points dropped within each of the three class types. These mixed classes can be quite powerful, combining elements from each of the main classes and transforming them into their own entity. For example, "slayer" shares feature from both the might and finesse skill trees, giving you both stealth damage and piercing damage bonuses. "Prodigy" combines all three elements, giving you bonuses to melee, ranged, and magic attacks.
The amount of freedom to develop your character as you see fit was almost unheard of in action RPGs at the original release time. Nowadays, the system doesn't feel as spectacular as it did the first time around, but it's still quite rewarding to freely place skill points across the various classes. As you level up, you'll also gain points to spend on additional non-combat abilities, such as lockpicking, blacksmithing, persuasion, etc. Depending upon your class selection, you'll want to select the ones that will best complement your character build. Are you living the life of a close-range warrior? Maybe you should maximize your blacksmithing potential to repair your weapons and armor and forge new equipment. I found alchemy to be quite useful regardless of your build, thanks to the skill that permits you to brew potions from harvested plants. Considering you'll come across these plants in large quantities just from running around and completing quests, it is a great choice.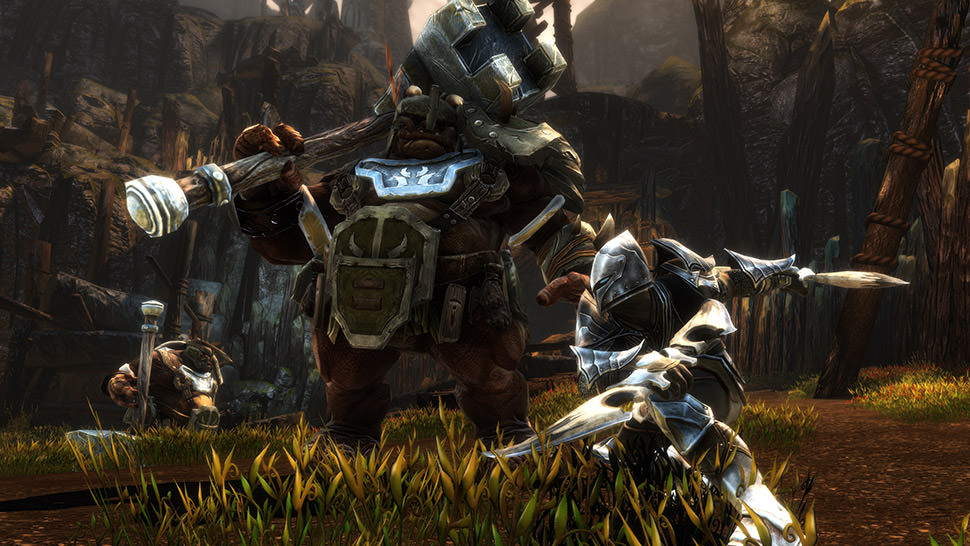 The regions within Amalur are massive, making it is relatively easy to see the MMO influence. After the opening tutorial sequence where you'll run through each of the three main classes and teach you how to defend yourself, the game throws tons of quests your way, letting you tackle them in any order you prefer. If you don't learn sorcery skills, you can still use a staff to shoot fireballs at any point. Heck, I typically use a longbow to bring enemies to me, then launch them into the air with my sword before finishing them off with electricity or fire. Yes, there are plenty of filler fetch quests that scream MMO, but no one is forcing you to complete all of them. I will say that as you journey across the land to complete one quest, you'll come across even more to accept.
There are notable updates and additions to the game, making it worth the trip back to Amalur, even if you have previously completed the game. The game's arcade hack and slash free-flowing combat system is still quite enjoyable, and the game now features a very hard difficulty. Along with it, KAIKO has reworked how zone levels are calculated. Previously, the first time you enter one of the zones, the maximum and minimum enemy levels were determined for the rest of the game. Now, the range of foes levels is recalculated every single time you enter or re-enter an area. The current difficulty influences the levels, and while it may seem like the game scales with you throughout the game, you'll still be able to feel overpowered if you put in enough effort. The system that powered loot generation has been altered, so while it is still randomized, greater weight has been put in place based on your current class. Essentially it means you're more likely to find items that complement how you want to play the game. KAIKO has also included all of the game's DLC and plans a new expansion for the game to release early next year.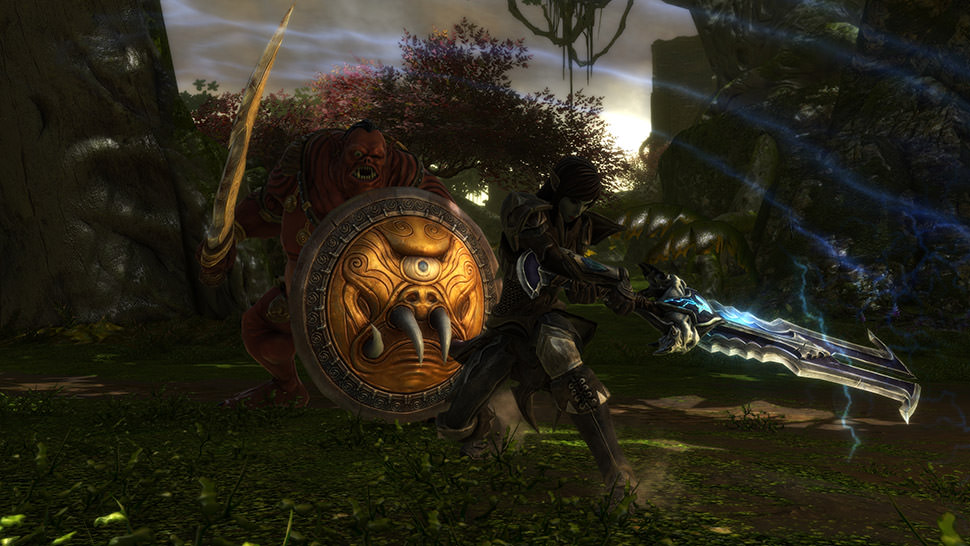 The menus and UI systems are still stuck in the last generation, where everything was overly large and a bit cumbersome. There is an option for a smaller hud (or you can remove it entirely). Still, it only makes the minimap tiny, too small to be useful when playing in 4K on Xbox One X. Digging through all of the menus is a task in itself, and considering that it is an RPG, you do spend ample amounts of time looking over how to spend your skill points, swapping equipment, items, etc. While it matches the original release, it does feel quite antiquated and could have used an overhaul.
Simply Put
I'm glad that Kingdoms of Amalur: Re-Reckoning exists. It was an overly ambitious western RPG built around a massive world overflowing with charming characters, fantasy tropes, and boundless world lore. All of the visual enhancements look amazing on Xbox One X, upgraded textures and colors that bring the world to life. Yes, the menu system feels ancient eight years later, but the gameplay, especially the combat and class system, is so good that it can be overlooked. I hope that KAIKO refines the upcoming expansion experience, as I can't wait to dive back into Amalur.
Note: ​Kingdoms of Amalur: Re-Reckoning was reviewed on Xbox One. A digital copy of the game was provided by the publisher/developer.