​It came from space and ate our brains
Review


By Kevin Mitchell

Posted on February 13, 2020
---
Initially released in 2015 on PC via Steam, It came from space and ate our brains, has been completely overhauled. The somewhat serviceable online mode has been cut (both Steam and PS4 does have ways to play local multiplayer over the internet). If you own the game on Steam, you may opt into the older version of the game that still features online gameplay, but based on the hours I've put into the game; you may want to rethink your choice. Suit up my nameless heroes, its time to take back the planet!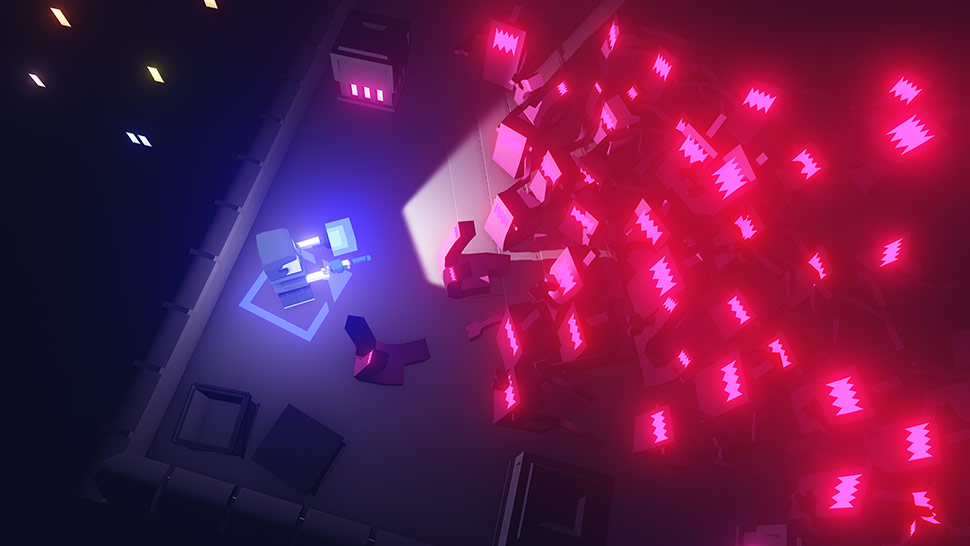 As an arcade-style twin-stick shooter, you and up to three friends are tasked with driving back the glowing neon-tinted aliens that have invaded the planet. The campaign is comprised of six missions as you progress across checkpoints (safe houses) in each level before reaching and destroying a massive alien egg to complete the level. The four difficulty options let players customize the experience. Still, I had no problems playing through the entire campaign (solo) on the medium setting without dying once (there is a trophy tied to your first death). I attempted one of the last levels on insane, and enemies are faster, tougher, and deadlier. Fair to say, I barely survived more than a few minutes solo. The missions are quite long and varied, as you travel across rooftops, trudge through a radioactive sewer, attempt to make your way through a medical clinic, escape the city by following a river through farmland, and more.
Although the locales are varied, the game's unique monotone visual style refrains from using color, except for highlighting light sources, giving you hope in these struggling dark times. Some of these light sources can be destroyed, providing items, temporary upgrades, or currency to purchase permanent upgrades (at least for that level). Maybe there is a bright glowing crack from a wooden crate left alone on a rooftop waiting to be shattered into bits and pieces, or you may find fire barrels in the darkened sewers. Players are brightly colored, with each player receiving a different color, but there aren't any customization options (player one will always be blue, for example). It's a good thing to note that there isn't any drop-in support; however, players can drop-out at any point. Also, note that multiplayer is accomplished through split-screen.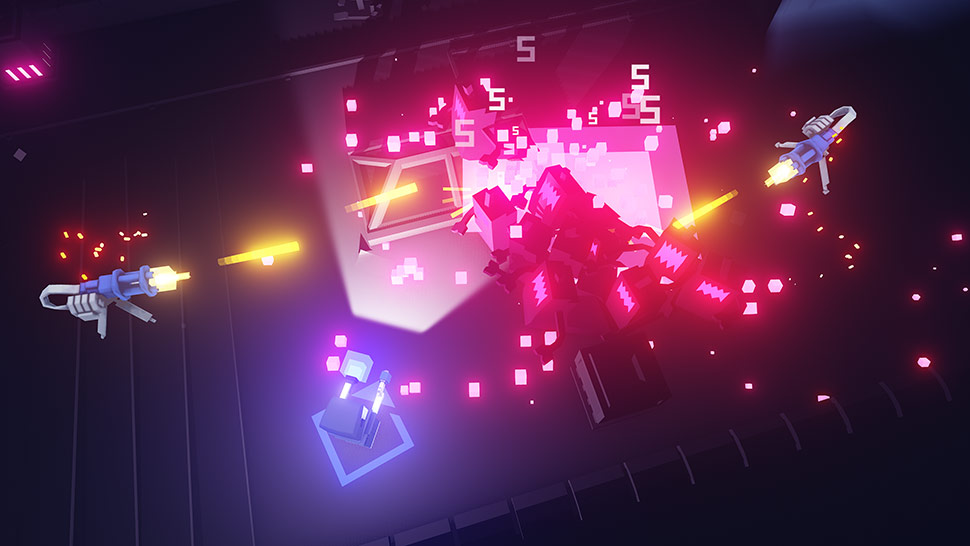 Just like players, enemies tend to pop against the grayish looking background environments. Most have neon glowing bits, but as you progress through the campaign, enemy variety changes, and you'll come across much more fierce foes (and ones that blend into the environments). The first couple of levels are pretty safe, but enemies can still outnumber you 20 to 1. Before you know it, the invading species changes/mutates, becoming shift moving foes that can avoid bullets with relative ease and surround you in an instant. The deeper you get, the more robust the enemy type, including those types that launch themselves towards you.
Every level from the campaign is self-contained (no real narrative besides slaughtering aliens), as in you don't carry any weapon progression over to the next. At the start, everyone starts with a barebones pistol and flashlight. As you slaughter the unknown beings from beyond, you'll gain points to spend on upgrades and unlocking additional weapons, such as a plasma gun, shotgun, machine gun, and more. For the most part, I've stuck with a single gun across a level. The reason that I recommend this approach is you'll want to fully upgrade it before reaching the end of the level. For example, the plasma gun becomes a multi-shot death dealer, covering a large area in front of you. At the same time, the machine gun turns into a single-handed mini-gun capable of dealing a consistent flow of damage.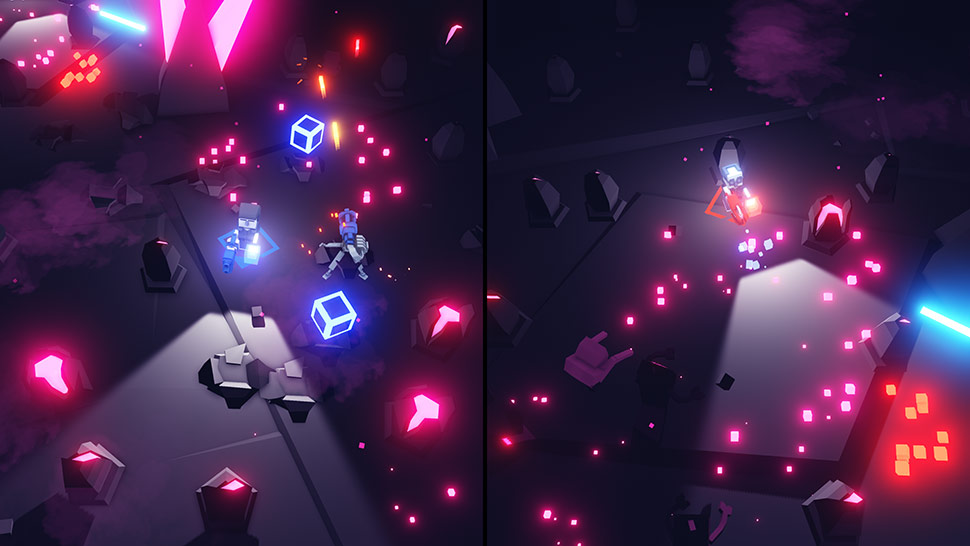 Items can be found by destroying the aforementioned glowing parts of the environment. These can come in handy, especially when facing massive waves of foes. Medkits can provide a single heart (you'll have four in total), turrets can help clear sections of a level, and shields allow you to run through groups of foes without taking damage. You can only hold one item at a time, so you'll need to use the one that you are carrying if you want to pick up a medkit, for example. Temporary upgrades can be picked up as well, giving you a short period to test out an upgradeable weapon that you aren't currently using. There is a boost that can be triggered, but whether you use it for a split second or hold the button down until the meter is depleted, you can't use it again until it is completely recharged. It can save your life, however, especially when you find yourself getting surrounded.
Simply Put
It came from space and are our brains is an enjoyable local multiplayer twin-stick shooter. The gameplay mechanics are very smooth, with responsive controls, and a unique visual style that I adored. It is a bit strange that the game supports drop-out, but not drop-in, especially with the length of the levels. A wave-based survival mode exists outside of the campaign, with double the number of levels that the campaign contains. It does hurt that there is no online multiplayer, especially on PlayStation 4.
Note: ​It came from space and ate our brains was reviewed on PlayStation 4. A digital copy of the game was provided by the publisher/developer.