​Into the Dead 2
Review


By Kevin Mitchell

Posted on October 21, 2019
---
Originally an iOS and Android free-to-play title, Into the Dead 2 has made its way on the Nintendo Switch, just in time for the Halloween season. As an arcade-style shooter, you'll be thrust into dangerous conditions, as you must manage to survive against hordes of the undead, conserving ammunition, and running, always running. All of the game's 60 narrative levels spread across seven chapters are included in the Nintendo Switch release, along with dozens of side story missions (plus downloadable content) and an endless arcade mode. Although all of the microtransactions have been removed, and elements have been redesigned to work without them, the core gameplay remains the same.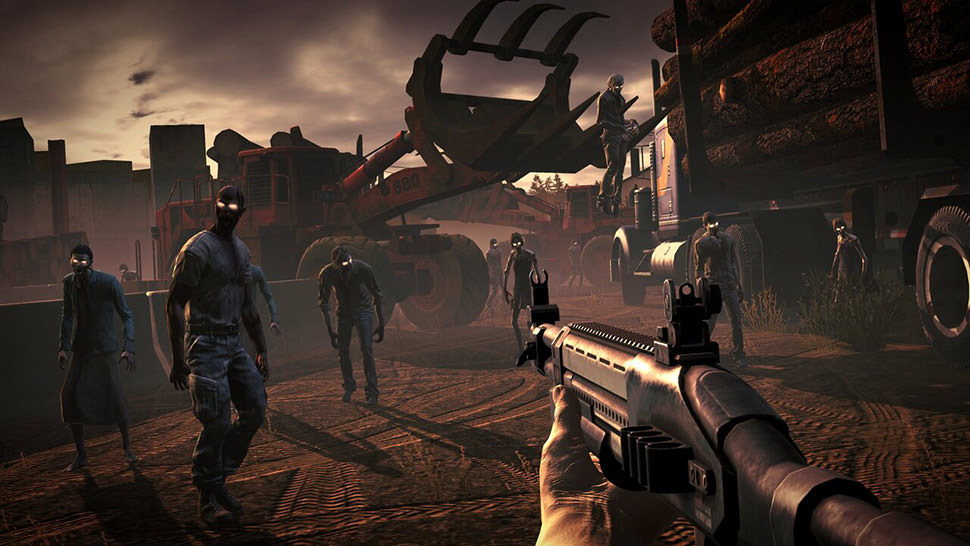 Unlike most (if not all) endless runners, Into the Dead 2 has clearly defined narrative-based missions. James, our protagonist, crashes his truck on the way back to his sister and daughter. Between each new mission, you'll learn of her struggle, fleeing from invading zombies and the battle to keep Maggie (the daughter) alive. It's not breathtaking but has enough substance to keep you moving forward. I should also mention that the side stories are locked until you complete specific levels, so if you have the Ghostbusters downloadable content, you'll need to play through all 60 levels of the story first. Speaking of, the physical edition includes the Night of the Living Dead and Ghostbusters add-on content, while those who purchase the game digitally, can buy the bundle, or the base game and DLC separately.
Every level sees you run towards the endpoint automatically, but you'll need to strafe either left or right, avoiding obstacles, burning wreckage, and groups of zombies. Ammunition is quite scarce and resets at the start of each level. Caches can be located by looking for the green smoke off in the distance, and generally, you'll be able to maneuver yourself to run through it. The view distance isn't too great, so things have a habit of appearing right before your eyes, so there is a good chance you won't have enough time to even react to an ammo crate that appears on the far side of the screen. These crates randomly provide a small number of bullets for either your primary or secondary weapon. It's a common sight to only get a few (like 3 or 4) rounds for your handgun, which doesn't help much. For this reason, avoidance of zombies is key to survival, along with saving your shots for those pesky runners that get too close.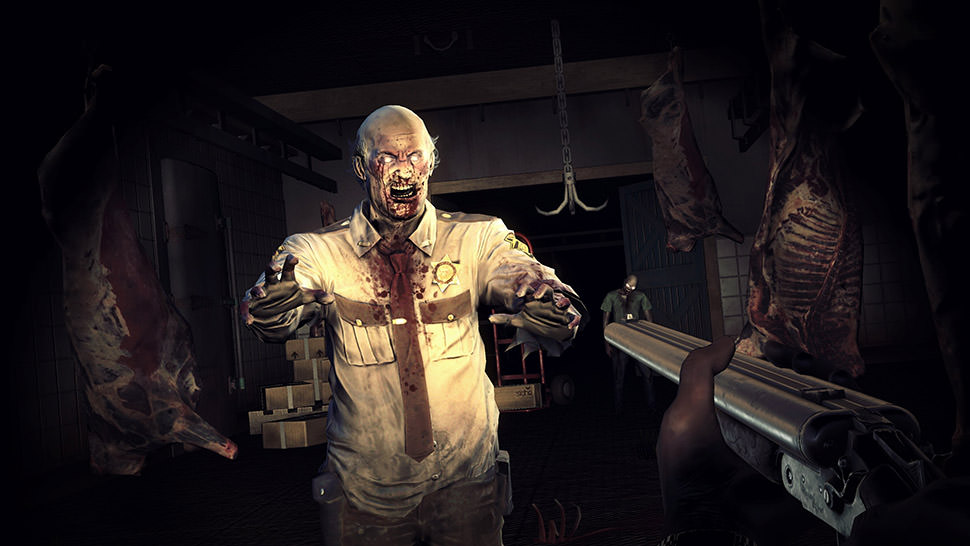 The core gameplay mechanics have stayed the same in Into the Dead 2, but almost everything else about the game has been redesigned. Instead of collecting weapon parts, you'll unlock new weapons by collecting enough stars and then purchasing them with gold. Besides the two weapons that you bring with you, you'll have a trusty companion in almost every level. It's not long before you rescue the first dog that loyally follows you across fields, towns, through forests, junkyards, and rail yards all teeming with the undead. Your new best friend will even take down an enemy every so often, but it seems so random that it is hard to predict when it is going to occur. As you progress through the narrative, you'll unlock new companions, purchasable with gold. Each one has a different use, such as being more aggressive when attacking, or even one that collects additional ammo. At times you'll have another human soldier running beside you, along with a triggerable special ability to mow down anything in your path.
After every level, you'll rummage through a backpack for loot, yielding three different options (the mobile version had three packs with one item in each). You can either select a handful of gold or temporary weapon boosts. These boosts can yield faster firing rates, increased starting ammo, special ammo types, such as piercing or explosive ammo, etc. Gold (and some weapons) can be unlocked by earning enough stars by completing objectives. These objectives include getting a specific number of kills with a particular gun, hopping over multiple barricades, and more. The game also has various endings, tied to the number of stars that you have by the time you reach the final mission. Replaying previous levels for gold is a slow grind. Arcade mode and the side stories are the best way to earn gold; however, gold earned from the arcade mode is a one-time reward based on the chosen difficulty. It can undoubtedly help you upgrade or unlock a few items, but eventually, you'll have to grind out missions.
The side stories provide a touch of variation on the game's formula by changing out the setting. You'll take control of 3rd platoon Corporal Garcias venturing through treacherous swamps, or take James through a frozen and unforgiving mountain, and more. The side stories provide an excellent source of gold, weapons, and companions. The two licensed content packs are available at launch. Content unlocked, such as the proton packs and Slimer from Ghostbusters, can be used in any level in the game.
Simply Put
Into the Dead 2's transition from a heavily microtransactioned mobile game to the Nintendo Switch is not without issues. First and foremost, the game's price tag may be a bit hard to swallow for what was a free-to-play mobile game. Yes, the game plays better without the despicable mobile game philosophy of nickel-and-diming the player, but its cost is way more than expected. The view distance isn't that great, so it's frequent to see zombies appear in front of you, slowdown occurs both during runs and in menus, and the gold grind is very slow. Even so, I thought it was a decent experience when played in short bursts. It's just disappointing that licensed DLC is locked until you get deep enough in the main story.
Note: ​Into the Dead 2 was reviewed on Switch. A digital copy of the game was provided by the publisher/developer.