​Hotshot Racing
Review


By Kevin Mitchell

Posted on September 21, 2020
---
With the current-generation coming to an end, one can look back and not be disappointed at the amount of quality 2D retro-designed games, be it 8-bit or 16-bit. However, the early days of 3D polygonal visuals from the arcades during the same period have not been explored as deeply. Hotshot Racing is a love letter to an era of exhilarating fast-paced arcade racing with visually striking polygons and popping bright colors. Running flawlessly at 60 frames-per-second as you drift and boost to the finish line across uniquely designed tracks against the AI and other local and online players, Hotshot Racing ends this generation with a satisfying taste of adrenaline and burnt rubber.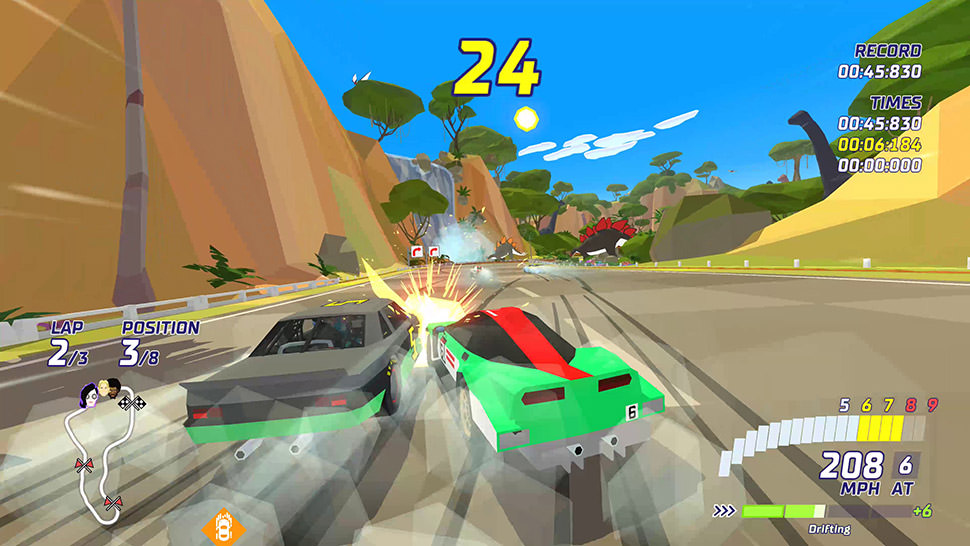 No strangers to arcade racers, Sumo Digital, and Lucky Mountain Games have crafted a solid racing game that is simple and fun. Immediately it harkens back to the glory days of arcade racing classics, such as Daytona USA, Virtua Racer, and OutRun, where flashy graphics and peppy soundtracks had kids wasting entire pockets full of quarters. The single-player Grand Prix is broken down into four different cups and three difficulty settings (normal, hard, expert). There are four locales, coast, desert, jungle, and mountain, with each one featuring four different tracks, along with mirrored versions. One race, you're are speeding through a tropical beachfront complete with a stunning tunnel lined with an aquarium filled with sharks, and the next, you are drifting across a cobblestone European style alpine resort.
The AI is relentless thanks to severe rubber-banding (remember when this was a staple in every racing game?), meaning they will always be able to get back on your tail no matter how perfectly you maneuver through the tracks. It does also allow you to get back into any race. For example, the AI tapped my bumper, sending me skidding sideways across the pavement and straight into a wall, and yet, I still managed a first-place finish. It was within a tenth of a second, but the frequent threat of being overtaken, especially when the beats' tempo picks up during the last lap, keeps the tension high throughout.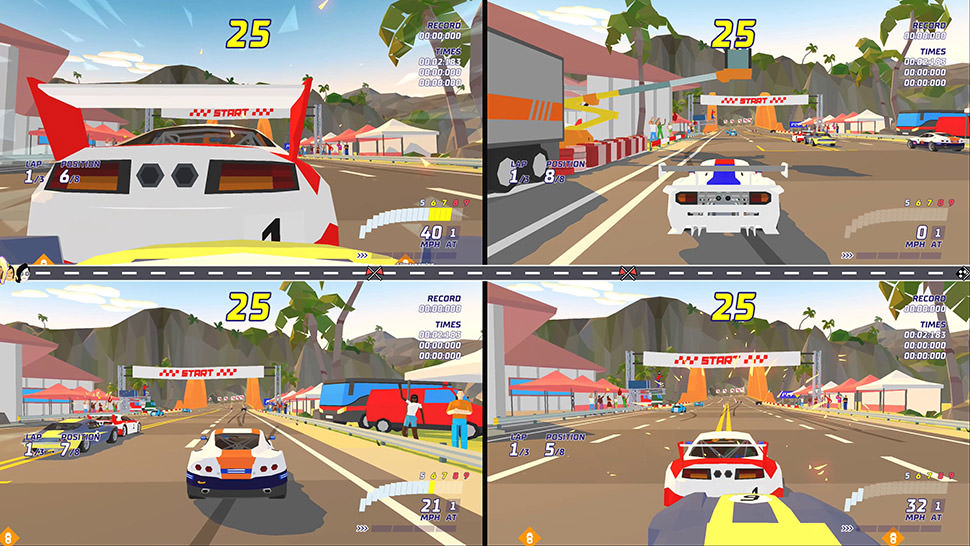 Drafting and drifting slowly fills a boost meter, giving you the edge during a race, at least momentarily. Time your engine revving at the start of the race (keep it in the yellow), and you'll start with a boost, but honestly, it doesn't matter in the long run if you are playing against the AI. I've come in first place with and without the small boost at the start. Hotshot Racing is all about maintaining the highest amount of speed as you drift through turns, avoiding other racers and the environment in the process. It's like this game speaks to me on another level, considering I'm not too fond of it when I need to let off the accelerator in racing games. I didn't have a problem finishing first in every race on the normal difficulty, earning a gold trophy in all four cups (which isn't even an achievement). Immediately switching to the expert difficulty, I was caught off guard by how fast cars were moving through the track with such precision. The blazing speed and brutal AI makes for an incredibly tough challenge, especially as I felt less in control of my vehicle than on the standard difficulty. A single mistake had me colliding with a barrier or, worse, having a wheel (or two) touch the grass on the side of the roadway. This is almost a death sentence, as the momentum lost is way too much to even think about regaining lost positions, at least on the expert setting.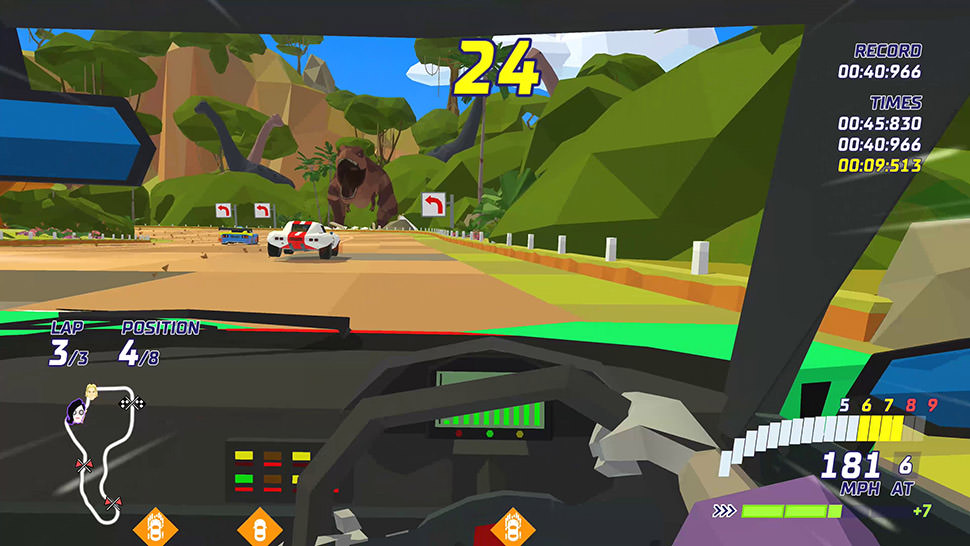 If racing across multiple tracks at a time isn't for you, you can select single races, compete in time trials, or race friends locally in split-screen multiplayer with up to four players. Online supports up to eight players, with or without AI. The AI is replaced as players join and features support for all game modes and difficulty settings. Besides setting the difficulty and lap count, there are two additional game modes; "cops & robbers" and "drive or explode." Drive or explode adds a bomb to each of the racers' vehicles. Drive below a certain speed, which increases at every checkpoint, or take too much damage, and you'll explode. Sadly it is still lap-based. I would have liked to see a last man standing option, but setting the lap count to the highest (seven) generally does everyone in around the fourth or fifth laps. Cops & robbers has two players start as the cops, and the rest are bank robbers. The robbers bank cash by racing through the checkpoints, as the bounty on them decreases over time, so speed is the key. Cops' tasks are simple, crash into the robbers to deplete their health bar, and deputize them into service. Things can become quite hectic when you have enough cop cars driving both directions down the track.
Simply Put
Hotshot Racing's retro-inspired high-adrenaline arcade racing is simply a joy to experience. The courses themselves are varied, colorful, charming, and full of personality, albeit slightly on the simplistic side in terms of the track designs. Yes, the AI rubber-banding is a relic of the past, but does help deliver tense racing moments. Cranking up the difficulty is similar to moving from 50cc to 150cc in Mario Kart; everything feels faster. The local and online multiplayer should give the game legs, especially considering how fun I found the additional game modes. Now excuse me, I need to live my life drifting through the jungle, avoiding dinosaurs, and trying not to explode.
Note: ​Hotshot Racing was reviewed on Xbox One. A digital copy of the game was provided by the publisher/developer.