​Hardcore Mecha
Review


By Kevin Mitchell

Posted on January 27, 2020
---
Formerly a successful Kickstarter game, Hardcore Mecha (the original title was Code: Hardcore), developed by RocketPunch Games launched on Steam at the end of June 2019. The most recent launch brings the game to PlayStation 4 in North America (and Europe), as it was already available on PS4 in Japan, Korea, and Southeast Asia. As a 2D action-platformer, you'll pilot giant mechanical suits or mecha, with clear inspiration titles Super Robot Wars and Metal Slug and the classic anime Mobile Suit Gundam. There is even a die-cast/plastic collectible figure of the main (and cool looking) mecha from the campaign, Thunderbolt.
There are three different game modes available in Hardcore Mecha; campaign, simulation (survival), and multiplayer. In the campaign, you fight as a mercenary who goes by the name of Tarethur, tasked with locating a missing U.N.F. intelligence officer on Mars. The presumption of her being kidnapped because painfully obvious, as you progress through the narrative complete with impossible odds, and a deep-seated conspiracy that you'll unwind across 18 stages. The highly varying and detailed environments, keep the action engaging, as you'll fly through the vast vacuum of space, engage on the planet surface, fight deep underwater, and even take control of a massive space frigate. Animated sequence emphasizes important events, seamlessly woven in between actual gameplay.
The game's single-player campaign can be played in either the normal difficulty or easy, but doesn't lock you into the selection. Easy is the best way to play the game if you are looking to unlock the survival mode (which doesn't open until completion of the story) or to just experience the narrative. You can always go back into any of the missions and replay them on either of the difficulties. If you select the easier of the two, you are given plenty of healing items, that instantaneously replenish your health, making you nearly indestructible as long as you use the item before you explode. As you complete missions, you'll earn points to unlock new equipable mods, such as improved shielding, faster reloads, new primary and secondary weapons, and more. Hidden weapon blueprints are scattered throughout, typically located in secret passageways given access to some of the cooler items in the game, such as firing massive balls of electricity that destroy enemy mecha without remorse.
As a platformer, the game emphasizes verticality, and mobility, using your mecha's ability to hover and boost through the air. It does keep levels feeling unique, instead of merely walking across a flat environment until you reach the end target. The old-school arcade-style space encounters are great, taking me back to the days where space shooters were about fast reflexes and backs with tons of enemies and bullets on-screen simultaneously. Auto-scrolling elements in a couple of the stages can be problematic, if you aren't paying close attention, as being stuck behind an enemy or parts of the environment can instantly kill you. There is even a stage where you take the helm of a slow-moving, but highly powerful frigate, attempting to dodge telegraphed enemy cannon fire and destroying multiple mecha at the same time.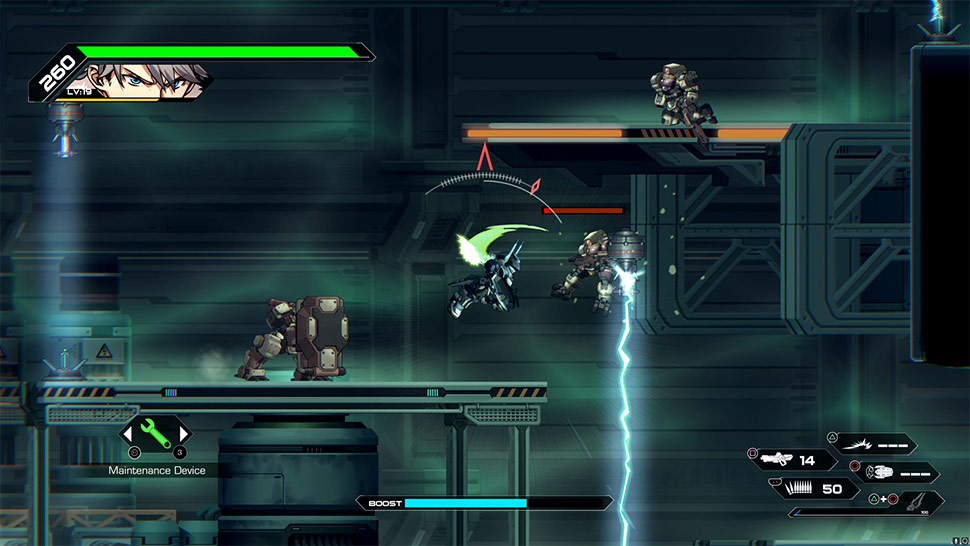 There are times where you'll need to exit your mecha and explore interior corridors on foot, engaging with terrorists on the ground and rescuing hostages. During these moments, you are considerably more vulnerable but are equipped with the necessary firepower to handle any situation. You can even jump out during multiplayer fights, hopefully, to surprise your opponent with a handheld bazooka to dish out some damage.
Multiplayer can be experienced either locally or online, each type supporting up-to four players. The action becomes quite fast-paced, with mechas boosting through the air, setting up combo strings using supporting firepower, and finishing off opponents with melee strikes. Regardless of the number of players local, the screen always is split into four equal parts. This means, if there are only two-players, only the top half of the screen becomes usable, with the rest not being filled with anything.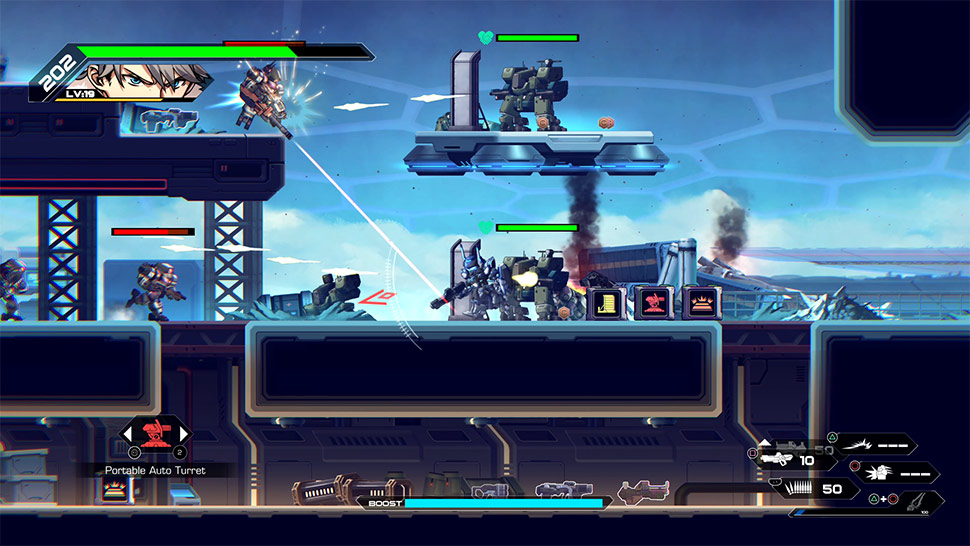 There are free-for-all and team battle options, spanning six playable maps. The available mechas each have an assigned type, indicating their strength, such as assault, sniper, melee, etc. The weapon loadouts and base stats, separated across three categories, power, armor, and mobility, further emphasize how best to utilize each one. Unlockable colors and mechas become available as you level up and eventually reach paragon levels. Only online battles count, nothing is earned locally. Online has options for you to create your own game, join a room if you have a room id, or use matchmaking to enter anything available. At the time of the review, I have not been able to find a possible match on PlayStation 4; however, I did play multiple local games.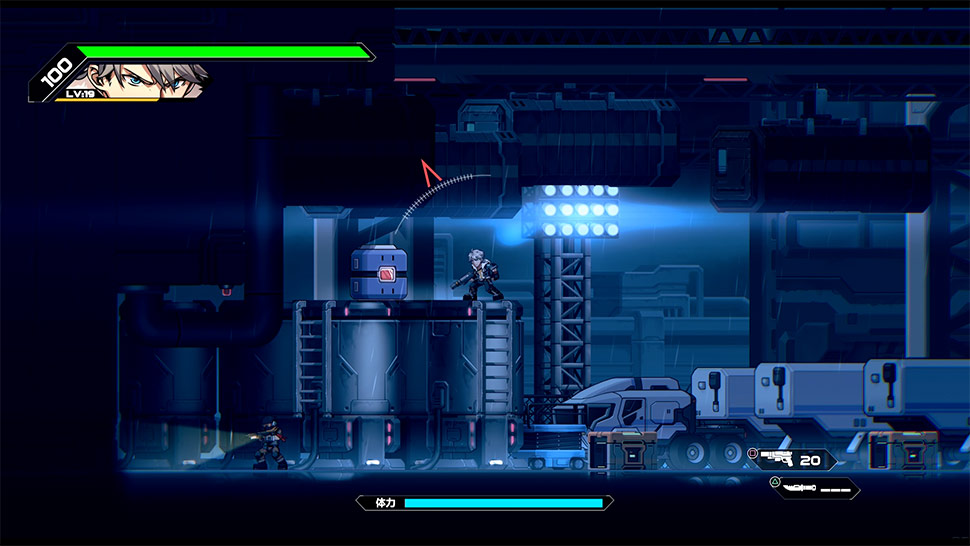 The final game mode, simulation battle, is essentially a wave-based survival mode, where you'll gain additional seconds on the continuously counting down timer as you destroy enemies. All 40 of the mecha in Hardcore Mecha can be unlocked and utilized; however, the grind to unlock everything is quite daunting. Each mecha starts weak but can be further enhanced by simulation points earned by surviving waves of enemies. Bosses that appear, indicated by a skull over their health, drop items (such as a healing item), and weapons to use on subsequent attempts. I would have liked to see an online or even local version of this mode, especially with the online popularity of horde based survival modes. It does add longevity to the game; however, it is missing the cooperative element that keeps you engaged with unlocking new items, equipment, mecha, etc.
Simply Put
Hardcore Mecha's engaging single-player narrative, fast-paced 2D side-scrolling action, multiplayer options, and sweet mecha designs produce a well-rounded experience. The game runs and looks excellent on a PlayStation 4 Pro. The lack of current players online is disappointing, but there is a discord channel where others are looking to group up, but mostly seems to be centered around the PC release.
Note: ​Hardcore Mecha was reviewed on PlayStation 4. A digital copy of the game was provided by the publisher/developer.