Goosebumps Dead of Night
Review


By Kevin Mitchell

Posted on June 17, 2020
---
The Goosebumps young adult horror novels were a staple for any kid growing up during the early nineties. Trying to think that far back into my youth, they were probably some of my earliest memories. I can still recall nights spent lying on the floor next to my bedroom doorway with one of my blankets, as I read tales about zombie-infested towns, cursed mummies, and one deranged ventriloquist dummy named Slappy. Sixty-two books under the main Goosebumps series were written; some have been reprinted with bonus materials, others turned into comic books or spin-offs, and even two movies starring Jack Black were developed. With the series selling over 400 million copies, almost 70% of the books were adapted for the anthology television series (which I also enjoyed). Goosebumps Dead of Night, reimagines the mobile game Night of Scares, adding additional content and features.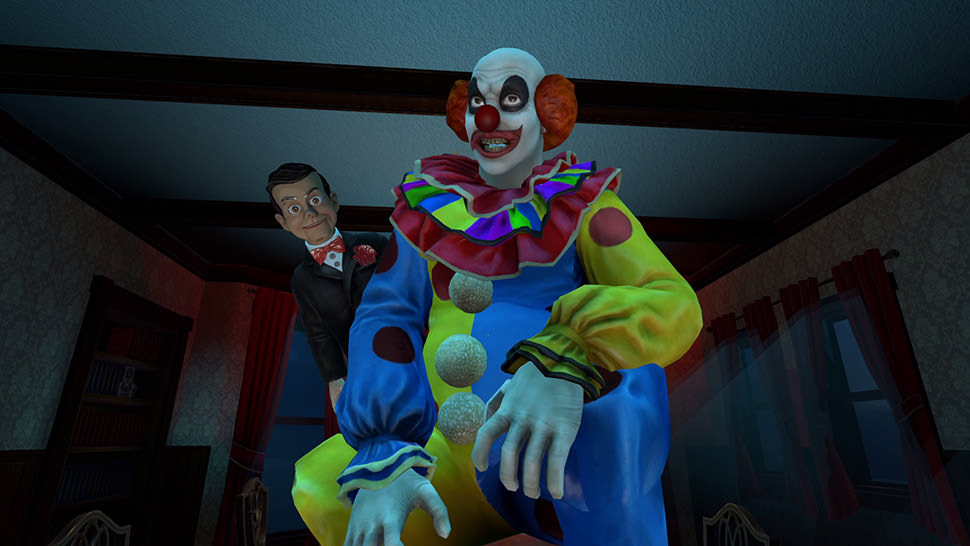 Goosebumps Dead of Night is a family-friendly interactive Goosebumps experience, but beware; you're in for a scare (I couldn't help myself). Slappy, the evil dummy from Night of the Living Dummy has freed himself, trapping R. L. Stine in his typewriter in the process. Requiring your help, you begin your adventure in the study, guided by Stine's voice (Jack Black reprises his role), employing you to find the book and collect all of the missing pages. Slappy's evil plan involves ripping out pages to keep himself from being locked up, and freeing other monstrosities. You play as Twist, are given full 3D movement, and can hide under beds, conceal yourself in closets, and even keep yourself protected using a shower curtain. The mobile game only had specific spots that you could select and automatically move between, so given full motion to the player is refreshing. However, it is noticeable from the moment you take control; something feels off with how you handle the character. Acceleration is seemingly applied to all of your motions with the right stick, controlling your viewpoint. It produces a bit of judder whenever you release the stick, making things less responsive. There are also multiple options for vsync, which I highly recommend turning on (the "1" setting worked better for me), as the amount of screen tearing became disorienting.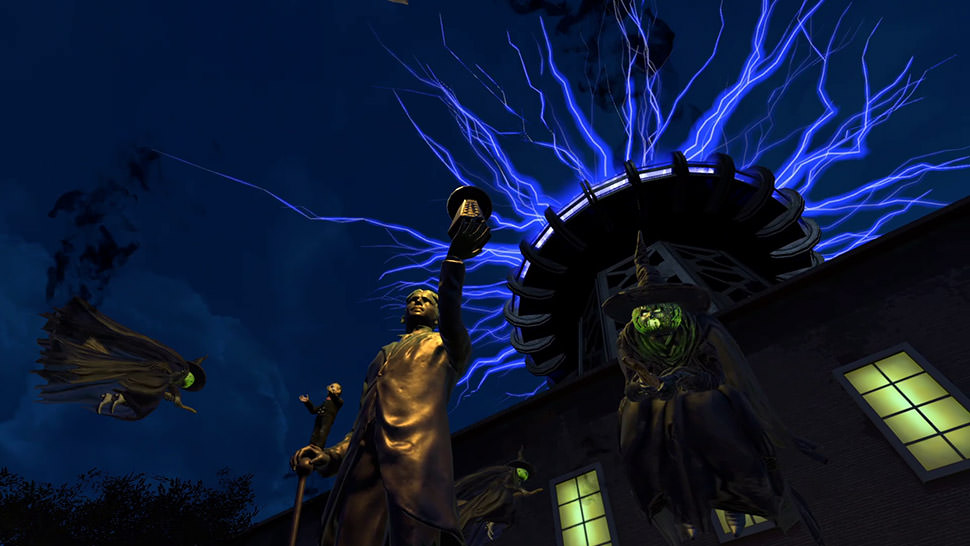 There are three main locales; R. L. Stine's house, full of paintings referencing books from the series, Dr. Brewer's Conservatory from Stay Out of the Basement, and Nikola Tesla's Wardenclyffe Tower, which also played a pivotal role in Goosebumps 2: Haunted Halloween. Your first task involves finding the stolen pages hidden throughout the house. Stepping out from Stine's study, I couldn't help but notice a precariously placed Egyptian sarcophagus next to the book's location. Curiosity got the better of me. As it creaked open, the grotesque appearance of a graveyard ghoul (Attack of the Graveyard Ghouls) reached out towards me (where's the mummy?), frightening me in the process. I was even shocked at the sudden jump scare, but the checkpoint system in the game was even more shocking. You see, getting caught by one of the horrors from the Goosebumps books results in receiving the "game over" screen. If the game picks up right there, it wouldn't be an issue, but there are times where you'll have to replay sections, forcing you to recollect items, resolve puzzles, etc. However, you earn achievements/trophies for dying to almost all of the monsters
Running around R. L. Stine's house can feel like a toned-down survival horror game. A ghoul wanders the second floor, chasing you if you are seen or heard, so your best approach involves crouching and staying out of its line of sight. The lawn gnomes from Revenge of the Lawn Gnomes peer around corners and doorways, turning off lights across the house. While this may prevent you from locating some of the missing pages, it serves a much more devious plan. Stay shrouded in darkness too long, and the next thing you'll see when you turn around might be Murder the Clown (A Nightmare on Clown Street). Dr. Brewer's overgrown laboratory is infested with deadly plants (Lost in Stinkeye Swamp), and killer bees (Why I'm Afraid of Bees). The gameplay changes, removing the previously necessary stealth-based tactics. Instead, you'll need to collect different-colored plants to open passages, use flowers to manipulate bees, and avoid falling prey to venus fly traps and sinking lily pads. Tesla's Wardenclyffe Tower feels completely different, adding even further puzzle elements by realigning the flow of electricity while avoiding a handful of Annihilator 3000's (Toy Terror: Batteries Included) patrolling the area. I wasn't expecting the killer gummy bears from the second movie (Haunted Halloween) making a return, but it felt satisfying seeing them explode into chunks by using Tesla's secret weapon.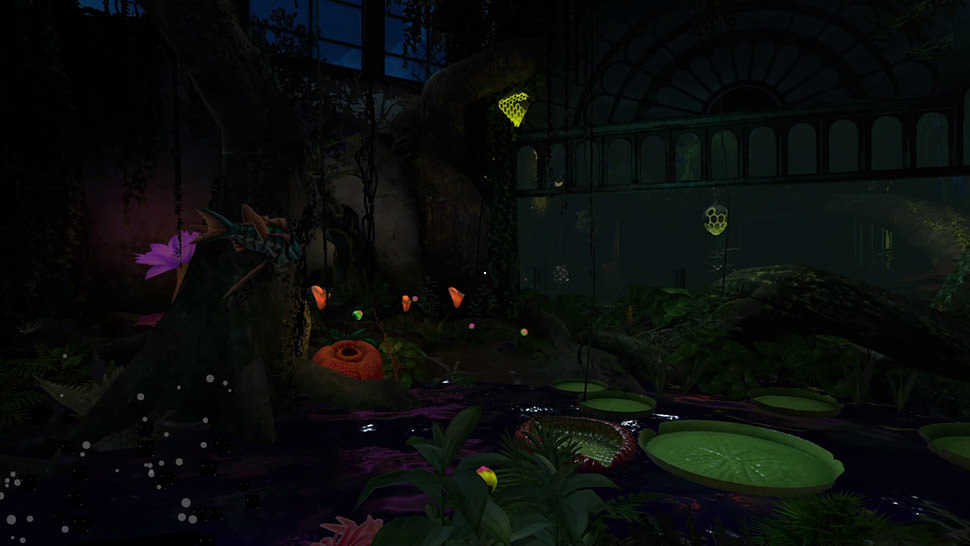 Simply Put
As an interactive Goosebumps experience, Cosmic Forces has successfully recreated the beloved children's series with Goosebumps Dead of Night. However, the game only lasts a handful of hours, and a small chunk of my time was spent replaying sections because I wanted to collect achievements along the way for dying to each monster. Murder the Clown's character model is downright scary, and seeing Slappy scurry across a room is terrifying even for me, but the game loses its appeal the further you go. The entirety of the third chapter is disappointingly bland. I don't think anyone, especially the target audience for the game, will enjoy it, even if it includes puzzle solving and first-person shooting against giant gummy bears and witches.
Note: Goosebumps Dead of Night was reviewed on Xbox One. A digital copy of the game was provided by the publisher/developer.