​Good Job!
Review

By Kevin Mitchell

Posted on April 7, 2020
---
After being announced and showcased on a Nintendo Direct Mini presentation, Good Job! was subsequently released hours later. Considering the current climate today with many offices (including mine) around the world taking precautions and keeping employees home, the lighthearted humor in Good Job! is just the thing to put a smile on everyone's face. The cheerful nature of the game is ideal for quick gaming sessions, either by completing a couple of the bite-sized puzzles or just messing around with the game's wacky physics.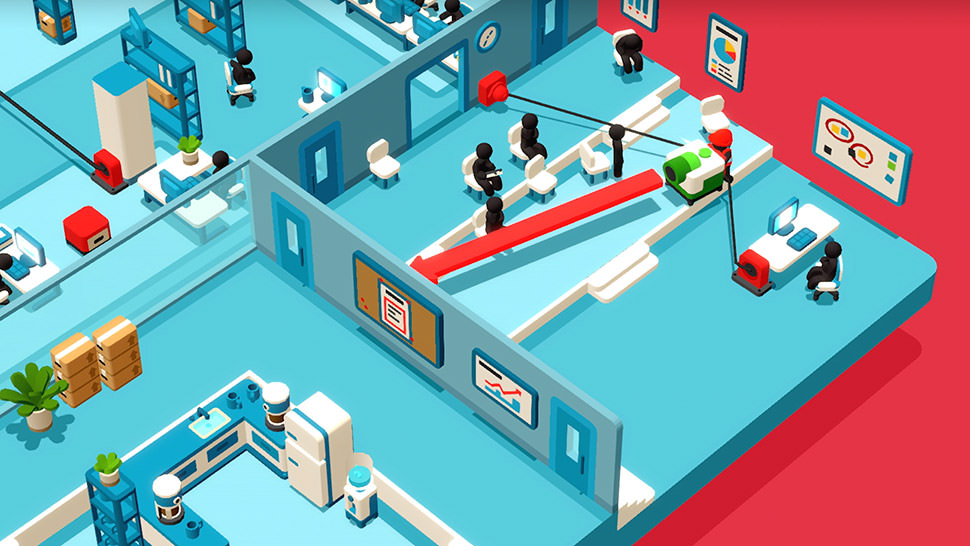 The love for your family is a powerful emotion, and sometimes we do things for our family without thinking of repercussions. As the child of a powerful CEO, you are given a job starting at the bottom of the rung when you come of age, however, from the opening sequence, it is clear that since birth, you have been a clumsy, fumbling individual. Should other employees put up with your antics? Probably not, but because of who you are, you have free roam regardless of the destruction and mayhem you cause.
As an office-theme puzzle game, you'll start from the ground floor, working your way through finance, logistics, shipping, robotics, and more. Each floor comes with a set of stages for you to complete, and one additional level that serves as a job promotion, if you can do a good job. You may be asking what a good job is? Well, let's take a step back and look at some of your tasks. For starters, the projector at an important meeting in a nearby conference room suddenly stops working. It is your job to retrieve a working projector from the IT department down the hall. Sounds simple, right? You are right, it is a simple premise, but the wild physics and interaction of everything around you is what makes the game a highly enjoyable zany experience. Sure, you can gently wheel the projector out of one room, down the hall, but what happens when you come across locked doors? Do you fiddle with nearby power cords, unplugging and replugging them into other locations in the hope that the door unlocks? Of course not, you create a makeshift slingshot with the plug and launch the bulky projector through walls, desks, shelving units, glass windows, and more. Pat yourself on the back, your father would be proud, I guess.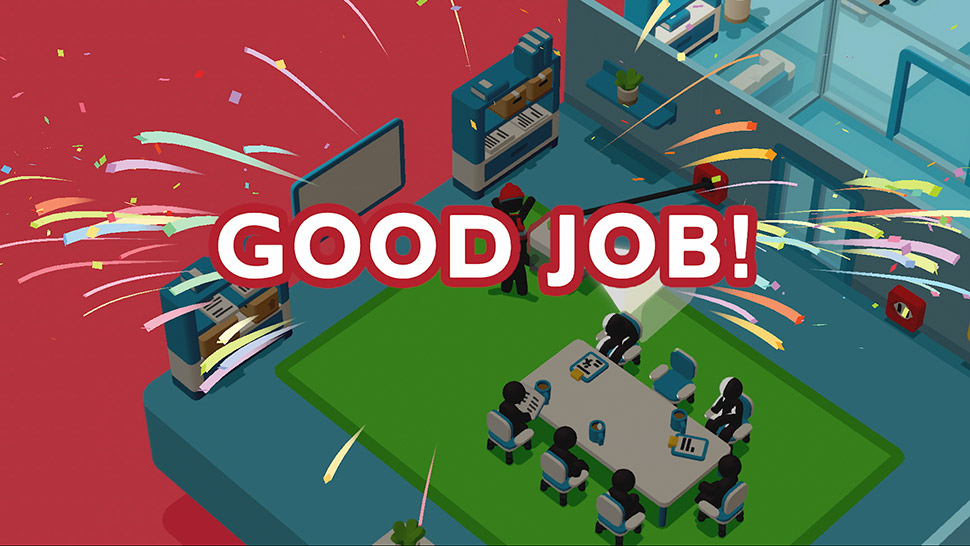 These managerial office tasks aren't that stimulating until you begin to think outside the box. You are meant to complete puzzles swiftly; however, you are also graded on the amount of damage you've caused in the process. Maybe Frank from accounting shouldn't have fallen asleep at his desk if he didn't want to be launched through the break room window? Massive golden trophies and other objects showcase just how much disposable income the corporation has. While it is advisable to try and avoid smashing them while you go about your job, I found causing as much mayhem as possible to be the most enjoyable way to get through the puzzles. If I ever wanted to be a great (instead of just being good) employee, I could always go back and replay the stages to minimize damage, but where's the fun in that?
As it turns out, you're not the only heir to the corporate empire, as Good Job! features a two-player local co-op. You always knew you had a misguided twin, didn't you? The game's visual style is cute and fitting, resembling office safety videos/posters I've seen in real life. Since you don't play by the rules, why conform yourself to proper office etiquette and dress code. There are over 100 items for you to find and equip throughout. Hard hats may be required, but a stylish Viking helmet or crown better fits your style.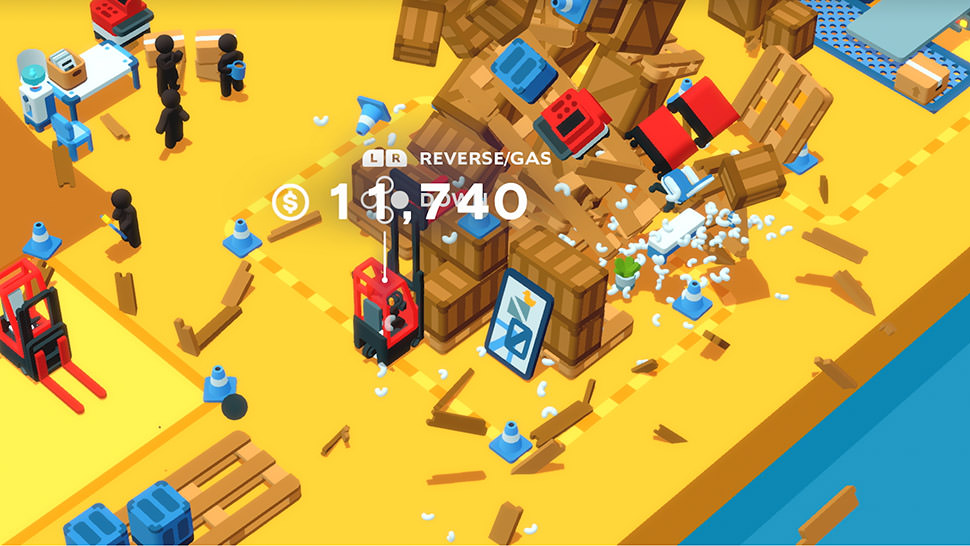 One of the best aspects of Good Job! is the open nature approach to finding a workable solution. The developers knew what they were doing as objects that are just too wide to fit through some openings and, at the same time, teasing you with straight paths to objectives if you decide that a few walls should be sacrificed. Controls are slightly clunky, even though you walk at an incredibly slow pace. Sure, the game wants you to move things around within slamming into objects or other employees, but the fact is, that is almost impossible, even when you try your hardest. I gave up trying to be a perfectionist quite early on and just reveled at seeing the massive costs for my lack of respect for the workplace flash across the screen. Sure, my ending grades for costing the mega-corporation money were terrible, but damn, if my methods were not highly efficient and time-saving.
Objectives change as you advance through the floors and departments, from simple office tasks, such as fixing the wifi connection or cleaning up the floors, to sorting colored cargo containers in the loading dock and crushing pallets with the trash compactor. Mindless employees may block your path with their gaze fixated on a nearby television. Rerouting the power to the nearby vending machine encourages them to disperse. The environmental appearance and tasks changing are smart ways to keep each floor feeling unique. New mechanics are introduced within each floor, along with providing new variations on things that you have already completed.
Simply Put
Good Job! is an intriguing and charming title, complete with two-player local co-op. The open-ended nature of the puzzles allows for multiple different types of gameplay solutions and mechanics. The game is not without its frustrating moments, especially around puzzles that require precision, either through movements or lining things up correctly. Driving a forklift across rickety planks of wood is not ideal. I've had to restart stages a few times due to necessary components, such as plugs or objects getting stuck in other parts of the level. Even so, it is still loads of fun to clumsily mess around an office environment with or without a friend.
Note: ​Good Job! was reviewed on Switch. A digital copy of the game was purchased by SelectButton.