​Ghostrunner
Review


By Kevin Mitchell

Posted on November 4, 2020
---
A first-person parkour action game, Ghostrunner pairs a post-apocalyptic cyberpunk-style world with a lightning-quick movement system and deadly high-tech sword combat. The opening cinematic sets the stage before even reaching the main menu. You are The Ghostrunner, a cybernetically enhanced protector and assassin, discarded from Dharma Tower, humanity's last bastion. After losing to The Keymaster, an enhanced being with robotic tentacles, you are tossed from the top floor to your assumed demise. You awake damaged and without your memories in the industrial bowels of the Tower, wiping all your previous abilities from your data core. The guidance from a whispering voice inside your head compels you to keep move forward (and upwards) through dangerous environments filled with neon lights.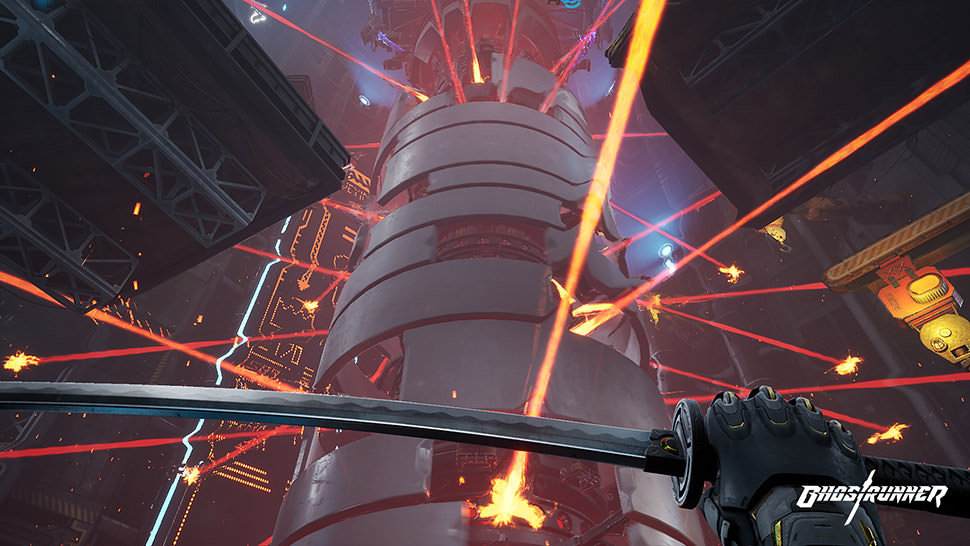 A challenging experience, Ghostunner's fluid movement system demands quick decision making and precise motions. Your katana easily cuts through most foes in a single strike, slicing bodies and appendages into chunks that can no longer threaten you. However, a single hit from your enemies wielding everything from slow-firing pistols to giant energy shields and automatic weapons results in a critical failure. Checkpoints are generous, and restarts are instantaneous, so frustration only comes from your lack of skill and not from the game being unfair. Although playing on PlayStation 4 with a controller, the lack of accessibility options results in a tougher experience than those playing on PC with a mouse and keyboard. Across all 17 levels, I've lost count of how many times I've been forced to restart, but it is certainly well into the hundreds. Besides alternate control schemes that shift some control from the triggers and shoulder buttons to face buttons, there isn't anything to lower or ease the demanding skill threshold required.
The first ability you acquire, sensory boost, helps with dodging incoming projectiles, whether in mid-air or running across a surface. Time slows down to a crawl, giving you a couple of precious seconds to decide to burst forward or to the side to escape an attack and strike at your opponent. As you progress, new abilities and upgrades are unlocked, including a grappling hook to advance your mobility further and even the ability to shoot an energy wave from your sword, killing anything in your path. Outside of the combat scenarios, you'll be leaping across the environments, wall-running across gaps, sliding through narrow openings, and jumping toward higher platforms. When everything comes together, and you smoothly jump, slide, deflect projectiles, wall-run, and slice through your enemies without hesitation, the game truly gives you the sensation of being a ninja.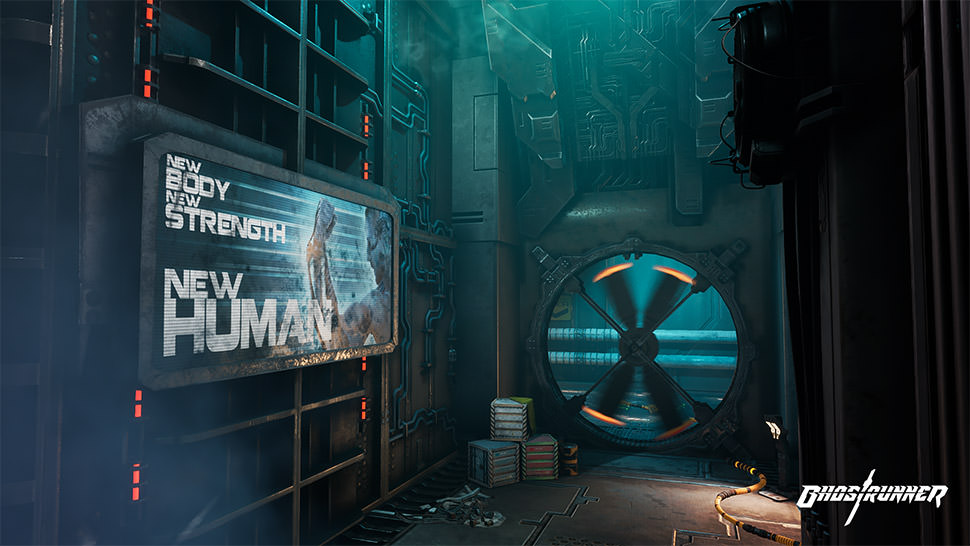 Exploration during platforming sections is rewarded with hidden collectibles, world-building lore, and additional cosmetic skins for your katana. These sections are relatively linear, with one perceived path forward, while the combat areas were designed to allow for experimentation, with player skill being a key factor. Do I risk a straight-on approach and dodge to the side at the last second to avoid getting hit? Should I wall-run around the room, taking care of each of the three enemies in a counter-clockwise pattern? These thoughts were continually bouncing around inside my head, and yet, you aren't giving any time to decide. Stand still, and you'll probably be dead. Restart, and enemies are positioned back where they started, taunting you to learn from your failures.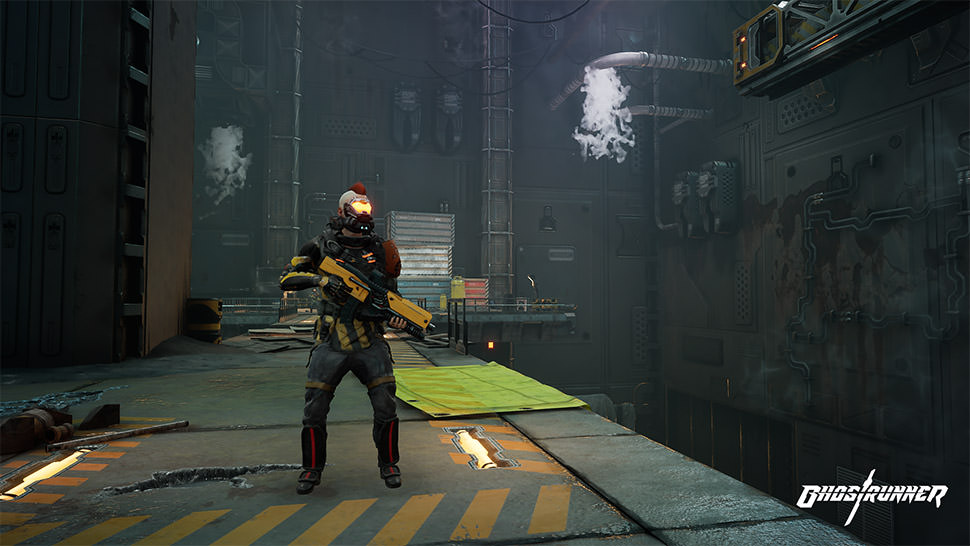 Being played in first-person, it's very easy to overshoot an enemy when boosting towards them or merely missing with your blade. Typically, this resulted in getting shot in the back as I tried to reorient myself. It takes time to understand how far you'll travel when using the sensory boost and how to combine your other skills, and which ones are best used in each situation. With new unlocks and abilities being tied to progression, enemy strength keeps up with your growing gadgetry, ensuring the already taxing experience stays that way from start to finish. The aforementioned pistol-wielding foes are relatively standard but are quickly replaced with those that require specific tactics, such as only being able to be attacked from behind. Although you earn upgrades by playing, the game uses a limited space grid to place your chosen upgrades at any given moment. The better the upgrade, the more space it takes up, requiring you to play with these Tetris-like blocks to optimize their placement and maximize the space.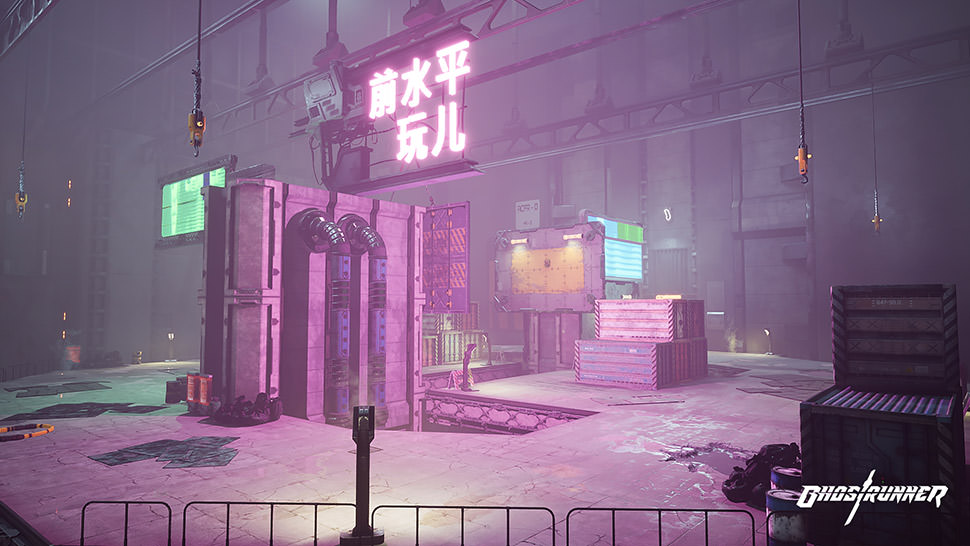 Simply Put
A demanding skill-based experience, Ghostrunner makes you feel like a cyberpunk ninja. Thanks to the quick restarts, and generous checkpoints, the game never feels overwhelming or unfair. The 17 levels took me close to twelve hours to complete but depending upon your skill level. If you search around for collectibles during the platforming sections, it could be a shorter/longer experience. The enemy variety and ever-changing visual aesthetic for each area of The Tower keeps the game from feeling like a chore. The synthwave cyberpunk soundtrack by Daniel Deluxe fits well with the impressively sharp visuals.
Note: ​Ghostrunner was reviewed on PlayStation 4. A digital copy of the game was provided by the publisher/developer.