Get Packed
Review


By Kevin Mitchell

Posted on May 22, 2020
---
The picturesque town of Ditchlington, home of the pickled hot dog, family-run businesses, and the largest deposit of rock salt in the world, has been betrayed by a corrupt mayor with dollar signs in his eyes. The CEO of Industrial Salt Inc., a condiment conglomerate, has visions of profit by turning the quaint town into a salt mine, executive car park, and a novelty gift shop. Four friends start the Last Ditch Removals company, assisting those requiring relocation; and a chance to earn a few bucks on the side.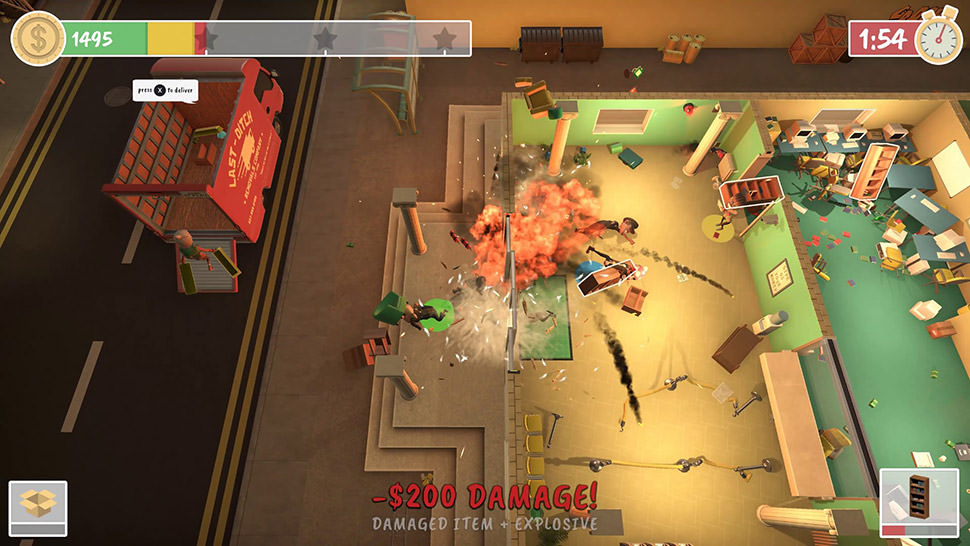 The campaign in Get Packed only lasts an hour or two, if that, consisting of four stages with three levels each. A fifth stage is planned for the future with an additional three levels, but nothing is currently known beyond that. Supporting both online and local multiplayer for up to four players, you are tasked with packing as many items without any restriction into a pint-sized delivery truck within the three-minute time limit. Everything besides structural walls can be grabbed, dragged, or ripped apart. Kitchen cabinets, living room furniture, bookcases, heck, even the neighborhood cat can be tossed in the truck and sold for profit.
Although you must work with others to load enough goods into the truck to earn three stars on every level, players are graded based on their individual merits. Given the short time frame you are given, it's impossible to strip the houses/buildings clean. Instead, you are given a priority item with an even shorter timer. Pack the correct item, and you'll get a sweet bonus, but at the same time, you'll want to load as many valuable items into the truck and deliver it before the countdown expires. The simplistic gameplay loop becomes hectic and wacky with more players, as the game's physics are cranked to the max thanks to the power of cloud gaming on Stadia.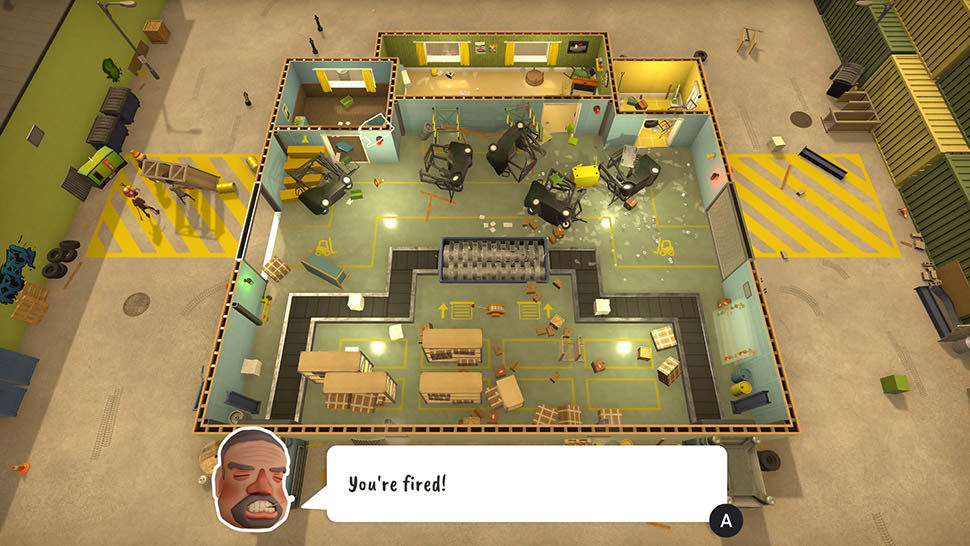 I should mention that each of your characters flailing arms is controlled using the left and right trigger respectfully, allowing you to pick up multiple items. Hold on to an object, and you can swing your body around and release your grip to toss it around. Use this to your advantage to quickly stuff the truck, but be careful, fragile items can shatter into pieces, lowering their value. As if trying to drag a large sofa through a doorway is tough enough, trying to accomplish the feat while others are racing through the same house with objects flopping around their bodies that can knock you out at the same time is nigh impossible. Players can't help themselves from being competitive, even if everyone is on the same side, especially when a single player can easily manage large objects themselves. This competitive spirit results in objects being shattered or split into pieces, cutting into your overall profit.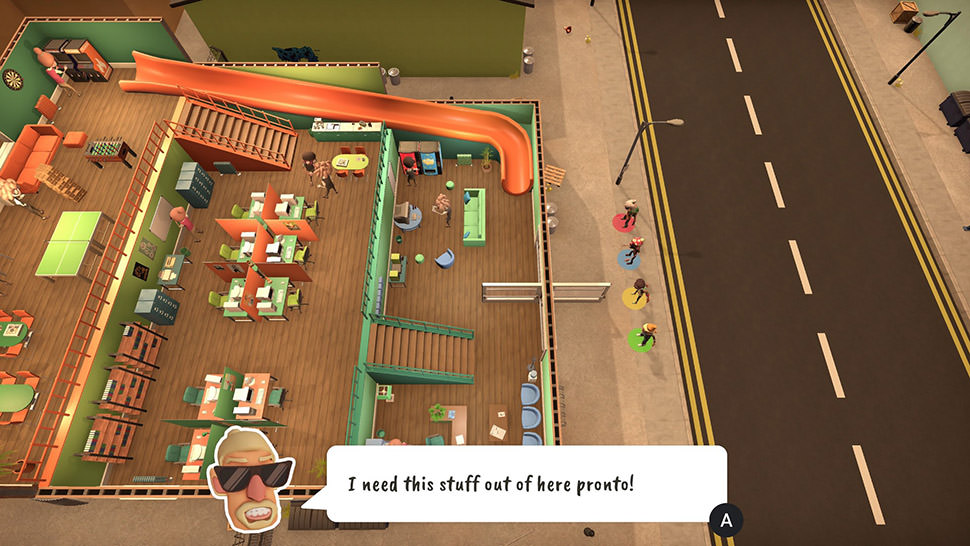 The carefree and wacky nature of Get Packed is part of the game's charm. One moment you are trying to clear out a house while dodging traffic, and the next, you are avoiding the mad dash of Black Friday shoppers from rampaging a department store. Get hit, and you'll flail around the screen, but the same thing can happen to AI characters. Security guard giving you trouble at the museum? Dash into them and watch them get launched across the room, just don't accidentally hit other players, or do, your call. Once completed, you can change the rules of a level, and instead of worrying about delivering goods, you can put the game's physics to use and cause absolute destruction. I found this mode to be much harder, especially when playing alone, as trying to break items on purpose is a lot harder than it looks. If you are capable of holding on to an object with both hands, you can pack it away into a box to save space in the truck. The competitive mode splits players into two teams, as they compete to load the most items into their respectful van.
Simply Put
Get Packed is a charming cooperative game with wacky physics-based mayhem for up to four players offline or online. There are outfit pieces for the starting four characters and a couple of new characters to unlock. At least three new levels are coming soon, but it only gives the game 15 co-op stages. On a couple of occasions (during local multiplayer) I've experienced failure of both grab buttons for the entirety of a level, while other players were not affected.
Note: Get Packed was reviewed on Stadia. A digital copy of the game was purchased by SelectButton.