​Galacide
Review


By Kevin Mitchell

Posted on November 14, 2020
---
Originally released on PC via Steam five years ago, Galacide combines match-3 tile puzzle mechanics and traditional side-scrolling shoot 'em up gameplay, but only recently arrived on consoles. Not only do you need to battle enemy ships and avoid a hailstorm of incoming projectiles, but you're required to break, or tunnel, through the multi-colored Bitwall preventing you from moving forward. Given the auto-scrolling nature of the genre, neglecting the color-matching puzzles could trap you to your death.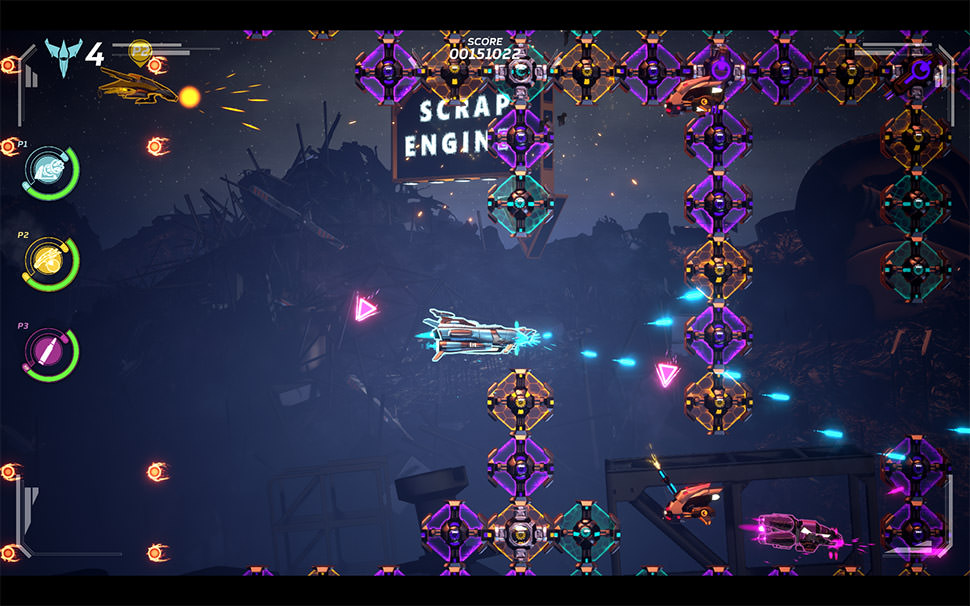 Typically, in traditional shooters, the only thing you need to avoid is the onslaught of projectiles and occasionally funneling through deadly environments. Instead, Galacide puts you right in the middle of a bullet-hell shooter surrounded by a colored tile-matching nightmare. It would be best if you kept an eye on the scraps that slowly make through across the screen from defeated enemies, used to deactivate groups of like-colored tiles. Sure, the bomb pickups can destroy large chunks of the Bitwall, but you are frequently dealing with finding the best path through the maze-like barriers, deciding which color should take precedent. The game's boss battles generally focus on shooting; however, one, in particular, requires you to shoot similarly colored scraps into the boss's belly, exposing their weakness.
There are four ships at your disposal (the standard mining ship, sturdy freighter, speedy phase ship, and mighty military ship), with three of them unlocked after completing specific objectives. Each ship comes equipped with a unique ability and stats across three categories; speed, firepower, and health. For example, the mining ship excels quite well in firepower and speed but is not the toughest. However, the unique power ensures that it is more than capable of getting through the entire game. Using a tractor beam, it can pull necessary scraps towards your ship. The freighter forgoes the tractor beam and, instead, stores scrap in its hull. Not to mention, all of your stored scraps can fire upon enemy ships, boosting the inferior firepower from this ship. My favorite, the military ship, activates auxiliary thrusters to smash through enemies and bits, which comes in handy when you find yourself in some suffocating predicaments.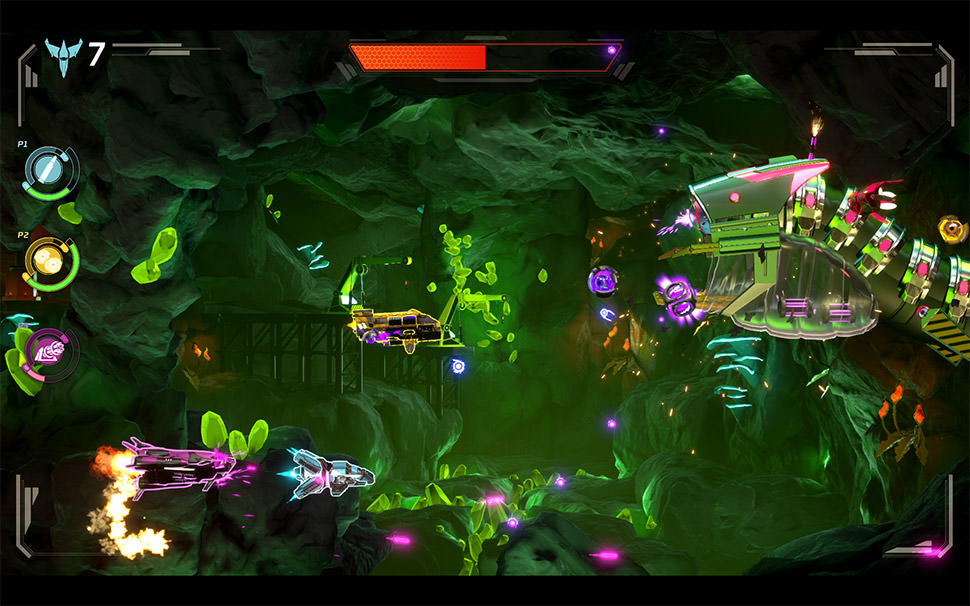 There are only six main locations in the story; however, the game does track high scores across all three difficulties: normal, hard, and expert. The standard difficulty serves as an introduction to the game, perfect for newcomers, but it is relatively easy to survive once you've mastered the core mechanics. As you progress to the next tier, enemies gain more health, and the scrolling speed is increased, further decreasing the amount of time you have to get through the Bitwall. Expert, which has much more frantic pacing, was designed for multiplayer and shouldn't be attempted until you've completed the story on a lower difficulty.
An endless wave-based mode is unlocked as you progress through the narrative. Going far enough in this mode, reaching threat level six unlocks the phase ship. But, if you want to focus almost entirely on the game's puzzle aspect, the puzzle mode features twenty-five puzzles across five different categories. The basic one starts with simple color matching set across a single screen. Nothing fancy, but you'll need to think at least a couple of moves ahead to plan out the tiles' alignment. The rapid-fire puzzles were my favorite, manipulating the floating scrap placements to quickly fire multiple scraps one after another, ensuring they stack together to knock out various colors of the bitwall before disappearing.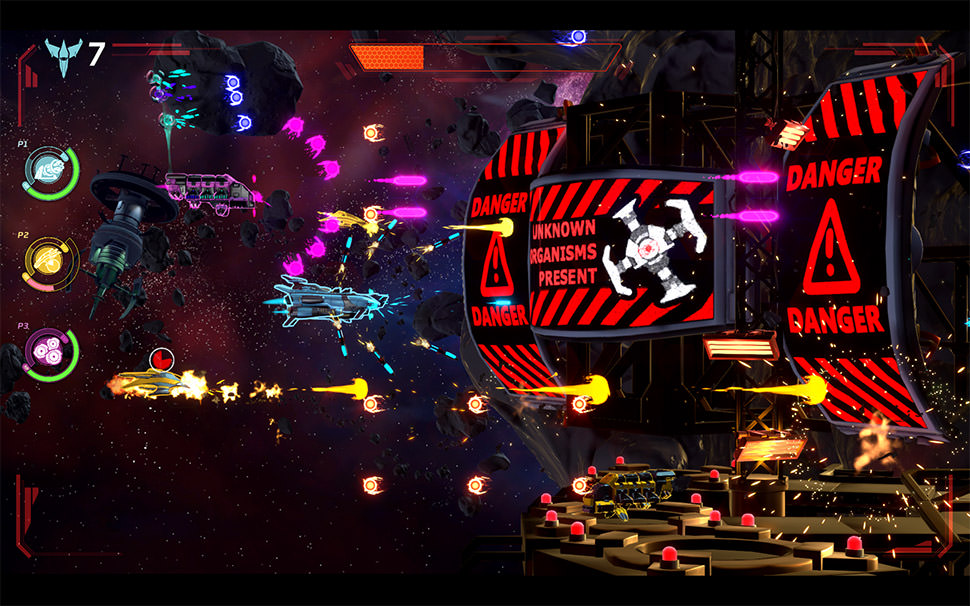 Simply Put
Galacide is an intriguing and unique take on the side-scrolling shooter genre. The addition of match-3 tile puzzle mechanics keeps you engaged and forces you to be mindful of your position onscreen. The expert difficulty proved too much while playing alone, but I had a blast with four of us frantically trying to survive amongst the chaos.
Note: ​Galacide was reviewed on PlayStation 4. A digital copy of the game was provided by the publisher/developer.