Frostpunk: The Last Autumn
Review


By Marcus Jones

Posted on January 28, 2020
---
The Last Autumn, a new DLC for the tough survival/strategy game Frostpunk, tasks you with one job: finish a generator in 45 days so that it may save lives in the coming cold. A neat premise given where we begin the world of Frostpunk's main game. In The Last Autumn, you'll start as an overseer right before the world freezes over, and it becomes a fight for survival.
This downloadable content introduces new mechanics, buildings, and ways of essentially handling your workload within the game - more than just the idea of survival itself is at hand. Instead, you're dealing with work deadlines, labor disputes, and a race against the clock to get lifesaving technology up and running. As I'm sure many people are already dealing with the hassles and frustration of this in real life; they are no less or different within The Last Autumn. While you're still hunting for food, supplies, and overall manpower, the game is not necessarily a focus on the survival of your little town, but instead the deadline to get a generator up and running before the big freeze itself. To do so, you'll be making decisions that make you question your own thought process on hard work and overall end goals.
During my first game, I didn't quite realize I had a set of defined objectives to complete other than "build the generator." It wasn't until completing a couple of the early progression goals – basically establishing the work camp – that I was given the ultimate goal of putting the generator together to save lives. Along the way, much of the main game's same mechanics come into play with random things to handle, laws being signed into existence, and dealing with pesky issues like a lack of resources. Yeah! But I was mostly annoyed by the absence of initial direction – I had a slow start getting it up and running. It wasn't until probably day eight or nine that I realized I had screwed myself by not pushing forward immediately. With that in mind, a restart put me on a better path where I was almost a day ahead of schedule. Well, that was until my first worker strike.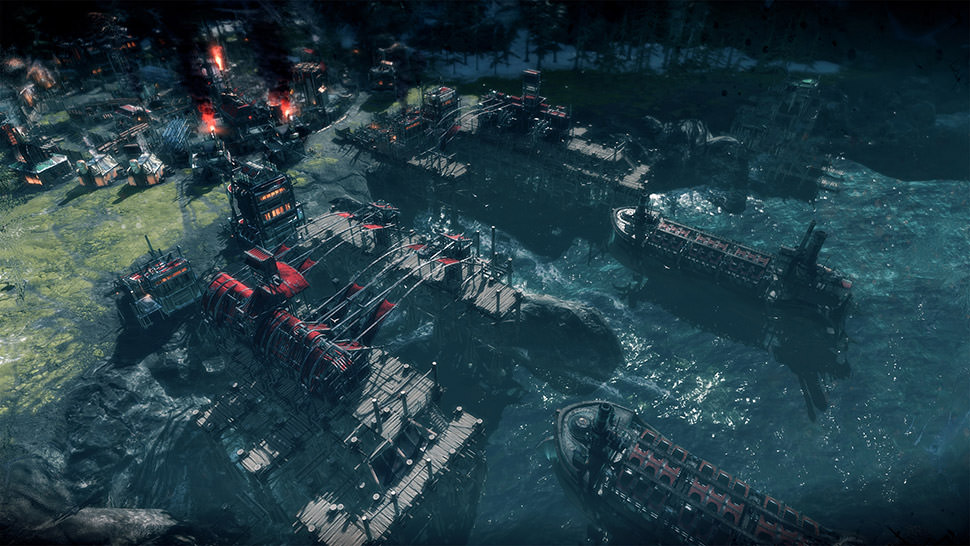 This time around, the game introduces another meter on top of the discontent meter. The motivation of your workforce is required to ensure they don't strike on the job. Since it's not a true matter of survival in The Last Autumn and the world hasn't yet frozen over, you have to remember the issue of motivating your workforce. Your decisions, overtime, will shape their response to the work at hand. Attempting to keep motivation high and discontent low gradually grows into a near-impossible task due to the deadlines and time constraint you're under as the work overseer. Eventually, you will manage to piss off the rowdy bunch of unhappy workers, resulting in a strike. These strikes can be seemingly easy to deal with at first, but eventually, your choice will come back to haunt you. I ended up losing three days after I both had the shaft blow from a buildup of gases, and then my workers went on strike in response, leaving me scrambling to build out safety-related buildings I had an opportunity for earlier. Oops.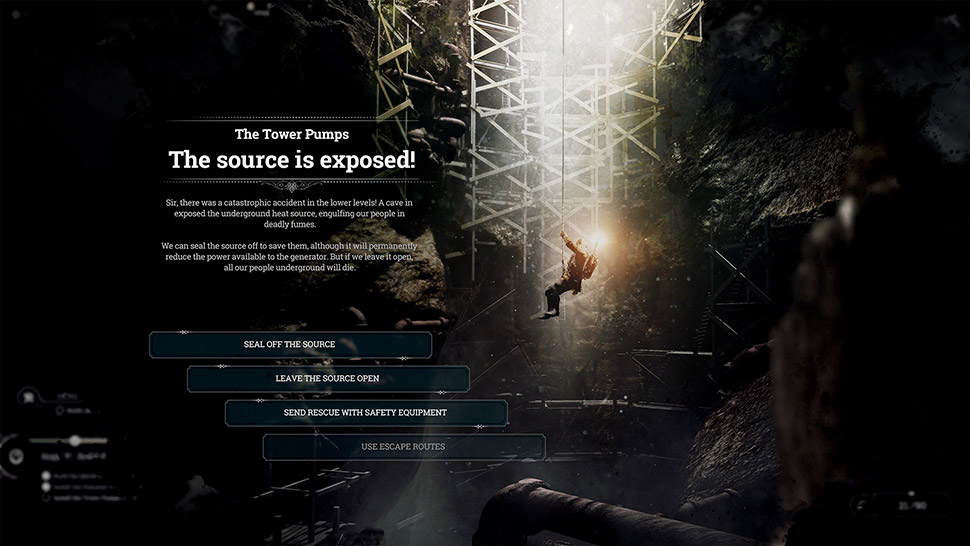 The game forces you to step back and think of the best decisions – you're not making ones based on imminent survival, but instead, ones that are more at the interest of the greater good. Do you give the workers additional labor unions and rights, or do you instead bring in prisoners? I found myself making some pretty tough ones at times, hoping to quickly bypass a labor dispute and move on towards completing a stage of the generator. Things get progressively tougher as you continue, especially when your small plot of land is overcome with buildings, and you're scrambling to keep gaining resources. Thankfully, one of the new gameplay aspects is the ability to build docks and telegraph stations to continuously receive a steady stream of supplies from the homeland. Proper management of this additional intake is vital to have any chance of managing the project to completion.
Simply Put
Much like the original Frostpunk game, this is a ridiculously tough, but rewarding challenge of a game. At no point did I ever feel fully in control of the situation, something I didn't think I'd have an issue with since I was no longer fighting just to live. However, I was more wrong than I care to truly admit. The game is still fantastic, and I'm surprised at how smooth it feels to play when I'm not fighting the cold absolutely ALL the time. There were a few stuttering points with my gameplay, mostly during shift starts, but otherwise, the game continued to run smoothly as well with a more varied landscape. I'm thoroughly impressed at the game and the new challenge this DLC brings.
Note: Frostpunk: The Last Autumn was reviewed on PC. A digital copy of the game was provided by the publisher/developer.