Frostpunk: Console Edition
Review


By Kevin Mitchell

Posted on October 10, 2019
---
At the center of your icy world, a barely functioning a coal-powered generator, abandoned in the heart of a protected crater. Set in the north, your new home is ripe with coal reserves. The remnants of society were forced from their homes after millions perished due to frigid temperature drops and endless, blinding snow. Initially released over a year ago on PC, Frostpunk: Console Edition, a brutal survival city-builder has been rebuilt for consoles (Xbox One and PlayStation 4).

The remaining few that once populated city streets of London's have fled to the north, however, a howling blizzard has separated the convoy, killing many in the process. Only a lucky few have survived, reaching the site of the generator only to find it abandoned. What happened to those that built the generator? Why makes you think you'll survive where others had not? With everyone in your group looking to you for answers, you must build tents, stockpile resources, hunt for food, and above all else, keep the fire burning in the generator.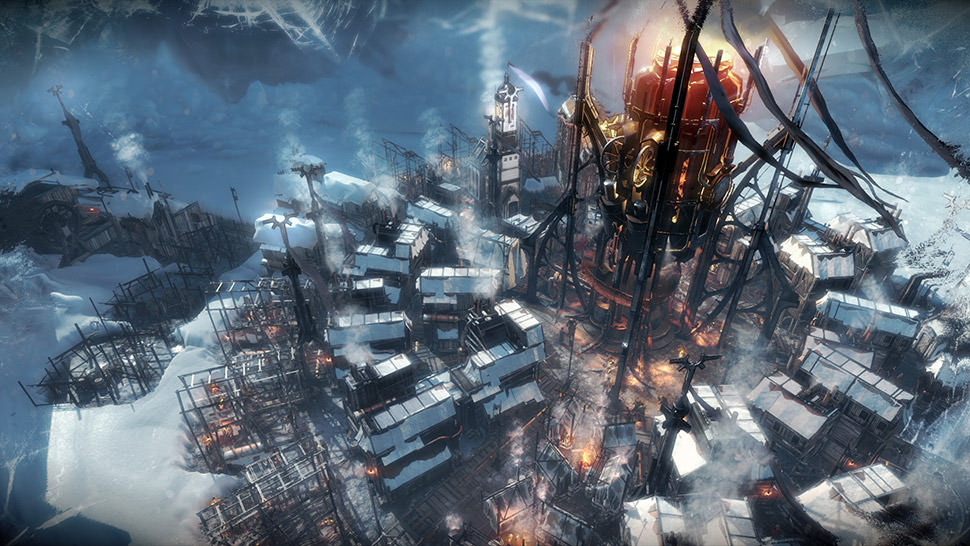 The coal-burning steam generator serves as a bright symbol for your new home. Instead of defending it against a marauding opposing army, the steadily plummeting temperature and management of your limited resources serve as your main adversaries. Each member of your newly formed settlement can be assigned a task, and ideally, you'll be shifting responsibilities around when a crisis occurs. Workers spread out from your circular town, dredging through the snow to reach loose coal and veins, wooden crates, and deformed pieces of steel. An ample supply of coal is necessary for the generator to produce enough heat to keep the populace and all of the surrounding buildings warm enough. Life will cease to exist without it.
Workers and engineers operate on a daily schedule; the day begins at 5:00 am where they will try and finish any construction projects that were carried over from the day prior, before heading off into the newly fallen snow to gather supplies. As the sun goes down, they will return to the center of your community, eating, sleeping, and spending time with their families. For this reason, you'll always need to be mindful of the coal reserves, and how much burns throughout the night, since you won't be able to gather more until the morning. Of course, food is a necessity, and hunting lodges can be built for a select few to collect raw food that needs to be processed in a cookhouse. Most of the buildings require workers/engineers to be assigned manually. The UI brilliantly provides all the necessary information. Everything from the total number of attached workers to the efficiency percentage breakdown when not using the maximum amount of workers. If you somehow have a massive surplus of food rations compared to the total population, but coal reserves are dropping. Perhaps operating at 60% by reassigning a handful of workers is the best approach. It is this dynamic of being flexible with your townsfolk that ensures that you'll overcome any of the challenges ahead.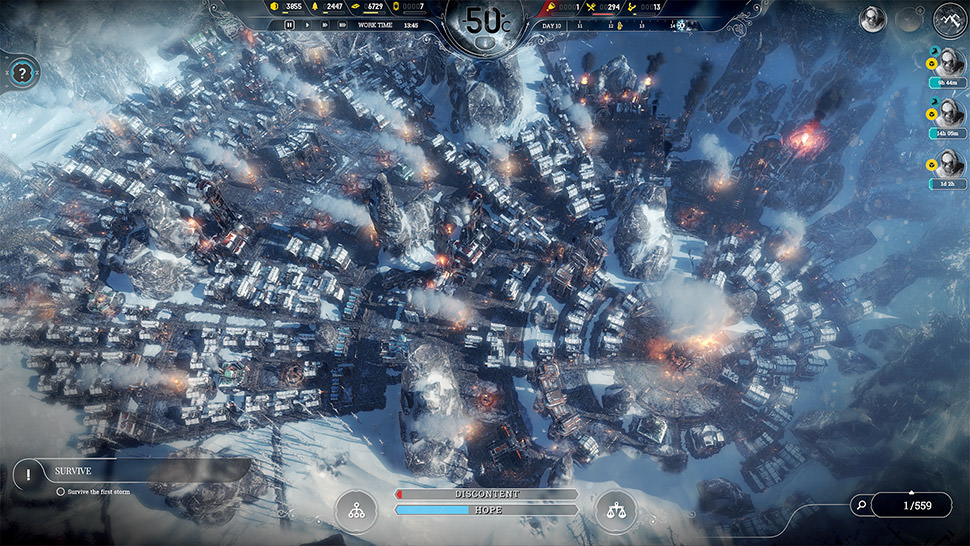 Although there have been more releases as of late, strategy games on consoles were once looked down upon as second-rate ports of the popular PC genre. Frostpunk: Console Edition, however, almost feels like a different experience thanks to the redesigned control mechanics that feel right at home when using a controller. The command hub radial menu can be accessed by simply using the left trigger, allowing you to select anything using the analog stick or switch category types with the shoulder buttons. It is not the first strategy game on consoles to employ this style of UI; however, it is highly accessible. Although the speed of the game can be sped up or paused with the directional pad, the game transitions to standard time when a significant event occurs and the start of every workday at the aforementioned 5:00 am. The temperature overlay can be turned on at any point, giving you vital information about the warmth in different parts of your base. There are six different levels of warmth, ranging from comfortable to very cold and freezing. Snow appears to build up more heavily on buildings with less heat, providing a neat visual treatment to your growing circular settlement.
As you are continually fighting against the cold, which seems to always drop to unbearable temperatures at the most inopportune times (a weather forecast at the top of the screen display all relevant information), keeping homes and workplaces as warm as possible helps prevent illness. Some buildings may not even operate if the temperature becomes too low. Regardless of the scenario, you choose to play, more becomes available once you reach 20 days on the first one, your citizens look to you for proper guidance and challenges. They are not so much worried about the right choice, but one that can be acted upon swiftly. You may be tasked with providing shelter for all or some members within a given period, which, upon completion, raises the overall hope and lowers the discontent of the populace. Laws can be enacted once every 18 hours, allowing you to alter the direction of your settlement. There aren't any wrong decisions, as each option will significantly affect some of the population. If workers become scarce, they risk not being able to stockpile enough coal to make it through the night. You may opt to enact a 24-hour work shift doctrine to survive.
Do you look to enact child labor to help support your mining endeavors? Are dead bodies buried within a cemetery or left out in the wildness to be covered up in the snow? What about amputating gravely ill individuals at medical tents to swiftly free up slots for others? Everything affects how your society evolves and how you are perceived as a leader.
Eventually, you'll research more advanced buildings and technology, further expanding the amount of warmth throughout your sprawling city, and even escaping the crater to search for vast frozen wasteland for other survivors and resources. These expeditions can undoubtedly save you from starvation or lack of heat. If you can locate and bring back ample resources, however, there are always choices that are involved. For example, you may have an objective to find the rest of your convoy and bring back twenty or more members. Letting them make the journey themselves may save you time, but may see higher fatalities, versus slowly escorting them to ensure their safety. Ignoring the challenges will raise the despair or lower the hope mechanics in the game. Keep the hope of your citizens is too low, and you'll find yourself exiled. If discontent towards you grows, you'll have to deal with rebels against your leadership.
Although your city initially starts small, it isn't long before you are carefully deciding what research to do first. Pick the wrong one, and you may have just wasted valuable resources that may jeopardize the survival of your townsfolk. Each scenario provided can be tricky, tasking you with setting priorities and making decisions that may see few suffer for the greater good of the collective. Frostpunk also includes an endless mode across four maps, with two paths and customization options. One for survivalists with scarce resources and frequent struggles, and the other for constructors with amble resources and a more relaxed experience.
Simply Put
Frostpunk: Console Edition is a brutal yet highly satisfying survival city management game. At times, you'll agonize over your choices, heck, I couldn't get one in particular out of my mind, even after turning the game off. The console version feels excellent to play thanks to the highly thoughtful control mechanics that make use of every possible button efficiently. Be warned, opening the Xbox guide menu does not automatically pause the game.
Note: Frostpunk: Console Edition was reviewed on Xbox One. A digital copy of the game was provided by the publisher/developer.