​Fade to Silence
Review


By Kevin Mitchell

Posted on May 1, 2019
---
An unrelenting harsh post-apocalyptic winter hellscape serves as the landscape for the survival title Fade to Silence. An ancient eldritch evil has corrupted the world, as players take on the role of Ash, struggling to provide/protect your daughter across the massive frozen open world. Resources are limited, monsters are deadly, and worst of all, the dynamic weather system can lower temperatures, visibility, and bury you in snow in a flash.
Fade to Silence has already been available for almost a year and a half thanks to Steam Early Access, although the full release brings the game to PlayStation 4 and Xbox One. Coming face to face with a representation of death, literally, the opening sequence briefly walks you through some of the games basic mechanics, attempting to ready you for the harshness of the blistering cold winter. Survival comes in many faces in Fade to Silence. Not only do you have to deal with a world full of horrible monsters, but you'll be managing food, and warmth meters for not only yourself but all of your followers. On top of the survival elements, you'll be constructing a camp, a place to process all of the raw materials and resources you harvest, as well as provide protection from the swarming monsters of the Eclipse. Once rescued out in the wilderness, you can choose to have these local inhabitants live with you at the camp, and although there are benefits in doing so, there are also drawbacks. The more people that you save, the more mouths you have to feed and protect. While this was more an issue in the first few hours of the game, it becomes a moot point once you have ample supply lines for easy resource gathering and processing.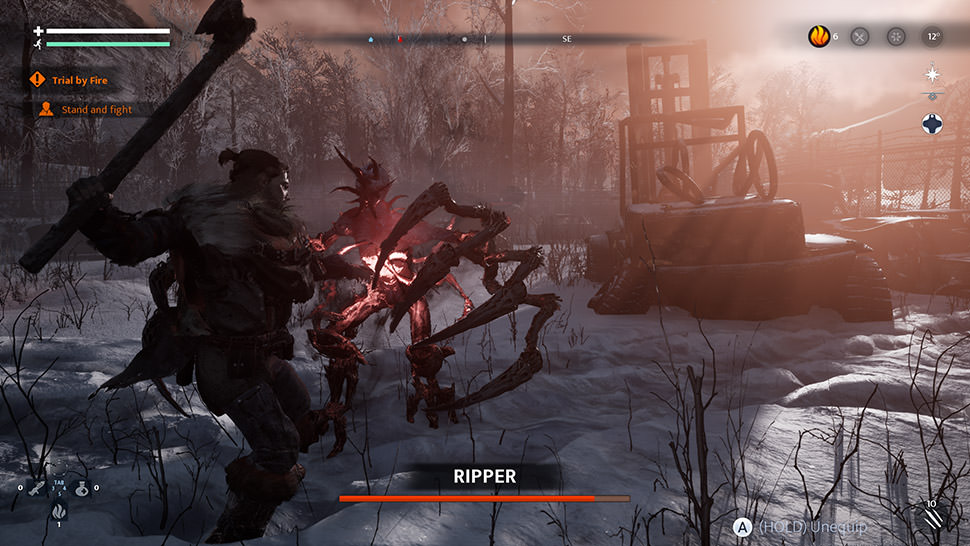 Progression in the game comes from exploration, finding new hunting grounds (deer hunting), new forest regions for precious wood, rock quarries for stones/minerals, and clearing out corrupted areas. The highly dangerous nested locales populated with spiky tentacles, sharp teeth and swarming foes must be cleaned if you are to uncover new areas and outposts. The process in doing so drains the maximum health of Ash, requiring you repeatedly mash buttons, but leaving you vulnerable to attacks. The survival book accessed through a menu serves as a knowledge base; complete with all of the information that the tutorial doesn't cover. The game is quite vague with instructions, and unless you take the time to read about how the advanced mechanics' function, you aren't going to get far. Important things, such as proper base building, and how to command and direct your followers is only found in this spot. One tip, the leftmost meter (resembling a crystal) warns you of impending attacks at the refuge, and if I didn't read about it in the survival book and how to build proper fences and towers, my base would have been nothing but smoldering wood and ash ages ago.
Light and heavy attacks are the cornerstones of the combat system, prioritizing, timing and spacing with parrying and blocking, in a similar fashion to the Dark Souls franchise. However, it lacks the finesse and responsiveness that is needed in providing an overall satisfying experience, and instead, feels mostly cumbersome/clunky. From attacks to dodging, every action drains stamina, punishing those who overexert themselves. For example, rolling and light strikes use a small percentage of your overall endurance, while a heavy attack completely drains it. Even then, the combat can be exploited, as the heavy attack stuns/knockbacks the frequent basic creatures you'll come across throughout the entire game. Simply backstep after every attack, and you become nearly invincible. Of course, this practice is wasted on tougher foes, but it works well enough as a starting strategy. However, ranged attacks from spitting foes are frustrating to dodge, as they seemingly follow you, changing their trajectory in mid-air.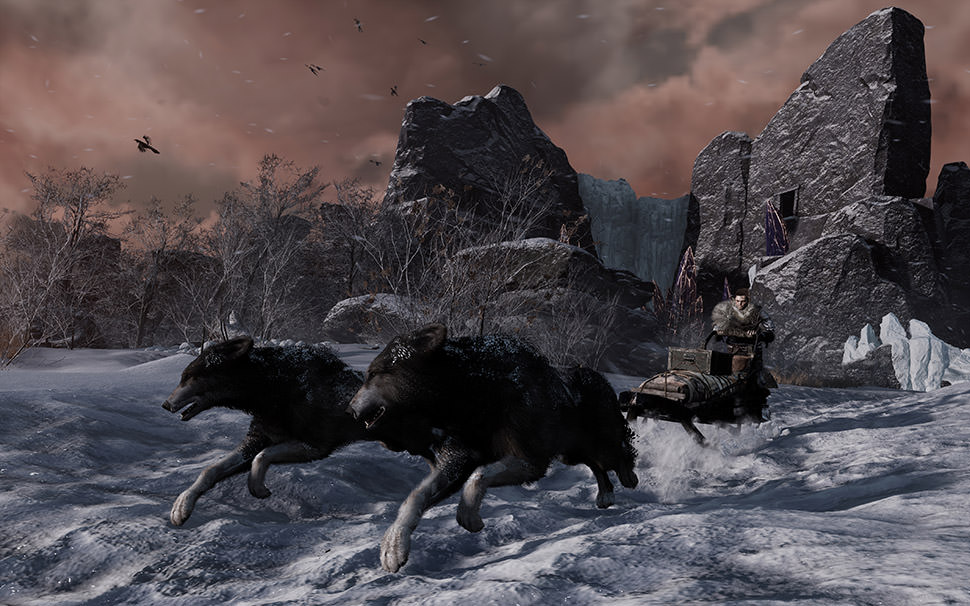 Before starting a new game, you are given an option of two different difficulties, exploration and survival. In the easier of the two modes, you'll not have to worry about a limited amount of lives and losing resources, ensuring you can play at your own pace; however, achievements/trophies are disabled and you are unable to gain improvements through the Circle of Torment (minor stat bonuses to health, stamina, hunger, and warmth can still be earned). Survival on the other hand, can reset your progress after you lose all of your lives. Starting over, even if some bonuses is not my idea of fun. Regardless of the mode selected, if you are finding the combat too difficult, followers can accompany you on expeditions once they join your refuge. In my experience, they serve as a good distraction allowing you to attack without the Lovecraftian horrors targeting you directly. An online friend can take control of the follower, adding a cooperative element to the game; however, both players are tethered, limiting how far players can travel from each other.
Although the base building is a significant component to the game, crafting at a campfire out in the environment is just as crucial. Inventory space feels quite limiting at first, but once you can craft additional pouches to hold more resources, on top of actual weapons and armor, the game starts to feel more fleshed out. Of course, I learned the hard way after spending a solid hour trying to survive with nothing but a torch to protect myself. I appreciate games that attempt to give players freedom without overly hand-holding them throughout, but a bit more of a structure to the opening sequence to the game would have gone a long way.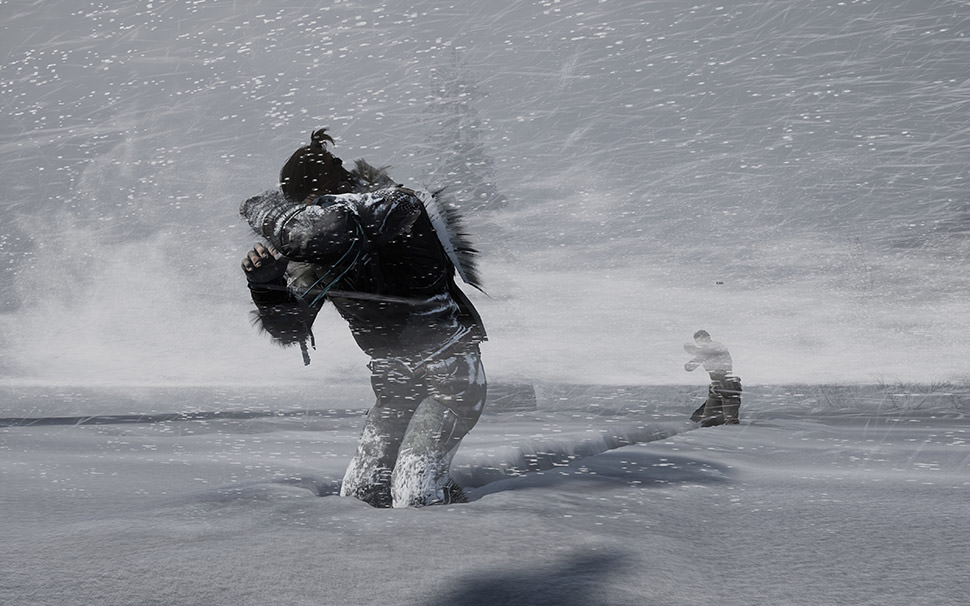 Exploring the massive open-world tundra can be tedious, and slow, but you do gain access to a teleportation system once you cleanse outposts by defeating bosses located across each of the central regions. This in itself does help to decrease travel time, not to mention also providing large amount of resources, but you'll want to prioritize the dog sledding building once you rescue a couple of wolves. Although the controls are slightly clumsy, and I've seen the sled fly up into the air more often than I can count, it does provide additional storage and a faster traversal option. It also comes in handy when attempting to dodge falling cars and wreckage from the floating sphere of death in the sky.
Simply Put
Fade to Silence does leave its mark on the survival genre, namely the terrific use of a dynamic weather system. However, everything else in the game is slightly cumbersome, from combat to item management. With player inventory being limited, your only option is to transfer items to your stash at the camp. However, the only options are to place items one at a time, or everything you happen to be carrying. There isn't any way to transfer individual stacks of items. The game needs a better introduction to many of the game's mechanics, especially when playing on the harder difficulty that can leave you with starting over with nothing, outside of the permanent unlocks.
Note: ​Fade to Silence was reviewed on Xbox One. A digital copy of the game was provided by the publisher/developer.