​Eclipse: Edge of Light
Review


By Kevin Mitchell

Posted on January 16, 2020
---
Jonathan Hawkins, the founder of White Elk, worked at Sony Santa Monica as an intern before moving his way to Lead Level Designer (helping to ship God of War I, II & III). Wanting to design something in VR, he found inspiration from a composition from the late Johann Johannsson - How We Left Fordlandia. Eclipse: Edge of Light initially released in 2017 on Google Daydream View, a virtual reality platform using mobile devices.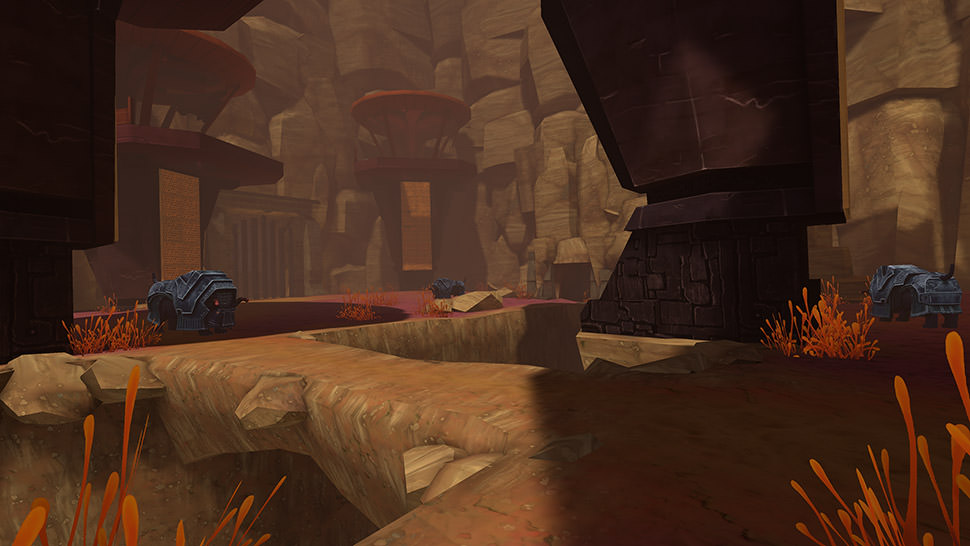 The veteran team at White Elk has worked hard bringing the game to PC (I tested using an Oculus Rift S on Steam VR), PlayStation 4, and Nintendo Switch (releasing January 30, 2020). The PlayStation 4 release is intriguing, as the game can be played with and without owning a PSVR headset. Although I would say that VR is the ideal way to experience the title, you can play the "flat" version of the game (the non-VR build).
The game opens on an unknown ethereal world, as a spaceship crash lands, becoming caught within the sentient planet's grasp. Before you lay a hand, breaching through the planet surface, grasping a mystifying glowing orb with almost supernatural abilities. This Artifact represents your salvation, serving as the chief puzzle mechanic in the game. With it, you can demolish parts of the environment to clear a pathway, activate ancient technology left from the remnants of a long-forgotten civilization, and more thanks to its extraordinary mix of technology and biology. No matter where you toss it, it can instantly return to your hand. The control mechanics are quite forgiven, as directly aiming towards predetermined locations sends the sphere flying off into the distance. Distinctive textured surfaces produce a platform for you to climb when the orb comes in contact, and you can even direct the local fauna to smash open blocked off areas. Using the power of the Artifact to move massive statues across the floor to activate switches is best handled in VR, as you can physically turn your head to change your viewpoint. In the non-VR version of the game, your view is locked in place while moving these objects, resulting in many moments where you have to readjust your positioning.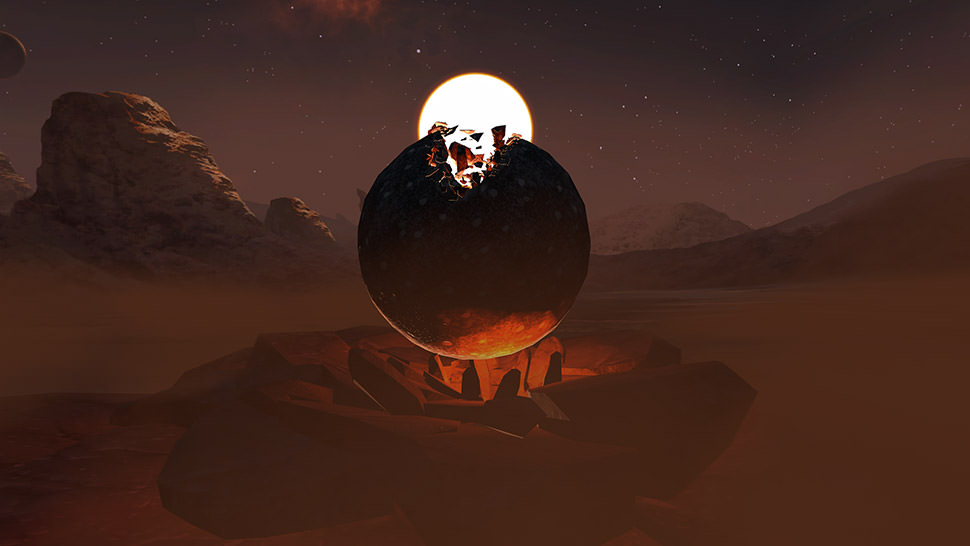 As you progress through the desolate landscapes, the Artifact unlocks new abilities as you collect fragments. At the same time, the events that transpired on the surface begin to take shape, as you hope to uncover the mystery and find a way to save yourself and leave the planet. Along the way, you'll scan massive statues, stone tablets, and random objects left behind, filling in lore and information about the previous religious society. With the scanner firmly attached to your survival suit, you'll physically scan these objects by moving your head up and down until completion. Many of these objects and messages are tucked away in hidden locations, so those that take the time to explore will step away with a better understanding. Although the planet's gravity is much weaker than Earth's, you'll need to use your jetpack to reach new heights in the vertically designed landscapes. While it recharges freely when not in use, there are fauna clinging to the canyon walls that your travel across that extrudes green particles that replenish your fuel instantly. What this does is allow you to continue moving through the air without having to reach the ground first.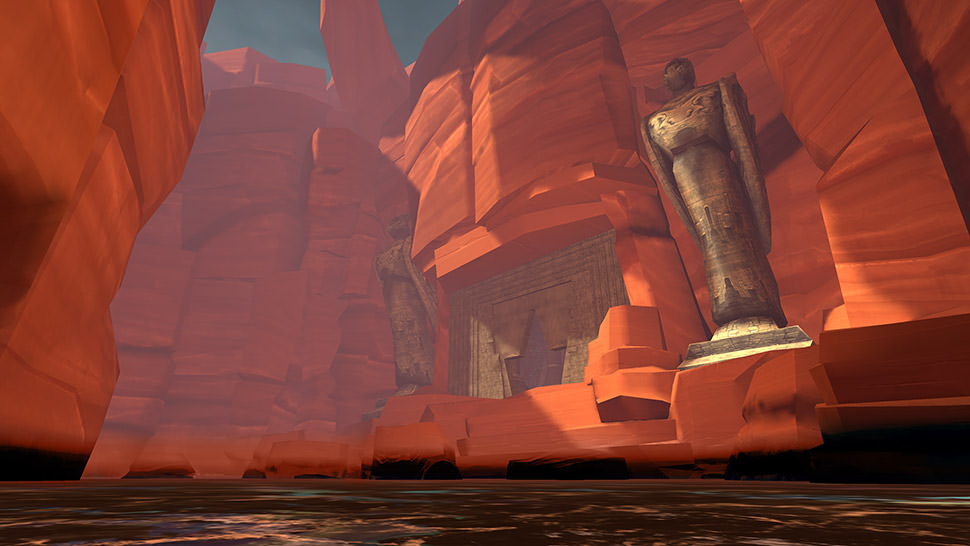 White Elk has included a handful of comfort options for the locomotion movement system in Eclipse; there is no teleportation option. By default, turning is accomplished at a jarring 90-degree interval. There are smaller interval options (15 and 45 degrees respectfully), but as a VR veteran, I opted to play with entirely smooth turning. The turning itself also has multiple speeds. Other comfort settings add a visor/helmet surrounding your entire viewpoint (which works in VR and the "flat" version of the game). It indeed can "ground" yourself, but I found it took up way too much real estate.
Simply Put
The entire experience in Eclipse: Edge of Light is over around the two to three-hour mark, but what you extrapolate out of the game depends on how much effort you spend exploring and reading by scanning every possible artifact left behind. Eclipse is best played in VR, but I played through the game without VR as well. If you play without VR, you'll need to look down a lot to see your floating arms to verify if you are holding the orb or not. It's a bit odd controlling on PS4, as the options button doesn't open the start menu, which is instead controlled by a face button on the DualShock 4. The Oculus Touch controls (with a Rift S) don't match the button prompts at the beginning of the game, resulting in moments where I spent too much time trying to figure out how to activate specific functions. Andrew Prahlow, the game's composer, has done an excellent job with an atmospheric score for the title.
Note: ​Eclipse: Edge of Light was reviewed on Oculus Rift. A digital copy of the game was provided by the publisher/developer.