​Dragon Ball Z: Kakarot
Review


By Kevin Mitchell

Posted on January 22, 2020
---
Video games based on the Dragon Ball franchise have been around since the mid-80s, spanning numerous generations and spreading across the original saga of Son Goku battling against the Red Ribbon Army, fighting against the tyrannical being known as Frieza, and even battling against the gods. Without a doubt in my mind, the Dragon Ball Z series has been one of the most influential Japanese animes and arguably the best way to experience the characters designed by the fabled Akira Toriyama. CyberConnect2's work with the Naruto series (another widely popular manga/anime) spans three generations. Without local/online competitive multiplayer, the developers focused on recreating great single-player set pieces and battles that do the Dragon Ball license justice.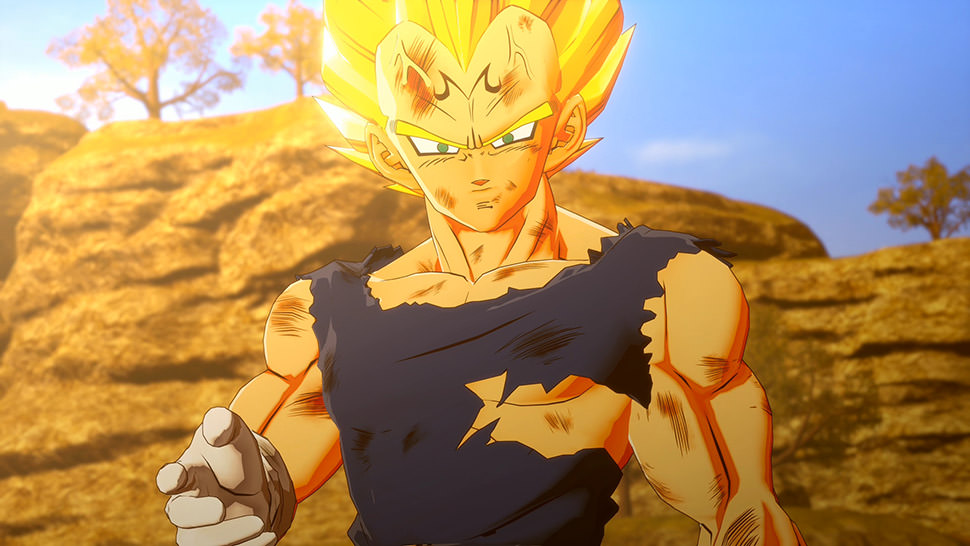 With 291 episodes, CyberConnect2 has been a commendable job at condensing the multiple story arcs into a 35-40 hour package, with more story-based content coming through downloadable content. It certainly hits the high points from the anime, but specific moments that every fan will remember are missing. Where is the infamous "it's over 9000" line when Vegeta and Nappa scan Son Goku's power level (yes, it is a mistranslation and should have been 8,000), shattering the scouter in disbelief? Trunks' Ultra Super Saiyan form (also known as Super Saiyan 1.5 or 3rd Grade) doesn't make an appearance.
As a semi-open world action-RPG, Dragon Ball Z: Kakarot is a tale of two genres fused, except CyberConnect2 didn't need the help of potara earrings (a little DBZ humor). Between narrative episodes, you are largely free to roam any of the unlocked areas, which are connected via the world map. Load times when switching regions can be a bit long if you aren't making use of an SSD, either on PC or console. An upcoming patch is set to help reduce load times even further, and hopefully fix some the lacking polish to the overall experience. Voice lines while exploring are frequently repeated, and by the umpteenth time, you hear Gohan proclaim, "I think I can handle this," or Vegeta's lackadaisical desire to fish, you may look to turn down voices altogether. It is especially grating when it occurs within seconds of one another, with the same lines being spoken for hours at a time.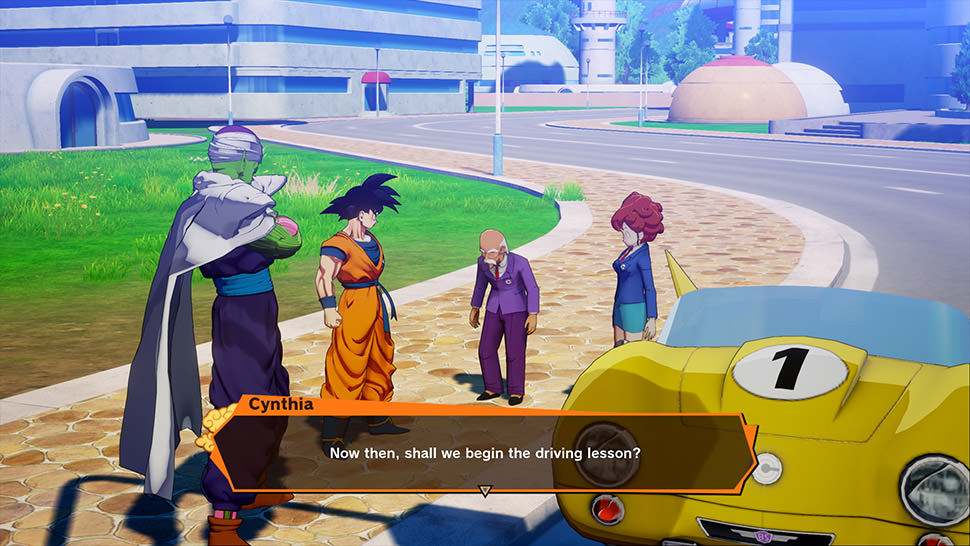 While exploring, you can opt to run incredibly fast on the ground, soar through the air (draining your Ki to fly even faster, but lose a bit of mobility), shoot Ki blasts in first-person, and collect scattered colored (red, green, blue) orbs. These orbs serve as currency for skill/ability upgrades for characters. They will respawn if you venture to another region and return, so don't go overboard trying to collect every single one, even though upgrades may cost hundreds to thousands to unlock. Most of the time, they are ideally placed for you to fly/run through rows of them, along with looping circles while in the air. Strong currents can whisk you away, locking you into a wind tunnel with the sole purpose of collecting even more orbs. Both story missions and side stories (red and blue exclamation points respectfully) are marked on the dragon radar, representing the map. Random townsfolk, and many of the familiar voices, such as Oolong, the shapeshifting pig (who had a more prominent role in Dragon Ball compared to DBZ and DBGT), can be interacted with and may offer ingredients.
Cooking meals at specified campfires provide both temporary buffs and permanent stat boosts to all of your characters. Higher quality items (or rarer items) yield increased bonuses, but in the grand scheme, a +1 Ki stat bonus vs. +3 isn't going to matter when simply leveling yields much stronger results. When visiting Chi-Chi at Goku's house on Earth, you can gorge yourself on full-course meals that combine stat boosts from different dishes, granted you have to provide all the ingredients. One of the nice touches that may be easily overlooked happens when Piccolo joins you at the table, and only subjects himself to a simple glass of water. Namekians are not opposed to eating food for pleasure (as seen in the anime), but only require water for sustenance.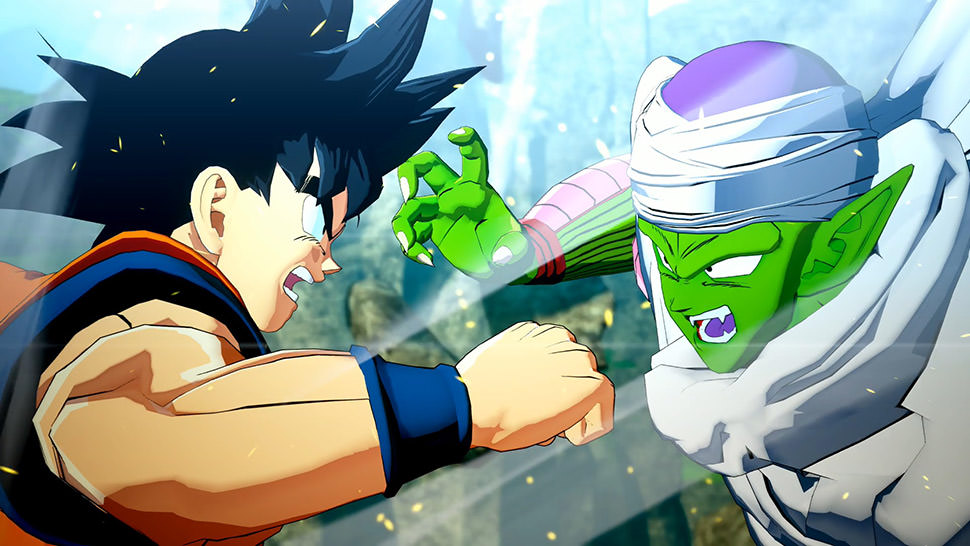 The simplified third-person combat system priorities Ki management over memorizing long combo strings or complex move lists. The basic one-button combo can be ended three different ways by using a point-blank Ki blast, a finale strike, or by releasing an outward bit of energy, slightly refilling the Ki meter in the process. The inclusion of the tension gauge can alter the course of a fight, allowing you to activate the surge effect, boosting your stats, and letting you perform unique attacks or cancel super attacks and combos into additional moves. Trust me, try unleashing multiple Kamehameha energy attacks one after another! Transformations, such as Kaio-ken and going Super Saiyan, significantly increases stats, but slowly drains both the health and Ki meter. It does pay off when you activate a "super finish" and watch a cinematic finishing off your opponent in dramatic fashion.
Being able to cancel out of your primary combo means can extend it almost indefinitely by electing to teleport before continuing to strike, chipping away at your opponent's health, and increasing the chance of stunning them. You are auto-locked to enemies by default, which you'll face in groups 99% of the time, by flickering the right stick left or right, easily keeping track of targets mid engagement. Kakarot heavily focuses on defensive positioning, with perfectly timed dodges place you directly behind your foe. The only option, surging energy around you to push your opponent back, consumes a large amount of Ki but could provide you with the necessary breathing room. The third option of blocking works well enough to defend against combo attacks, but over time your defense can shatter, leaving you in a stunned state.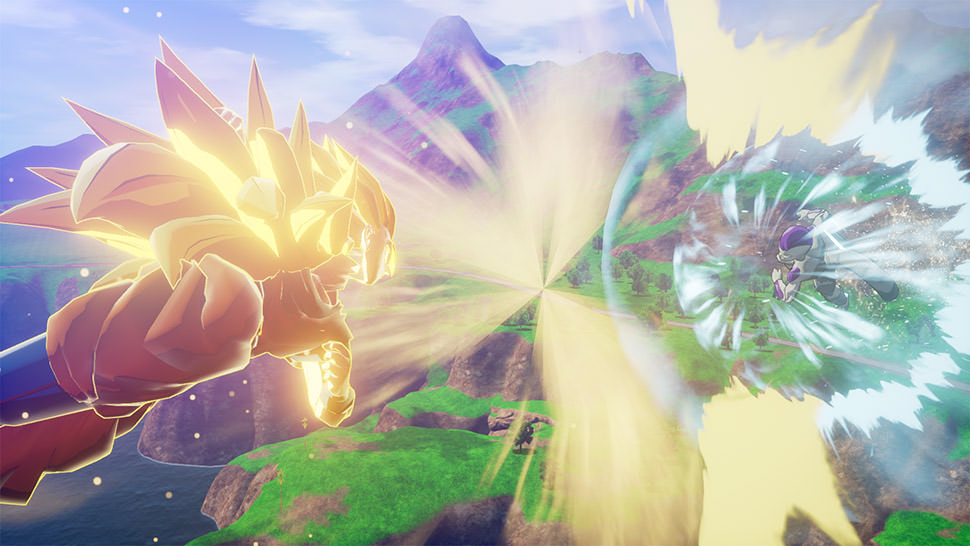 Battles against high-profile characters are fierce, more so than anything I've faced in any of CyberConnect2's previous titles (and I've recently played through the entire Ultimate Ninja Storm series). In those titles, there were highly scripted and cinematic events but were filled with quick-time events. The rest of the fights felt the exact same as every other encounter, even when you decide to face other players locally or online. In Dragon Ball Z: Kakarot, there is no need to balance anything for multiplayer, so here, the bad guys are tough and enjoy unleashing nigh-on-impossible to dodge/block superpowers. They also have a habit of stunning you multiple times and quickly negating any of your damage while charging up (indicated by glowing red energy). These well-crafted sequences are what I expect from a DBZ title, especially seeing Lord Frieza attempt to destroy an entire planet with a massive death ball, and even Goku's older brother Raditz unleashing dual-energy waves spinning around his body.
Community boards allow players to place earned soul emblems onto preset grids, with each pillar having a set leader, such as Goku, Mr. Popo, and Chi-Chi. The z-warrior community emphasizes attacks and support characters, the adult community can decrease the cost of items, and the community of the gods deals with items earned from successful battles. Once received, you are free to place emblems on any of the boards; however, each one has a set rating that corresponds to each respectful community. The higher the level, the better the boost. On top of that, gifts can be given increasing the base stats on emblems, yielding friendship rewards. There are further incentives to link specific emblems together, as you'll hear a brief back and forth between the character and earn extra boosts. It may make sense to place Mercenary Tao and Master Shen together on one grid, while Kami and King Yemma remain connected on another.
Not everything in Dragon Ball Z: Kakarot revolves around fighting. Yes, combat is paramount to the franchise; however, the deep connection between the characters, especially the lesser-known ones, shine through the optional side quests. Some can feel repetitive, requiring you to fight the same xenomorph looking red ribbon robots until your knuckles bleed, while others require you to gather specified ingredients, such as fruit, meat, or fish. The more engaging quests add new dimensions to the characters, including seeing Goku and Piccolo try to acquire their driving license and one in particular to involve Yamcha's spirit and a misunderstanding between Yajirobe and the Demon King.
Simply Put
Dragon Ball Z: Kakarot is an incredible way to experience the entire DBZ saga, for newcomers and fans alike. The game offers both the English and Japanese voices customizing the experience; however you desire. The RPG mechanics are a bit on the lighter side, and I do wish CyberConnect2 went even further into the realm of an action-RPG. The game's visuals are quite stunning, especially during critical moments when special effects surround the engagements. The sound effects and music are ripped straight from the anime, with Cha-La Head-Cha-La headlining, and even more songs from the anime coming for Ultimate edition owners. The side stories help develop character interactions without resorting to violence, but there is still room for improvement.
Note: ​Dragon Ball Z: Kakarot was reviewed on PlayStation 4. A digital copy of the game was purchased by SelectButton.