​Cake Bash
Review


By Kevin Mitchell

Posted on October 14, 2020
---
Some of my fondest gaming memories involve mini-game focused party games, whether they include online or local multiplayer. Cake Bash is, without a doubt, the sweetest four-player party game I've played in recent memory. The highly detailed stylized colorful environments are inviting, and the playable surgery deserts are charismatic, adorable, and delicious. Whether you are playing locally or online against friends/family or bots, I've only had enjoyable, fun moments with Cake Bash, and to me, that is what gaming is all about.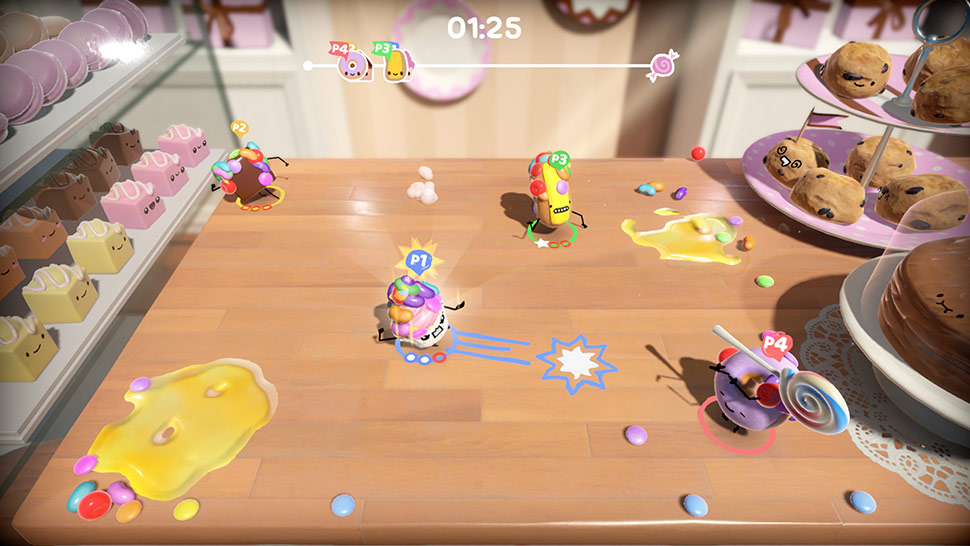 There are essentially two ways to experience Cake Bash, either through the aptly named primary game mode "Get Tasty," that includes multiple rounds of events, or by replaying unlocked mini-games through the" Recipes" menu. The primary game mode can be played locally or online for up to four players. Bots, complete with visual robotic antennas, can fill in empty slots, but the game is fully playable with just two or three players, so you aren't forced to have a full party every time you want to play.
In Get Tasty, you'll alternate between the two different mini-game types (cake bashes and snacks) for a total of seven rounds of events, as well as four changes to spending chocolate coins earned based on your performance during the mini-games. Players compete to become the most delicious treat by purchasing toppings from gummies to chocolates with these coins. Purchase three of any one type of topping, and you'll earn bonus points. Still, the availability of specific items is randomized and may disappear if someone else purchases it first. If you are adventurous, the lowest priced item comes from a "gashapon" or "gachapon." You'll typically find those coin-operated vending machines in grocery stores or across Japan dispense capsule toys. Instead of toys, you are gambling upon receiving a higher priced item for the lowest amount of coins; however, you may end up with something gross, such as rotten fish bones. You'll have to spend two coins to remove these items or risk losing a considerable amount of points at the end of the game. The winner is determined by the number of points earned by your collection of tasty toppings.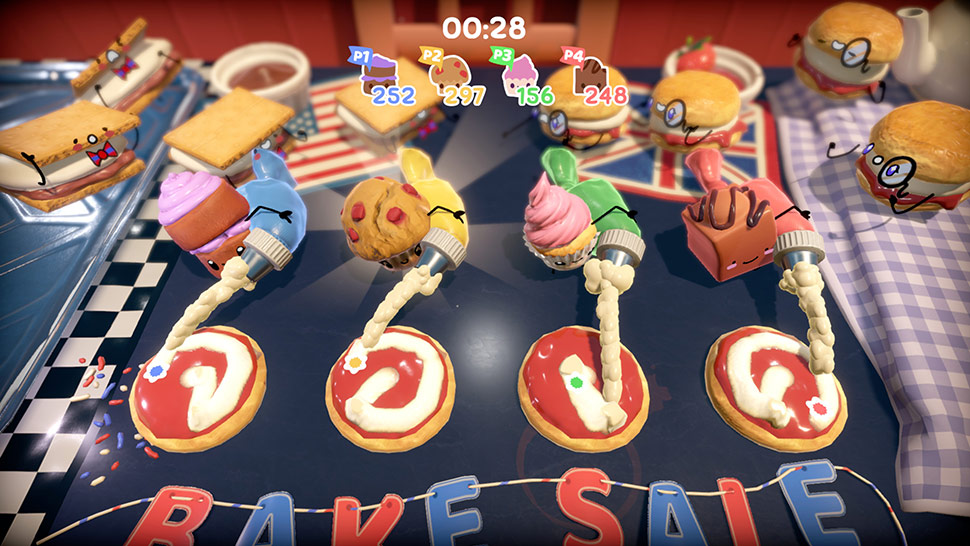 Cake bashes, there are only five different events, are physical free-for-all battles as you compete to toss various types of fruit into a stationary pie, pick up the most pieces of candy, smash open the most fortune cookies, and more. They are highly competitive and allow you to directly impact others by bashing them with a combination of light punches or a charged up uppercut that leaves them momentarily stunned. "Hundreds & Thousands" is a mini-game where you strive to collect the most sprinkles raining down upon the play area. Attacking others pushes them out of the way, leaving them frantically trying to claw their way back into the mini-game. "Sweet Victory" uses a similar concept, but with hard candy that flies off your character when you are on the receiving end of a kitchen beat down. If you are stunned, it gives an opening for your opponents to pick up everything that fell from your gooey confectionery filled character, leading to some great moments of back and forth. Each of the events can be played across any of the five locations, each with their own hazards, such as pigeons that decide that everyone looks sweet enough to eat on an outside patio table, or the factory level with a flaming grill, burning anyone near when the flames erupt.
The snack mini-games forgo physical combat and instead task you with completing skill challenges without the interference of others. Some, such as "Fondue or Die," where you skewer floating fruit in a revolving chocolate fondue foundation, do let you block each other, but it's mostly harmless interactions. Others, such as "Campfire," require you to perfectly toast marshmallows. You'll judge if the marshmallows are ready by their appearance only. Remove it before it is golden brown, and you'll receive fewer points. Leave it in the fire too long, and you'll be sticking a bubbled gross burnt marshmallow on the outside of your body (and earn zero points). "Neapolitan" is one of my favorites, and maybe it is due to my love of ice cream. You'll attempt to stack as many falling scoops of ice cream without tipping over. The higher the stack on your cone, the more it sways based on your movements. It's a game of balance, ensuring you don't lose scoops but move efficiently to the indicators where another scoop will fall.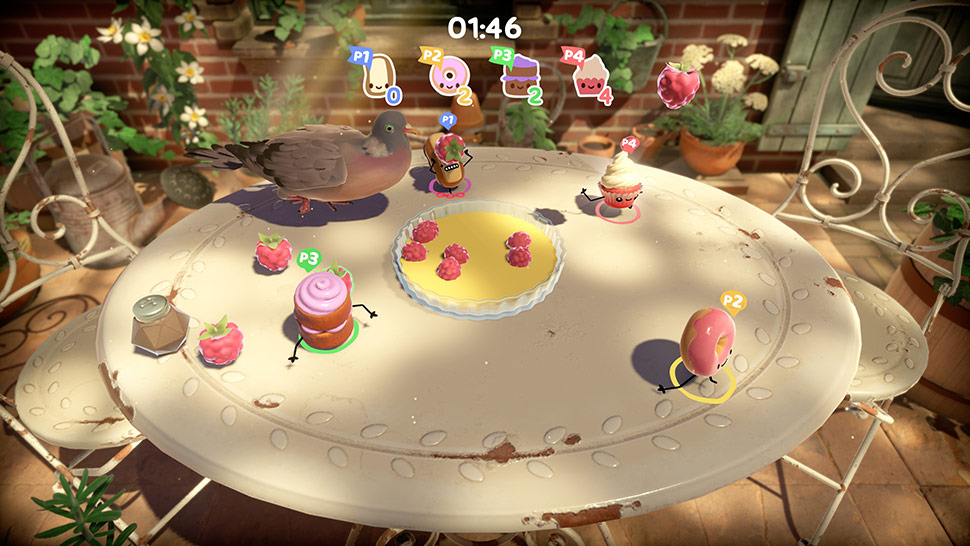 Unlike the cake bash events where I find AI bots can be easily beaten, even when facing three of them, which tend to target other players with weaponized lollipops, the AI is almost perfect in the snack mini-games. The "Campfire" mini-game is nearly impossible to beat the AI, at least in my dozen or so attempts against three bots who almost always get the maximum number of points every time. The same goes for "Wasp Attack," where you bash wasps flying across a patio table at varying speeds. I found the timing to feel slightly delayed, and making contact depends on the angle of your swing.
There are seven different types of delicious sweets to use, from frosted donuts, cheesecakes, creamy eclairs, muffins, cupcakes, and more. Each one has six different variations, transforming the basic pink frosted cupcake to a decadent red velvet with cream cheese frosting, or even a rainbow frosted unicorn design complete with candy ears and horn. Although Clyde, the ube cake with white drizzled frosting, is my current favorite. If you haven't tasted this Filipino delicacy, I highly recommend it. Some designs are unlocked by completing set tasks during mini-games, such as stacking ten ice cream scoops or playing three events on the birthday cake level.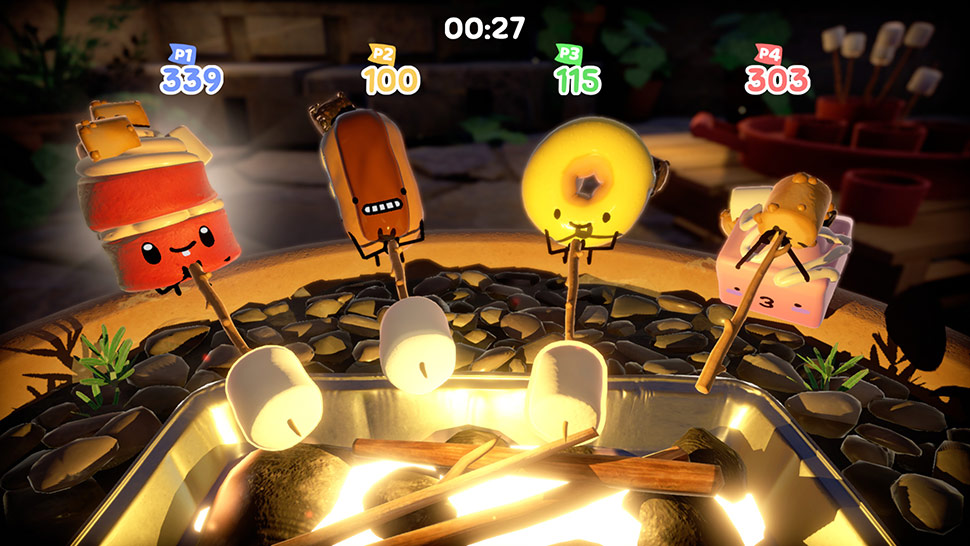 Simply Put
Cake Bash is the feel-good frantic party game I needed to play this year. The sharp, beautifully rendered environments and comically delicious characters are a treat...literally. Local and online multiplayer worked like a charm (besides a single time where everyone was forced to restart). However, I do wish that the game instructions aren't skipped when playing online, especially when playing with someone new or experiencing a new event for the first time. Although the overall amount of events and mini-games is small, it may take a few rounds to see them all at least once.
Note: ​Cake Bash was reviewed on Xbox One. A digital copy of the game was provided by the publisher/developer.