​Bubble Bobble 4 Friends: The Baron is Back!
Review


By Kevin Mitchell

Posted on November 20, 2020
---
One of Taito's biggest arcade games in the late 1980s, Bubble Bobble, was not only fun but approachable for all audiences regardless of age or gender. It featured two colorful and cute dragon brothers on a quest to save their girlfriends from the evil Baron Von Bubba across 100 levels. Bub and Bob have become gaming icons, with ports of the original arcade puzzle action game releasing on home consoles and numerous sequels and spin-offs over the years. With four-player cooperative couch gameplay, you'll bubble your way through 100 levels to defeat the magical wizard Bonner (Drunk). However, along with the PlayStation 4 release, the "The Baron is Back!" update is free for those that purchased the original Nintendo Switch release. It adds 100 new stages, where you'll need to avoid the invincible Baron (Skel-Monsta), who appears throughout without continuing.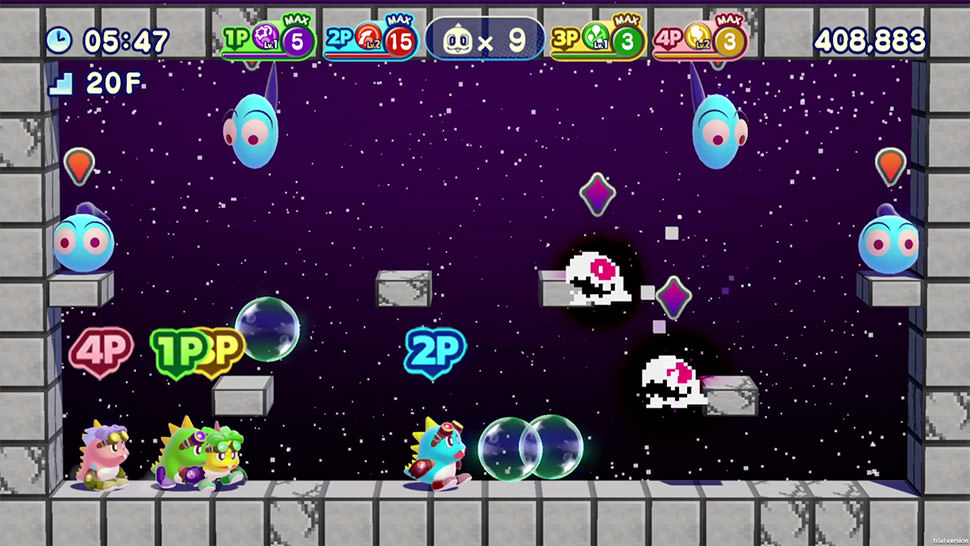 Taking place in a child's bedroom, Bubble Bobble 4 Friends: The Baron is Back! takes you across five areas, each with ten stages, with the final stage pitting you against a massive boss with special abilities thanks to Bonner. Each stage typically takes around a minute or less to complete, so you'll breeze through all 50 of the stages on the normal difficulty in less than an hour. Once you've completed the first set of stages, hard mode becomes available, remixing the original stages with always "angry" bullies. The core gameplay of Bubble Bobble is intact. Players must shoot bubbles to trap enemies inside, then burst them either by using your spikes on your back or stomping through. When multiple bubbles are touching, bursting starts a chain reaction, bursting all nearby bubbles and providing a score boost.
Bubbles float thanks to the air currents, which were invisible in the original arcade game; however, this sequel provides visual indicators, ensuring you know precisely where trapped enemies and empty bubbles will end up. For the purists out there, you can turn off all visual assistance or make them more subtle. Considering the stages are built for verticality (every stage only takes up a single screen), you must ride bubbles upwards to reach new platforms. Defeated bullies turn into food in the form of fruit, giving you a set amount of points based on the number of enemies bursting in a single chain. You'll also replenish the uses for your selected skills, which unlock by defeating bosses. As long as you quickly finish stages and chain multiple enemies together, you can raise the amount and type of delicious fruity desserts that appear after completion. There is a tiered ranking for the fruit, with bananas being the lowest and watermelon, grapes, and pineapple being near the top. Get proficient enough, and you'll earn shiny gems instead, but that's only for those that have mastered Bubble Bobble (not for me).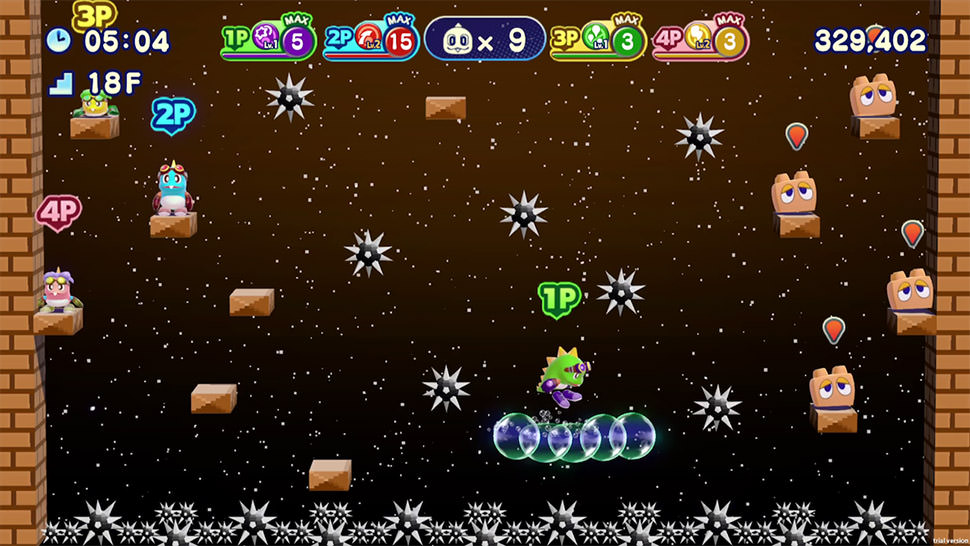 Instead of picking up magical items that randomly appear while playing, you'll unlock them by defeating bosses. These skills can be equipped but have a set amount of uses and must be replenished by defeating bullies. These abilities are based on each boss's powers, such as shooting bubbles further, thunder bubbles that send out a horizontal shockwave, and even an exploding time bomb bubble. Trapped enemies float around the stage based on the wind direction but become free and angry after a short time. Angry enemies are far deadly, with faster movements. The stages are designed using both transparent and solid platforms, with the difference being that the former can be passed through only. You're also able to crouch and squeeze through tight spaces to reach enclosed areas, but you cannot shoot bubbles while crouched. Later levels become less free-flowing and more maze-like, with only a single path to move through. Not only that, but dangerous spikes are added, killing you with a single touch; however, strangely enough, it doesn't pop bubbles.
Scattered throughout the nine platforming stages in each area are the letters E-X-T-E-N-D, although only one letter appears in a stage, unlike the original arcade game. You'll get a bonus life for collecting the letters and completing the word extends (get it?) the number of uses for your skill. As you may expect based on the title, the game supports four-player local multiplayer. However, all players share the same pool of lives and score; instead of instantly dying like in single-player, getting hit traps you inside a bubble. Your partners have a brief moment to burst the bubble, ensuring that a life isn't wasted. Given the linearity of some of the stages, things become quite chaotic as four players are blowing bubbles simultaneously in tight corridors. Improving the accessibility of the game series is the inclusion of an invincibility option once you see the "game over" screen three times.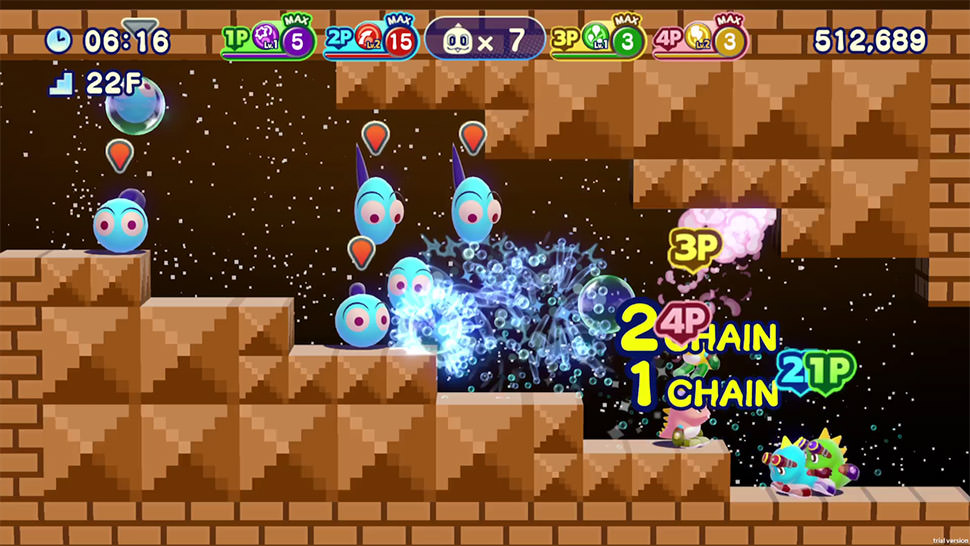 Simply Put
Bubble Bobble 4 Friends: The Baron is Back! is a fun four-player multiplayer experience, with 200 stages to complete with the cutest arcade characters of all time. There's even the option of playing the original two-player 100 stage arcade release. The new area that features the invincible Baron and no continues replaces the standard arcade machine once you unlock hard difficulty by completing the first fifty stages. Online ranking for every area is tucked away in the options menu, letting you compare high scores across the globe.
Note: ​Bubble Bobble 4 Friends: The Baron is Back! was reviewed on PlayStation 4. A digital copy of the game was provided by the publisher/developer.