Bloodstained: Ritual of the Night
Review


By Kevin Mitchell

Posted on June 28, 2019
---
Even after 22 years, Castlevania is still synonymous with the PlayStation classic Symphony of the Night, revisioning the franchise for all future releases thanks to Koji Igarashi. Although he was only the assistant director for the game, he went on to become the producer for just about every prestigious title in the franchise since then, including the Game Boy Advance and Nintendo DS titles that are arguably some of the best action role-playing games of all time (with frontrunner Symphony of the Night).

While the last Castlevania project he worked on during his time at Konami was canceled in favor for MercurySteam's Castlevania: Lords of Shadow, Igarashi-san decided to end his relationship with Konami and start his own company. It didn't take long before fans were clamoring for a new title fitting the mold of the term dubbed after the man himself, an "Igavania." Turning to Kickstarter, just like Inafune-san did with Mighty No. 9 (MegaMan), Bloodstained: Ritual of the Night was born. Inspiration is an understatement, as Bloodstained feels quite similar to recent 2D Castlevania titles, and that is not necessarily a bad thing. As a spiritual successor, Bloodstained feels like a best-of title, refining previous aspects and building upon them to craft one of the best games of the year.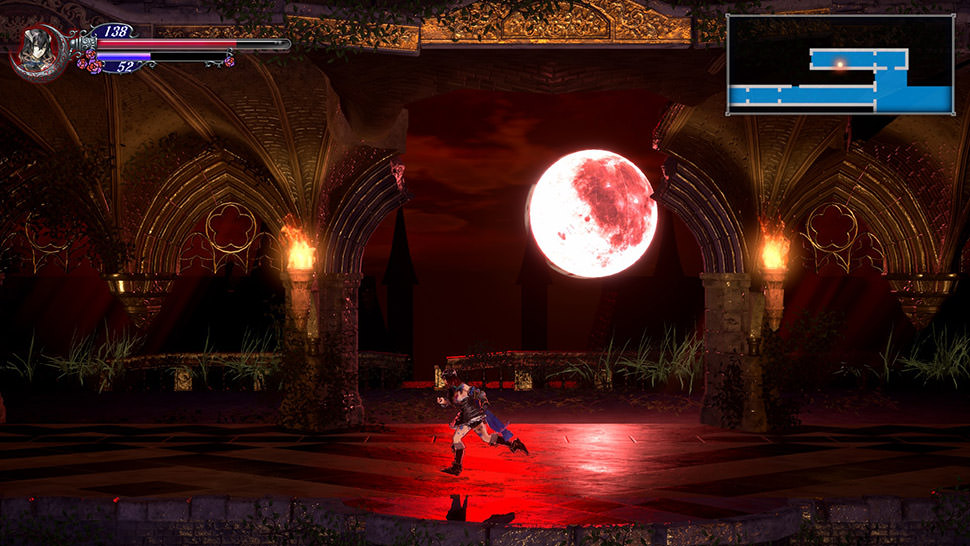 The game revolves around two main Shardbinders, those that have been subjected to experimentation through the use of shards (demon powers). In an almost eerie familiarity, you'll explore a massive castle with various motif corridors to put an end to Dracula; I mean Gebel. As Miriam, you'll gain access to a wide selection of different weapons to slay your way to victory, but the crux of it all, it is a necessity to impale yourself with this shards from defeated enemies to gain essential powers. Although the game can be completed at roughly the 12-hour mark (much longer if you are a completionist), Bloodstained features a large sprawling map, and you'll frequently reach sections that are seemingly impossible to access. These areas, for those that are unfamiliar with the Metroidvania style of gameplay, requires you to circle back to previous locations once you gain new traversal abilities, such as being able to double jump, squeeze through tightly spiked corridors, and more.
As previously mentioned, Miriam equips various types of shards collected by killing monsters. From boots giving you powerful spinning high kicks, to different kinds of swords, clubs, rapiers, and whips, the weapons are varied enough that you'll learn which weapons and attack types work best against certain foes. The shards aren't a guaranteed drop, so it may take a few kills for a particular enemy to drop the shard you want. Even then, the powers gained from the shards can be upgraded by collecting multiples of the same shard type. If you have the patience, you can become quite literally invincible early on in the game using only these abilities. However, the use of the spells costs mana, essentially mimicking Castlevania's use of sub-weapons (ax, dagger, holy water, etc.). There are two equipable slots, one that can be triggered instantly, while the other slot allows you to aim the magic in any direction using the right analog stick. You can cut down monsters and demons with a column of fire, or choose to aim a fireball to launch at flying foes. Over time, you'll earn new skill sets that may question your decision making. While during my first few hours with the game, I went for an overwhelming offensive type build, I opted for a more defensive focused type of play style during more difficult sections, including the use of a healing ability. Thankfully, you unlock different presets as you level up, letting you swiftly change between them as needed, ideally per engagement to ensure you always have the proverbial edge.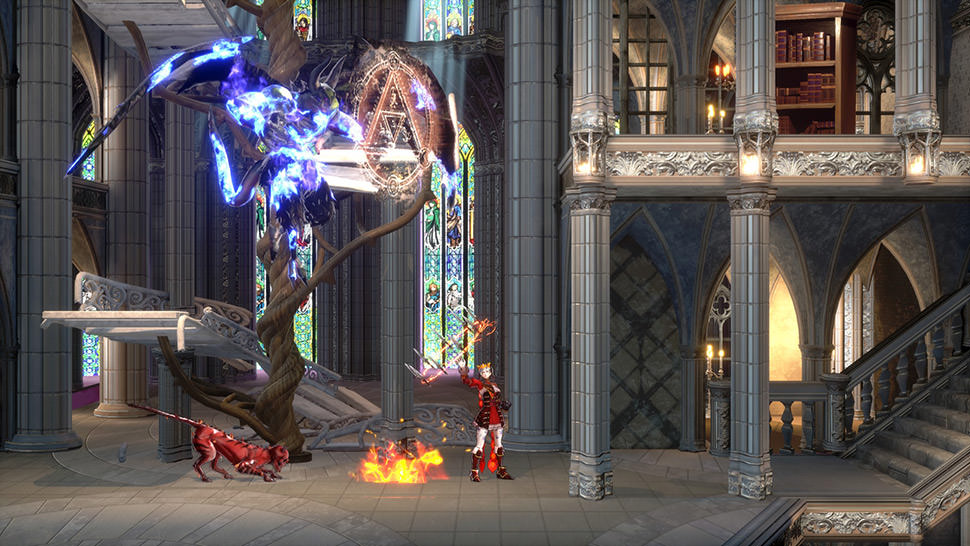 One of the biggest complaints with the initial demo was how the game played, which meant it was being compared to SotN. Thankfully, the final release feels just as good, if not better than any side-scrolling action-RPG. In fact, even the same maneuvers, such as attacking just before you land gives you the chance to land two hits in quick succession. Call it muscle memory, but it is one of the first things I noticed early on, without even thinking. Of course, with the inclusion of the different shard types, you'll no longer be limited to dodging and ducking. This is an excellent addition for me, as I never could quite perfect my dodging in these types of games. The first set of weapons at your disposal are quite basic, but as you level up, you'll gain access to additional pieces of equipment and magical items that add another layer of depth to the experience. One of the first ones that I fell in love with was a neon colored laser sword, or lightsaber, with additional electric attacks, good at slowing down those pesky flying heads (and bats).
In typical fashion for the genre, you'll have to backtrack through the map, unlocking teleportation rooms, save rooms and the central hub you'll be frequenting. Here, you can upgrade your equipment, craft the best items in the game, if you spend hours grinding, and take side-quests that provide spectacular rewards late in the game. However, some of the requirements are grind-heavy, meaning your late game journey consists of grinding for low drop-rate shards endlessly. Although once you reach a specific point in the narrative, you can face-off against the end boss without exploring the rest of the game, you'll want to hold off as long as possible. Some may not care, which is perfectly fine, especially with New Game +, but I found it exploring every inch of the massive map quite enticing.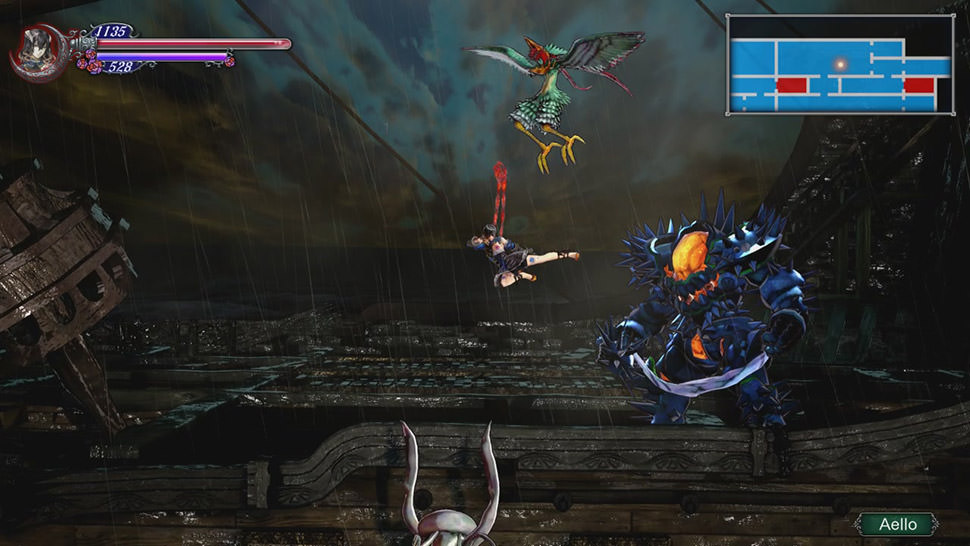 The voice acting can be a bit stiff at times, especially during certain moments where there can be a lot of dialogue; however, the music is quite enjoyable and gothic, especially with guitar riffs reminiscent of Castlevania. There are moments where the action can hiccup, typically when you collect a new shard, and at times during sequences, but nothing that took away from the experience. I need to mention that the review is based on the 1.02 update, that was released after launch. I did have to restart the game due to the game-breaking bug in 1.01, so you need to ensure that you keep the game updated
Simply Put
After years of development and a handful of delays, Koji Igarashi's highly anticipated return to gaming is perfection personified, or close to it. It is one of the finest side-scrolling action-RPGs that you'll play, with beautifully stylistic and colorful visuals that work wonderfully with the 2.5D presentation. The endgame grind may be too much of an investment, but I love every moment of it, especially considering how much I enjoy the hack-and-slash gameplay and being able to swap between my customized presets at any moment. It may feel quite familiar to his previous work but sets the bar for the series moving forward.
Note: Bloodstained: Ritual of the Night was reviewed on PlayStation 4. A digital copy of the game was provided by the publisher/developer.