​Beyond Blue
Review


By Kevin Mitchell

Posted on June 22, 2020
---
E-Line Media's known for their inclusiveness approach to game development and publishing aims to provide meaningful engagement to their projects. One of my favorite games this generation, Never Alone, an atmospheric puzzle platformer, was developed in direct collaboration with the Iñupiat, an Alaska Native people. It drew from a traditional story, shared across generations, celebrating their culture through a video game. E-Line Media partnered with BBC Studios, producers of the eye-opening documentary series Blue Planet II, and OceanX in Beyond Blue, a narrative-driven experience following a group of scientists testing out new underwater technology.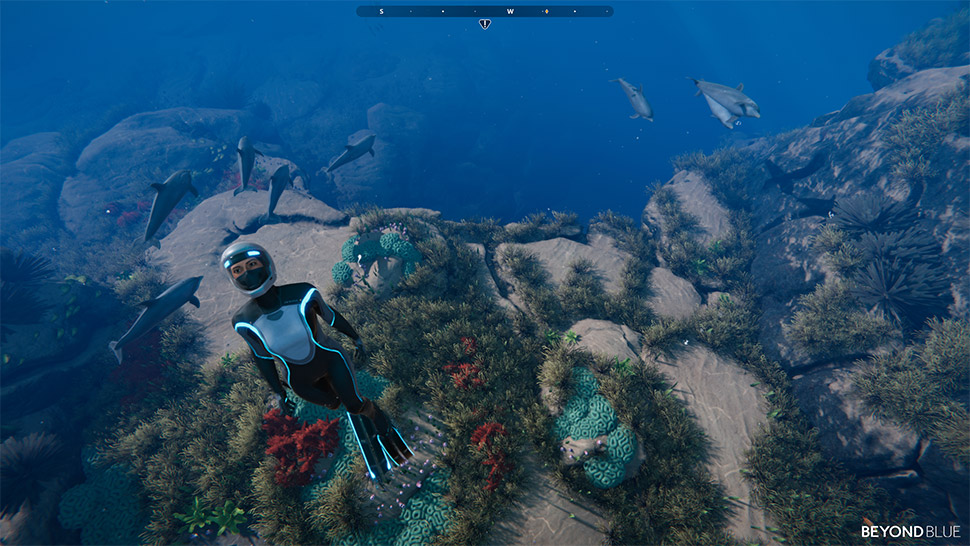 Set in the near future, you take on the role of a marine biologist, where the love for the ocean and all of its inhabitants flows through the blood in your veins. You begin in the calming light blue waters surrounding an atoll (virtually a ring-shaped coral reef). Within each of the eight dives, you progress on your own time. Do you want to freely swim around scanning every single fish, whale, shark, or dolphin you come across? Go right ahead. When you have had enough and want to advance, the narrative waypoints are marked, progressing the story when reached. You can return to each place to scan anything you missed the first time around too.
Within each of the dives, you'll start by searching for an electronic buoy. These buoys can hone in on transponders attached to distinct creatures. Using her futuristic wetsuit, you glide effortlessly through the water to each location. When you are up close, you can scan the wildlife to enter them into your scientific log, which tracks the 45 different species you'll encounter. Accessible at any point, this catalog teaches you the entire scientific classification for each of the species. For example, the giant clam's scientific name is Tridacna gigas; its phylum is in the Animalia kingdom, its phylum is Mollusca, its class is Bivalvia, its order is Cardiida, and its family is Cardiidae. I may not remember any of that once I stop playing, but I'll never object with adding these types of details. A simplified regional map highlights where specimens are located in the three main zones in the ocean; sunlight, twilight, or midnight. There are 3D models and additional research information that can be read during your downtime between dives when you return to the sub. As you continue to scan multiple individuals of the same species, you'll open up new behaviors to view, such as seeing an octopus turn around to avoid a predator quickly, or watching an orca tail slap its prey. The game does follow a fictional story; however, it does rely heavily on its educational goals and is steeped in real-life dangers of underwater exploration, and the harm humanity poses to delicate ecosystems.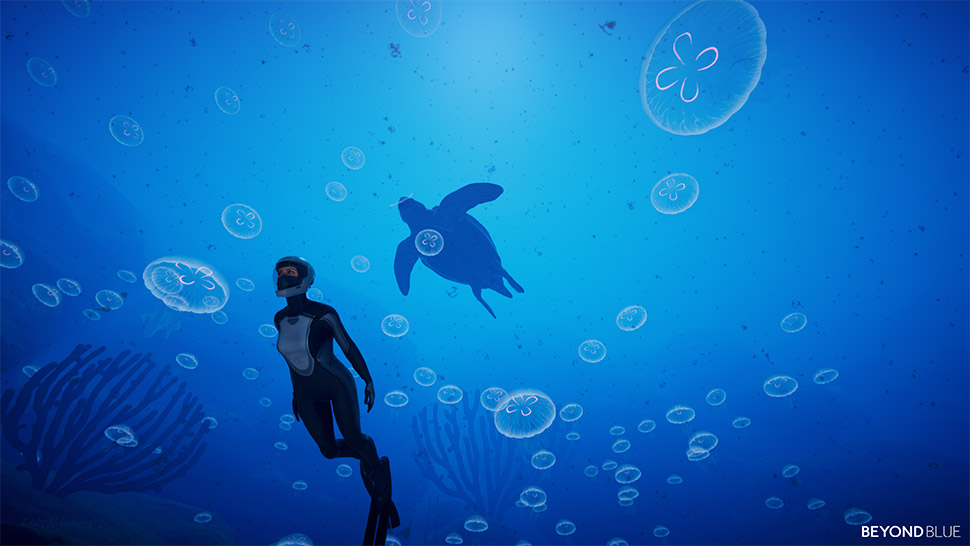 Mirai's true love is whales; in particular, she is studying a pod of sperm whales, following the journey of a mother and her calf. Wanting to help spread her passion, Mirai and her colleagues live stream her mission to raise awareness and support. Once you get close-up to one of these massive mammals, you can deploy a small drone that can revolve around targets with ease. This gives you plenty of opportunities to study unique markings called the flukes (the underside of the whale's tail). You can think of it as a fingerprint, as every individual of a species has unique tail flukes. Even though you'll get within touching distance of the most prominent species in the ocean, and those with plenty of sharp teeth, there are no looming threats. Beyond Blue is an atmospheric, relaxing experience, even if you face massive sperm whales, whitetip reef sharks, or a seven-arm octopus. Schools of smaller fish may scatter as your approach, mistaking you for a predator, but there isn't much in terms of interactions. Sure, there are a few lighthearted scripted moments involving an octopus, but not much else.
Returning to the sub gives you time to reflect on everything that transpired and chat about the findings with your crew. It would be best if you investigated the cause of an unknown signal heard in the ocean depths, disturbing the pods of whales and other wildlife. I won't go into much else involving the plot, but you'll explore deep within the midnight zone, where sunlight no longer penetrates through the water. It was awe-inspiring to be swimming near active thermal vents on the ocean floor and the poor visibility of deep-sea brine pool. There's a side plot involving Mirai's younger sister Ren, and her grandmother's struggle with dementia. You'll interact with Ren directly through phone calls and voicemails, but honestly, neither of the plots go anywhere. Sixteen real-life mini-documentaries feature original footage that can be viewed from the tablet located on the submarine. They are unlocked as you progress, and while only a few minutes each, they are remarkably produced, and follow the various locales you'll explore.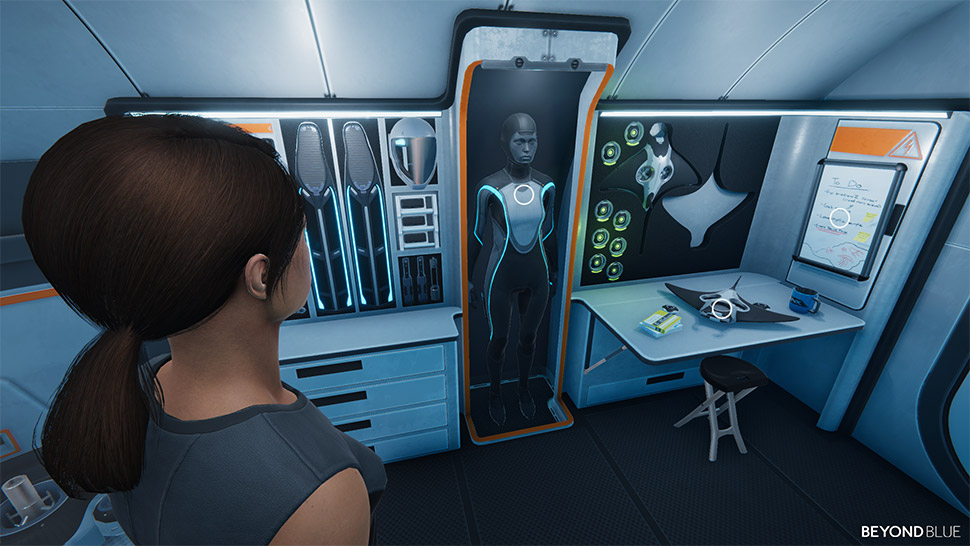 Simply Put
Beyond Blue's educational approach to studying sea life and learning about the various effects humanity has on life is outstanding. While marine biologists look to tag and consider these precious creatures' habits, learning about their behavior, family development, health, diseases, etc., some seem to disrupt and cause harm. The experience is relatively short; however, I genuinely enjoyed learning and scanning all of the inhabitants.
Note: ​Beyond Blue was reviewed on Xbox One. A digital copy of the game was provided by the publisher/developer.