​AVerMedia Live Gamer 4K
Review


By Kevin Mitchell

Posted on June 22, 2020
---
Continuing to be a leader in consumer-grade video capture devices, AVerMedia steps into the future with the Live Gamer 4K (GC573). Although the popularity of USB 3.0 devices is at an all-time high due to ease of use (anyone can plug in a cable), the Live Gamer internal PCIe lineup has been nothing but phenomenal. The previous model, released in 2017, Live Gamer HD 2, was an evolution for the industry, allowing the capture of uncompressed videos at 1080p resolution at 60 frames per second (1080p60). It was released at a time where the console market was shifting, and consumers were thirsty for higher resolutions and better performance. Technology was advancing faster than previous generations, 4K adaption was on the rise, and both Sony and Microsoft couldn't sit on outdated, aging components much longer. Although not everyone agrees that mid-generation consoles upgrades are the answer, the PlayStation 4 Pro and the Xbox One X provided that much needed extra punch, and this is where the Live Gamer 4K truly shines.

Although not the newest product from AVerMedia, it is undoubtedly the best internal video capture device on the market today. Whether you are looking to record gaming gameplay for YouTube videos directly, live stream on your preferred platform (Twitch, Mixer, etc.), or even capture camera footage from your DSLR or Mirrorless camera, you can be sure the Live Gamer 4K provides incredible quality. As the name implies, you're able to record up to 2160p60 with HDR support. There aren't that many games that natively support this high level of visual fidelity on consoles, and you'll need one hell of a high-end gaming dual-PC setup if you want to capture PC games at this quality. Still, it does allow for next-generation support from the get-go, where everyone hopes to see this become much more frequent. The technical wizards at id Software were able to squeeze 60fps out of the current aging consoles for Doom Eternal. Although it doesn't natively hit a 4K resolution (2160p) on either platform, it is upscaled from 1800p and 1440p on Xbox One X and PlayStation 4 Pro, respectively. Using the Live Gamer 4K to capture footage produces buttery smooth gameplay at the highest capture quality I have ever seen, whether you are using AVerMedia's RECentral application, or the leading and widely popular open-source software, OBS Studio.
With the next generation of consoles just around the corner, the Live Gamer 4K was designed with the future in mind. 4K will play an integral part in capturing/live streaming gameplay on Xbox Series X and PlayStation 5. As an internal capture card, it requires a single PCIe Gen 2 x4 slot, an upgrade from the Live Gamer 2, which only needed a single PCIe Gen 2 x1 slot. If you don't have a free (or any) x4 slot on your motherboard, things can get a little tricky. Not all hardware is created equal, so it is imperative to know the technical specifications of your system before purchasing (AverMedia provides a compatibility test tool through their website). For example, you could use an open x16 slot; however, it may affect your video card's performance, as most motherboards will now run at x8 instead when there are devices in the first two slots. Luckily, the third x16 slot on my motherboard operates separately, running at a maximum of x4, without lowering the bandwidth given to my GTX 1070 TI video card in the first slot.
HDMI 2.0 cables are required to pass-through and record 4K videos at 60 frames per second, along with HDR support. Unlike the previous model, the Live Gamer 4K does not have any 3.5 mm port setup for analog audio recordings or output to mixers. The pass-through supports 7.1 and 5.1 channel LPCM surround sound, allowing you to run the output into an AV receiver without sacrificing audio quality. If you are looking for a higher frame rate, you'll have to drop the resolution for recordings. At 1440p, the Live Gamer 4K can support up to 144hz, and upwards of 240hz at a 1080p resolution, producing an incredibly smooth gameplay recording. If you are using pass-through, you'll need to note that the recording quality is limited to what is connected to the HDMI out. If you are outputting to a television that can only display 1080p60, you won't be able to record at a higher quality.
Besides the PCIe requirements mentioned above (and needing Windows 10 x64), you'll need at least an Intel Core i5-6XXX or AMD Ryzen 5 1600, a GeForce GTX 1060 or above, and 8 GB of memory running in dual-channel for capturing 4K60 HDR or 1080p240 video. It should be noted that only NVIDIA graphics cards are supported for 4K, HDR, or high frame rate recordings. The hardware requirements drop significantly when setting the capture settings to 1080p60 (Intel Core i5-3330 or above, a GeForce GTX 650 or AMD Radeon R7 250X or above, and 4 GB of memory).
AVerMedia's recording and streaming program has come a long way over the years, and finally rivals OBS (RECentral 4 is the latest and greatest version). It is the only way you'll record HDR video, and it supports the new video compression standard HEVC (H.265). When using H.265, you'll get the same quality as with H.264; however, you'll notice a massive drop (roughly half) in the file size output. 4K videos take up a lot of space, so being able to cut down the recording size is a huge plus. Using the software is quite straightforward. It allows you to select using a single capture input (whatever is plugged into the HDMI input) or setting up multiple sources, like webcams, overlays, etc. You're about to change the bitrate between local recordings and broadcast, even when using both at the same time. It also supports multistreaming, allowing you to stream to many different locations, such as Mixer, Twitch, YouTube, simultaneously. The best part, zero latency. This means you can play directly from your recording software's preview screen if you don't have a television or monitor nearby to use the HDMI out port. Why is zero latency significant? Just think about rhythm-based games where a mere fraction of a second of lag means you'll miss a note entirely, ruining the experience.
I was pleasantly surprised that after installing the latest driver and firmware from the AVerMedia site, I haven't experienced a single issue when using the device on any program. RECentral has always been the first test, but afterward, I booted up OBS and vMix. OBS immediately recognized the device and worked without any unique configurations, which plagued my initial setup of the Live Gamer HD 2, where I struggled to install the proper firmware and struggled setting up the appropriate streaming engine and sound output (although once patched, it worked for years without issue). The same could be said about vMix, a professional (and my personal favorite live streaming software), and paid software. The device itself has an LED indicator (it can be turned off in RECentral), letting you know when it is ready to record, in the process of streaming/recording, when the disk is almost full, and when an error has occurred. I don't enjoy the RGB "gamer" aesthetic and don't have a PC with a tempered glass side panel, so it wasn't useful during my recording/streaming tests.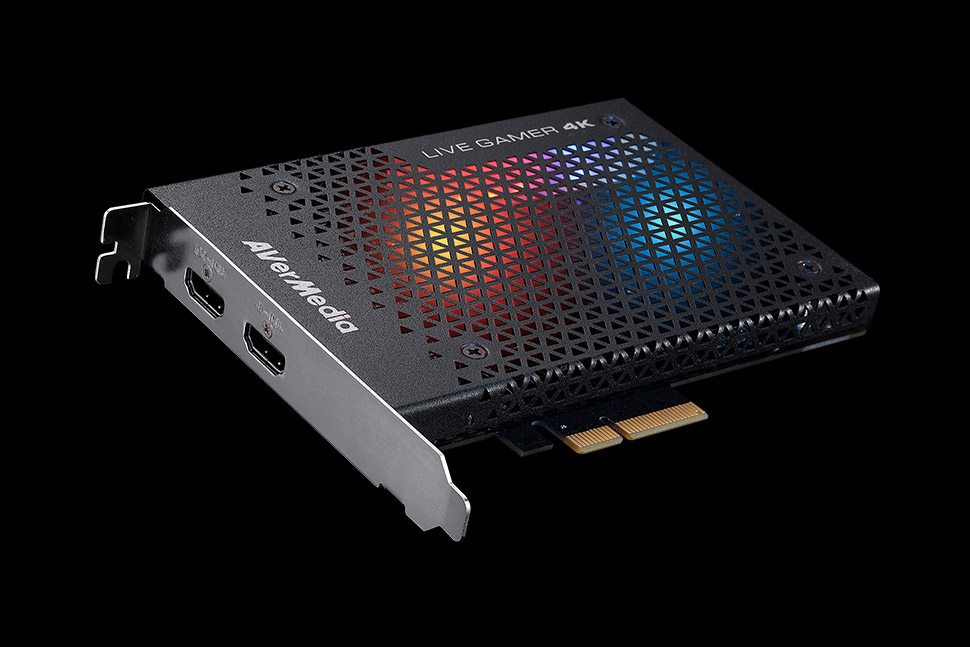 Simply Put
The Live Gamer 4K is a masterpiece. AVerMedia has been producing some of the best game capture devices on the market for a while now, at affordable prices. You can't go wrong (as long as your PC meets the requirements), with this device, especially if you are looking forward to the next generation of consoles (or if you have a dual PC recording/streaming setup). HEVC support in RECentral (along with HDR) is top-notch, and while most will immediately stick with OBS, I'd at least give it a shot, especially if you are starting out. In the box, you'll find a product key for CyberLink PowerDirector 15, a video editing software. As a consumer-level program, it has less of a learning curve and costs significantly (free) than less than maintaining a monthly subscription to Premiere Pro CC. The included version does not match the retail build and may lack some functionalities. Based on AVerMedia's website, it doesn't support HEVC encoded files or HDR editing; two of the Live Gamer 4K's best features.
Note: The Live Gamer 4K review was written after testing the device with a PlayStation 4 Pro, Xbox One X, and Nintendo Switch. Live streaming and local recording was tested using OBS Studio, vMix, and RECentral 4.