​Animal Crossing: New Horizons
Review


By Kevin Mitchell

Posted on April 3, 2020
---
It has been almost 18 years since I took my first loan from vicious and cunning businessman Tom Nook, after moving into a village populated with stylized anthropomorphic animals. The open-ended aspect of Animal Crossing was quite refreshing, allowing players to pull weeds, plant flowers, fish, and send letters/presents to a colorful cast of characters. Since the GameCube release, which itself was an enhanced version of the Japanese only Nintendo 64 release, there have been multiple main series titles, adding new twists on a similar formula and some uniquely designed spin-offs. Animal Crossing: New Horizons marks the most prolonged time gap between mainline games in the series (the last one, Animal Crossing: New Leaf, released on the Nintendo 3DS in 2013) and the thirst for acquiring even more soul-crushing debt has never felt sweeter. Although, some of the design choices around local and online multiplayer are questionable at best.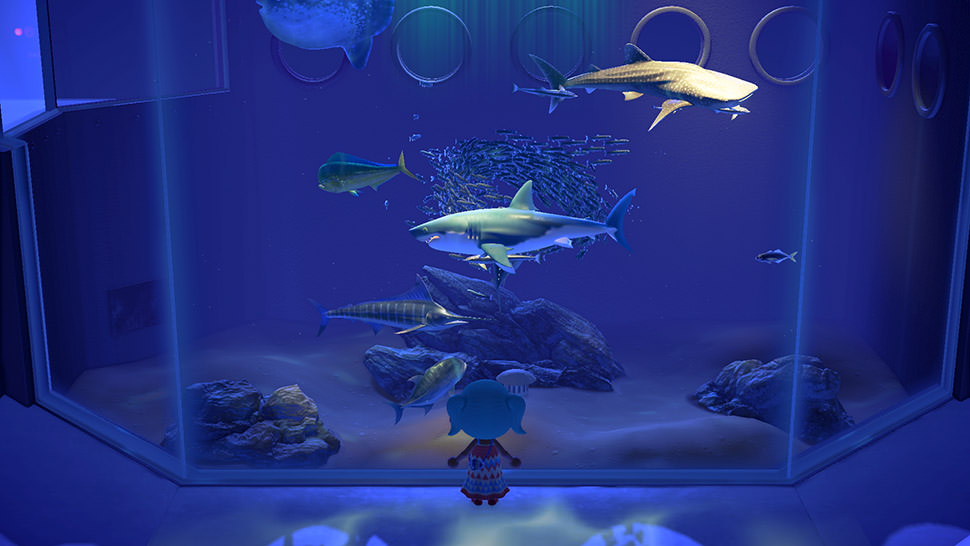 As a life simulation title, how you play, and how you spend your time in Animal Crossing is entirely up to you. It is meant as a relaxing gateway, either from your personal/work life, or a simple retreat from the brutality dominant in today's video games. Although the game does have frustrating moments when you dedicate hours looking for a rare fish or two and end up with more sea bass or black bass, then you could count. The best part, everything in Animal Crossing occurs in real-time, based on your timezone and whether you set yourself in the southern or northern hemisphere. The hemisphere distinction ensures that as the days and months pass, your island's seasons and holidays closely resemble what you see outdoors. It is less critical for those that live in climates that don't support the four seasons, but still a nice gesture.
For the first time in the series, you'll be able to select your character's appearance directly. More importantly, nothing is set in stone, letting you freely alter anything from your hairstyle, facial features, and skin color without gender-based limitations. Along with your inventory, you have access to a dedicated outfit menu by opening a storage chest or wardrobe in your house. This lets you preview new looks from any piece of clothing you've acquired and stored. Sure, plenty of the items are goofy looking, and it is easy to look like a mismatched two-year-old picking out their clothes, but it is still entertaining to change your appearance daily. If you are feeling creative, you can custom design your outfit using the upgradable editor in-game, or even import existing designs using QR codes.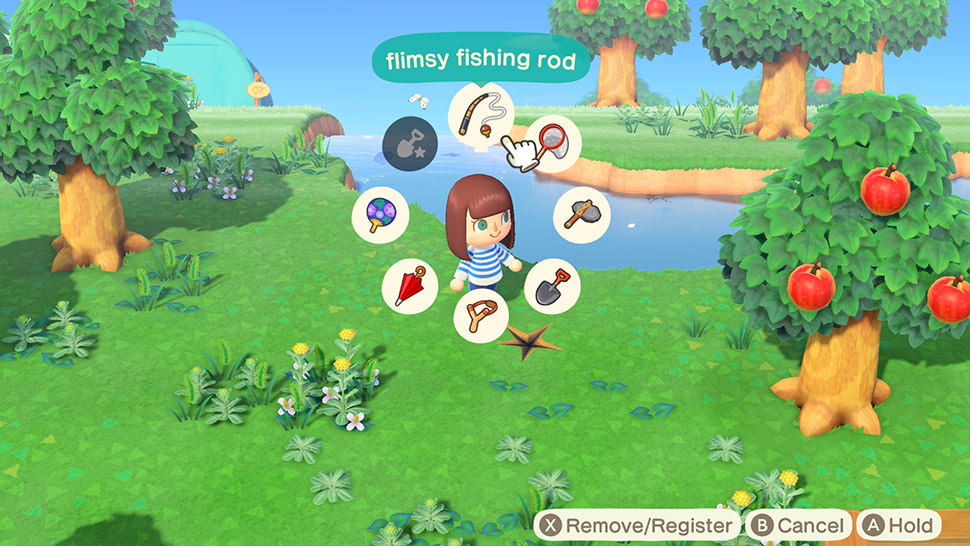 In New Horizons, you are whisked away to a deserted island, arranged by Tom Nook, the tanuki, along with the identical tanuki twins, Timmy and Tommy. After a brief introduction to island life, and selecting the starting island layout, you arrive at your destination along with the first two residents. For my island (Shirogane), Biff (a hippo) with his jock personality, and Cherry (a dog) with her sisterly personality accompanied me on the island. Biff loves to discuss sports and bodybuilding, and anytime you come across him on the island, he is pumping iron or trying to compete against you by fishing or catching bugs for himself. Cherry is the night owl and tends to stay up late. Besides spending her evenings with a refreshing drink and a leisurely walk on the beach, she loves to sing. Even now, a few weeks into life on the island, I have grown attached to them more so than any other resident. Perhaps it's because some of the later personalities are obsessed with being obnoxious social media influencers. Some of my villagers may receive a whack on the head from my net every now and then, hopefully, prodding them to move out (it doesn't seem to be working).
Your first week on the island is entirely controlled, with specific tasks that must be accomplished before you're able to progress the island. You'll scour the first accessible part of the island, place down some roots for yourself, the other residents, as well as additional resident services. As the resident representative, you'll gain a drip-feed of DIY crafting recipes to build tools, furniture, decorations, outfits, and more. With rivers and cliff sides blocking off most of your island, things can feel a bit tight at first, but it isn't long before you can craft the necessary tools to launch yourself across rivers and climb any cliffs. Durability comes into play for most tools, besides the vaulting pole and ladder, so you'll always be gathering sticks, wood, stone, and iron to replace your delicate equipment. Each tier of tools has a limited number of uses before they break, even the fabled golden tools. Eventually, you'll gain access to permanent solutions, such as inclines and bridges (both come in unique designs and price points), improving the flow of your island where you see fit, as well as providing access to the sectioned off parts of the island to other residents.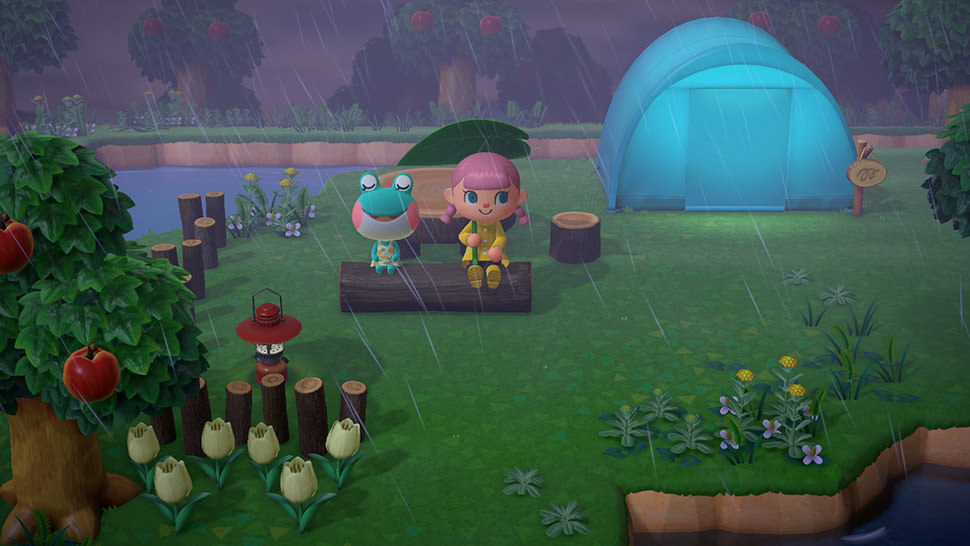 Bells aren't the only form of currency anymore, as everything you do in the game, from picking up weeds, collecting fruit, visiting other islands, earns you miles in the Nook Miles program. These can be spent on new gameplay enhancements, such as being able to select your tools using a wheel system or adding a third (or fourth) row to your inventory. Also, there are daily items, and other unique rewards to earn, especially if you connect your MyNintendo account to both New Horizons and Pocket Camp. This new system is much appreciated, adding rewards and value to everything you do. Using your newly acquired in-game phone, provided by Tom Nook, you'll be able to keep track of everything, unlocking new stamp reward tiers. Your phone comes with additional features, letting you become best friends with others and even message them online. A neat fauna compendium (Critterpedia) tracks all of the fish and insects you've collected, detailing the active hours during the day, the seasonality (what months they appear), and whether they have already been donated. Blathers, everyone's favorite insect hating museum director, accepts donations once again for fossils, and every critter you'll come across. Strangely enough, collecting artwork has not been included in the game. The museum in New Horizons has been completely redesigned and looks spectacular. There are even marked places in each room, providing a breathtaking vantage point over your collections.
Dodo Airlines provides access to mystery islands, granted you purchased a ticket using Nook miles. These islands offer a gateway to random islands that can yield new fruit, more chances to catch fish, and even more vital crafting materials. While they are not procedurally generated, which would have been ideal, there are plenty of variations, such as islands that spawn endless (and deadly) tarantulas, an island populated with a bamboo forest, and more. The islands do seem to repeat more often than not, and it has been commonplace to get the same island layout multiple times in a row. It can be quite frustrating to waste precious miles on an island full of garbage repeatedly.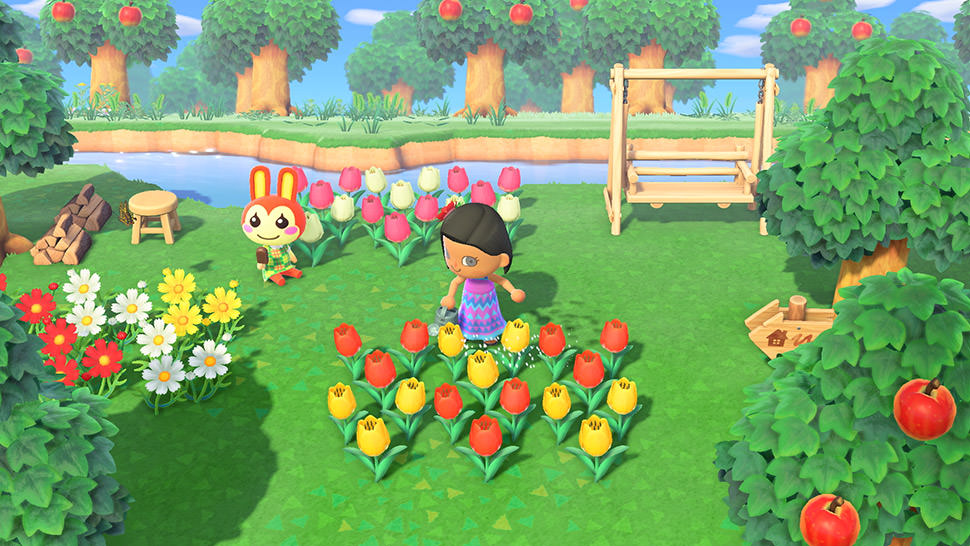 The Island Designer, which you'll unlock after weeks of playing (unless you time travel), if not longer, provides terraforming features letting you truly mold the island to become your perfect little oasis. Based on some of the creative designs I've seen online, many folks have been designing Japanese inspired cityscapes, complete with paved roads, shrines, and vending machines, and more. I kept my island as natural as possible, but dirt paths and the occasional brick areas do provide a subtle touch.
Animals aren't the only residents, as islands are shared between every user on a single Nintendo Switch. While that may be disappointing, the game also does not support cloud saves, and while a custom solution is in the pipeline to allow a one-time transition of an island to a new Switch, it is still unavailable at the time of this review. The first player to begin life on the island serves as the island representative, making all of the crucial decisions regarding island development. Everyone else is basically a resident with barely any more responsibility than the AI-controlled animals. This poses a significant concern and, in my mind, one of the most careless decisions with the game. As Joan and I wanted to share an island, her experience is vastly different from mine, and that is not acceptable. The local co-op supports up to four players sharing the screen, but we found the sweet spot to be with two players; otherwise, things can get overly crowded.
Playing locally in couch co-op mode is an easy enough process, with one player serving as the leader, and up-to three others serving as followers in a limited capacity. Leadership can be swapped at any time by shaking your controller, which is a nice gesture to ensure everyone has a fair chance at the full Animal Crossing experience. Followers are unable to access their inventory, open the tool ring, or even interact with anyone on the island. Anything collected gets sent to the recycling container at the Resident Services building. Space is limited in the recycling bin, and the game will overwrite existing items without warning. Camera control is focused on the leader, and without split-screen, the followers that wander too far will pop back into existence near the leader.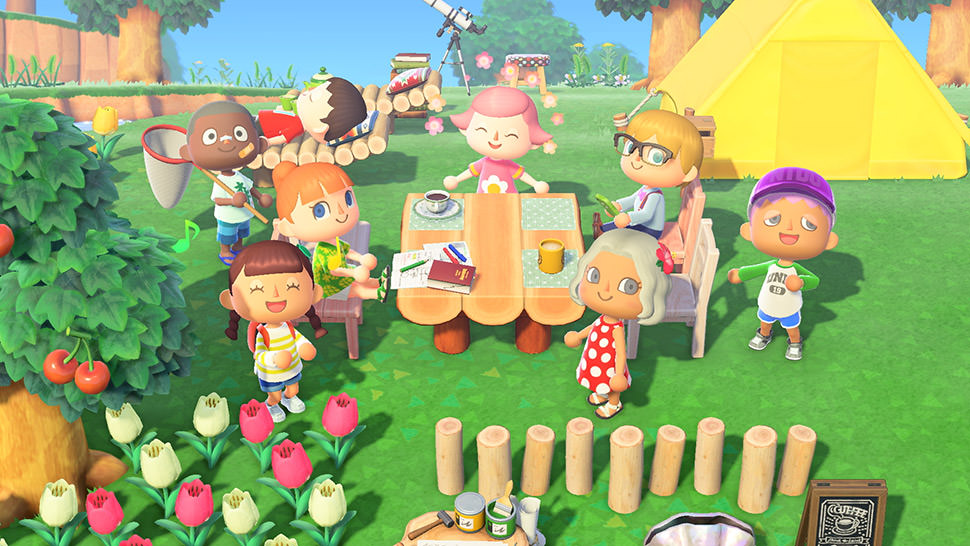 When it comes to setting up projects, such as building bridges or homes for residents, Tom Nook only discusses these island advancements with me, the one that started the game first. Any DIY recipes given by Tom Nook to complete these projects are exclusively provided to the first player. Yes, there are multiple ways to gain access to recipes, such as buying them, collecting them from floating balloons, and finding messages in a bottle washed up onshore, but what you find is random. After weeks of playing, Joan and I have vastly different recipes collections. When you are tasked with scouting three locations for new residents, you are also entrusted with crafting indoor and outdoor decorations. Besides dropping crafting material for the first player, everyone else living on the same island can't do anything to support them. After dozens of hours, Joan is still missing all of the "apple" furniture recipes that were provided to me. There are zero reasons for these types of limitations. What happens if the first player, the island representative, decides they no longer want to play, or is incapable of playing due to a business trip or anything else that life throws at you? Anyone else that shares the island is out of luck, and island development comes to a screeching halt. By allowing every resident to contribute to projects or even transferring island representative duties to others would be a fair solution.
Online multiplayer, where you are visiting a friend, or you open your airport gates and share your island with up-to seven other players should be the ultimate Animal Crossing experience. One would think that letting your friends visit over the internet keeps every interaction similar to playing the game offline, but once again, I came away disappointed. Sure, friends have access to their inventory and can use the in-game text chat system or voice chat using the Nintendo Switch Online app, but certain restrictions will limit the time you spend playing with others. For starters, you can't interact with Tom Nook while others on your island. Worse, you can't place, pick up, or share the majority of items with others, besides crafting materials. You can't even push objects around. Nintendo may be attempting to prevent player griefing, or possible complications surrounding disconnections, but the lack of interaction is disappointing nonetheless. Being able to flag friends as a "best friend" already exists in the game, letting others freely use tools on your island, so why not remove the limitations for those specially marked players?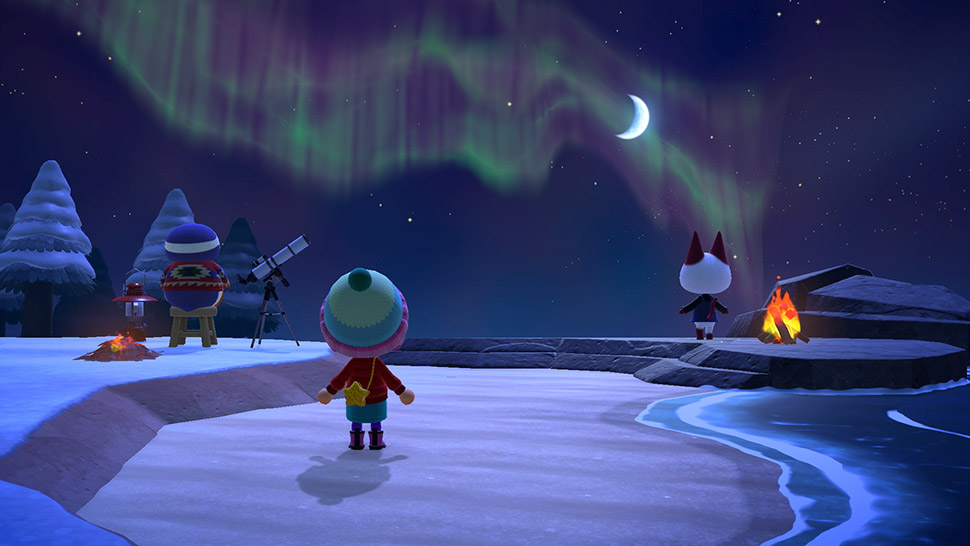 Having others come and go on your island online is anything but a smooth experience. Anytime someone connects, the game pauses and saves; the same thing occurs when someone leaves. Happen to have your inventory open or be browsing at Nook's Cranny at the same time, and the player won't be able to board or disembark their flight. Not that big a deal when you only have a single friend visiting, but with eight people on an island, it can become a nightmare. Not to mention, what if someone goes AFK while leaving their menu open? All flights are grounded.
Simply Put
Animal Crossing is a bonafide amazing single-player experience, especially for those that haven't played the series since the Nintendo GameCube, which was a remaster of the Japanese only N64 title. The awkward shared island implementation and limitations put a damper on those playing on a single Nintendo Switch. New Horizons should have been the local and online cooperative experience that set the bar for the franchise and the Switch as a platform. Still, terrible design choices and restrictions ruin an otherwise spectacular game. Of course, those that only play alone won't have to deal with these drawbacks, but even then, you'll want to at least interact with friends to trade recipes, fruits, clothing, and more. Amiibo support (both figures and a majority of the 400+ cards) allow you to transfer specific villagers to your island via the campground. Nintendo has not re-released the cards, so if you didn't already collect them, expect to pay a premium for your favorite villager.
Note: ​Animal Crossing: New Horizons was reviewed on Switch. A digital copy of the game was purchased by SelectButton.