Turrican returns with two Anthology Collections, Factor 5 developing

By Kevin Mitchell

Posted on August 28, 2020
---
One of the biggest reveals from Gamescom Opening Night Light brings together two entities that no one has heard from in a long, long time (note the not so subtle reference). Developed by Factor 5, one of the best European independent studios of all time, Turrican is making a return after thirty years. Publisher Strictly Limited Games is excited to bring back this once fabled game series to a new audience along with the original development team at Factor 5. As two new anthologies, you'll experience the best of Turrican's finest moments.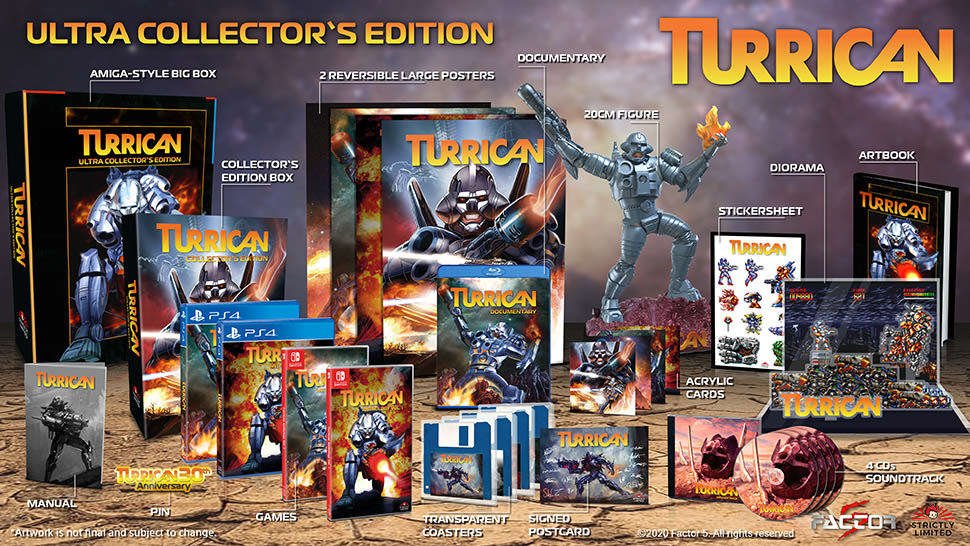 The last two attempts at developing a new title in the Turrican franchise didn't go well for Factor 5. Thornado, a spin-off game developed for Nintendo GameCube, was canceled, and the rumored PlayStation 3 Turrican Project was canceled, followed by the shuttering of the US-based Factor 5 studio. One of Factor 5's co-founders Julian Eggebrecht, announced back in 2017 that the company has reacquired the rights to the Turrican franchise.
The two anthologies will come with the original chiptune soundtrack; however, it also features a newly arranged soundtrack by composer Chris Huelsbeck. Besides the typical inclusion of filters and borders that come with the vast majority of anthology-style games, it will include the long-lost Super Turrican Director's Cut, featuring cut content and an all-new score attack mode.
Turrican Anthology Vol. 1
Turrican (Amiga)
Turrican 2 (Amiga)
Super Turrican (SNES)
Super Turrican Director's Cut (SNES)
Mega Turrican Score Attack (MD/GEN)
Turrican Anthology Vol. 2
Turrican 3 (Amiga)
Mega Turrican (MD/GEN)
Mega Turrican Director's Cut (MD/GEN)
Super Turrican 2 (SNES)
Super Turrican 1 Score Attack (SNES)
Both anthologies will be available on PlayStation 4 and Nintendo Switch.